The New York Times Has Repeatedly Downplayed the Success of the BDS Movement Against Israel
The BDS movement has been racking up a series of successes lately and has caught the attention of many in Israel. But you wouldn't know it from reading the Times.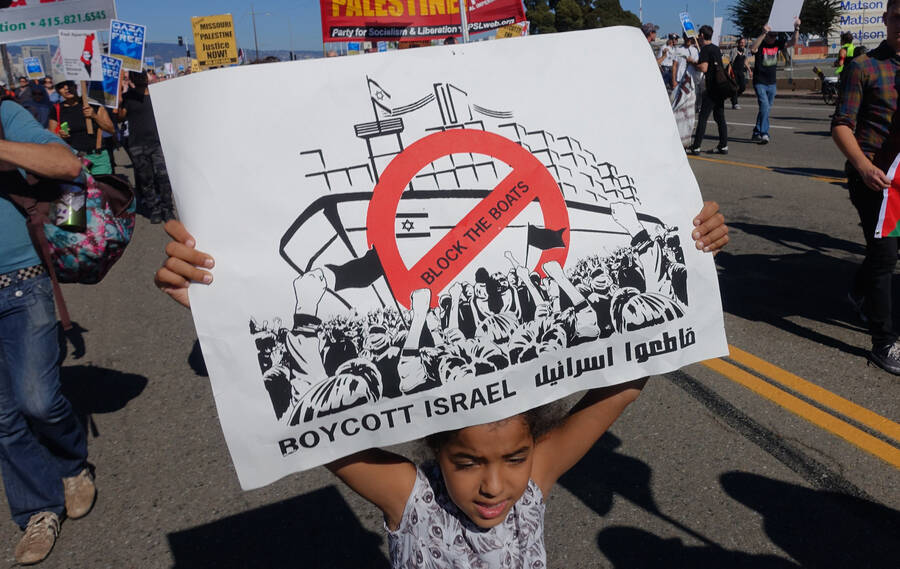 Despite increas­ing­ly fre­quent vic­to­ries for the glob­al Boy­cott, Divest­ment and Sanc­tions (BDS) move­ment con­fronting the state of Israel, and the height­ened pan­ic expressed by its crit­ics, the New York Times vir­tu­al­ly ignores the movement's momen­tum. When atten­tion is paid to BDS, cov­er­age doesn't focus on the role of the move­ment in the strug­gle for Pales­tin­ian rights, but instead ampli­fies crit­ics of BDS and focus­es on charges that the move­ment is a form of antisemitism.
The BDS move­ment, ini­ti­at­ed in 2005 by Pales­tin­ian intel­lec­tu­als and activists, is a non­vi­o­lent resis­tance move­ment that calls for eco­nom­ic pres­sure on the state of Israel to rec­og­nize the rights of occu­pied Palestinians.
In a New York Times arti­cle about two failed divest­ment efforts that, accord­ing to the story's lead, ​"dealt a blow" to ​"a pro-Pales­tin­ian eco­nom­ic cam­paign against Israel," reporter Rick Glad­stone acknowl­edged that BDS ​"has been gain­ing trac­tion in the Unit­ed States." That throw­away line is the end of the sto­ry for read­ers, since the Times rarely cov­ers suc­cess­ful BDS efforts, either in the US or abroad.
Although the Times did cov­er both the Unit­ed Church of Christ's vote and the Pres­by­ter­ian Church's vote to divest from com­pa­nies that prof­it from Israel's occu­pa­tion of Pales­tine, here are sev­en recent BDS vic­to­ries that were ignored by the Times:
When the Times does cov­er cam­pus activism on the Israel-Pales­tine con­flict, it opts to focus on the debate about anti­semitism instead of focus­ing on the role of divest­ment and boy­cott res­o­lu­tions in the cam­paign for Pales­tin­ian rights.
A May 2015 front-page arti­cle by Jen­nifer Med­i­na and Tamar Lewin, ​"Cam­pus Debates on Israel Dri­ve a Wedge Between Jews and Minori­ties,"cen­tered on the idea that Jew­ish stu­dents are threat­ened and mar­gin­al­ized by BDS activism. Ali Abunimah lat­er report­ed in the Elec­tron­ic Intifa­da that Med­i­na only asked Safwan Ibrahim, a mem­ber of Stu­dents for Jus­tice in Pales­tine (SJP) at UCLA, ques­tions about claims of anti­semitism — ignor­ing the BDS movement's tac­tics or motivations.
David McCleary, a Jew­ish mem­ber of SJP at UC Berke­ley, said he felt like he was being giv­en a Jew­ish ​"lit­mus test" by con­tribut­ing reporter Ron­nie Cohen, who appar­ent­ly ques­tioned McCleary's Judaism in light of his involve­ment with SJP. ​"For them to find out that SJP at UC Berke­ley is dis­pro­por­tion­ate­ly Jew­ish inter­feres with that nar­ra­tive that they are try­ing to invent," McCleary told the Elec­tron­ic Intifada.
An ear­li­er sto­ry by Med­i­na, ​"Stu­dent Coali­tion at Stan­ford Con­fronts Alle­ga­tions of Anti­semitism," also focused on the ​"debate over what con­sti­tutes anti­semitism" in light of the Stan­ford stu­dent government's vote to sup­port divest­ment — an event that the Times did not cov­er in its own right, but only as an oppor­tu­ni­ty to run a piece about a Jew­ish student's expe­ri­ence of being asked about divestment.
Times reporter Adam Nagour­ney end­ed an arti­cle with a quote from Natal­ie Char­ney, stu­dent pres­i­dent of the UCLA chap­ter of the Jew­ish stu­dent orga­ni­za­tion Hillel:
Peo­ple say that being anti-Israel is not the same as being anti­se­mit­ic. The prob­lem is the anti-Israel cul­ture in which we are sin­gling out only the Jew­ish state cre­ates an envi­ron­ment where it's OK to sin­gle out Jew­ish students.
Despite the ref­er­ence to ​"the Jew­ish state," the ter­ri­to­ry con­trolled by the gov­ern­ment of Israel con­tains more Arabs than Jews–though most of the Arabs are exclud­ed from polit­i­cal par­tic­i­pa­tion. Why does only activism in sup­port of Israel's dis­en­fran­chised major­i­ty, and not the defend­ers of Israel's sys­tem of eth­nic apartheid, prompt ques­tions of cam­pus bias in the New York Times?