The Global Crackdown On BDS Is Not About Solidarity with Jews
An increasingly international campaign to tar the BDS movement as "anti-Semitic" comes as Israel's staunchest global defenders are increasingly anti-Semites themselves.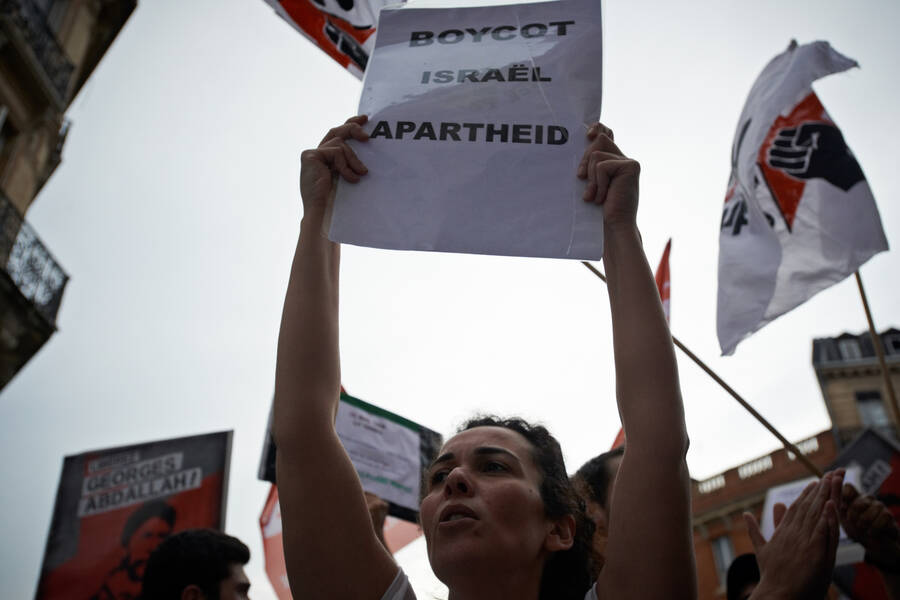 Israeli pol­i­tics have moved into unchart­ed ter­ri­to­ry over the past sev­er­al months, as Prime Min­is­ter Ben­jamin Netanyahu found him­self unable to form a coali­tion large enough to claim vic­to­ry in last spring's elec­tions. How­ev­er, even as the Israeli state enters into polit­i­cal tur­moil at home, it is becom­ing increas­ing­ly immune to crit­i­cism from the inter­na­tion­al com­mu­ni­ty abroad.
Unlike far-right politicians would have you believe, support for Israel has no connection to solidarity with Jewish people.
In May, Germany's gov­ern­ment passed an anti-BDS res­o­lu­tion con­demn­ing the Boy­cott, Divest­ment, Sanc­tions (BDS) move­ment, a non­vi­o­lent cam­paign to protest Israel's mil­i­tary occu­pa­tion of Pales­tine, as anti-Semit­ic, and vowed that the coun­try would not par­tic­i­pate in any boy­cotts of Israeli prod­ucts. The law is sim­i­lar to an anti-BDS res­o­lu­tion that was just passed by the U.S. House of Rep­re­sen­ta­tives, and to sev­er­al even more severe laws pre­vi­ous­ly passed by U.S. states.
More broad­ly, mea­sures like these pro­tect the Israeli gov­ern­ment from fac­ing any eco­nom­ic con­se­quences for iso­lat­ing and dis­crim­i­nat­ing against its Pales­tin­ian pop­u­la­tion. And the Ger­man mea­sure shows that the cam­paign to ensure this impuni­ty is going glob­al, par­tic­u­lar­ly as Israel makes com­mon cause with far-right gov­ern­ments around the world (even, in some cas­es, those with well doc­u­ment­ed anti-Semit­ic sympathies).
Netanyahu, who is fac­ing charges of cor­rup­tion, has been prime min­is­ter for the past 10 years. Dur­ing his tenure, he has moved Israel increas­ing­ly to the right polit­i­cal­ly, with severe con­se­quences for Pales­tin­ian rights. Under his lead­er­ship, the expan­sion of Israeli set­tle­ments has led to what many have called the death of a two-state solu­tion. Mean­while, his gov­ern­ment has insti­tut­ed poli­cies that legal­ize dis­crim­i­na­tion against non-Jews and strength­en Israel's occu­pa­tion of the West Bank and Gaza.
I, for one, am scared of a world where the Israeli gov­ern­ment can con­tin­ue to advance these dis­crim­i­na­to­ry poli­cies — espe­cial­ly as it goes unques­tioned by the inter­na­tion­al pow­ers that pro­vide it with ongo­ing finan­cial and ide­o­log­i­cal sup­port. And as a Jew ded­i­cat­ed to fight­ing for Pales­tin­ian rights, I'm scared of a world where dis­sent­ing move­ments are silenced, and accu­sa­tions of anti-Semi­tism over­whelm cri­tiques of a pow­er­ful government.
Final­ly, I'm scared of a world where the atti­tudes of a Unit­ed States head­ed by Don­ald Trump can worm their way into the inter­na­tion­al com­mu­ni­ty — and I'm scared to watch as the uncrit­i­cal U.S. sup­port for Israel is export­ed to Ger­many, the rest of Europe, and around the world.
In real­i­ty, sup­port­ers of Israel and anti-BDS leg­is­la­tion are often those who do the least to advo­cate for Jew­ish safe­ty. In a strik­ing exam­ple, white nation­al­ist Richard Spencer has self-iden­ti­fied as a ​"white Zion­ist." Steve Bannon's appear­ance at a Zion­ist Orga­ni­za­tion of Amer­i­ca event seems out of place as well, giv­en that his tenure as an edi­tor at the alt-right Bre­it­bart News was marked by the use of anti-Semit­ic lan­guage. Most recent­ly, Pres­i­dent Trump jus­ti­fied his racist attack on Rep. Ilhan Omar (D‑Minn.) with his sup­port for Israel. How­ev­er, his 2016 cam­paign was also marked by the use of anti-Semit­ic rhetoric, from cam­paign ads ref­er­enc­ing ​"glob­al spe­cial inter­ests" to the invo­ca­tion of stereo­types that por­tray Jews as greedy and mon­ey-obsessed. In Europe, Hungary's right-wing gov­ern­ment has under­gone scruti­ny for the seem­ing con­tra­dic­tion between its close rela­tion­ship with Israel and its denial of Hungary's role in the Holocaust.
Instances like these make it clear that the voic­es most ardent­ly in favor of Israel are often the same voic­es that make their careers preach­ing hate against Jews and peo­ple of col­or. We should all be con­cerned when the U.S. gov­ern­ment aligns itself with author­i­tar­i­an or fas­cist ide­o­logues on any issue — and Israel is no exception.
Germany's anti-BDS leg­is­la­tion offers yet anoth­er exam­ple of seem­ing­ly incon­gru­ous sup­port of Israel from noto­ri­ous anti-Semi­tes. The far-right par­ty Alter­na­tive for Ger­many, whose sym­pa­thy for the Nazi par­ty has led to its denun­ci­a­tion by Ger­man Jew­ish lead­ers, pro­posed the strictest ver­sion of the bill— a total ban on BDS-relat­ed actions with­in Ger­many. Con­tra­dic­tions like these make it clear that, unlike far-right politi­cians would have you believe, sup­port for Israel has no con­nec­tion to sol­i­dar­i­ty with Jew­ish people.
Instead of a gen­uine rejec­tion of anti-Semi­tism, the right's cham­pi­oning of Israel stems from its love of nation­al­ist rhetoric. To these fig­ures, sup­port for Israel acts as a con­ve­nient pass to con­tin­ue espous­ing hate. Instead of defend­ing the Jew­ish peo­ple, mem­bers of the right are embrac­ing some­thing alto­geth­er dif­fer­ent: eth­no-nation­al­ism, whether it involves the removal of immi­grants at America's south­ern bor­der or the col­o­niza­tion of Pales­tini­ans in Israel.
The ques­tion then becomes whether we, as Jew­ish com­mu­ni­ties, want to align our­selves with these ide­olo­gies — ide­olo­gies held by peo­ple who have open dis­gust for our beliefs and our human­i­ty, not to men­tion the human­i­ty of Mus­lims, immi­grants and peo­ple of col­or around the world.
Mean­while, the BDS move­ment, which was launched in 2005 by a coali­tion of 170 orga­ni­za­tions rep­re­sent­ing Pales­tin­ian civ­il soci­ety, has nev­er advo­cat­ed for anti-Semi­tism. Instead, it is brave enough to call the Israeli state what it is: a per­pet­u­a­tion of apartheid in a coun­try that has a seg­re­gat­ed road sys­tem to facil­i­tate the sep­a­ra­tion of Israelis and Pales­tini­ans. Instead of oppos­ing BDS, Jew­ish lead­ers and their allies should be focus­ing on the real threat to Jew­ish com­mu­ni­ties: white nation­al­ism in all its forms.
If the inter­na­tion­al com­mu­ni­ty wants to advo­cate for Jew­ish safe­ty, the solu­tion does not lie in whole­sale sup­port of the Israeli state. In fact, the vio­lent actions of Israel make us all less safe.
It's time for the Unit­ed States to acknowl­edge the glob­al con­se­quences of our uncrit­i­cal endorse­ment of the Israeli state, which includes every­thing from unchecked vio­lence against Pales­tini­ans in Gaza and the West Bank to anti-BDS laws like Germany's. And it's time for Ger­many to hold itself account­able for the white suprema­cy still present with­in its polit­i­cal land­scape, rather than lev­el­ing vit­ri­ol at human rights cam­paigns like BDS.
And it's time for every­one, from the U.S. to Ger­many to mem­bers of Israel's own gov­ern­ment, to stand against injus­tice in Pales­tine wher­ev­er and when­ev­er it occurs.
This arti­cle was pro­duced in part­ner­ship with For­eign Pol­i­cy In Focus.
Rachel Hodes
is a Next Leader at the Insti­tute for Pol­i­cy Studies.