Climate-Friendly Beef Is a Myth. Don't Buy It.
There's no way around it: Take on the meat industry or face ecological disaster.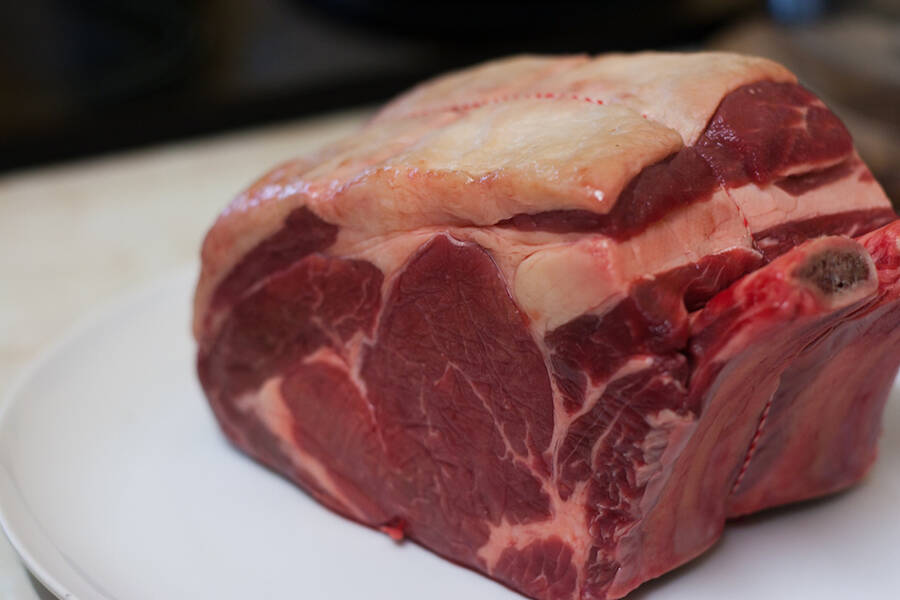 For oth­er per­spec­tives, read ​"We Can Fight Cli­mate Change and Still Eat Beef" and ​"Any­thing Cows Can Do, Elk Can Do Better."
The American appetite for burgers and steaks contributes 337 billion pounds of greenhouse gas emissions—equivalent to more than 30 million cars—each year.
It's unde­ni­ably clear: We need to take dras­tic action to address the cli­mate cri­sis. And it can't wait.
Much of the cli­mate movement's focus has been on tak­ing down fos­sil fuels, but there's con­sen­sus that ani­mal agri­cul­ture also pos­es a prob­lem. Those who want to have their beef and eat it too claim grass­fed beef is a way to mit­i­gate the envi­ron­men­tal harms asso­ci­at­ed with rais­ing cat­tle in fac­to­ry farms. They sug­gest that graz­ing cat­tle are actu­al­ly good for the envi­ron­ment because they help the land to cap­ture car­bon and sequester it in the ground.
But grass-fed beef is no fix. Most pas­ture-raised cows actu­al­ly have a worse car­bon foot­print than their fac­to­ry farmed coun­ter­parts. Only under cer­tain rota­tion­al sys­tem s can grass-fed oper­a­tions sequester sig­nif­i­cant car­bon— and there's no evi­dence that this mod­el can be scaled to meet cur­rent demand.
There's sim­ply not enough land. Switch­ing America's beef from fac­to­ry farms to grass-fed might free up some crop­land used to grow corn feed, but it would great­ly increase graz­ing land. A recent Har­vard study found it would require 30 per­cent more cat­tle for the same amount of beef, as pas­ture cows grow more slow­ly and don't reach the same weights. But, the study found, exist­ing pas­ture­land could only sup­port 27 per­cent of cur­rent production.
Live­stock already occu­py more than 25 per­cent of Earth's ice-free land, with 70 per­cent of all agri­cul­tur­al land ded­i­cat­ed to feed or graz­ing. Graz­ing is a lead­ing dri­ver of deser­ti­fi­ca­tion, and every minute, sev­en foot­ball fields' worth of land is bull­dozed to cre­ate room for more live­stock and feed crops — land that was once home to wild ani­mals and bio­log­i­cal­ly diverse ecosys­tems. Many of these destroyed ecosys­tems — from forests to prairies, marsh­es to grass­lands — play a key role in absorb­ing car­bon diox­ide and fil­ter­ing water sources.
On the heels of the UN's Octo­ber warn­ings, a report in Nature found that Amer­i­cans must reduce their beef con­sump­tion by about 90 per­cent to curb the cli­mate cri­sis and feed the grow­ing population.
But the world is on the oppo­site path: Meat pro­duc­tion rough­ly tripled world­wide between 1980 and 2010 and is expect­ed to near­ly dou­ble again by 2050, with con­sump­tion and pop­u­la­tion growth. The Unit­ed States leads the way, con­sum­ing four times the glob­al aver­age of beef.
Researchers found that the Amer­i­can appetite for burg­ers and steaks con­tributes 337 bil­lion pounds of green­house gas emis­sions — equiv­a­lent to more than 30 mil­lion cars — along with 489 bil­lion pounds of manure, and uses more than 21 tril­lion gal­lons of water each year.
While beef might be the worst envi­ron­men­tal offend­er, ani­mal-based foods as a whole come with larg­er car­bon foot­prints — as well as more water use, waste and pol­lu­tion — than plant-based ones. We need to con­sume less meat and dairy, and instead eat many more fruits, veg­eta­bles, nuts and beans.
Reduc­ing your per­son­al meat con­sump­tion is impor­tant, with a greater impact than dri­ving a fuel-effi­cient car or eat­ing an entire­ly local diet. But indi­vid­ual change is not enough. We need gov­ern­ments to sup­port Earth­friend­ly diets, and big cor­po­ra­tions need to dras­ti­cal­ly change as well.
Gov­ern­ments and com­pa­nies should adopt poli­cies to pro­mote plant-based foods and make them more afford­able and wide­ly acces­si­ble. Live­stock pro­duc­ers must be held account­able for pol­lu­tion, and the fed­er­al gov­ern­ment needs to stop bail­ing out meat and dairy with unfair sub­si­dies that exter­nal­ize envi­ron­men­tal costs, sur­plus pur­chas­es that manip­u­late mar­ket prices, and label­ing restric­tions aimed at mak­ing plant-based options less competitive.
The gov­ern­ment should instead sub­si­dize the pro­duc­tion of healthy fruits and veg­eta­bles, which receive next to no sub­si­dies. In fact, the Unit­ed States cur­rent­ly does not pro­duce or sup­port the pro­duc­tion of enough fruits and veg­eta­bles to meet the rec­om­men­da­tions of its own nation­al dietary guide­lines. Plant-based items should be on every menu, from fast food to fine din­ing, to make it eas­i­er for every­one to make cli­mate-friend­lier choices.
Sev­er­al coun­tries are show­ing how to encour­age more sus­tain­able diets. The Nether­lands, for exam­ple, released 2016 dietary guide­lines that call for no more than two serv­ings of meat per week. Swe­den direct­ly links meat con­sump­tion to envi­ron­men­tal dam­age in its guide­lines, and calls for peo­ple to reduce the meat in their diets.
If the Unit­ed States called for reduced meat con­sump­tion in its fed­er­al dietary guide­lines, it would have wide­spread influ­ence over nutri­tion edu­ca­tion and the menus in schools, pris­ons, hos­pi­tals and gov­ern­ment cafe­te­rias. If we're going to answer the cli­mate wake-up call, we need to shift to healthy, plant-for­ward diets sup­port­ed by sus­tain­able food policy.
For oth­er per­spec­tives, read ​"We Can Fight Cli­mate Change and Still Eat Beef" and ​"Any­thing Cows Can Do, Elk Can Do Better."
Jen­nifer Moli­dor
is the senior food cam­paign­er for the Cen­ter for Bio­log­i­cal Diversity