Bell Ringers: The Salvation Army's Lowest-Paid, Most-Needed Employees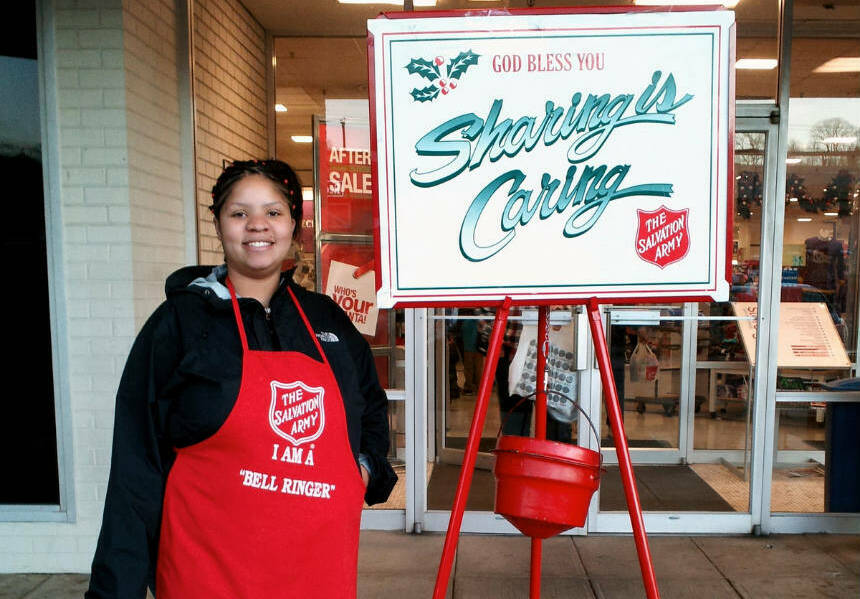 When the weather dips below freezing in Chicago, most of the city's residents do their level best to stay indoors as much as possible. But there's one group of people who continue to stand outside, braving biting winds and bone-chilling temperatures to ring bells asking for donations: the roughly 2,000 Salvation Army ​"bell ringers."
According to Major Greg Thompson, general secretary for the Salvation Army Metropolitan Division, Chicago's ​"red kettle campaign" brought in $2.4 million last year during the weeks between Thanksgiving and Christmas. Salvation Army depends on that money for its charity work, which includes youth tutoring, residences for low-income adults, meals for the needy elderly and prayer meetings. In some locations, Thompson says, kettle campaigns have supplemented up to 40 percent of the next year's programming. That's a lot of pressure, especially in shortened holiday seasons like this one.
Since the Salvation Army first began collecting donations in kettles in the late 1800s, the organization has relied on volunteers to do the bulk of its bell ringing. As it has grown, however, it offers some bell ringers a minimum wage in return for standing in the freezing weather. Chicago's Metropolitan Division no longer acts under the assumption that it will have a set number of volunteers, says Thompson — rather, just like a retail employer anticipating a seasonal rush, it hires a flood of minimum-wage workers for the holiday season. (But if volunteers become available, they will pre-empt paid employees for the position.)
For many of the 17 paid bell ringers I spoke with, the job opportunity comes as a welcome chance to bring in extra money over the holidays. A number of them had been homeless in the past or otherwise in need of the Salvation Army's help, and they said that bell ringing gives them the chance to return the favor. Others are just there for the paycheck. But the temporary employment means long hours and tough quotas for the workers as they ask harried Chicagoans to spare a few dollars — without earning a living wage themselves.
This is Tominique's first year as a bell ringer, and she admits it's more stressful than she expected. On the evening I spoke to her, she was on the seventh hour of a day that began at 10 a.m., when she arrived at the Salvation Army offices on Chicago's West Side to get her location assignment and clamber into the bus that drops bell ringers off around the city. She expected to be picked up to return to the offices, signature red bucket in tow, around 8 p.m. Even with two 15-minute breaks and a half hour lunch, that's still nine hours of standing in front of the Walgreens on Belmont Avenue and Broadway Street in frosty December weather. Because the federal Occupational Safety and Health Administration (OSHA) largely considers workplace temperature to be a matter of comfort rather than safety, it does not legally protect workers from the kind of weather they might encounter outside in a Chicago winter.
​"My back is killing me," Tominique confesses, her wide smile faltering for the first time. ​"My feet hurt." And like most seasonal workers, she will have no opportunity to receive health benefits.
Until last year, bell ringers say, their shifts typically only lasted five hours. This year, though, they say that many of their shift lengths have been extended to eight or nine hours, not including breaks. (Thompson says shifts vary by location, reflecting the needs specific to each one.) But even the extra time still isn't always enough for bell ringers to meet their daily goals.
​"We're supposed to make $150 every day," says 21-year-old Daniel, who stands on the corner of Armitage and Milwaukee avenues in Bucktown. He's been a bell ringer for four years and says he's finally starting to get used to the hours and the weather. ​"But sometimes we make like 100 bucks, sometimes we make 80. It's whatever people can give."
And bell ringers who routinely fall behind can face negative consequences. ​"If you keep only making 30 or 40 dollars, you can perhaps be let go," Daniel continues.
Rana, a woman in her forties who works downtown on Michigan Avenue and Ohio Street, explains, ​"They want you to make more than [what they're paying you], since it goes to charity." If a worker's bucket is short, she says, the company may cut her shifts. Managers ​"let the people who make the quota, or over it, work every day."
Other bell ringers say that workers who don't bring in as many donations will be moved to less popular locations. The high-end Mariano's Fresh Market in the Loop or the tourist-heavy Macy's, for example, are prime spots to call upon shoppers' generous spirits — whereas corners less conducive to foot traffic are less popular.
​"It's all about profitability, and the amount of money you can make so that you can sustain your operations throughout the year," argues Thompson, who says that goals are the same for volunteers and paid bell ringers. ​"The purpose of putting a person at a kettle is to make a profit. So if they are not bringing in enough money to make a profit, then you have to determine if that location is a poor location … it's all about finessing the profitability of your location in conjunction with the person."
This profit-driven perspective can provoke an understandably mercenary attitude among some bell ringers. One worker, who's landed a prime spot at Pearson Street and Michigan Avenue on the Magnificent Mile, paused our interview when a confused-looking woman asked how to get to the famous Garrett Popcorn in the Loop.
​"You gonna give a donation?" the bell ringer, who declined to give her name but said she's been working for the Salvation Army since 2005, asked the woman.
The woman grinned. ​"Sure, I'll give a donation," she said, producing a bill for the kettle.
​"You'll just want to go down State Street," the bell ringer said, once the money went safely into the pot. ​"Then take a right."
Though most of the bell ringers I spoke with were happy to talk to people, they couldn't let it distract them from their task. ​"I had to get a donation [from her]," the bell ringer explained to me once the woman left. ​"Because you're stopping me from asking for donations right now."
And the strangers aren't always so friendly. Due to the Salvation Army's reported history of homophobia, some bell ringers note that many people seem to regard them as representatives for similarly prejudiced views.
​"You know, people yell out their car windows [at me], ​'They don't believe in same-sex marriage,'" Tominique says. ​"And I'm like, ​'OK, but I believe in it!'"
It's hard to imagine anyone yelling at Tominique, whose cheerful attitude is probably ideal for appealing to strangers' charitable sides. But although Thompson claims that the Salvation Army ​"helps people … and hires people without discrimination," a few other bell ringers also speak about passersby who have confronted them about the organization's alleged bigotry.
Given the stressful environment — and the nature of the Salvation Army's financial structure, which relies heavily on the kettle campaigns — it might seem surprising that such an emotionally and physically taxing position with the organization also pays the lowest. The majority of the roughly 1,000 year-round employees at the organization in Chicago make salaries that are, per Thompson, ​"competitive in a non-profit market … no one enters that field at minimum wage. They're much above minimum wage." By contrast, though bell ringers at some locations may receive small raises over time, they start at minimum wage.
Considering the Salvation Army's commitment to combating the effects of poverty in Chicago and elsewhere, then, a good first step might be to enable its seasonal workers to fight destitution in their own lives.
Thompson points out, though, that it's all for the sake of the less fortunate.
When asked why Salvation Army wouldn't consider paying workers slightly more, with the expectation that they themselves might need less financial aid in the future, he replies, ​"The truth is, it's not necessarily beneficial to us to offer higher wages, because our ultimate goal is to bring that net dollar value up so that we can help people throughout the entire year. … We want to be helpful, but … if we're more helpful on this end [paying workers], then we're less helpful on the other end for our ultimate goal."
That goal, as he puts it, is ​"to preach the gospel of Jesus Christ and meet human need in His name. Without discrimination."
Kathleen Jercich
is an assistant editor at In These Times. Her work has appeared in Sacramento News and Review, BUST Magazine and on The Rumpus and Bitch Media blogs.