Bernie Sanders Has Laid Out the Stakes of the 2020 Election: Democratic Socialism or Barbarism
In a widely touted speech, Sanders explained why an unapologetic democratic socialist vision is the only antidote to the oligarchy and authoritarianism embodied by President Trump.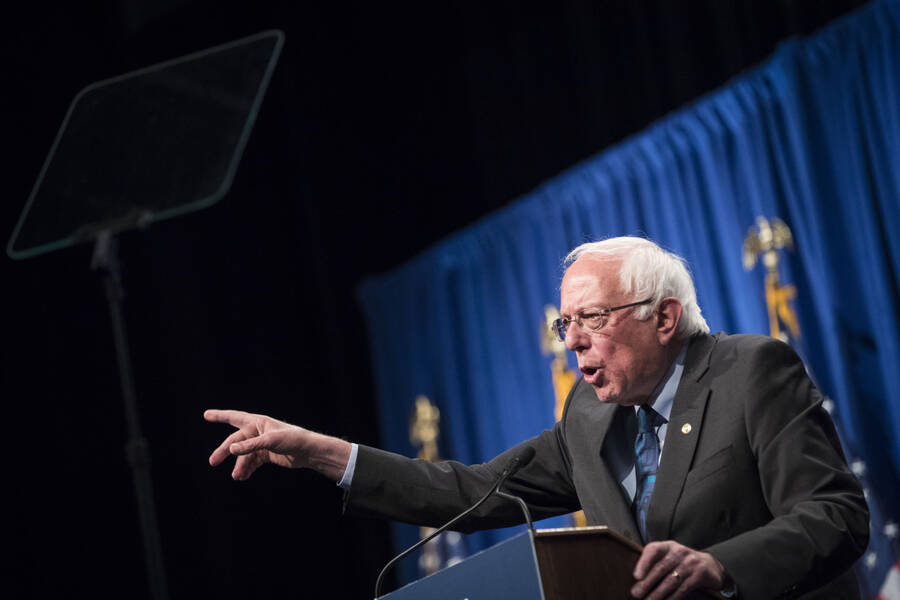 The open­ing sal­vo of Don­ald Trump's reelec­tion cam­paign came not in a defam­a­to­ry speech or pres­i­den­tial tweet­storm, but in an over­looked report put out in Octo­ber 2018 by his White House Coun­cil of Eco­nom­ic Advis­ers titled ​"The Oppor­tu­ni­ty Costs of Socialism."
Sanders argued that democratic socialism is not some radical philosophy to be feared, but rather the antidote to the growing dogmas of bigotry—one that could overcome the hate-filled fantasies of the Steve Bannons of the world.
The bizarre doc­u­ment fea­tured a mash-up of Mar­garet Thatch­er quotes, paeans to Nordic truck dri­vers and alle­gories about Christ­mas sweaters, but its cen­tral con­ceit — that a social­ist men­ace haunts the Amer­i­can pub­lic — has come to ani­mate Trump's talk­ing points as he sets his sights on 2020.
In his State of the Union address in Feb­ru­ary, Trump thun­dered, ​"Tonight, we renew our resolve that Amer­i­ca will nev­er be a social­ist coun­try." At the Con­ser­v­a­tive Polit­i­cal Action Con­fer­ence in March, he claimed, ​"We believe in the Amer­i­can dream, not the social­ist night­mare." Dur­ing a Nation­al Repub­li­can Cam­paign Com­mit­tee fundrais­er in April, he said, ​"I love the idea of ​'Keep Amer­i­ca Great,' because you know what it says is we've made it great. Now we're going to keep it great, because these social­ists will destroy it."
Such fear mon­ger­ing is not new. Barack Oba­ma was con­sis­tent­ly derid­ed as a free­dom-hat­ing social­ist by every­one from bil­lion­aire David Koch to for­mer Texas Gov. Rick Per­ry. Indeed, from William Jen­nings Bryan in the 1890s to Franklin Delano Roo­sevelt in the 1930s to Bill Clin­ton in the 1990s, con­ser­v­a­tives have attempt­ed to tar Demo­c­ra­t­ic pres­i­den­tial can­di­dates as social­ist agents.
The dif­fer­ence in 2020 is that this time around, one of the Demo­c­ra­t­ic front run­ners embraces the social­ist label. On Wednes­day, at George Wash­ing­ton Uni­ver­si­ty, Sen. Bernie Sanders deliv­ered an unwa­ver­ing defense of demo­c­ra­t­ic social­ism in a major cam­paign speech.
"Demo­c­ra­t­ic social­ism to me requires achiev­ing polit­i­cal and eco­nom­ic free­dom in every com­mu­ni­ty in this coun­try," said Sanders.
Pre­sent­ing a defense that teth­ered the prin­ci­ples of demo­c­ra­t­ic social­ism to bat­tles through­out U.S. his­to­ry to expand free­dom and pro­vide a bet­ter life for the Amer­i­can peo­ple, Sanders said that the task today is to ​"take up the unfin­ished busi­ness of the New Deal and car­ry it to completion."
But Sanders made clear that his vision goes beyond that of FDR's. ​"We must rec­og­nize that in the 21st cen­tu­ry, in the wealth­i­est coun­try in the his­to­ry of the world, eco­nom­ic rights are human rights," Sanders said, mak­ing a case for enshrin­ing not only health­care as a right, but also edu­ca­tion, employ­ment, hous­ing and the abil­i­ty to live in a ​"clean environment."
This con­cep­tion of demo­c­ra­t­ic social­ism sees such basic human needs as inalien­able, and demands they not be sub­ject to mar­ket forces. Dur­ing the speech, Sanders raised the ques­tion of whether peo­ple are tru­ly free if they can't afford to go to the doc­tor, or if they have to work 80 hours a week to make a living.
With inequal­i­ty lev­els mir­ror­ing those of the Gild­ed Age, and cor­po­rate prof­its at an all-time high, demo­c­ra­t­ic social­ism is find­ing a fer­vent audi­ence: More than 6 in 10 Amer­i­cans are unhap­py with the cur­rent size and influ­ence of cor­po­ra­tions, and the same pro­por­tion say the cur­rent dis­tri­b­u­tion of mon­ey and wealth in our soci­ety is unfair. Medicare for All, Sanders' trade­mark pro­pos­al, is now backed by 70 per­cent of Amer­i­cans, and his calls for a jobs guar­an­tee, tuition-free col­lege and a Green New Deal all boast major­i­ty sup­port. How would such pro­grams be paid for? More than 75 per­cent of Amer­i­cans say we should soak the rich.
Sanders has sim­i­lar­ly pro­posed a demo­c­ra­t­ic social­ist approach to work­ers' rights. He advo­cates expand­ing union rights, increas­ing employ­ee own­er­ship and cre­at­ing a work­er-run fund that would pay them out dividends.
If the con­stituent parts of Sanders' social­ist vision are increas­ing­ly pop­u­lar, so is the term itself. Despite the Right's best attempts to stig­ma­tize social­ism, 4 in 10 Amer­i­cans now say they would rather live in a social­ist coun­try than a cap­i­tal­ist one, and majori­ties of women, young peo­ple and Democ­rats all now say they favor social­ism over capitalism.
In his speech, Sanders did more than repeat his calls for a more egal­i­tar­i­an pol­i­tics and bold left-wing poli­cies. He argued that we are up against an oli­garchy that has cap­tured our polit­i­cal sys­tem, and that we must stand in sol­i­dar­i­ty with the move­ments of work­ing peo­ple who are demand­ing fun­da­men­tal change — from strik­ing teach­ers, to cli­mate jus­tice orga­niz­ers to women fight­ing for repro­duc­tive freedom.
Sanders made the case that the term ​"free mar­ket" is an oxy­moron. Cit­ing the Wall Street bailouts of 2008 and sub­si­dies heaped each year on the fos­sil fuel indus­try and monop­o­lis­tic enter­pris­es like Ama­zon, Sanders said that Trump and his fel­low oli­garchs have long engaged in a form of ​"cor­po­rate social­ism" that uses the pow­er of the state to guar­an­tee their con­tin­ued prof­itabil­i­ty. Quot­ing Dr. Mar­tin Luther King Jr., who said ​"this coun­try has social­ism for the rich, rugged indi­vid­u­al­ism for the poor," Sanders argued that noth­ing short of a full-fledged eco­nom­ic trans­for­ma­tion can reverse this arrangement.
By refram­ing the debate around social­ism to rebuke the greed of Trump and cor­po­rate Amer­i­ca, Sanders attempt­ed to turn the tables on crit­ics who dis­miss his demo­c­ra­t­ic social­ist agen­da. ​"The issue of unfet­tered cap­i­tal­ism is not just an aca­d­e­m­ic debate," he said. ​"Pover­ty, eco­nom­ic dis­tress and despair are life-threat­en­ing issues for mil­lions of work­ing peo­ple in the country."
He linked the turn toward oli­garchy and author­i­tar­i­an­ism in Amer­i­ca to the pan­theon of rightwing author­i­tar­i­an lead­ers who have con­sol­i­dat­ed pow­er around the world. He named names: Jair Bol­sonaro in Brazil, Vladimir Putin in Rus­sia, Xi Jin­ping in Chi­na, Rodri­go Duterte in the Philip­pines, Muhammed bin Salman in Sau­di Ara­bia, Vik­tor Orbán in Hun­gary and America's own Don­ald Trump.
"These lead­ers meld cor­po­ratist eco­nom­ics with xeno­pho­bia and author­i­tar­i­an­ism," said Sanders. ​"They redi­rect pop­u­lar anger about inequal­i­ty and declin­ing eco­nom­ic con­di­tions into vio­lent rage against minori­ties — whether they are immi­grants, racial minori­ties, reli­gious minori­ties or the LGBT com­mu­ni­ty. And to sup­press dis­sent, they are crack­ing down on democ­ra­cy and human rights."
In con­trast to such hate-mon­ger­ing, Sanders coun­ter­posed demo­c­ra­t­ic social­ism which he said seeks ​"a high­er path, a path of com­pas­sion, jus­tice and love."
With hate crimes on the rise across the coun­try, and the Trump admin­is­tra­tion engag­ing in such poli­cies as the caging of migrant chil­dren, Sanders argued that demo­c­ra­t­ic social­ism is not some rad­i­cal phi­los­o­phy to be feared, but rather the anti­dote to the grow­ing dog­mas of big­otry — one that could over­come the hate-filled fan­tasies of the Steve Ban­nons of the world.
Trump has made his game plan for 2020 abun­dant­ly clear: attack the Democ­rats as the par­ty of social­ism. No mat­ter who wins the nom­i­na­tion, whether it's Sanders, Joe Biden or Kamala Har­ris, they will sure­ly be smeared as social­ists. With his full-throat­ed defense of demo­c­ra­t­ic social­ism, Sanders wel­comed such a debate, trust­ing that the Amer­i­can peo­ple will be on his side.
Nev­er in mod­ern U.S. his­to­ry has there been a more clear-cut con­test between the forces of ​"social­ism and bar­barism," as the old Marx­ist idiom goes. If Sanders' speech is any indi­ca­tion, it's a fight he's eager to have.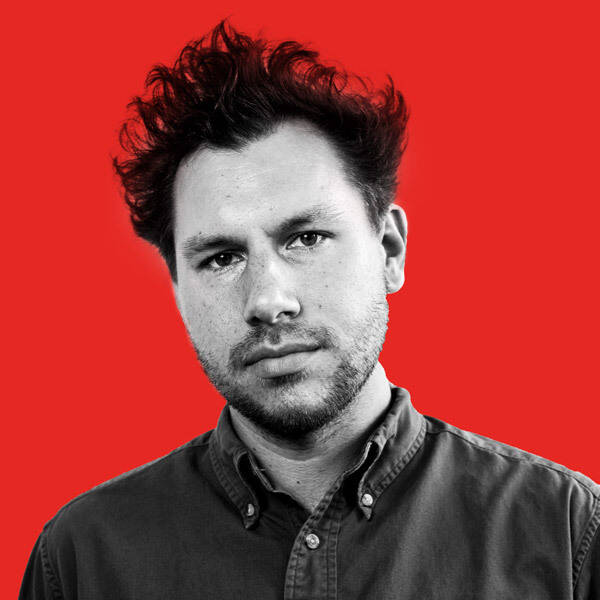 Miles Kampf-Lassin, a grad­u­ate of New York Uni­ver­si­ty's Gal­latin School in Delib­er­a­tive Democ­ra­cy and Glob­al­iza­tion, is a Web Edi­tor at In These Times. Fol­low him on Twit­ter @MilesKLassin