Did You Get a Text Inviting You to a Picket Line? It Might Be from Bernie Sanders.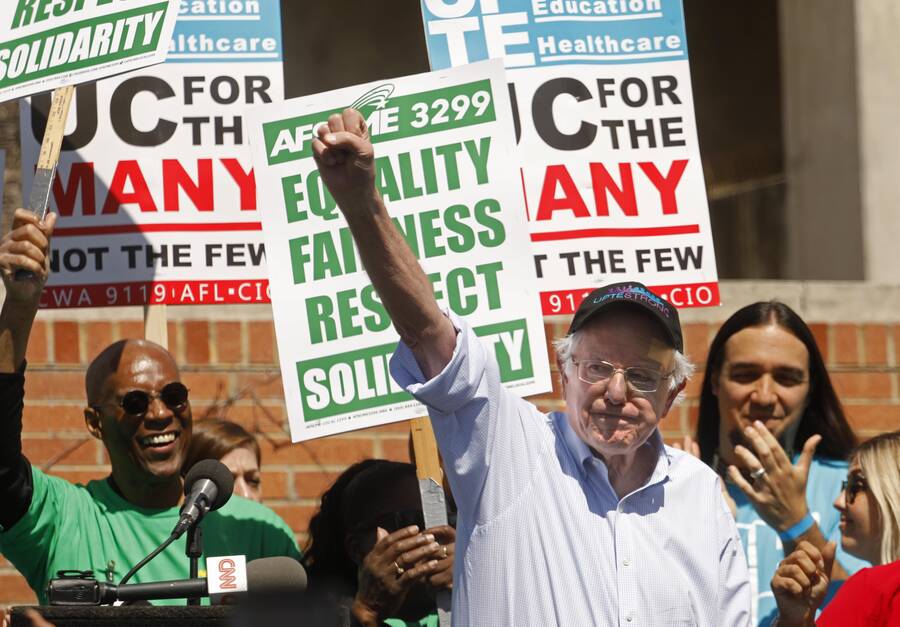 As grad­u­ate stu­dent work­ers at the Uni­ver­si­ty of Chica­go began a three-day work stop­page this week to demand union recog­ni­tion, Sen. Bernie Sanders — one of the university's most notable alum­ni — called on his army of sup­port­ers to join their pick­et lines through an email and text mes­sage blast.
One of Sanders' sup­port­ers who received the mes­sage was UChica­go grad­u­ate instruc­tor Lau­ra Colaneri, a mem­ber of the union Grad­u­ate Stu­dents Unit­ed (GSU) and a PhD can­di­date in His­pan­ic and Luso-Brazil­ian Studies.
"It was a real­ly awe­some boost to get that mes­sage because I'm one of the work­ers involved in this action," Colaneri told In These Times. ​"I'm excit­ed to see a can­di­date using his sta­tus to sup­port work­ers direct­ly, not just by giv­ing us a rhetor­i­cal line, but help­ing us out with an action that we're doing."
While can­di­dates tra­di­tion­al­ly use their exten­sive con­tact lists to focus on fundrais­ing or bring­ing peo­ple out to their cam­paign ral­lies, Sanders is under­tak­ing an appar­ent first in mod­ern pres­i­den­tial pol­i­tics: using his lists to help mobi­lize turnout at work­er-led actions.
Last month, the Sanders cam­paign helped turn sup­port­ers out to a one-day strike at the Uni­ver­si­ty of Cal­i­for­nia cam­pus­es, where rep­re­sen­ta­tives said 1,000 peo­ple ​"respond­ed with inter­est or com­mit­ted to go to a protest." The cam­paign also called on sup­port­ers to join thou­sands of McDonald's work­ers who went on strike across the coun­try May 23 demand­ing a $15-per-hour min­i­mum wage.
Sanders sup­port­ers were also recent­ly encour­aged to join health­care work­ers at the Uni­ver­si­ty of Pitts­burgh Med­ical Cen­ter on their pick­et line, as well as nurs­es at Mer­cy Health St. Vin­cent Med­ical Cen­ter in Tole­do, Ohio. The cam­paign is cur­rent­ly work­ing to turn sup­port­ers out for a march of McDonald's work­ers in Cedar Rapids, Iowa on June 9 that Sanders will join.
"I think it's fair to say this is a work­ers' move­ment as much as it's a pres­i­den­tial cam­paign," Bill Nei­d­hardt, Mid­west Press Sec­re­tary for the Sanders cam­paign, told In These Times. ​"And that's exact­ly how we want it to be. That's how you win. With a movement."
Nei­d­hardt not­ed that the Sanders team has pre­vi­ous­ly used its con­tact lists to dri­ve turnout for labor actions at Delta Air­lines, Dis­ney, Ama­zon, Gen­er­al Motors, Wabtec, Nis­san and the Los Ange­les Uni­fied School District.
Mean­while, Sanders' own employ­ees recent­ly union­ized them­selves, win­ning the first union con­tract for staff of a major par­ty pres­i­den­tial cam­paign. Among oth­er gains, the con­tract includes a $20-an-hour wage for interns at the Wash­ing­ton, D.C. cam­paign head­quar­ters and a cap on man­ag­er salaries. Since the announce­ment, three oth­er 2020 Demo­c­ra­t­ic cam­paigns have union­ized: those of for­mer HUD Sec­re­tary Julián Cas­tro, Rep. Eric Swal­well (D‑Calif.) and Sen. Eliz­a­beth War­ren (D‑Mass.).
"[Sanders'] objec­tive is to strength­en unions as they've dwin­dled and been bust­ed," said Nan­ci Pon­né, who joined GSU's pick­et lines at UChica­go on June 5 after receiv­ing an email from the cam­paign. She was one of hun­dreds of peo­ple who joined GSU for a mass pick­et and ral­ly that after­noon, many of them direct­ed there by Sanders.
"Unions bring strength and pow­er where work­ers didn't have it before," Pon­né, who works in the Chica­go hotel indus­try and iden­ti­fied as a mem­ber of Unite Here, told In These Times. ​"There's no rea­son for Bernie not to use his awe­some email list to empow­er unions that will help bring more ben­e­fits to workers."
The three-day work stop­page at UChica­go this week comes near­ly 19 months after an over­whelm­ing major­i­ty of grad­u­ate work­ers there vot­ed to union­ize with GSU in an elec­tion super­vised by the Nation­al Labor Rela­tions Board (NLRB).
As at many oth­er pri­vate uni­ver­si­ties where grad­u­ate work­ers recent­ly vot­ed to form a union, the UChica­go admin­is­tra­tion con­tin­u­ous­ly refus­es to rec­og­nize GSU, claim­ing grad work­ers are more ​"stu­dents" than employ­ees and there­fore inel­i­gi­ble for union rep­re­sen­ta­tion. With the NLRB now con­trolled by anti-union Trump appointees — who are poised to under­cut the legal basis for grad work­er unions — GSU has with­drawn from the for­mal Board process and is demand­ing vol­un­tary recog­ni­tion from the university.
"They're stonewalling," Colaneri said of the UChica­go admin­is­tra­tion, adding that admin­is­tra­tors called extra cam­pus police out to the GSU pick­ets. ​"They keep say­ing it's your free speech to do this, but then they've sent out emails to under­grad­u­ate stu­dents and their par­ents telling them to report if your grad­u­ate instruc­tor isn't in class. But we're not let­ting it intim­i­date us."
As a UChica­go alum­nus, Sanders has sup­port­ed GSU through­out their fight for union recog­ni­tion. ​"I hope very much that you will set an exam­ple through­out the world by sup­port­ing a demo­c­ra­t­ic deci­sion made by grad­u­ate stu­dents and teach­ing assis­tants," the sen­a­tor wrote uni­ver­si­ty pres­i­dent Robert Zim­mer in Novem­ber 2017. ​"To appeal this deci­sion to an anti-work­er, Trump-appoint­ed Nation­al Labor Rela­tions Board is not some­thing that a world class insti­tu­tion of high­er learn­ing should do."
No stranger to cam­pus activism, while a stu­dent at UChica­go in the ear­ly 1960s, the future pres­i­den­tial can­di­date helped lead a 13-day sit-in to demand an end to the university's hous­ing dis­crim­i­na­tion pol­i­cy, was arrest­ed protest­ing racial dis­crim­i­na­tion at Chica­go Pub­lic Schools, and joined the youth wing of the Social­ist Party.
"My four years in Chica­go was an extra­or­di­nary moment in my life, and very much shaped my world­view and what I want­ed to do," Sanders said ear­li­er this year.
With class­es at UChica­go now over for the spring, on the evening of June 5 GSU mem­bers vot­ed to sus­pend their work stop­page. ​"We have shown the uni­ver­si­ty, the world, and our­selves what we are capa­ble of as a union, and how fun­da­men­tal­ly the uni­ver­si­ty depends on our work," read a state­ment from the union.
"The amount of ener­gy we've been able to sus­tain over three days is real­ly incred­i­ble," Colaneri said. ​"This doesn't come from Bernie, it comes from us, from the work­ers being ready to fight for what we deserve. And it's great to be sup­port­ed in that, but not over­shad­owed. It's not about Bernie, it's real­ly about us."
Jeff Schuhrke has been a Work­ing In These Times con­trib­u­tor since 2013. He has a Ph.D. in His­to­ry from the Uni­ver­si­ty of Illi­nois at Chica­go and a Master's in Labor Stud­ies from UMass Amherst. Fol­low him on Twit­ter: @JeffSchuhrke