Bernie Sanders Endorses Chuy Garcia, Calls Chicago Election a 'Political Revolution'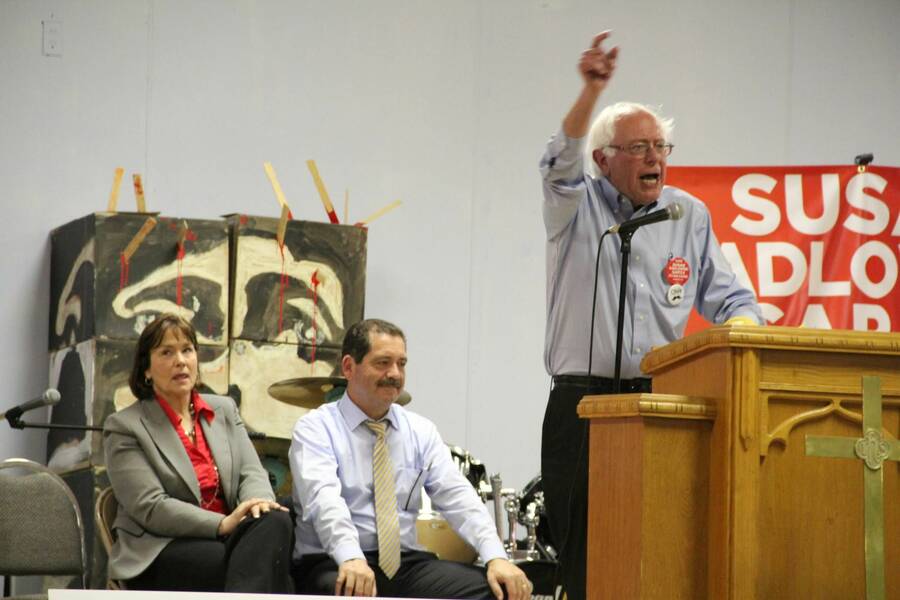 Under­scor­ing the extent to which Chicago's April 7 elec­tion has tak­en on nation­al sym­bol­ism, Sen­a­tor Bernie Sanders (I‑Vt.) vis­it­ed a church on Chicago's South­east Side on April 2 to call for a ​"polit­i­cal rev­o­lu­tion" and ral­ly behind may­oral hope­ful Jesus ​"Chuy" Gar­cia and 10th ward City Coun­cil can­di­date Sue Sad­lows­ki Garza.
Sanders told the wild­ly cheer­ing crowd of sev­er­al hun­dred South­east Side res­i­dents that Gar­cia and Sad­lows­ki Garza — a Chica­go Teach­ers Union leader from a fam­i­ly of vaunt­ed Unit­ed Steel­work­ers activists — rep­re­sent a break from the cor­po­rate-mind­ed ​"oli­garchy" that has ruled on munic­i­pal, state and fed­er­al levels.
Gar­cia, Sad­lows­ki Garza, CTU Pres­i­dent Karen Lewis and mem­bers of the crowd also came to the stage to speak, many describ­ing the South­east Side as sym­bol­ic of the way work­ing-class neigh­bor­hoods have been dec­i­mat­ed by glob­al­iza­tion and then neglect­ed by neolib­er­al politi­cians. The South­east Side was once a thriv­ing indus­tri­al area where tens of thou­sands of peo­ple worked well-pay­ing union jobs in the steel mills. But as the steel indus­try large­ly moved over­seas in search of cheap­er labor, the neigh­bor­hood became plagued by unem­ploy­ment and dis­in­vest­ment. Res­i­dents say things have grew worse as suc­ces­sive may­oral admin­is­tra­tions focused on down­town and wealth­i­er areas, allow­ing crime and struc­tur­al dete­ri­o­ra­tion in their neigh­bor­hoods to spiral.
"Where there was a uni­fied 10th ward, there is now iso­la­tion; where there were safe streets, now there are kids turn­ing to gangs and drugs and despair," Sad­lows­ki Garza lament­ed. ​"None of this hap­pened to us by accident."
Res­i­dents say that after the depar­ture of union jobs, the South­east Side has become a ​"dump­ing ground" for indus­tri­al waste facil­i­ties — includ­ing Koch Indus­tries' con­tro­ver­sial petro­le­um coke (pet­coke, or ​"petKoch") plant — while city offi­cials have invest­ed in down­town and oth­er wealth­i­er areas. They see May­or Rahm Emanuel, who counts bil­lion­aires like Ken Grif­fin among his top donors, as the poster boy for these forces. Incum­bent alder­man John Pope, whom Sad­lows­ki Garza is chal­leng­ing, has Emanuel's back­ing, and many res­i­dents say he has been too wel­com­ing to the Koch sub­sidiary KCBX Ter­mi­nals, the bulk stor­age com­pa­ny Beem­ster­boer Slag, the food proces­sor Agri-Fine, and oth­er cor­po­ra­tions that have locat­ed pol­lut­ing facil­i­ties in the area.
Indeed, on Avenue O, where the ral­ly was held, a pun­gent, nau­se­at­ing smell hangs in the air, ema­nat­ing from the near­by plant owned by Agri-Fine, which has donat­ed $38,400 to Pope since 2000, accord­ing to the State Board of Elec­tions. Pope has received more than $22,000 from Beem­ster­boer and more than $10,000 from Koch-relat­ed com­pa­nies over the same span.
Sad­lows­ki Garza, Sanders and oth­er speak­ers invoked the South­east Side's his­to­ry of a once-thriv­ing steel indus­try and leg­endary labor bat­tles like the noto­ri­ous Memo­r­i­al Day Mas­sacre of 1937, promis­ing that the neigh­bor­hood and the labor unions that made it strong are poised to resurge and ​"take back" City Hall, start­ing on April 7.
"This is holy ground where we stand tonight," said Sad­lows­ki Garza. She described the church where many labor meet­ings have tak­en place as rep­re­sent­ing ​"the peo­ple pow­er move­ment, the union broth­ers who gave their lives here in 1937 to secure rights that are under attack all over again."
A sim­i­lar mes­sage was deliv­ered by Karen Lewis, the CTU pres­i­dent who was polling strong as a pos­si­ble chal­lenger to Emanuel until a brain can­cer diag­no­sis caused her with­draw­al in the fall, spurring Gar­cia to enter the race.
"This has got to be the start of a move­ment. This can't be about one elec­tion, one elec­tion cycle," said Lewis, who spoke with the same fiery vig­or that made her a nation­al fig­ure dur­ing and since the teach­ers' 2012 strike.
Sanders, the Ver­mont social­ist whose name is being float­ed for a 2016 pres­i­den­tial run, said that as a fed­er­al leg­is­la­tor, he wants to work with munic­i­pal lead­ers like Gar­cia and Sad­lows­ki Garza on dras­ti­cal­ly reshap­ing pol­i­tics and gov­ern­ment, includ­ing rais­ing the min­i­mum wage to a liv­ing wage, cre­at­ing uni­ver­sal health­care and bring­ing man­u­fac­tur­ing back to the U.S.
"At a time when pover­ty is as high as any time in his­to­ry," Sanders said, ​"we're going to ask the rich­est peo­ple in the coun­try, the bil­lion­aires and the cor­po­ra­tions, to start pay­ing their fair share. When we do that and raise hun­dreds of bil­lions of dol­lars, we're going to invest it in rebuild­ing our crum­bling infra­struc­ture and putting peo­ple back to work.""We know that when we stand togeth­er we can have local, state and nation­al gov­ern­ments rep­re­sent­ing ordi­nary Amer­i­cans and not just the 1%," Sanders con­tin­ued. ​"That's what this elec­tion is about. Yeah, Chuy is going to be out­spent 8 to 1, but there are a lot more of us than there are of them."
Peo­ple streamed towards the site of the ral­ly for blocks around, walk­ing by trim yards, many with signs for Garza and seem­ing­ly few­er for Pope.
Despite the loss of jobs and eco­nom­ic decay, the South­east Side is still home to gen­er­a­tions of tight-knit fam­i­lies who are proud of their communities.
Sad­lows­ki Garza, a teacher who belongs to the CTU, is a third-gen­er­a­tion union mem­ber whose fam­i­ly has been in the area for 140 years. Her great-grand­fa­ther, Adam Sad­lows­ki, lost his job dur­ing the 1919 Steel­work­ers recog­ni­tion strike and was a mem­ber of the Inter­na­tion­al Broth­er­hood of Rail­way Engi­neers. Her grand­fa­ther is leg­endary union orga­niz­er Edward ​"Load" Sad­lows­ki, a found­ing mem­ber of Steel­work­ers Local 1010, who was on the strike line dur­ing the Memo­r­i­al Day Mas­sacre. Anoth­er grand­fa­ther, Edward McDil­lon, was a union machin­ist at the Gen­er­al Mills plant near­by on the Calumet Riv­er. Her father, Ed ​"Oil­can" Sad­lows­ki, who attend­ed the April 2 ral­ly, is anoth­er renowned Steel­work­ers labor leader. Her hus­band, Raul Garza, and her son, David, are mem­bers of the Iron­work­ers Local 63.
"Gen­er­a­tions have fought so hard to make them under­stand that the peo­ple just want a voice," said Sad­lows­ki Garza. ​"Broth­ers and sis­ters, we've already fun­da­men­tal­ly derailed the con­ver­sa­tion [pro­mot­ing] Rahm Emanuel and John Pope's cor­po­rate agenda."
"I know that when you give the pow­er to the peo­ple they start to take pride," she con­tin­ued. ​"They get involved, they take the ini­tia­tive to make this neigh­bor­hood strong and vibrant like it once was."
Gar­cia said he looked for­ward to serv­ing with Sad­lows­ki Garza in City Hall, and to pro­mot­ing the val­ues and his­to­ry that she and her fam­i­ly and fel­low union mem­bers represent.
"What they stand for and the val­ues she has inher­it­ed from them is [that] you always treat work­ing peo­ple with the high­est dig­ni­ty and respect," Gar­cia said. ​"And you put their inter­ests first."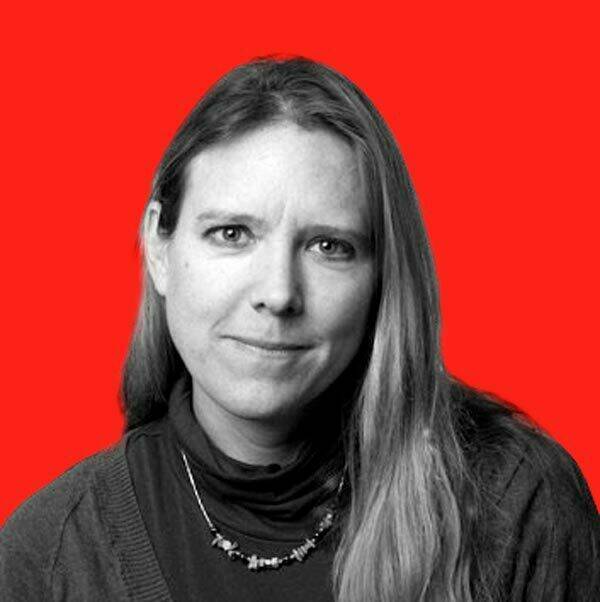 Kari Lyder­sen
is a Chica­go-based reporter, author and jour­nal­ism instruc­tor, lead­ing the Social Jus­tice
&
amp; Inves­tiga­tive spe­cial­iza­tion in the grad­u­ate pro­gram at North­west­ern Uni­ver­si­ty. She is the author of May­or
1
%: Rahm Emanuel and the Rise of Chicago's
99
%.