Bernie Sanders Is Drawing Massive Crowds Around the Country—No Big Deal, Says Washington Post
Mainstream commentators are insistent that the outpouring of enthusiasm for Sanders' progressive vision is meaningless.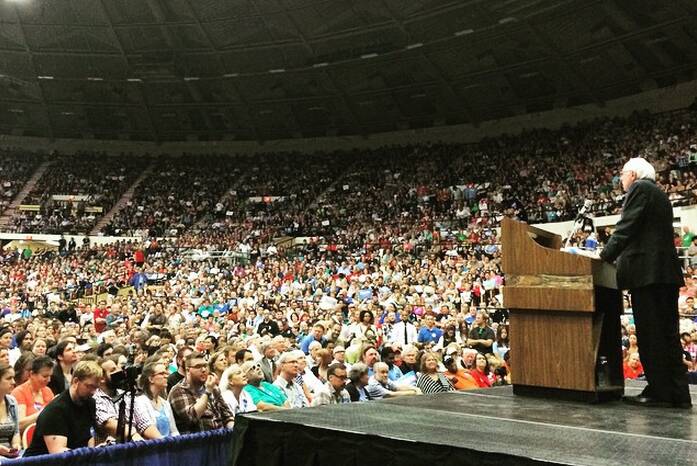 With each city Demo­c­ra­t­ic pres­i­den­tial can­di­date Bernie Sanders vis­its, the num­ber of sup­port­ers he draws to his ral­lies keeps grow­ing. Since June 1, Sanders has spo­ken to 100,000 peo­ple across sev­en events.
If Sanders' rallies, like Obama's, are signs of a growing movement, why do the Post's columnists focus their articles on doubting the political potential of that movement and hailing the inevitability of Hillary Clinton?
In Phoenix, Ari­zona, on July 18, he drew 11,000 peo­ple, set­ting a new record for 2016 pres­i­den­tial can­di­dates. His record con­tin­ued in Seat­tle with 15,000 sup­port­ers, and then in Port­land with 28,000 sup­port­ers. In Los Ange­les on August 10, Sanders drew about 27,500 sup­port­ers, accord­ing to the Sanders campaign.
But for Wash­ing­ton Post colum­nist Philip Bump, those num­bers ​"don't mat­ter much."
Bump asserts Sanders' recent surge in the polls is sim­ply thanks to the low-hang­ing fruit of the lib­er­al Demo­c­ra­t­ic wing, many of whom sup­port Sen. Eliz­a­beth War­ren just as much as they sup­port Sanders. He also writes: ​"There is Hillary Clin­ton, and there is Not Hillary Clin­ton. Not Hillary Clin­ton used to be named Eliz­a­beth War­ren; Not Hillary Clin­ton is now named Bernie Sanders."
Anoth­er Post colum­nist, Chris Cil­liz­za, also attrib­ut­es Sanders' crowds to the cities being major­i­ty lib­er­al, writ­ing, ​"Port­land is a known den of pro­gres­sivism where Pres­i­dent Oba­ma drew mas­sive crowds dur­ing his 2008 campaign."
Bump and Cil­liz­za seemed to for­get that Sanders had drawn his then-largest crowd of 11,000 peo­ple in con­ser­v­a­tive Phoenix. Most Repub­li­can can­di­dates' largest ral­lies drew about 5,000 sup­port­ers. On August 18, Repub­li­can can­di­date Ben Car­son drew 12,000 sup­port­ers in Phoenix, the biggest crowd for a GOP can­di­date.
So far, Clinton's largest ral­ly had 5,500 sup­port­ers. Bump claims Clinton's lack of large crowds is inten­tion­al; she prefers ​"neat­ly tai­lored group[s] of a few thou­sand" in ​"a space meant to dis­play an audi­ence that size for the cam­eras" as part of a strat­e­gy to dis­tance her­self from the image of being an unap­proach­able jug­ger­naut. Bump writes:
Could Clin­ton fill an are­na in Los Ange­les if she want­ed to? Of course she could. Unques­tion­ably. … There are unions in Los Ange­les that can fill a sta­di­um on a week's notice. This is not as big a task as it looks.
Sanders, on the oth­er hand, has filled tens of thou­sands of seats with­out lever­ag­ing unions to arti­fi­cial­ly fill seats. Regard­less, attract­ing large crowds has indeed been a big task for Repub­li­can candidates.
To be fair, Cil­liz­za and Bump rec­og­nize Sanders' abil­i­ty to draw crowds with grass­roots cam­paign­ing and enthu­si­asm. Cil­liz­za writes, ​"But, crowds are at some lev­el an indi­ca­tor of organ­ic ener­gy — it is after all how it became clear in 2006 and 2007 that some­thing major was hap­pen­ing with Oba­ma." Bump writes, ​"Now, I'll grant that [fill­ing an are­na] is prob­a­bly eas­i­er for Sanders — that he has more ener­gy behind him."
But these state­ments always come with a catch. Cil­liz­za framed Sanders' suc­cess in attract­ing sup­port­ers main­ly as an irri­tant to Clinton's cam­paign — not because he could win, since ​"Clin­ton isn't in the dan­ger of los­ing the Demo­c­ra­t­ic nom­i­na­tion that she was in 2008." Rather, vis­i­ble enthu­si­asm for Sanders could cre­ate a dan­ger­ous ​"per­ceived lack of pas­sion" for Clinton:
Repub­li­can base vot­ers will be fired up beyond belief to take back the White House — and vote against Clin­ton — next Novem­ber. She has to find ways to cre­ate that pas­sion for her­self with­in the Demo­c­ra­t­ic base.
A more recent op-ed by Cil­liz­za reject­ed the entire premise that Clin­ton could be over­tak­en, say­ing, ​"It's too late for Democ­rats to start rethink­ing Clinton's 2016 via­bil­i­ty." He writes Clin­ton has more polit­i­cal favor than Biden, Al Gore or ​"your ide­al rich-per­son-with-no-record-and-a-fresh-faced-appeal." The only men­tion of Sanders is in the sec­ond-to-last para­graph as ​"the lib­er­al alternative."
Bump not­ed that sup­port­ers at the LA ral­ly — which he round­ed up to 28,000 — are only a tiny frac­tion of the 2.5 mil­lion of LA res­i­dents who vot­ed for Oba­ma in 2012, and there­fore do not show us how many peo­ple will vote for Sanders in 2016. This met­ric is mean­ing­less; of course the num­ber of peo­ple who vote for a pres­i­den­tial nom­i­nee is going to be larg­er than the num­ber of peo­ple who attend a ral­ly more than a year before the election.
Cil­liz­za com­pared Sanders' 28,000 turnout in Port­land in August to Obama's 75,000 in the same city in May 2008 — even though Obama's ral­ly, the largest of his 2008 cam­paign, occurred dur­ing the height of pri­ma­ry vot­ing in Ore­gon, where­as Sanders' was approx­i­mate­ly nine months in advance of the primary.
A fair­er com­par­i­son would hold Sanders' ral­ly in LA up to Obama's LA ral­ly in Feb­ru­ary 2007, which was about one-third as large. Despite some cor­po­rate media naysay­ing, Obama's LA ral­ly was high­light­ed by the Post as a note­wor­thy achieve­ment, since 9,000 ​"is a larg­er turnout than Pres­i­dent Bush usu­al­ly gets and cer­tain­ly more than Obama's rivals in the 2008 cam­paign are pulling in."
If Sanders' ral­lies, like Obama's, are signs of a grow­ing move­ment, why do the Post's colum­nists focus their arti­cles on doubt­ing the polit­i­cal poten­tial of that move­ment and hail­ing the inevitabil­i­ty of Hillary Clinton?