Why Bernie Must Keep Going: It's About Our Future
Sanders is down, but he's not out. And he can still help advance a progressive agenda for all of us.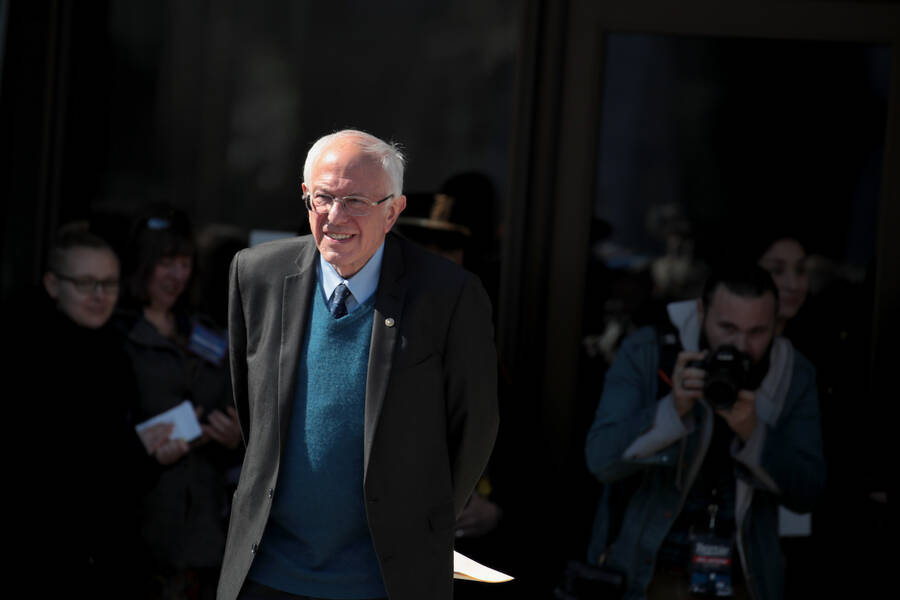 With the lat­est pri­ma­ry results nar­row­ing Sen. Bernie Sanders' path to the Demo­c­ra­t­ic nom­i­na­tion, a num­ber of main­stream media pun­dits and estab­lish­ment politi­cians have urged Sanders to drop out of the race in the sake of ​"uni­ty."
Bernie Sanders has been forging (and largely winning) the campaign of ideas and policies since 2016.
Thank­ful­ly, Sanders is forg­ing on, prepar­ing for a one-on-one debate with Joe Biden on Sun­day, as well as the upcom­ing pri­maries in Ari­zona, Flori­da, Ohio and Illinois.
It's worth not­ing that, with less than half of the del­e­gates cho­sen, Biden leads by only about 150 del­e­gates, with 109 del­e­gates still to be appor­tioned from states where Sanders is either lead­ing sig­nif­i­cant­ly or tied. This race is not yet fin­ished, and there's still time or Sanders to either stage a come­back or, at min­i­mum, to make a major impact at the Demo­c­ra­t­ic con­ven­tion in Mil­wau­kee this summer.
Some may ask — with a clear­ly dimin­ished chance at vic­to­ry and the need to ulti­mate­ly unite against Trump, why should Sanders con­tin­ue? There are a few impor­tant rea­sons for Bernie to cam­paign all the way to the con­ven­tion, even if he con­tin­ues to be behind in the del­e­gate count.
First: you nev­er know what can hap­pen on the cam­paign trail, and Biden is a risky nom­i­nee from a vari­ety of van­tage points. With a close race for the nom­i­na­tion, and even with Sanders' dimin­ished chances, it remains vital to present a seri­ous and viable alter­na­tive to what could be a dis­as­trous matchup of Biden ver­sus Pres­i­dent Trump.
Sec­ond: Biden is los­ing huge­ly among younger vot­ers, and sig­nif­i­cant­ly among Lat­inx vot­ers—two crit­i­cal vot­ing blocs for any Demo­c­ra­t­ic nom­i­nee. As CNN report­ed fol­low­ing Super Tues­day, ​"Look­ing across all the con­tests with an exit poll, Sanders won an astound­ing 61% to Biden's 17% among vot­ers under 30 years old. He even beat Biden by 20 points (43% to 23%) among those between 30 years old and 44 years old." Sanders has also won inde­pen­dent vot­ers in 13 out of the 16 states where exit polls were conducted.
Democ­rats should fight for a nom­i­nee who can mobi­lize and inspire these vital vot­ers. While Biden is win­ning strong majori­ties of old­er African Amer­i­can vot­ers, espe­cial­ly in the South, there remain sig­nif­i­cant gen­er­a­tional, geo­graph­ic and ide­o­log­i­cal splits among all voters.
Third, and per­haps most crit­i­cal: Bernie Sanders has been forg­ing (and large­ly win­ning) the cam­paign of ideas and poli­cies since 2016, and this effort must go on for the good of the coun­try — and planet.
This bat­tle for ideas and poli­cies must not be swept under the polit­i­cal rug. With the fix­a­tion this elec­tion on ​"any­body but Trump," and ​"blue no mat­ter who," the urgent need for sig­nif­i­cant pol­i­cy change — par­tic­u­lar­ly to address the fast-tick­ing cli­mate cri­sis — is being large­ly overlooked.
"It's not just about win­ning one elec­tion or win­ning the pres­i­den­cy," Bran­don Hara­mi, co-Chair of the San Fran­cis­co Berniecrats and a Cal­i­for­nia Demo­c­ra­t­ic Par­ty del­e­gate, told the San Fran­cis­co Chron­i­cle. ​"This is about win­ning work­ing-class pow­er and win­ning pro­gres­sive seats."
Yes, of course defeat­ing Trump is essen­tial to blunt his administration's far-right poli­cies and achieve progress on ques­tions of jus­tice and equal­i­ty. But if we don't con­tin­ue to push for the poli­cies and ideas that are essen­tial to repair­ing the cli­mate cri­sis and cre­at­ing a more equi­table soci­ety, then we all lose out.
In his speech the day after Tues­day, Sanders laid out some of the impor­tant ques­tions he plans to chal­lenge Biden on in Sunday's debate:
Joe, what are you going to do for the 500,000 peo­ple who will go bank­rupt in our coun­try because of med­ical­ly relat­ed debt? And what are you going to do for the work­ing peo­ple of this coun­try and small busi­ness­peo­ple who are pay­ing on aver­age 20 per­cent of their incomes for health care?

Joe, what are you going to do to end the absur­di­ty of the Unit­ed States of Amer­i­ca being the only major coun­try on earth where health care is not a human right? Are you real­ly going to veto a Medicare for all bill, if it is passed in Congress?

Joe, how are you going to respond to the sci­en­tists who tell us we have sev­en or eight years remain­ing to trans­form our ener­gy sys­tem before irrepara­ble harm takes place to this plan­et because of the rav­ages of cli­mate change?

Joe, at a time when most young peo­ple need a high­er edu­ca­tion to make it into the mid­dle class, what are you going to do to make sure that all of our peo­ple can go to col­lege or trade school, regard­less of their income? And what are you going to do about the mil­lions of peo­ple who are strug­gling with out­ra­geous lev­els of stu­dent debt?

Joe, at a time when we have more peo­ple in jail than com­mu­nist Chi­na, a nation four times our size, what are you going to do to end mass incar­cer­a­tion and a racist crim­i­nal jus­tice sys­tem? And what are you going to do to end the ter­ror that mil­lions of undoc­u­ment­ed peo­ple expe­ri­ence right now because of our bro­ken and inhu­mane immi­gra­tion system?

Joe, what are you going to do about the fact that we have the high­est rate of child­hood pover­ty of almost any major coun­try on Earth and are liv­ing with the fact that 500,000 peo­ple tonight are home­less and 18 mil­lion fam­i­lies are spend­ing half of their income to put a roof over their heads?

Joe, impor­tant­ly, what are you going to do to end the absur­di­ty of bil­lion­aires buy­ing elec­tions and the three wealth­i­est peo­ple in Amer­i­ca own­ing more wealth than the bot­tom half of our people?
These are the ques­tions that tens of mil­lions of Amer­i­cans are ask­ing, and that Bernie's cam­paign con­tin­ues to raise while Biden fails to address. These are the ques­tions that any nom­i­nee or pres­i­dent must answer — not just to win, but to cre­ate mean­ing­ful change and progress for the Amer­i­can peo­ple and the planet.
So yes — in the name of a still poten­tial Sanders nom­i­na­tion and pres­i­den­cy, and of pres­sur­ing any Demo­c­ra­t­ic nom­i­nee to embrace urgent­ly nec­es­sary poli­cies like a Green New Deal, Medicare for All, free pub­lic col­lege, stu­dent debt relief, a $15 fed­er­al min­i­mum wage and oth­er vital changes — Bernie Sanders, and the move­ment he's gal­va­nized, must keep orga­niz­ing, cam­paign­ing and battling.
In so many ways, the fight has only just begun. And, as before, it isn't about Bernie Sanders — it's about all of us, and our future.
Christo­pher D. Cook
is an award-win­ning jour­nal­ist and author of
Diet for a Dead Plan­et: Big Busi­ness and the Com­ing Food Cri­sis
. His writ­ing has appeared in
Harper's
,
The Atlantic
,
The Nation
, the
Los Ange­les Times
and else­where. You can reach him at
http://​www​.christo​pherd​cook​.com/
.