Paul Krugman Is Wrong About Bernie Sanders—and About How Social Change Works
Bernie isn't some kind of wild-eyed radical. He's actually the most pragmatic candidate in the race.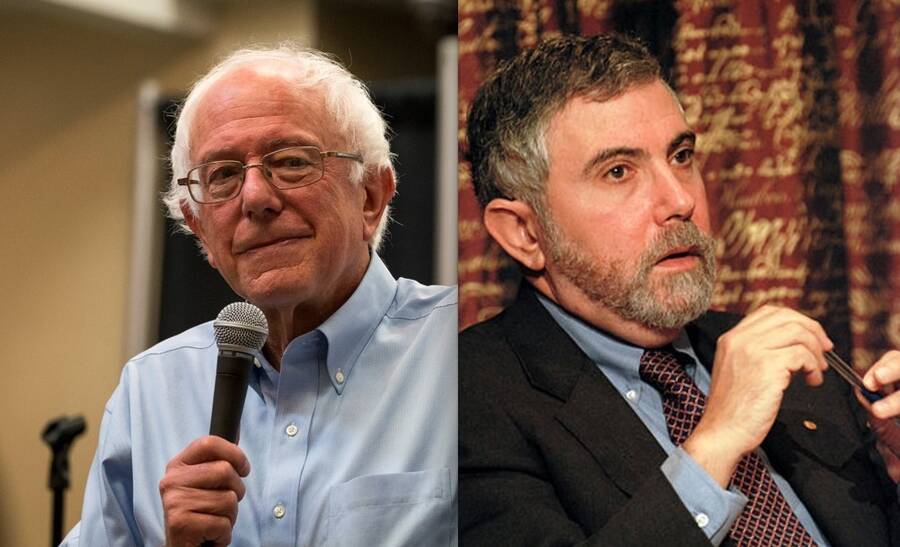 In his recent col­umn in the New York Times, Paul Krug­man con­trasts Hillary Clinton's ​"hard­head­ed real­ism" with Bernie Sanders' ​"ide­al­ism." In Krugman's view, Sanders and his star­ry-eyed sup­port­ers don't under­stand ​"How Change Hap­pens" (the title of the col­umn), while Hillary Clin­ton and her more prag­mat­ic sup­port­ers do. He's wrong — about what Sanders', and his sup­port­ers', ​"the­o­ry of change" is and about how change happens.
Link­ing Clin­ton to Oba­ma, LBJ and FDR, all of whom are por­trayed as tough-mind­ed reform­ers who were effec­tive because of their will­ing­ness to com­pro­mise, Krug­man states:
[T]he ques­tion Sanders sup­port­ers should ask is, When has their the­o­ry of change ever worked? Even F.D.R., who rode the depths of the Great Depres­sion to a huge major­i­ty, had to be polit­i­cal­ly prag­mat­ic, work­ing not just with spe­cial inter­est groups but also with South­ern racists.
Krug­man por­trays Sanders as a ​"high-mind­ed leader" seek­ing to ​"con­jure up the bet­ter angels of America's nature and per­suade the broad pub­lic to sup­port a rad­i­cal over­haul of our insti­tu­tions." The prob­lem is, ​"as Mr. Oba­ma him­self found out as soon as he took office, trans­for­ma­tion­al rhetoric isn't how change happens."
If Sanders believed, as Krug­man sug­gests, that change hap­pens sole­ly, or pri­mar­i­ly, through ​"trans­for­ma­tion­al rhetoric," this cri­tique would have some bite. But Sanders believes no such thing.
As Sanders has made clear over and over, to enact the types of com­par­a­tive­ly far-reach­ing changes he is seek­ing (which are, we should always remem­ber, quite mod­er­ate by glob­al stan­dards) — uni­ver­sal health­care, tuition free col­lege, a $15 per hour min­i­mum wage, increased tax­es on the wealthy, legal reform that makes union­iza­tion eas­i­er, over­turn­ing Cit­i­zens Unit­ed—requires noth­ing short of a ​"polit­i­cal revolution."
Sanders should do much more to flesh out what exact­ly he means by that rev­o­lu­tion. (One way to do this would be to pay clos­er atten­tion to the types of changes that have occurred in Venezuela and oth­er coun­tries in Latin Amer­i­ca over the last 15 years.) But in marked con­trast to Clin­ton and Krug­man, Sanders under­stands that bring­ing about a polit­i­cal rev­o­lu­tion requires build­ing a mass move­ment — not just elect­ing a new pres­i­dent, how­ev­er pro­gres­sive he or she may be.
"Return­ing to a gov­ern­ment of, by and for the peo­ple — not the bil­lion­aires and giant cor­po­ra­tions — will not be easy," Sanders has said. ​"We aren't going to get there just by elect­ing a pres­i­dent who believes in and is com­mit­ted to restor­ing our democ­ra­cy. We're going to get there by build­ing a move­ment — a move­ment with enough pow­er not only to elect a pres­i­dent but to insist that all of our elect­ed rep­re­sen­ta­tives return pow­er to the peo­ple, a move­ment that not only iden­ti­fies the deep cor­rup­tion of our pol­i­tics but rejects cyn­i­cism and instead insists on solu­tions, action and accountability."
His­to­ry shows that Sanders' (actu­al) view of how change hap­pens, through mass move­ments, is far more accu­rate than Krugman's view that change hap­pens through enlight­ened elites will­ing to com­pro­mise with their adver­saries. (The same goes for the car­i­ca­tured, and deeply inac­cu­rate, view that Krug­man ascribes to Sanders of change occur­ring through ​"trans­for­ma­tion­al rhetoric.") The impor­tant reforms enact­ed by FDR — social secu­ri­ty, laws estab­lish­ing work­ers' rights and a fed­er­al min­i­mum, reg­u­la­tion of the finan­cial indus­try — did not occur because he was an enlight­ened elite will­ing to com­pro­mise; they occurred in the con­text of the great labor upsurge of the 1930s, when mil­lions of work­ers orga­nized and engaged in mil­i­tant direct actions like the 1936 – 37 gen­er­al strike in Flint, Michi­gan.
The same pat­tern holds for the reforms imple­ment­ed by LBJ, the oth­er key fig­ure men­tioned by Krug­man. The civ­il rights and social pro­tec­tion leg­is­la­tion put for­ward and passed by the John­son admin­is­tra­tion did not occur sole­ly or pri­mar­i­ly because John­son was ​"prag­mat­ic" and will­ing to com­pro­mise. John­son was pushed to enact such leg­is­la­tion by pow­er­ful move­ments, the civ­il rights move­ment in particular.
Rad­i­cal change can and has only come about through mas­sive col­lec­tive strug­gle in unremit­ting oppo­si­tion to the entrenched pow­er of the cor­po­rate and polit­i­cal elite. The fact that Sanders appears to under­stand this shows that he is not the ​"ide­al­is­tic" can­di­date that Krug­man and oth­ers por­tray him to be.
It's through grass­roots-lev­el orga­niz­ing and upsurges — change that Sanders' ​"polit­i­cal rev­o­lu­tion" hints at — that we can win any­thing at all. When it comes to know­ing what it takes to cre­ate gen­uine polit­i­cal trans­for­ma­tion in this coun­try, Sanders is not the wild-eyed rad­i­cal Krug­man paints him as. He's actu­al­ly the most prag­mat­ic can­di­date in the race.
Gabriel Het­land
is an assis­tant pro­fes­sor of Latin Amer­i­can stud­ies and soci­ol­o­gy at the Uni­ver­si­ty at Albany, SUNY. His research exam­ines how ordi­nary peo­ple can affect the deci­sions that affect their lives through social move­ments, elec­toral pol­i­tics, labor orga­niz­ing and the cre­ation of par­tic­i­pa­to­ry insti­tu­tions. His work has been pub­lished in aca­d­e­m­ic and pop­u­lar venues such as
Qual­i­ta­tive Soci­ol­o­gy
,
Work, Employ­ment and Soci­ety
,
Latin Amer­i­can Per­spec­tives
,
The Nation
,
Jacobin
and NACLA.