​Why Labor Should Get Behind Bernie Sanders in the Primary Elections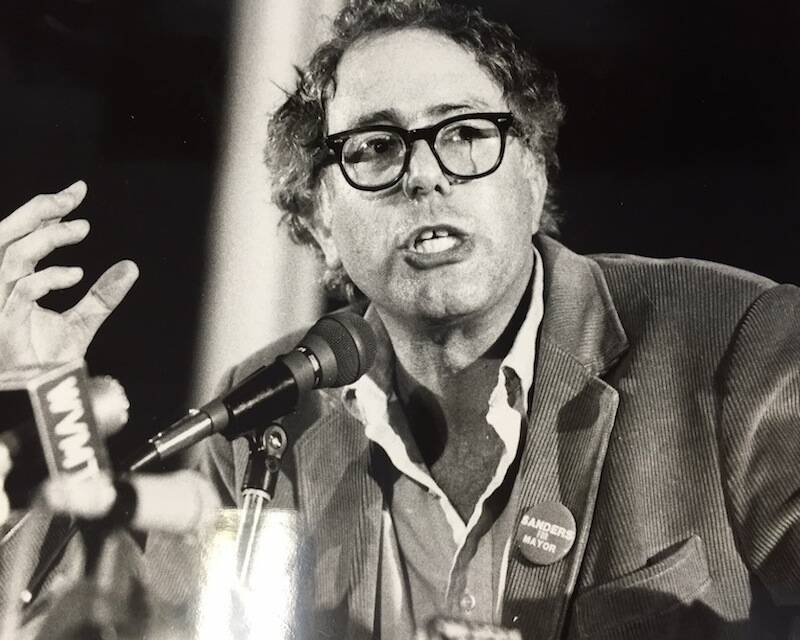 This post first appeared at Jacobin.
When I first met Brook­lyn-born Bernie Sanders, he was a rel­a­tive­ly mar­gin­al fig­ure in his adopt­ed state of Ver­mont. It was 1976 and he was run­ning, unsuc­cess­ful­ly and for the fourth time, as a can­di­date of the Lib­er­ty Union Par­ty (LUP).
Lib­er­ty Union was a rad­i­cal third par­ty spear­head­ed by oppo­nents of the Viet­nam War who had, like Sanders, washed up in the Green Moun­tain State as the six­ties sub­sided. At its his­toric peak, the LUP gar­nered maybe 5 or 6 per­cent of the statewide vote for some of its more pre­sentable can­di­dates — in short, noth­ing like the win­ning mar­gins racked up in recent years by the far more savvy and effec­tive Ver­mont Pro­gres­sive Par­ty, which now boasts a ten-mem­ber leg­is­la­ture del­e­ga­tion and attracts grow­ing union support.
Dur­ing Sanders's quixot­ic mid-1970s bid to become gov­er­nor of Ver­mont, I accom­pa­nied him to a meet­ing of local gran­ite cut­ters, team­sters and elec­tri­cal work­ers. This was not a ​"flat­lander" crowd, nor one dom­i­nat­ed by full-time union offi­cials. His audi­ence was native Ver­mon­ters, some of them Repub­li­can, who were still punch­ing a clock at local quar­ries, truck­ing com­pa­nies and machine tool fac­to­ries in an era when the future home state of Ben & Jerry's and Ver­mont Ted­dy Bear Co. still had impres­sive blue-col­lar union density.
These local union del­e­gates had come togeth­er to make can­di­date endorse­ments under the ban­ner of the Ver­mont Labor Forum, a coali­tion of unions out­side the AFL-CIO. Sanders then deliv­ered what is now known — due to its essen­tial con­ti­nu­ity over the last four decades — as ​"The Speech." (For one of its longer iter­a­tions, see his 2011 book by the same name.)
Sanders's per­sua­sive mes­sage to the Labor Forum was that cor­po­ra­tions were too pow­er­ful, work­ers were get­ting screwed, and both major par­ties were behold­en to ​"the boss­es" (or, as Sanders might call them today, ​"the bil­lion­aire class," a social cat­e­go­ry not yet invent­ed forty years ago).
Sanders's appeal for work­ing-class sup­port in 1976 seemed most per­sua­sive to rank-and-file rep­re­sen­ta­tives of the Unit­ed Elec­tri­cal Work­ers (UE). They were, of course, mem­bers of a left-led nation­al orga­ni­za­tion that had long favored polit­i­cal action out­side the Demo­c­ra­t­ic Par­ty. How­ev­er, in def­er­ence to their more cau­tious col­leagues, the UE mem­bers polite­ly went along with the Labor Forum major­i­ty, which, per usu­al, vot­ed to endorse Ver­mont Democ­rats, despite Lib­er­ty Union's supe­ri­or labor bona fides.
This labor ten­den­cy to grav­i­tate toward the least prob­lem­at­ic of the two major par­ties is still with us today. Every elec­tion cycle, in every part of the coun­try, AFL-CIO unions and unaf­fil­i­at­ed labor orga­ni­za­tions make prag­mat­ic cal­cu­la­tions about who to back and fund.
Rarely do they take a chance on third-par­ty can­di­dates, no mat­ter how ardent their sup­port for labor caus­es. Even a union rank-and-fil­er who runs against a cor­po­rate Demo­c­rat (for exam­ple, Howie Hawkins, the blue-col­lar Green who chal­lenged incum­bent Andrew Cuo­mo for New York gov­er­nor last year) finds it hard to col­lect labor endorsements.
A few union lead­ers have recent­ly vowed to with­hold future sup­port from Democ­rats who favor Pres­i­dent Obama's Trans-Pacif­ic Part­ner­ship deal, but Hillary Clin­ton will cer­tain­ly be exempt­ed from any such ret­ri­bu­tion. By the 2016 gen­er­al elec­tion — and much soon­er, in the case of some nation­al unions — orga­nized labor will be in full less­er-evil mode once again.
The only place in the nation next year where union mem­bers will have viable, pro-labor third par­ty can­di­dates to sup­port, at least at the state and local lev­el, is Ver­mont. And for that the US labor move­ment has Sanders and oth­er Ver­mont pro­gres­sives to thank.
When Sanders comes knock­ing on their door, look­ing for sup­port in his pres­i­den­tial pri­ma­ry chal­lenge, trade union­ists in oth­er states should remem­ber his long his­to­ry of help­ing Ver­mont work­ers get their act togeth­er, in pol­i­tics, orga­niz­ing, and con­tract strikes. It's a track record that few ​"friends of labor" can match.
Sanders got his own elec­toral act togeth­er by going local in 1981. Instead of per­sist­ing as a fringe can­di­date in futile statewide races, he joined a four-way con­test for may­or of Burling­ton, Vermont's largest city. Sanders beat the incum­bent, a five-term Demo­c­rat, by ten votes.
As may­or, Sanders imme­di­ate­ly hired a new human resources direc­tor for Burling­ton. This union-friend­ly lawyer worked to improve rela­tions between city hall and munic­i­pal work­ers rep­re­sent­ed by the Amer­i­can Fed­er­a­tion of State, Coun­ty and Munic­i­pal Employ­ees (AFSCME) and the Inter­na­tion­al Broth­er­hood of Elec­tri­cal Work­ers (IBEW).
Dur­ing his four terms, Sanders con­tin­ued to cham­pi­on the cause of work­ers, ten­ants, the poor, and unem­ployed, while revi­tal­iz­ing the city. Under the Sanders admin­is­tra­tion, Burling­ton backed work­er co-ops, afford­able hous­ing ini­tia­tives, new cul­tur­al and youth pro­grams, and devel­op­ment of the city's water­front in a way that pre­served pub­lic access and use.
"We were pay­ing atten­tion to low- and mod­er­ate-income neigh­bor­hoods rather than just down­town or the big-mon­ey inter­ests," Sanders told the Nation last year. ​"In fact, I went to war with vir­tu­al­ly every part of the rul­ing class in Burling­ton dur­ing my years as mayor."
The result, accord­ing to Sanders, was that ​"large num­bers of peo­ple who pre­vi­ous­ly had not par­tic­i­pat­ed in the polit­i­cal process got involved." In addi­tion, Sanders allies won up to six seats on the city coun­cil and cam­paigned as the Pro­gres­sive Coali­tion (the fore­run­ner of the statewide Pro­gres­sive Par­ty, which was found­ed in 1999).
But even a left-wing inde­pen­dent with a laud­able record of labor advo­ca­cy at the munic­i­pal lev­el found it hard to attract nation­al union back­ing when he sought high­er office. In 1988 major unions large­ly ignored Sanders when he ran for Con­gress against a Demo­c­rat and Repub­li­can. The lat­ter won, but two years lat­er, Sanders ran again and oust­ed the GOP incum­bent, with more union sup­port this time. Only grad­u­al­ly and very slow­ly has the country's longest serv­ing inde­pen­dent in Con­gress received the kind of nation­al union fund­ing that he should have got­ten from the very beginning.
On Capi­tol Hill, Sanders blazed a trail not fol­lowed since Vito Mar­can­to­nio served six terms in Con­gress, between 1939 and 1951, as the lone­ly tri­bune of the New York City – based Amer­i­can Labor Party.
Fifty years lat­er, dur­ing the Clin­ton admin­is­tra­tion, Sanders helped cre­ate a left pole for main­stream labor's soon-to-be-thwart­ed cam­paign to reform the Nation­al Labor Rela­tions Act. He intro­duced a "'Work­place Democ­ra­cy Act" to com­pre­hen­sive­ly reform and strength­en work­ers' rights … to improve liv­ing stan­dards for Amer­i­can work­ers, which have fall­en precipitously."
Sanders also pro­mot­ed ​"eco­nom­ic con­ver­sion" — refash­ion­ing Pen­ta­gon-depen­dent man­u­fac­tur­ing firms to pro­duce social­ly use­ful goods — a cause since down­played or aban­doned by major indus­tri­al unions themselves.
Back in Ver­mont, Sanders used his con­gres­sion­al office to help work­ers get bet­ter orga­nized, in their work­places and com­mu­ni­ties, even when the labor move­ment lagged behind in both areas. He not only urged Ver­mon­ters to vote ​"yes" in union rep­re­sen­ta­tion elec­tions, he actu­al­ly con­vened annu­al meet­ings of local labor activists to assist them in devel­op­ing more suc­cess­ful orga­niz­ing and bar­gain­ing strate­gies in the pri­vate and pub­lic sec­tor. To stim­u­late new rank-and-file think­ing, Sanders and his staff invit­ed out-of-state labor speak­ers who were part of nation­al efforts to revi­tal­ize orga­nized labor.
He has also been a staunch and long­time ally of the Ver­mont Work­ers Cen­ter, the statewide com­mu­ni­ty-labor coali­tion that fights for sin­gle-pay­er health care, immi­grants' rights, paid sick leave, and oth­er work­ing-class caus­es in the Green Moun­tain State.
When Ver­mont Ver­i­zon work­ers that I rep­re­sent­ed opposed the company's sale of its north­ern New Eng­land land­line oper­a­tions in 2006, Sanders was cam­paign­ing for the US Sen­ate seat that he now holds. He con­vened a pub­lic forum high­light­ing the rea­sons for our ​"Stop The Sale" cam­paign and bro­kered a meet­ing with the pro­posed buy­er, Fair­Point Com­mu­ni­ca­tions, that enabled us to con­front top man­agers about the company's record of anti-unionism.
More recent­ly, as labor oppo­nents of the sale pre­dict­ed, Verizon's suc­ces­sor has floun­dered finan­cial­ly and tried to impose con­tract con­ces­sions on its work­force of sev­er­al thou­sand. Dur­ing their four-month strike last year, Fair­Point union mem­bers had no stronger polit­i­cal ally, in pub­lic and behind the scenes, than Sanders.
Sanders's four decades of active engage­ment with work­ers' strug­gles in Ver­mont has pro­vid­ed a mod­el for the Ver­mont Pro­gres­sive Party's own strong labor ori­en­ta­tion. The VPP's elect­ed steer­ing com­mit­tee now includes key union activists in Ver­mont; its pub­lic office hold­ers — on the Burling­ton City Coun­cil and in the state leg­is­la­ture — reg­u­lar­ly join union mem­bers where major par­ty offi­cials are scarce: on pick­et lines and at ral­lies and press con­fer­ences. Mem­bers of my own union and oth­ers have been recruit­ed to run as can­di­dates for what has become the country's most suc­cess­ful state-lev­el third party.
It's an axiom of labor sol­i­dar­i­ty that help received, in a peri­od of need, will be rec­i­p­ro­cat­ed down the road. Ver­mont union mem­bers learned long ago that the mutu­al ben­e­fit derived from their work with and for Sanders goes far beyond the results of labor's usu­al (and some­times tawdry) trans­ac­tion­al rela­tion­ships with pub­lic officeholders.
That's why trade union­ists in Ver­mont have turned out for Sanders as much as he's aid­ed them over the years. Let's hope that their union broth­ers and sis­ters in oth­er Demo­c­ra­t­ic pri­ma­ry states will fig­ure out which side they should be on, with­out the ben­e­fit of such long per­son­al association.
It's promis­ing that many rank-and-file activists have already signed up to join the ​"Labor Cam­paign for Bernie." Last week, the Ver­mont State Labor Coun­cil urged the nation­al AFL-CIO to sup­port Sanders, call­ing him ​"the strongest can­di­date artic­u­lat­ing our issues."
But if the rest of orga­nized labor plays it cau­tious and safe, jump­ing on the Clin­ton band­wag­on instead of ral­ly­ing around Sanders, it will be just one more sign of dimin­ished union capac­i­ty for mount­ing any kind of work­er self-defense, on the job or in politics.
In These Times is proud to fea­ture con­tent from Jacobin, a print quar­ter­ly that offers rad­i­cal per­spec­tives on pol­i­tics and eco­nom­ics. Sup­port Jacobin and buy a four-issue sub­scrip­tion for just $19.
Steve Ear­ly worked for 27 years as an orga­niz­er and inter­na­tion­al rep­re­sen­ta­tive for the Com­mu­ni­ca­tions Work­ers of Amer­i­ca. He is the author of sev­er­al books, includ­ing Refin­ery Town: Big Oil, Big Mon­ey, and the Remak­ing of an Amer­i­can City (Bea­con Press).