Bernie Sanders Can Help Revitalize the American Labor Movement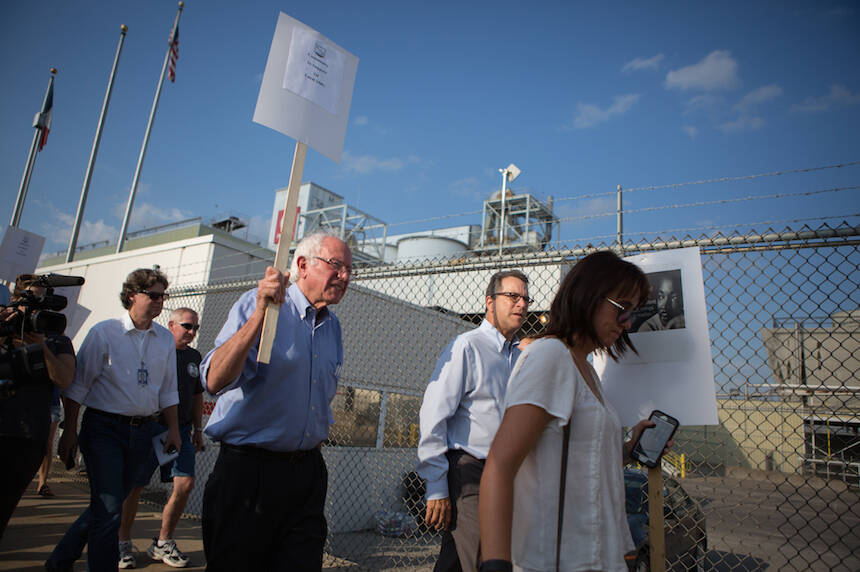 The Demo­c­ra­t­ic pri­ma­ry can­di­da­cy of Sen­a­tor Bernie Sanders (I‑VT) for pres­i­dent of the Unit­ed States pro­vides pro­gres­sive labor activists with a unique oppor­tu­ni­ty to enhance the inde­pen­dent polit­i­cal capac­i­ty of a besieged labor move­ment. Reflect­ing his polit­i­cal roots in the Amer­i­can social­ist move­ment, Sanders is the most con­sis­tent­ly pro-labor mem­ber of the Unit­ed States Con­gress. Just this Fri­day he walked the pick­et line in Cedar Rapids, Iowa, where work­ers are protest­ing the anti-union prac­tices of the new own­ers of Pen­ford Prod­ucts, a pota­to starch manufacture.
This past Labor Day, tens of thou­sands of labor activists and their allies par­tic­i­pat­ed in labor march­es and pic­nics across the coun­try in favor of Sanders' can­di­da­cy. But except for endorse­ments from sev­er­al pro­gres­sive local trade unions, the South Car­oli­na Cen­tral Labor Coun­cil, and the mil­i­tant 200,000 mem­ber Nation­al Nurs­es Union, most estab­lished labor lead­ers have been silent about the Sanders can­di­da­cy or have endorsed his estab­lish­ment oppo­nent, for­mer Sec­re­tary of State Hillary Clin­ton. This despite Clinton's roots in the neolib­er­al wing of the Demo­c­ra­t­ic Par­ty, which is finan­cial­ly backed by Wall Street and has long fought to dimin­ish labor's influ­ence in the Demo­c­ra­t­ic coalition.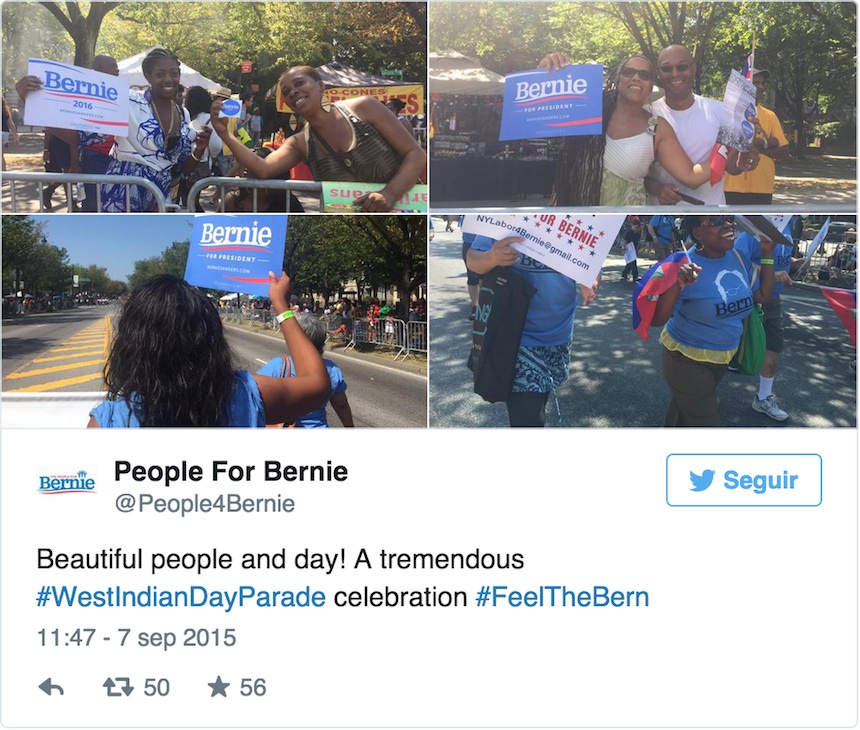 The Sanders effort is the most explic­it pro-work­ing class major cam­paign for pres­i­dent since Jesse Jackson's Rain­bow Coali­tion 1988 pres­i­den­tial run. His cam­paign insists that work­ing peo­ple must fight back against the unceas­ing class war waged by cor­po­rate elites over the past forty years. Indeed, Sanders is so focused on class injus­tice that he had to be pushed by #Black­Lives­Mat­ter activists to explic­it­ly address racial jus­tice issues, such as mass incar­cer­a­tion and police bru­tal­i­ty. He has now done so in a recent major addi­tion to his cam­paign platform.
Sanders' plat­form dif­fer­en­ti­ates him clear­ly from the cen­trist, pro-cor­po­rate can­di­da­cy of Hillary Clin­ton. Sanders sup­ports rais­ing the min­i­mum wage to $15 an hour; oppos­es ​"free trade" agree­ments that empow­er cor­po­ra­tions while weak­en­ing labor rights and state reg­u­la­tion of cor­po­rate behav­ior; and sup­ports a ​"Medicare for All" health­care sys­tem that would abol­ish the pri­vate health insur­ance sec­tor. In con­trast, Hillary Clin­ton has refused to embrace any of these positions.
Back­ing a rad­i­cal pro-labor can­di­date in a Demo­c­ra­t­ic pri­ma­ry would enable the labor move­ment to express its dis­gruntle­ment with the pro-cor­po­rate nation­al Demo­c­ra­t­ic Par­ty estab­lish­ment in a way that would be less risky than back­ing a third par­ty can­di­date in the gen­er­al elec­tion. Not just estab­lished trade union lead­ers, but many rank-and-file activists are reluc­tant to sup­port third par­ty can­di­dates in gen­er­al elec­tions out of fear that they may elect Repub­li­can gov­ern­ments. In the twen­ty-five states where Repub­li­cans con­trol all three branch­es of gov­ern­ment, they have severe­ly erod­ed basic labor, repro­duc­tive, and vot­ing rights. Simul­ta­ne­ous Repub­li­can con­trol of the pres­i­den­cy, Sen­ate and House, and Supreme Court could yield a nation­al ver­sion of these reac­tionary state governments.
But this unswerv­ing loy­al­ty to all Demo­c­ra­t­ic incum­bents out of fear of Repub­li­can vic­to­ry has enabled the pro-cor­po­rate nation­al par­ty lead­er­ship to cap­ture and abuse its elec­toral base. Until the trade union, Black and Lati­no, and pro­gres­sive base con­sis­tent­ly run pri­ma­ry can­di­dates against pro-cor­po­rate Demo­c­ra­t­ic elect­ed offi­cials, the par­ty lead­er­ship will con­tin­ue to dis­re­gard the needs of its core con­stituen­cies. And grass­roots union activists will have to play a major role in cre­at­ing this ​"pro­gres­sive par­ty with­in a par­ty," start­ing with their efforts to build insti­tu­tion­al labor sup­port for the Sanders cam­paign. That's why over 12,000 active trade union­ists have already joined ​"Labor for Bernie," which is work­ing to secure labor sup­port for Sanders at both the local and nation­al levels.
In addi­tion to the active par­tic­i­pa­tion of the Nation­al Nurs­es Union in the Sanders cam­paign, the exec­u­tive coun­cil of the Unit­ed Elec­tri­cal Work­ers and the pres­i­dents of the Amal­ga­mat­ed Tran­sit Work­ers and Amer­i­can Postal Work­ers Union have urged their mem­bers to take a close look at the Sanders can­di­da­cy. Lar­ry Cohen, the recent­ly retired nation­al pres­i­dent of the Com­mu­ni­ca­tions Work­er of Amer­i­can (CWA), vol­un­teers full-time for the Sanders cam­paign and it is pos­si­ble that this major, polit­i­cal­ly active union might endorse Sanders. If Sanders could gain the sup­port of the influ­en­tial Neva­da Culi­nary Work­ers branch of the nation­al Hotel Employ­ee and Restau­rant Employ­ees Union (HERE), he would rad­i­cal­ly enhance his base among the 40 per­cent of Neva­da Demo­c­ra­t­ic cau­cus goers who are Lati­no. But on the nation­al lev­el, the major cen­tral labor fed­er­a­tion, the AFL-CIO, has urged its union affil­i­ates to hold off on pres­i­den­tial endorse­ments, in part to fore­stall a grass­roots push to endorse Sanders, but also to give Sanders time to push Clin­ton in a more pro-labor direction.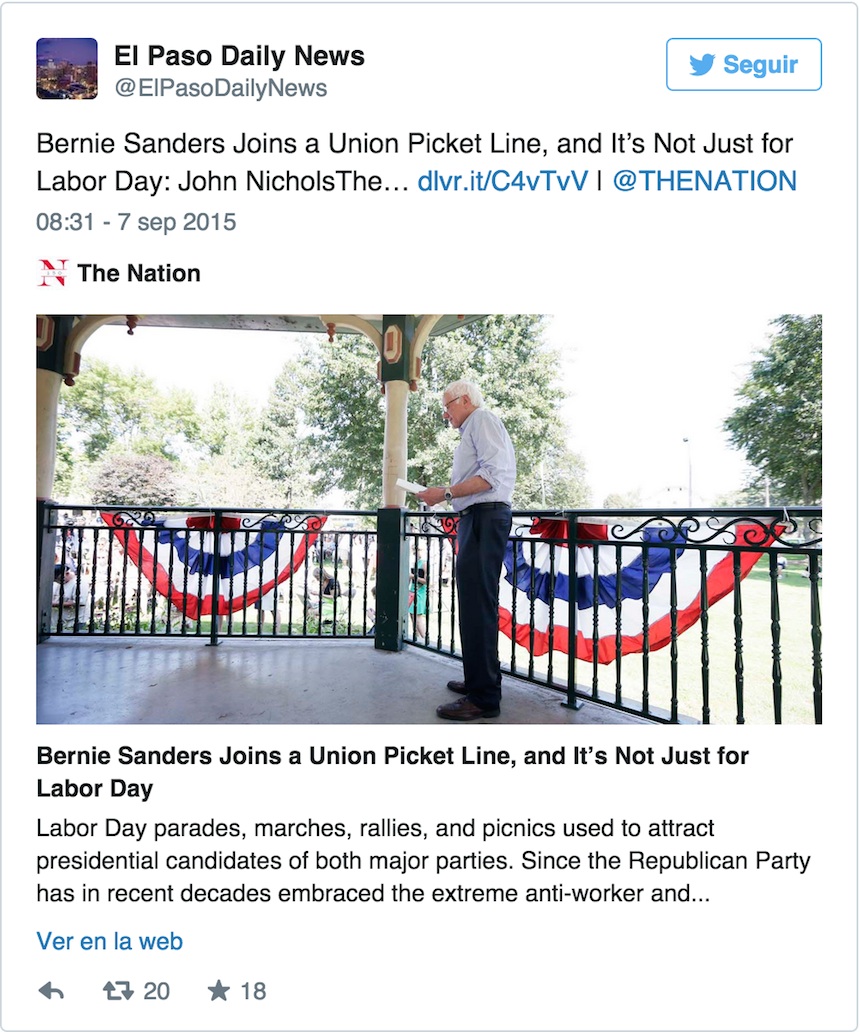 Most estab­lished trade union lead­ers have either not endorsed a pres­i­den­tial can­di­date or, as in the case of the Amer­i­can Fed­er­a­tion of Teach­ers union and the Machin­ists Union, endorsed Hillary Clin­ton. This has led, par­tic­u­lar­ly in the Amer­i­can Fed­er­a­tion of Teach­ers, to protest by Sanders sup­port­ers that the lead­er­ship failed to con­sult the mem­ber­ship in a demo­c­ra­t­ic man­ner. And rank-and-file activists in the pow­er­ful two mil­lion mem­ber Ser­vice Employ­ees Union are work­ing to stop an ear­ly Clin­ton endorse­ment. Polit­i­cal­ly ambi­tious labor lead­ers have long believed that back­ing the like­ly gen­er­al elec­tion can­di­date ear­ly gains them greater access and influ­ence to the halls of pow­er, but the evi­dence proves oth­er­wise. The unions that backed Pres­i­dent Oba­ma ear­ly in the 2008 elec­tions did not see a return on their invest­ment. Despite labor ground troops play­ing a key role in win­ning swing states for Oba­ma, Oba­ma refused to risk the ire of cor­po­rate Amer­i­ca in 2009 and failed to aggres­sive­ly shep­herd through Con­gress leg­is­la­tion aimed at shift­ing U.S. labor law in a pro-union direc­tion. Oba­ma did not have to wor­ry about the exit of labor and vot­ers of col­or from the Demo­c­ra­t­ic elec­toral base. But if local coali­tions of labor, Black, Lati­no and left Democ­rats were to devel­op the capac­i­ty to defeat pro-cor­po­rate Democ­rats in Demo­c­ra­t­ic pri­maries, the base could no longer be tak­en for grant­ed by estab­lish­ment elect­ed officials.
The major increas­es in busi­ness lob­by­ing, cam­paign con­tri­bu­tions, and think-tank fund­ing that began in the 1970s has moved the pen­du­lum of US pol­i­tics to the right, par­tic­u­lar­ly on socio-eco­nom­ic pol­i­cy issues. On the oth­er hand, the demise of north­ern mod­er­ate Repub­li­cans (who often backed labor and repro­duc­tive rights) and the switch of con­ser­v­a­tive white South­ern Democ­rats to the Repub­li­can Par­ty means that there are greater dif­fer­ences in pol­i­cy pref­er­ences between the two par­ties than ever. Only 28 House Democ­rats vot­ed in favor of the Trans-Pacif­ic Part­ner­ship (ver­sus 100 Democ­rats who backed the North Amer­i­can Free trade Agree­ment in 1994), where­as over 200 Repub­li­cans did. All 188 House Democ­rats recent­ly vot­ed to raise the min­i­mum wage to $10.10 an hour recent­ly, where­as only 4 of 246 Repub­li­cans did so. That's why it does mat­ter for work­ing peo­ple and the poor which par­ty con­trols the state. The prob­lem remains that the cen­ter of Amer­i­can pol­i­tics is more pro-cor­po­rate than at any time since the Gild­ed Age.
And while the Oba­ma admin­is­tra­tion has been rel­a­tive­ly acqui­es­cent to Wall Street on the leg­isla­tive front, it has used its exec­u­tive and admin­is­tra­tive pow­ers to aid work­ing peo­ple. The rad­i­cal­ly dif­fer­ent nature of the elec­toral base of the two par­ties does yield some major dif­fer­ences in how each par­ty gov­erns. Pro­gres­sive appoint­ments to the Nation­al Labor Rela­tions Board have led to deci­sions that enhance the labor rights of fran­chise work­ers and could pos­si­bly cur­tail cor­po­ra­tions' prac­tices of out­sourc­ing work to low-wage ​"inde­pen­dent con­trac­tors" who vio­late labor rights. The administration's exec­u­tive orders have forced gov­ern­ment con­trac­tors to pay a min­i­mum wage of $10.10 an hour (ver­sus the $7.25 that the Repub­li­can-con­trolled Con­gress refus­es to raise) and a recent exec­u­tive order increased the num­ber of employ­ees cov­ered by over­time pay require­ments from 20 mil­lion to 50 million.
If the Sanders cam­paign aims to win the nom­i­na­tion, it must work 24⁄7 to expand its base beyond pre­dom­i­nant­ly white, col­lege-edu­cat­ed, self-defined pro­gres­sive vot­ers to vot­ers of col­or and non-col­lege-edu­cat­ed whites. Sanders' recent­ly-issued racial jus­tice agen­da should help in this mat­ter, as will rad­i­cal African-Amer­i­can pub­li­can intel­lec­tu­al Cor­nel West's active cam­paign­ing for Sanders. But the cam­paign has to pri­or­i­tize the build­ing of local coali­tions led by activists of col­or and trade union­ists (40 per­cent of whom are peo­ple of col­or). The cam­paign must also pri­or­i­tize fem­i­nist vot­ers, most of whom cur­rent­ly back Clin­ton. Clinton's supe­ri­or name recog­ni­tion and she and her husband's pop­u­lar­i­ty with Black and Lati­no polit­i­cal elites mean she cur­rent­ly out­polls Sanders over­whelm­ing­ly among like­ly Demo­c­ra­t­ic pri­ma­ry vot­ers of col­or. Sanders refus­es to engage in per­son­al attacks against Clin­ton, but he should speak out strong­ly against the dev­as­tat­ing effects that Pres­i­dent Bill Clinton's ​"wel­fare reform" and fed­er­al crim­i­nal jus­tice poli­cies had on the poor in gen­er­al, and low-income peo­ple of col­or in particular.
Thus, local Sanders cam­paigns have to work to build polit­i­cal coali­tions with strong roots in work­ing class com­mu­ni­ties and com­mu­ni­ties of col­or that aim to last well beyond Sanders' nation­al cam­paign. If they do, then grass­roots pro­gres­sive activists can engage in local ver­sions of the Sanders' effort — insur­gent Demo­c­ra­t­ic pri­ma­ry cam­paigns against pro-cor­po­rate Democ­rats — long after the Sanders cam­paign is over. These coali­tions could also back inde­pen­dent and social­ist can­di­dates in local non-par­ti­san races, as well as third par­ty can­di­dates who have a viable elec­toral tra­jec­to­ry. The mul­ti-racial cam­paign of civ­il rights leader Jesse Jack­son for the Demo­c­ra­t­ic pres­i­den­tial nom­i­na­tion in 1988 gar­nered over one-third of the Demo­c­ra­t­ic pri­ma­ry vote; but its fail­ure to build an ongo­ing demo­c­ra­t­ic ​"Rain­bow Coali­tion" lim­it­ed its long-term impact on US pol­i­tics. The Sanders ​"polit­i­cal rev­o­lu­tion" will not occur unless per­ma­nent polit­i­cal orga­ni­za­tion, at the nation­al and local lev­el, emerges from this campaign.
These local polit­i­cal orga­ni­za­tions should work to over­come an unpro­duc­tive ten­den­cy among rad­i­cals in the Unit­ed States to coun­ter­pose grass­roots social move­ment orga­niz­ing to elec­toral work. Only with the pres­ence of strong activist pres­sure in the streets can pro­gres­sive elect­ed offi­cials with­stand the oppo­si­tion of intran­si­gent busi­ness elites. And social­ists in the Sanders cam­paign have to strength­en their own orga­ni­za­tion­al capac­i­ty, as anti-social­ism remains the ide­o­log­i­cal bat­ter­ing ram which both cen­trist and con­ser­v­a­tive politi­cians use to fight any reform that threat­ens cor­po­rate power.
Pres­i­den­tial cam­paigns dom­i­nate polit­i­cal dis­course in the Unit­ed States every four years; this year, the Left must use the ide­o­log­i­cal open­ing cre­at­ed by the most anti-cor­po­rate polit­i­cal cam­paign in recent his­to­ry to build polit­i­cal capac­i­ty that lasts well beyond this elec­toral cycle. Only when the labor move­ment and the left becomes an inde­pen­dent force in Unit­ed States elec­toral pol­i­tics can it escape the dilem­ma of less­er-evil politics.
This arti­cle first appeared in teleSUR.
Joseph M. Schwartz
is a pro­fes­sor of polit­i­cal sci­ence at Tem­ple Uni­ver­si­ty. He is a Vice-Chair of Demo­c­ra­t­ic Social­ists of Amer­i­ca and the author, most recent­ly, of
The Future of Demo­c­ra­t­ic Equal­i­ty: Recon­struct­ing Social Sol­i­dar­i­ty in a Frag­ment­ed U.S.
(Rout­ledge,
2009
).