Bernie-Backed Mayoral Challenger Vincent Fort on How He Wants to Transform Atlanta
In an exclusive interview, Fort explains that he is running for mayor to represent working-class Atlanta residents, not "millionaires and billionaires."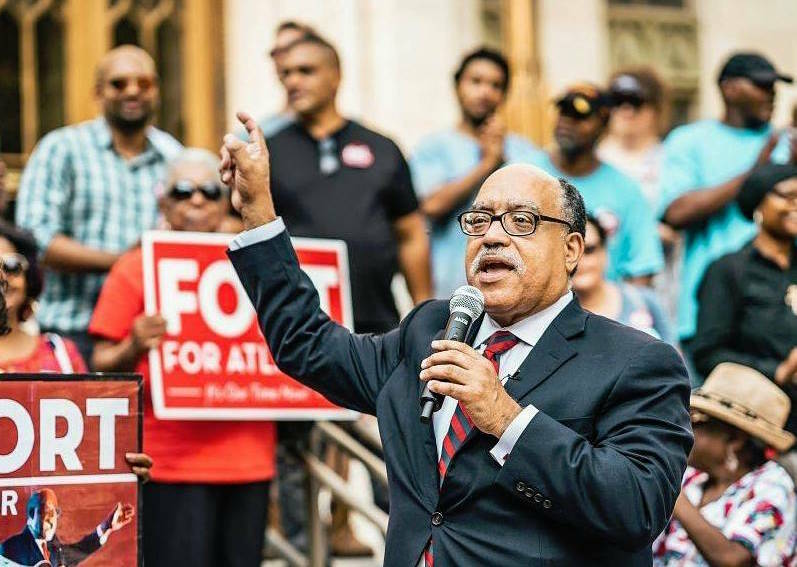 The Bible Belt isn't gen­er­al­ly con­sid­ered a hotbed of pro­gres­sive pol­i­tics. But the recent may­oral elec­tions of Chok­we Antar Lumum­ba in Jack­son, Miss. and Ran­dall Woodfin in Birm­ing­ham, Ala. show a shift to the left may be under­way in cities across the South.
"I believe in political, social, and economic democracy. I use the term progressive to describe my politics."
Vin­cent Fort is hop­ing to become the lat­est left chal­lenger to join this South­ern pro­gres­sive upswing, run­ning for may­or of Atlanta. Fort, a Geor­gia state sen­a­tor, first made a name for him­self in 2002 by help­ing to pass leg­is­la­tion crack­ing down on preda­to­ry sub-prime lend­ing prac­tices. At the time, the law was one of the most pro­gres­sive of its kind in the Unit­ed States.
Fort's plat­form aims to defend work­ers' rights, reduce wealth inequal­i­ty, pro­tect the envi­ron­ment, decrim­i­nal­ize mar­i­jua­na and crack down on preda­to­ry prac­tices in the hous­ing mar­ket. His run for Atlanta may­or has been backed by a host of labor unions and pro­gres­sive orga­ni­za­tions, includ­ing Our Rev­o­lu­tion, the Work­ing Fam­i­lies Par­ty and the Metro Atlanta Demo­c­ra­t­ic Social­ists of America.
In Jan­u­ary, Bernie Sanders endorsed Fort, say­ing, ​"We need Vin­cent Fort's lead­er­ship in the Atlanta Mayor's office. Win­ning this cam­paign will send a strong mes­sage to the estab­lish­ment that the strug­gle con­tin­ues to cre­ate a gov­ern­ment, at the local, state and fed­er­al lev­el, that works for all of us, not just the 1%."
Fort has also been a long­time ally of the labor move­ment in Geor­gia. Ben Speight, a mem­ber of the Team­sters Local 728 who vol­un­teers for Fort's cam­paign, tells In These Times that Fort has ​"dis­tin­guished him­self by putting forth poli­cies that go far beyond just a union mem­ber­ship. It's about lift­ing up work­ing peo­ple as a whole in this city and putting us on the map as a pro­gres­sive city, ver­sus a neolib­er­al one that push­es a cor­po­rate agenda."
On Novem­ber 7, Fort will go up against a crowd­ed field of may­oral chal­lengers in the gen­er­al elec­tion. Polls show Coun­cilper­son Mary Nor­wood, the most con­ser­v­a­tive can­di­date in the race, in the lead. If no can­di­date earns a major­i­ty of the vote, the race will move to a runoff in Decem­ber between the top two finishers.
In These Times recent­ly spoke with Vin­cent Fort about his cam­paign, his back­ground as a his­to­ri­an and what he hopes to change in Atlanta.
Elalouf: What inspired you to run for mayor?
Fort: I've become dis­gust­ed with City Hall. I think City Hall has lost its way by virtue of its focus­ing on the needs of mil­lion­aires and bil­lion­aires as opposed to reg­u­lar peo­ple in the neigh­bor­hoods of Atlanta. I think folks down at City Hall for­got what makes this city great. It's not sky­scrap­ers and sta­di­ums, but neigh­bor­hoods and people.
Atlanta has become num­ber one in income inequal­i­ty. But beyond that, the city has also become num­ber one in income immo­bil­i­ty, which means a child born into pover­ty has only a four per­cent chance of mov­ing into the mid­dle class. That's not an Atlanta I want to live in, and I don't think that's the Atlanta most Atlantans want to live in. We've seen the decline of so many great neigh­bor­hoods in Atlanta, and these neigh­bor­hoods are pre­dom­i­nant­ly African-Amer­i­can. That neglect of the city's neigh­bor­hoods will not con­tin­ue when I am mayor.
Elalouf: You have received sup­port from a lot of unions and pro­gres­sive groups. Are you hap­py you have been able to build such a pro­gres­sive base?
Fort: Well, I am real­ly grat­i­fied that I have been able to get this kind of pro­gres­sive sup­port. Almost 30 labor orga­ni­za­tions, locals, region­al, and retiree orga­ni­za­tions are sup­port­ing me. I think their endorse­ment and the endorse­ments of oth­er pro­gres­sive groups is based on my long-time col­lab­o­ra­tion with them. You know, this is not just, ​"oh let's go through an endorse­ment process." I've been, over the last 30 years, work­ing with many of these labor orga­ni­za­tions and pro­gres­sive groups.
Elalouf: Do you iden­ti­fy as a ​"pro­gres­sive"?
Fort: I believe in polit­i­cal, social, and eco­nom­ic democ­ra­cy. I use the term pro­gres­sive to describe my pol­i­tics. Years ago, the media termed Atlanta may­ors ​"urban pop­ulists." That might have been an ade­quate descrip­tion, but I'll just go with ​"pro­gres­sive."
Elalouf: One of the things that stands out about you is your back­ground and train­ing as a his­to­ri­an. Is there any­thing you think is impor­tant to con­nect between the his­to­ry of strug­gle in Atlanta and the upcom­ing race?
Fort: I came to Atlanta rough­ly 40 years ago as a grad­u­ate stu­dent, to do research on the civ­il rights move­ment in the city. So, it's been real­ly inter­est­ing to study some of these peo­ple, these activists and elect­ed offi­cials in Atlanta. Many years lat­er, I began work­ing with some of these same peo­ple. So it's an inter­est­ing oppor­tu­ni­ty for the aca­d­e­m­ic and polit­i­cal aspects of my career to come together.
I have a back­ground not only as a his­to­ri­an but also in polit­i­cal sci­ence and the soci­ol­o­gy of deci­sion-mak­ing. So, I bring that kind of aca­d­e­m­ic back­ground to the table. I know the his­to­ry and the struc­tur­al ele­ments of the Atlanta way of doing things. I think that's helped me under­stand how deci­sions are made by the eco­nom­ic elite in Atlanta. I con­sid­er myself an aca­d­e­m­ic by train­ing, an elect­ed offi­cial by vote, and an activist by heart and soul.
Elalouf: Thank you, Sen­a­tor Fort. Any­thing else?
Fort: It's been good talk­ing to you. I'm glad you're with In These Times. You know, in Atlanta, gen­tri­fi­ca­tion is rapid­ly accel­er­at­ing. If there's not a may­or in office who will do the things nec­es­sary to slow down gen­tri­fi­ca­tion, it will only con­tin­ue to grow. That's what's at stake here on Novem­ber 7. Well, there will be more sto­ries to write, hope­ful­ly about how we turn this around.