Beset by GOP, Obama and Labor Mount Quixotic Drive for Infrastructure Bills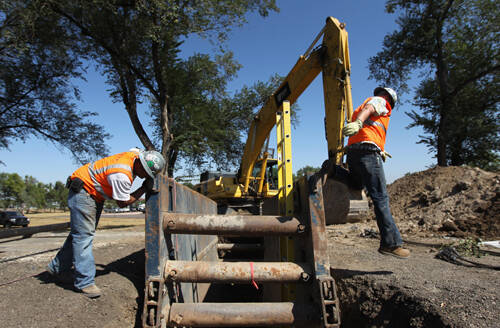 Even though Demo­c­ra­t­ic chances in some Sen­ate races are improv­ing, the grim like­li­hood for Democ­rats of a GOP House vic­to­ry, with as many as 99 seats in play, adds a quixot­ic ele­ment to this week's call by the labor-backed Apol­lo Alliance for $40 bil­lion a year in new trans­porta­tion spend­ing and manufacturing.
AFL-CIO Pres­i­dent Richard Trum­ka declared Wednesday,
Our econ­o­my needs to be rebuilt, and work­ing Amer­i­cans need jobs – both of which can be accom­plished by mod­ern­iz­ing and shoring up our nation's roads, bridges, mass trans­porta­tion and advanced vehi­cles. The AFL-CIO applauds the Apol­lo Alliance Clean Trans­porta­tion Man­u­fac­tur­ing Action Plan (TMAP). TMAP will trans­form the lega­cy of our past into a prac­ti­cal vision and plan for the 21st century.
The expan­sive TMAP plan goes even fur­ther than Pres­i­dent Obama's sim­i­lar call in recent weeks for a $50 bil­lion infra­struc­ture bank fund­ed by end­ing tax loop­holes for ener­gy com­pa­nies. Don't hold your breath wait­ing for pas­sage of that bill, either.
Speak­ing in the wake of an offi­cial unem­ploy­ment rate of 9.6 per­cent, and GOP smears that the orig­i­nal stim­u­lus failed com­plete­ly, Oba­ma told reporters, ​"Near­ly one in five con­struc­tion work­ers is still unem­ployed and needs a job. And that makes absolute­ly no sense when so much of Amer­i­ca needs rebuilding.There's no rea­son why we can't do this. … All we need is the polit­i­cal will."
With pas­sage of such mea­sures essen­tial­ly nil this year, the longed-for polit­i­cal will is like­ly to be in far short­er sup­ply in next year's Con­gress. In trade pub­li­ca­tions, con­struc­tion indus­try lead­ers and lob­by­ists are more frank about the poor prospects for the road and trans­porta­tion spend­ing they'd like to see.
The Engi­neer­ing News-Record report­ed about the dim­ming chances for even scaled-backed, obscure leg­is­la­tion already mov­ing through Con­gress, let alone the ambi­tious wish lists of Pres­i­dent Oba­ma and the experts con­vened by the Apol­lo Allliance:
What already was shap­ing up as a dif­fi­cult year for the strug­gling con­struc­tion indus­try promis­es to be even more dif­fi­cult, as the like­li­hood of pass­ing strong infra­struc­ture spend­ing mea­sures would be even more remote.

Those bills include the delayed reau­tho­riza­tion of the Safe, Account­able, Flex­i­ble, Effi­cient Trans­porta­tion Equi­ty Act: a Lega­cy for Users, an over­due avi­a­tion bill and fis­cal 2012 appro­pri­a­tions.

John Doyle, spe­cial coun­sel with law and lob­by­ing firm Jones Walk­er LLP, says, ​"Next year on the spend­ing side is going to be the tough­est year that any of us have seen in a long, long time."

Jay Hansen, Nation­al Asphalt Pave­ment Asso­ci­a­tion (NAPA) vice pres­i­dent for gov­ern­ment affairs, says, ​"There's no doubt one of the top pri­or­i­ties of the next Con­gress will be to reduce the deficit." Some bud­get-cut­ting pres­sure will come from Pres­i­dent Oba­ma, who in Feb­ru­ary pro­posed freez­ing ​"non-secu­ri­ty" dis­cre­tionary spend­ing. As Repub­li­cans' num­bers grow in Con­gress next year, their already loud calls to slash bud­gets will inten­si­fy.

Cathy Con­nor, Par­sons Brinck­er­hoff senior vice pres­i­dent for gov­ern­ment affairs, cites the GOP's Sep­tem­ber ​"Pledge to Amer­i­ca." The strat­e­gy ​"isn't gain­ing as much trac­tion and sup­port as the [Repub­li­cans'] 1994 Con­tract With Amer­i­ca," she says, but ​"they lay out what their pri­or­i­ties are, and I think a num­ber of those pri­or­i­ties are poten­tial­ly detri­men­tal to robust infra­struc­ture fund­ing." …

Con­nor says the pledge also would rescind Amer­i­can Recov­ery and Rein­vest­ment Act funds not yet dis­bursed. That could harm the Trans­porta­tion Invest­ment Gen­er­at­ing Eco­nom­ic Recov­ery (TIGER) and high-speed-rail programs.
In con­trast, the ​"Make It In Amer­i­ca" call for action by the Apol­lo Alliance seems to be oper­at­ing in a near­ly myth­i­cal polit­i­cal uni­verse that bears lit­tle resem­blance to the chang­ing polit­i­cal realities:
Based on input from the task force, we call for a com­pre­hen­sive strat­e­gy to boost domes­tic tran­sit and freight man­u­fac­tur­ing that starts with increas­ing cur­rent fed­er­al invest­ment to $30 bil­lion per year for pub­lic tran­sit and $10 bil­lion per year for inter­ci­ty and high-speed rail.

The $40 bil­lion annu­al invest­ments as pro­posed by TMAP will cre­ate 3.7 mil­lion direct and indi­rect jobs — 600,000 alone in the man­u­fac­tur­ing sec­tor over the next six years, the like­ly dura­tion of a reau­tho­rized trans­porta­tion bill. By mak­ing these invest­ments, we can get our econ­o­my back on track while dou­bling rid­er­ship over the next two decades, and build­ing out a com­pre­hen­sive inter­ci­ty and high-speed rail sys­tem…

Of the more than 600,000 jobs that would be cre­at­ed in the man­u­fac­tur­ing sec­tor, many will be in the pro­duc­tion of advanced bus­es, rail cars, clean­er freight move­ment tech­nolo­gies and com­po­nent parts.
All that makes sense, but despite a his­toric tra­di­tion of biparis­tan coop­er­a­tion on trans­po­ra­tion and infra­struc­ture spend­ing, such agree­ments in a polar­ized Wash­ing­ton seem more unlike­ly than at any time in recent memory.
Indeed, as the Wash­ing­ton Post report­ed when Pres­i­dent Oba­ma first announced his infra­struc­ture bank pro­pos­al at a Labor Day ral­ly in September:
After months of cam­paign­ing on the theme that the president's $787 bil­lion stim­u­lus pack­age was waste­ful, Repub­li­cans sought Mon­day to tag the new plan with the stim­u­lus label. The Repub­li­can Nation­al Com­mit­tee called it ​"stim­u­lus déjà vu," and Rep­re­sen­ta­tive Eric Can­tor of Vir­ginia, the House Repub­li­can whip, char­ac­ter­ized it as ​"yet anoth­er gov­ern­ment stim­u­lus effort."
Will there be a more coop­er­a­tive spir­it next year if the House, reshaped by the Tea Par­ty move­ment that top­pled GOP mod­er­ates in the pri­maries, is run by an even more con­ser­v­a­tive, obstruc­tion­ist House GOP — and the Demo­c­ra­t­ic mar­gin in the Sen­ate is even slim­mer than now? That's a recipe for even more gridlock.
Indeed, pub­lic sup­port for polit­i­cal lead­ers coop­er­at­ing with each oth­er across par­ty lines is slip­ping while there's grow­ing back­ing for lead­ers who ​"stick by their posi­tions," accord­ing to a new ABC News poll.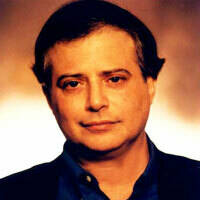 Art Levine
, a con­tribut­ing edi­tor of
The Wash­ing­ton Month­ly
, has writ­ten for
Moth­er Jones
,
The Amer­i­can Prospect
,
The New Repub­lic, The Atlantic
, Slate​.com, Salon​.com and numer­ous oth­er publications.