The Discourse on Palestine Is Shifting. Will Concrete Policy Changes Follow?
The conversation is still overwhelmingly one-sided. But that's slowly changing thanks to the hard work of activists.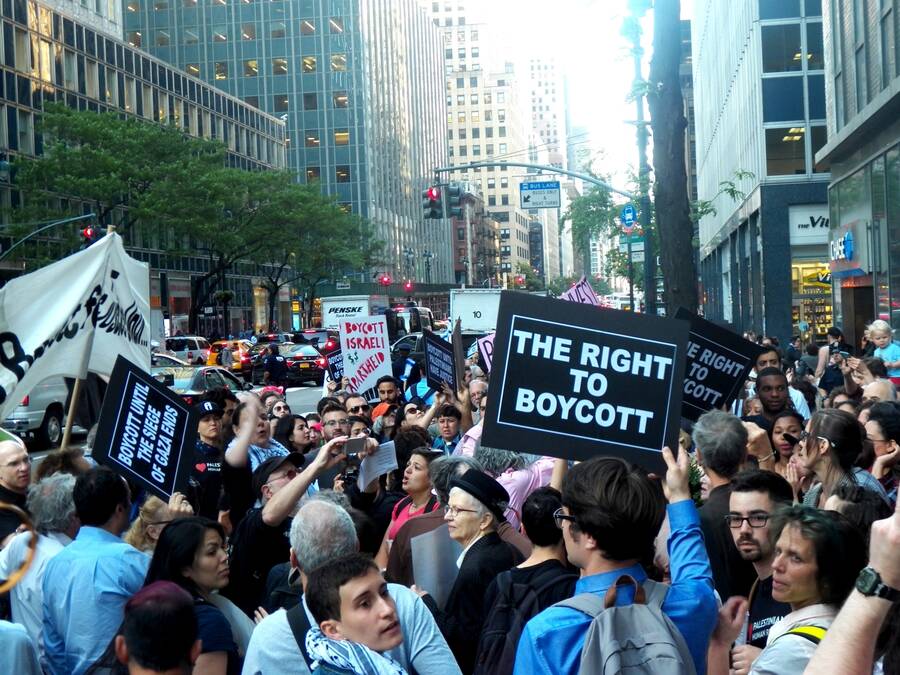 Even as Washington churned through a miasma of Brett Kavanaugh lies and horror, a different kind of history was being written more than a thousand miles west. For all who doubted whether the public and political discourse on Palestine and Israel has changed at all, the keynote speakers at the national conference of the U.S. Campaign for Palestinian Rights in St. Paul, Minnesota proved them wrong.
"The same corporate interests that used white nationalism to put Trump in the White House, and leaned into Zionist extremism to move the U.S. Embassy to Tel Aviv, also want to cut taxes for corporations, deregulate, ignore climate science, take away healthcare, deny living wages, cut the social safety net and give more and more money to the U.S. military."
Certainly, much of the conversation is still dangerously one-sided, too often uncritically supportive of Israel. U.S. policy has gotten worse, much worse, in the last two years. And we know that U.S. democracy is so flawed, so broken, that changing public opinion does not guarantee a shift in actual political decision-making.
But there can be no question that, as Congresswoman Betty McCollum (D-Minn.) and Rev. William Barber II of the Poor People's Campaign demonstrated unequivocally, dramatic shifts are underway in public engagement on the issue, from movements to the media to policymakers. Those changes are simultaneously creating and reflecting a new political moment, in which variants of the struggle for Palestinian rights are finding center stage in a widening range of organizations and movements.
In that basement hotel ballroom, though, there was still uncertainty when Rep. McCollum rose to speak. She outlined Israel's new ​"nation-state" law. Most of the audience was already familiar with the law, and how it had turned the country's longstanding discriminatory practices designed to privilege Jews and disempower Palestinians, into an official component of Israel's Basic Law: the equivalent of a constitutional amendment. But would she say the whole truth? Four or five hundred people were sitting on the edge of their chairs.
"The world has a name for the form of government that is codified in the Nation-State Law," she said. ​"It is called ​'apartheid.'" There was a collective gasp, and the audience, many in tears, leaped to their feet in a massive ovation.
Identifying Israel's practices as apartheid isn't new, and in most parts of the world it isn't controversial or even particularly noteworthy — it's simply an accurate description. But in the context of the United States, and especially in the context of the U.S. Congress, describing Israel with that term has long assumed to be political suicide. Rep. McCollum recognized it was not – and she repeatedly invoked her district constituents who, she said, ​"expect me to fight for progressive values, human rights and policies that respect and elevate our shared human dignity. I am representative, a reflection of the people who elect me. So, my work to promote peace, attack poverty, defend the rights of children and stand in solidarity with the oppressed, including the Palestinian people, is because I have the support of my wonderful constituents." That strong local support has had her back as Rep. McCollum has taken the initiative, the only member of Congress so far, to introduce legislation directly supporting Palestinian rights. Now strengthened by 29 co-sponsors, H.R. 4391 opposes any use of U.S. military aid to support Israel's brutal juvenile military detention system used against Palestinian children.
After calling out Israeli apartheid, Rep. McCollum still wasn't done. She made the same links to broader movements that so many activists have been focused on, urging participants to ​"think about a few of the destructive, dangerous policies advanced by this president: a Muslim ban; a separation wall with Mexico; immigrant family separation and child detention; rejecting refugees; the only nation in the world to withdraw from the Paris Climate agreement; reneging on the Iran nuclear deal; cutting taxes for the wealthiest Americans while sabotaging healthcare for the neediest Americans. Is it any wonder that Benjamin Netanyahu knows he has a ​'green light' to advance ​'apartheid' inside Israel and endlessly expand settlements? Or, for Israeli security forces to massacre of scores of unarmed protesters in Gaza with complete impunity?"
The day before, there had already been another breakthrough. The Rev. Dr. William Barber, head of Repairers of the Breach and co-chair of the Poor People's Campaign, spoke to the conference's opening session. ​"Apartheid is apartheid is apartheid," he thundered. And then Barber went on to remind the audience, ​"Historically, it is important for us to remember that one path regarding the Zionist project in Palestine was a colonialist project from the beginning. Theodor Herzl – the founder of modern Zionism – knew that his proposal for a modern nation state for Jewish people was a colonialist project, and he pitched it to Britain's great colonialist, Cecil Rhodes, as just that. It was never just purely about righting the terrible wrongs of the Holocaust. But for him it was about expanding a global empire."
Barber isn't running for office, of course. But he plays an influential role among a broad range of people and movements nationally, and was just granted a MacArthur ​"Genius" award. Given his important voice, acknowledging Zionism's and Israel's origins as rooted in colonialism represents a major breakthrough.
Of course, these two speeches, these two exemplars of serious discourse shift on Palestinian rights and the Israel-Palestine conflict, did not emerge out of thin air. Years of activist work including public, institutional and congressional advocacy, and a growing presence of Palestinian voices in the mainstream media, created the conditions for such shifts. That work is also reflected in the recognition of the legitimacy of Palestinian rights by new and much broader political forces.
The Boycott, Divestment and Sanctions (BDS) movement has challenged universities, corporations, major church denominations and cultural centers to respond to U.S. and their own institutional complicity with Israeli violations of international law and human rights. The U.S. Campaign for Palestinian Rights endorsed the Policy Platform of the Movement for Black Lives, and its work with Black community organizations has connected many member groups of the U.S. Campaign coalition to new alliances focusing on ending police and other state violence. Those include the Jewish Voice for Peace-initiated Deadly Exchange campaign, which mobilizes community groups to stop local U.S. law enforcement agencies from sending police to be trained by the Israeli military and national police. The Palestine contingent at the giant immigrant rights march in August, focusing on the children separated from their families at the southern U.S. border, carried U.S. Campaign signs reading, ​"From Palestine to Mexico, All the Walls Have Got to Go!" And the work of the Institute for Middle East Understanding shows up daily in the huge increase in Palestinian voices and analysis supporting Palestinian rights in the pages and on the airwaves of mainstream as well as progressive and alternative media.
It's all having a huge impact. The pace of transformation of public discourse is unprecedented in the last 25 years or more. While media shifts are slower, political movement slower still, and real policy changes so far non-existent, the overall effect is unmistakable. But there's plenty of work ahead. It remains a challenge to take advantage of this political moment and reach out to these broader sectors of society newly open to hearing, accepting, and eventually mobilizing to support Palestinian rights and equality for all. It will not be easy to maintain the strong solidarity work with the most progressive and left sectors of communities of color and movements fighting for immigrants, environmental justice, women and LGBTQ rights, against racism, for Native justice and more — all while reaching out to more mainstream organizations.
But we've never had a moment like this in which to try. As Rev. Barber said near the end of his speech in Minnesota, ​"In this moment when Trumpvangelicals have linked up with Zionist extremists and the corporate fascism of white nationalists around the world, it may seem like this Campaign's goal of Palestinian rights is at a low point. But I stopped by today to say that, in an unexpected way, our present troubles may increase, intensify and embolden agitation for Palestinian rights and for all human rights. Indeed, this is what we are seeing, as people who have been fighting in our silos link up across issues and recognize the intersectionality of our campaigns. The same corporate interests that used white nationalism to put Trump in the White House, and leaned into Zionist extremism to move the U.S. Embassy to Tel Aviv, also want to cut taxes for corporations, deregulate, ignore climate science, take away healthcare, deny living wages, cut the social safety net and give more and more money to the U.S. military. But here's the good news: There are far more of us than there are of them. And, God have mercy, even some of them have joined us when we've come together in truth and love and mercy."
A lot of work ahead indeed.
Full disclosure: the writer works closely with Rev. Barber and the Poor People's Campaign; she is a co-founder of the U.S. Campaign for Palestinian Rights and serves on the national board of Jewish Voice for Peace.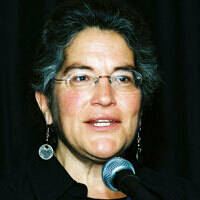 Phyllis Bennis is a fellow of the Institute for Policy Studies. Her books include Before & After: US Foreign Policy and the War on Terrorism.