The Discourse on Palestine Is Shifting. Will Concrete Policy Changes Follow?
The conversation is still overwhelmingly one-sided. But that's slowly changing thanks to the hard work of activists.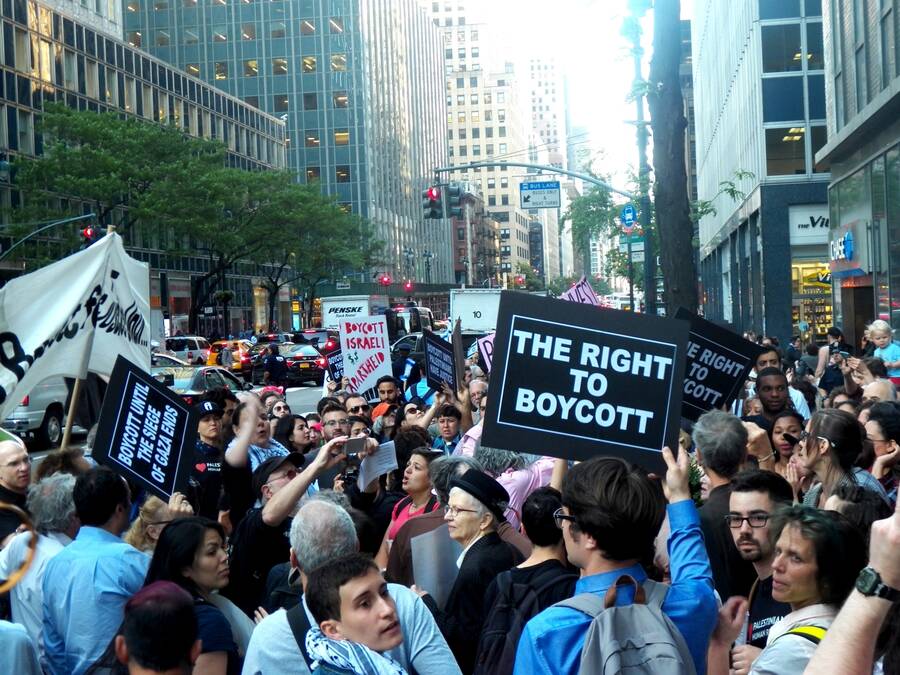 Even as Wash­ing­ton churned through a mias­ma of Brett Kavanaugh lies and hor­ror, a dif­fer­ent kind of his­to­ry was being writ­ten more than a thou­sand miles west. For all who doubt­ed whether the pub­lic and polit­i­cal dis­course on Pales­tine and Israel has changed at all, the keynote speak­ers at the nation­al con­fer­ence of the U.S. Cam­paign for Pales­tin­ian Rights in St. Paul, Min­neso­ta proved them wrong.
"The same corporate interests that used white nationalism to put Trump in the White House, and leaned into Zionist extremism to move the U.S. Embassy to Tel Aviv, also want to cut taxes for corporations, deregulate, ignore climate science, take away healthcare, deny living wages, cut the social safety net and give more and more money to the U.S. military."
Cer­tain­ly, much of the con­ver­sa­tion is still dan­ger­ous­ly one-sided, too often uncrit­i­cal­ly sup­port­ive of Israel. U.S. pol­i­cy has got­ten worse, much worse, in the last two years. And we know that U.S. democ­ra­cy is so flawed, so bro­ken, that chang­ing pub­lic opin­ion does not guar­an­tee a shift in actu­al polit­i­cal decision-making.
But there can be no ques­tion that, as Con­gress­woman Bet­ty McCol­lum (D‑Minn.) and Rev. William Bar­ber II of the Poor Peo­ple's Cam­paign demon­strat­ed unequiv­o­cal­ly, dra­mat­ic shifts are under­way in pub­lic engage­ment on the issue, from move­ments to the media to pol­i­cy­mak­ers. Those changes are simul­ta­ne­ous­ly cre­at­ing and reflect­ing a new polit­i­cal moment, in which vari­ants of the strug­gle for Pales­tin­ian rights are find­ing cen­ter stage in a widen­ing range of orga­ni­za­tions and movements.
In that base­ment hotel ball­room, though, there was still uncer­tain­ty when Rep. McCol­lum rose to speak. She out­lined Israel's new ​"nation-state" law. Most of the audi­ence was already famil­iar with the law, and how it had turned the country's long­stand­ing dis­crim­i­na­to­ry prac­tices designed to priv­i­lege Jews and dis­em­pow­er Pales­tini­ans, into an offi­cial com­po­nent of Israel's Basic Law: the equiv­a­lent of a con­sti­tu­tion­al amend­ment. But would she say the whole truth? Four or five hun­dred peo­ple were sit­ting on the edge of their chairs.
"The world has a name for the form of gov­ern­ment that is cod­i­fied in the Nation-State Law," she said. ​"It is called ​'apartheid.'" There was a col­lec­tive gasp, and the audi­ence, many in tears, leaped to their feet in a mas­sive ovation.
Iden­ti­fy­ing Israel's prac­tices as apartheid isn't new, and in most parts of the world it isn't con­tro­ver­sial or even par­tic­u­lar­ly note­wor­thy — it's sim­ply an accu­rate descrip­tion. But in the con­text of the Unit­ed States, and espe­cial­ly in the con­text of the U.S. Con­gress, describ­ing Israel with that term has long assumed to be polit­i­cal sui­cide. Rep. McCol­lum rec­og­nized it was not – and she repeat­ed­ly invoked her dis­trict con­stituents who, she said, ​"expect me to fight for pro­gres­sive val­ues, human rights and poli­cies that respect and ele­vate our shared human dig­ni­ty. I am rep­re­sen­ta­tive, a reflec­tion of the peo­ple who elect me. So, my work to pro­mote peace, attack pover­ty, defend the rights of chil­dren and stand in sol­i­dar­i­ty with the oppressed, includ­ing the Pales­tin­ian peo­ple, is because I have the sup­port of my won­der­ful con­stituents." That strong local sup­port has had her back as Rep. McCol­lum has tak­en the ini­tia­tive, the only mem­ber of Con­gress so far, to intro­duce leg­is­la­tion direct­ly sup­port­ing Pales­tin­ian rights. Now strength­ened by 29 co-spon­sors, H.R. 4391 oppos­es any use of U.S. mil­i­tary aid to sup­port Israel's bru­tal juve­nile mil­i­tary deten­tion sys­tem used against Pales­tin­ian children.
After call­ing out Israeli apartheid, Rep. McCol­lum still was­n't done. She made the same links to broad­er move­ments that so many activists have been focused on, urg­ing par­tic­i­pants to ​"think about a few of the destruc­tive, dan­ger­ous poli­cies advanced by this pres­i­dent: a Mus­lim ban; a sep­a­ra­tion wall with Mex­i­co; immi­grant fam­i­ly sep­a­ra­tion and child deten­tion; reject­ing refugees; the only nation in the world to with­draw from the Paris Cli­mate agree­ment; reneg­ing on the Iran nuclear deal; cut­ting tax­es for the wealth­i­est Amer­i­cans while sab­o­tag­ing health­care for the need­i­est Amer­i­cans. Is it any won­der that Ben­jamin Netanyahu knows he has a ​'green light' to advance ​'apartheid' inside Israel and end­less­ly expand set­tle­ments? Or, for Israeli secu­ri­ty forces to mas­sacre of scores of unarmed pro­test­ers in Gaza with com­plete impunity?"
The day before, there had already been anoth­er break­through. The Rev. Dr. William Bar­ber, head of Repair­ers of the Breach and co-chair of the Poor People's Cam­paign, spoke to the conference's open­ing ses­sion. ​"Apartheid is apartheid is apartheid," he thun­dered. And then Bar­ber went on to remind the audi­ence, ​"His­tor­i­cal­ly, it is impor­tant for us to remem­ber that one path regard­ing the Zion­ist project in Pales­tine was a colo­nial­ist project from the begin­ning. Theodor Her­zl – the founder of mod­ern Zion­ism – knew that his pro­pos­al for a mod­ern nation state for Jew­ish peo­ple was a colo­nial­ist project, and he pitched it to Britain's great colo­nial­ist, Cecil Rhodes, as just that. It was nev­er just pure­ly about right­ing the ter­ri­ble wrongs of the Holo­caust. But for him it was about expand­ing a glob­al empire."
Bar­ber isn't run­ning for office, of course. But he plays an influ­en­tial role among a broad range of peo­ple and move­ments nation­al­ly, and was just grant­ed a MacArthur ​"Genius" award. Giv­en his impor­tant voice, acknowl­edg­ing Zion­is­m's and Israel's ori­gins as root­ed in colo­nial­ism rep­re­sents a major breakthrough.
Of course, these two speech­es, these two exem­plars of seri­ous dis­course shift on Pales­tin­ian rights and the Israel-Pales­tine con­flict, did not emerge out of thin air. Years of activist work includ­ing pub­lic, insti­tu­tion­al and con­gres­sion­al advo­ca­cy, and a grow­ing pres­ence of Pales­tin­ian voic­es in the main­stream media, cre­at­ed the con­di­tions for such shifts. That work is also reflect­ed in the recog­ni­tion of the legit­i­ma­cy of Pales­tin­ian rights by new and much broad­er polit­i­cal forces.
The Boy­cott, Divest­ment and Sanc­tions (BDS) move­ment has chal­lenged uni­ver­si­ties, cor­po­ra­tions, major church denom­i­na­tions and cul­tur­al cen­ters to respond to U.S. and their own insti­tu­tion­al com­plic­i­ty with Israeli vio­la­tions of inter­na­tion­al law and human rights. The U.S. Cam­paign for Pales­tin­ian Rights endorsed the Pol­i­cy Plat­form of the Move­ment for Black Lives, and its work with Black com­mu­ni­ty orga­ni­za­tions has con­nect­ed many mem­ber groups of the U.S. Cam­paign coali­tion to new alliances focus­ing on end­ing police and oth­er state vio­lence. Those include the Jew­ish Voice for Peace-ini­ti­at­ed Dead­ly Exchange cam­paign, which mobi­lizes com­mu­ni­ty groups to stop local U.S. law enforce­ment agen­cies from send­ing police to be trained by the Israeli mil­i­tary and nation­al police. The Pales­tine con­tin­gent at the giant immi­grant rights march in August, focus­ing on the chil­dren sep­a­rat­ed from their fam­i­lies at the south­ern U.S. bor­der, car­ried U.S. Cam­paign signs read­ing, ​"From Pales­tine to Mex­i­co, All the Walls Have Got to Go!" And the work of the Insti­tute for Mid­dle East Under­stand­ing shows up dai­ly in the huge increase in Pales­tin­ian voic­es and analy­sis sup­port­ing Pales­tin­ian rights in the pages and on the air­waves of main­stream as well as pro­gres­sive and alter­na­tive media.
It's all hav­ing a huge impact. The pace of trans­for­ma­tion of pub­lic dis­course is unprece­dent­ed in the last 25 years or more. While media shifts are slow­er, polit­i­cal move­ment slow­er still, and real pol­i­cy changes so far non-exis­tent, the over­all effect is unmis­tak­able. But there's plen­ty of work ahead. It remains a chal­lenge to take advan­tage of this polit­i­cal moment and reach out to these broad­er sec­tors of soci­ety new­ly open to hear­ing, accept­ing, and even­tu­al­ly mobi­liz­ing to sup­port Pales­tin­ian rights and equal­i­ty for all. It will not be easy to main­tain the strong sol­i­dar­i­ty work with the most pro­gres­sive and left sec­tors of com­mu­ni­ties of col­or and move­ments fight­ing for immi­grants, envi­ron­men­tal jus­tice, women and LGBTQ rights, against racism, for Native jus­tice and more — all while reach­ing out to more main­stream organizations.
But we've nev­er had a moment like this in which to try. As Rev. Bar­ber said near the end of his speech in Min­neso­ta, ​"In this moment when Trump­van­gel­i­cals have linked up with Zion­ist extrem­ists and the cor­po­rate fas­cism of white nation­al­ists around the world, it may seem like this Campaign's goal of Pales­tin­ian rights is at a low point. But I stopped by today to say that, in an unex­pect­ed way, our present trou­bles may increase, inten­si­fy and embold­en agi­ta­tion for Pales­tin­ian rights and for all human rights. Indeed, this is what we are see­ing, as peo­ple who have been fight­ing in our silos link up across issues and rec­og­nize the inter­sec­tion­al­i­ty of our cam­paigns. The same cor­po­rate inter­ests that used white nation­al­ism to put Trump in the White House, and leaned into Zion­ist extrem­ism to move the U.S. Embassy to Tel Aviv, also want to cut tax­es for cor­po­ra­tions, dereg­u­late, ignore cli­mate sci­ence, take away health­care, deny liv­ing wages, cut the social safe­ty net and give more and more mon­ey to the U.S. mil­i­tary. But here's the good news: There are far more of us than there are of them. And, God have mer­cy, even some of them have joined us when we've come togeth­er in truth and love and mercy."
A lot of work ahead indeed.
Full dis­clo­sure: the writer works close­ly with Rev. Bar­ber and the Poor Peo­ple's Cam­paign; she is a co-founder of the U.S. Cam­paign for Pales­tin­ian Rights and serves on the nation­al board of Jew­ish Voice for Peace.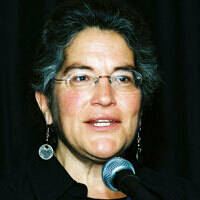 Phyl­lis Ben­nis
is a fel­low of the Insti­tute for Pol­i­cy Stud­ies. Her most recent book is the
2018
edi­tion of Under­stand­ing the Pales­tin­ian-Israeli Con­flict: A Primer.