We Don't Need To Break Up the Big Banks. We Need To Put Them Under Democratic Control.
The problem isn't that banks are "too big to fail"—it's that they're too important not to be under democratic control.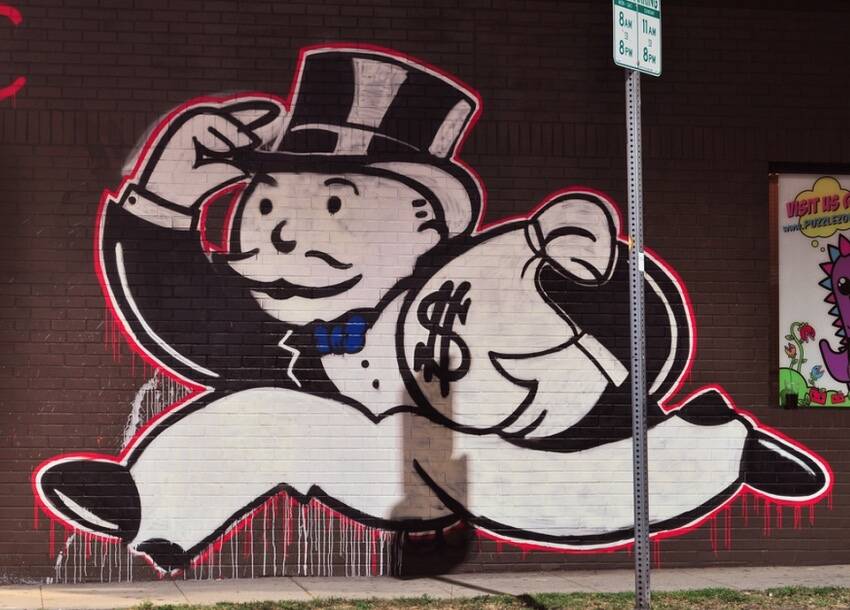 Pub­lic inter­est in pro­gres­sive finan­cial reform is grow­ing. After the epic crash of 2008 and the ​"Great Reces­sion," and with a boost from a sharply pop­ulist cam­paign sea­son, a num­ber of left-of-cen­ter pro­pos­als have cir­cu­lat­ed around the ques­tion of what to do about the bank­ing sys­tem, which has mold­ed con­tem­po­rary soci­ety in its image and defines the hori­zon of what is polit­i­cal­ly possible.
Instead of "too big to fail, too big to exist," the new watchword for the politics of finance should become "financial power for the public good."
The inter­na­tion­al banks, whose out­stand­ing deriv­a­tive con­tracts are esti­mat­ed to have a val­ue of over $500 tril­lion, are the mas­sive and pow­er­ful con­duits of world cap­i­tal, with finan­cial assets that dwarf the annu­al GDP of the rich­est coun­tries. A new antitrust move­ment aims at break­ing the pow­er of the largest banks by dis­man­tling them. But while the inten­tions behind ​"break­ing up the banks" are good, such a pro­gram is deeply flawed, dou­bling down on mar­ket com­pe­ti­tion and nation­al­ism when we should be think­ing about new forms of pub­lic con­trol and transna­tion­al coordination.
We need a pol­i­tics that can empow­er pro­gres­sive polit­i­cal forces by shift­ing the eco­nom­ic cen­ter of grav­i­ty deci­sive­ly to the left. Instead of ​"too big to fail, too big to exist," the new watch­word for the pol­i­tics of finance should become ​"finan­cial pow­er for the pub­lic good."
The lib­er­al thrust of the new antitrust movement
Bernie Sanders has come out most force­ful­ly in favor of ​"too big to fail, too big to exist," but he is far from the only one. Eliz­a­beth War­ren advo­cates sim­i­lar mea­sures, and even Hillary Clin­ton, a staunch advo­cate for Wall Street, has paid lip ser­vice to pop­u­lar hatred of the banks. Some aca­d­e­m­ic econ­o­mists also now endorse some ver­sion of the pro­pos­al to break them up.
On its face, the claim makes sense. The basic assump­tion is that restor­ing free and fair com­pe­ti­tion among equal, small­er play­ers in the finan­cial indus­try will end monop­oly pow­er in the mar­ket, reduce sys­temic risk and de-fang the banks, ben­e­fit­ing con­sumers and soci­ety at large.
Yet even assum­ing there is enough will and polit­i­cal mus­cle to do so (and it's not clear there is), break­ing up the banks would actu­al­ly seri­ous­ly dis­em­pow­er aver­age citizens.
With­out a real plan for impos­ing demo­c­ra­t­ic account­abil­i­ty on a small­er bank­ing sys­tem, we would get the same kind of short-term, dys­func­tion­al finan­cial mar­kets that we cur­rent­ly have, just on a much small­er scale. A bunch of small­er banks that aren't sub­ject to demo­c­ra­t­ic con­trol would actu­al­ly act much like the big banks.
And even if such plans were enact­ed, the small­er size of the banks would pro­found­ly reduce the scope of pro­gres­sive eco­nom­ic projects. Shrink­ing the banks might allow for reg­u­lat­ing small­er finan­cial mar­kets in the near term, but it would weak­en pub­lic pow­er over the econ­o­my as a whole, because reduc­ing the size of the banks would mean reduc­ing the scale of the invest­ments that could be car­ried out—invest­ments that we des­per­ate­ly need.
At its root, ​"too big to fail, too big to exist" relies on a roman­tic vision of small busi­ness com­pe­ti­tion that not only reduces the scale of our eco­nom­ic pow­er, but also ignores capitalism's built-in dri­ve toward com­bi­na­tion and cen­tral­iza­tion. Cut­ting the banks down to size might momen­tar­i­ly rein them in, but in the end it would mere­ly set the stage for their even­tu­al re-con­cen­tra­tion in an ever larg­er form, at least under the cur­rent arrange­ment of a cap­i­tal­ist society.
Break­ing the pow­er of finance by down­siz­ing it is not the solu­tion. Rather than dis­man­tling the banks, we must trans­form them.
Finance and the pol­i­tics of production
We need a major shake­up in how we under­stand the rela­tion­ship between pol­i­tics and the econ­o­my. Instead of lev­el­ing down the scale of the econ­o­my to fit our pub­lic insti­tu­tions, we need to empow­er and expand those insti­tu­tions to match the scale of the econ­o­my. And rather than assum­ing the Unit­ed States exists in a vac­u­um from the rest of the world, we have to start tak­ing the inter­na­tion­al orga­ni­za­tion of pro­duc­tion seriously.
This means mov­ing from a pol­i­tics of redis­tri­b­u­tion to a pol­i­tics of production.
The pol­i­tics of redis­tri­b­u­tion frames the ques­tion of eco­nom­ic and finan­cial reform as sim­ply a mat­ter of shar­ing the exist­ing nation­al wealth more equi­tably. It means mak­ing demands around goals like tax equal­i­ty, a strength­ened wel­fare state, mar­ket reg­u­la­tion, and expand­ed access to edu­ca­tion. These are desir­able goals, of course, but all tend to be seen in iso­la­tion from the world eco­nom­ic sys­tem in which they are embedded.
This per­spec­tive ignores the polit­i­cal and eco­nom­ic con­se­quences of the Unit­ed States' posi­tion in the glob­al divi­sion of labor. It takes for grant­ed that a strong, social-demo­c­ra­t­ic wel­fare state could sim­ply be rebuilt in inter­na­tion­al eco­nom­ic and finan­cial con­di­tions that are rad­i­cal­ly dif­fer­ent from the mid-20th cen­tu­ry, when such states were the norm. And it also over­looks the nec­es­sary role played by inter­na­tion­al finance in coor­di­nat­ing pro­duc­tion and dis­tri­b­u­tion across the world.
For all its reck­less­ness and com­plex­i­ty, the glob­al finan­cial sys­tem is inte­gral to the world econ­o­my. A giant multi­na­tion­al firm like Apple, for instance, relies on the whole bizarre cat­a­logue of finan­cial deriv­a­tives — swaps, futures, options and all of their relat­ed muta­tions — to coor­di­nate its invest­ments across a dozen or more coun­tries. These coun­tries all have dif­fer­ent debt lev­els, cur­ren­cy exchange rates, inter­est rates and polit­i­cal con­di­tions of their own that are fac­tored into invest­ment deci­sions as dif­fer­ent forms of risk.
Liq­uid­i­ty, or the abil­i­ty to buy and sell finan­cial assets at will, is the engine of this process, and the big invest­ment banks — Mor­gan Stan­ley, Gold­man Sachs, Cit­i­group — are its main vehi­cles. Their enor­mous size allows them to act as the oil in the gears across the glob­al geog­ra­phy of production.
Size itself is not the real prob­lem here. Huge and pow­er­ful transna­tion­al insti­tu­tions are need­ed to pow­er glob­al soci­ety and will be required in the future to address the plan­e­tary scale of deep­en­ing eco­log­i­cal and polit­i­cal crises — crises that can only be met through coor­di­na­tion and large invest­ments of pro­duc­tive cap­i­tal into new areas where they are most needed.
Mas­sive­ness is actu­al­ly an asset for this task. The prob­lem is not that the banks have such huge amounts of cap­i­tal — it is who has con­trol over those resources.
The world bank­ing sys­tem has evolved into a wild­ly anar­chis­tic form in which it can only cre­ate liq­uid­i­ty — and thus pow­er pro­duc­tion — through a high­ly volatile, per­ma­nent spec­u­la­tive fren­zy. This means what is con­ven­tion­al­ly writ­ten off as ​"mere spec­u­la­tion" is actu­al­ly at the core of ​"real" or pro­duc­tive nation­al economies, which could not exist with­out inter­na­tion­al cap­i­tal flows pow­ered by mar­ket speculation.
The ​"real econ­o­my" of man­u­fac­tur­ing and indus­try is often seen as inde­pen­dent from the social­ly worth­less gam­bling that goes on in the finan­cial mar­kets. But in fact, the two are inter­con­nect­ed in a con­tra­dic­to­ry, cri­sis-rid­den whole. While much of it is indeed social­ly worth­less, all spec­u­la­tion can­not sim­ply be sub­tract­ed from this equa­tion. In fact, the very idea of some pure ​"real econ­o­my" beneath the par­a­sitic excess­es of spec­u­la­tion, which would final­ly be allowed to thrive if we could only elim­i­nate the lat­ter, is a myth.
But it is a very pow­er­ful one, espe­cial­ly in times of eco­nom­ic cri­sis. It dri­ves the demand to break up the big banks and the notion that the U.S. or any advanced econ­o­my with crip­pling inequal­i­ty could sim­ply turn the clock back and return to a strong, social-demo­c­ra­t­ic wel­fare state on the Scan­di­na­vian mod­el, which is actu­al­ly not look­ing so pro­gres­sive itself these days. It also informs new lib­er­al pol­i­cy ini­tia­tives, like Joseph Stiglitz's ambi­tious pro­pos­al to ​"reimag­ine the rules" of the econ­o­my — as if it were only a mat­ter of get­ting the right laws on the books that would allow the cap­i­tal­ist econ­o­my to hum along indef­i­nite­ly, to everyone's benefit.
Such pro­pos­als, which restrict the focus to fight­ing inequal­i­ty in one coun­try, have three major dis­ad­van­tages: They con­fine polit­i­cal atten­tion to the bound­aries of the nation-state when finan­cial pow­er is glob­al; they assume away the his­tor­i­cal evi­dence sug­gest­ing that the con­tra­dic­tions of cap­i­tal­ist pro­duc­tion can­not be con­tained; and their nation­al ori­en­ta­tion is sole­ly con­cerned with improv­ing work­ers' con­di­tions in the Unit­ed States instead of includ­ing work­ing peo­ple across all nation­al bor­ders. The pol­i­tics of pro­duc­tion rec­og­nizes these con­straints and calls instead for transna­tion­al strate­gies that aim to increase demo­c­ra­t­ic con­trol over cap­i­tal invest­ment. Rather than focus­ing on a fair­er dis­tri­b­u­tion of a giv­en country's eco­nom­ic out­put, it aims to change how the whole inter­na­tion­al eco­nom­ic sys­tem works.
The best tra­di­tions of the Left are explic­it­ly inter­na­tion­al­ist, reject­ing all nation­al bor­ders as arti­fi­cial con­structs of rival eco­nom­ic pow­er blocs. Recov­er­ing this vision is not only moral­ly right; it is strate­gi­cal­ly essen­tial for any left­ist pol­i­tics wor­thy of the name.
Pro­gres­sive glob­al­iza­tion as the anti­dote to eco­nom­ic nationalism
Instead of break­ing up the banks, thinkers and actors on the Left need to work togeth­er to cre­ate seri­ous pro­pos­als for con­vert­ing the banks into pub­lic, demo­c­ra­t­i­cal­ly account­able insti­tu­tions. How can we do it?
A finan­cial trans­ac­tions tax that would cre­ate enor­mous pub­lic rev­enues through a tiny tax on spec­u­la­tion is an excel­lent start­ing point, but we need to be think­ing big­ger. The Left should set its sights on the glob­al stage. We could start by gen­er­at­ing con­crete pro­pos­als around the kinds of insti­tu­tion­al struc­tures nec­es­sary to coor­di­nate demo­c­ra­t­ic con­trol over the finan­cial cir­cuit­ry of the world economy.
Some mea­sure of con­trol in this area is the only real way to counter aus­ter­i­ty, which is dri­ven by the need to appease inter­na­tion­al finan­cial mar­kets by coun­ter­ing the (most­ly imag­i­nary) threat of infla­tion through ever-small­er pub­lic bud­gets and allow­ing debt-fueled spec­u­la­tion to dri­ve up the val­ue of finan­cial assets. Pub­lic con­trol of finance will be nec­es­sary to defeat the stran­gle­hold of ​"bub­ble­nomics" over our social existence.
One can imag­ine a set of insti­tu­tions whose pub­licly elect­ed offi­cials have the author­i­ty to over­see the ebb and flow of liq­uid­i­ty, man­age and, if nec­es­sary, inter­vene to reduce sys­temic risk, and chan­nel cap­i­tal in spe­cif­ic directions.
One exam­ple: direct­ing the rev­enue from a gen­er­al tax on finan­cial trans­ac­tions into the most cap­i­tal-starved regions of the world. The only pos­si­bil­i­ties for long-term devel­op­ment through large-scale pro­duc­tive invest­ment are out­side the short-term demands for quar­ter­ly prof­its and the relent­less com­pe­ti­tion that dom­i­nates the invest­ment deci­sions of finan­cial mar­kets. An insti­tu­tion­al answer to this could look like the Inter­na­tion­al Mon­e­tary Fund or the World Bank, but not so nar­row­ly behold­en to the inter­ests of U.S. and Euro­pean cap­i­tal — one that is actu­al­ly democratic.
Anoth­er impor­tant idea comes from Germany's Die Linke (the Left) par­ty, which has devel­oped an ambi­tious pro­pos­al to social­ize the Ger­man bank­ing sys­tem. Their pro­pos­al would reduce bank­ing to its three core func­tions of pay­ments, sav­ings and loans by trans­fer­ring the most sys­tem­i­cal­ly risky banks to pub­lic own­er­ship. Their con­trol­ling boards would be strength­ened and expand­ed to include social stake­hold­ers like trade unions, envi­ron­men­tal groups, com­mu­ni­ty orga­ni­za­tions and oth­ers, whose rep­re­sen­ta­tives are demo­c­ra­t­i­cal­ly legit­i­mat­ed through direct elections.
Though Die Linke's research is based on the unique fea­tures of the Ger­man bank­ing sys­tem, it could pro­vide a point of depar­ture for more research on transna­tion­al pub­lic bank­ing, which could chan­nel cap­i­tal invest­ment on a much larg­er scale and in direc­tions that are impos­si­ble with our cur­rent finan­cial system.
Instead of turn­ing away from the daunt­ing chal­lenges pre­sent­ed by con­tem­po­rary finan­cial pow­er, the left has to turn and face them square­ly. This means no longer ced­ing a monop­oly on how finance works to those with­in the cur­rent bank­ing sys­tem. If the glob­al econ­o­my is no longer to oper­ate by blind neces­si­ty and sub­mit to con­scious, demo­c­ra­t­ic direc­tion and con­trol, then the Left must find ways to politi­cize finan­cial pow­er and trans­form it from a reck­less, bub­ble-dri­ven fren­zy into a pub­lic util­i­ty. This would amount to pro­gres­sive glob­al­iza­tion.
In con­trast, con­tem­po­rary antitrust move­ments are essen­tial­ly push­ing towards eco­nom­ic nation­al­ism, which sees indi­vid­ual nation-states as locked in bat­tle with their eco­nom­ic ​"com­peti­tors." The ide­ol­o­gy of eco­nom­ic nation­al­ism under­mines transna­tion­al sol­i­dar­i­ty by encour­ag­ing work­ers in dif­fer­ent coun­tries to com­pete with each oth­er instead of unit­ing against their multi­na­tion­al cor­po­rate exploiters.
And by mak­ing the inter­ests of indi­vid­ual nations the bot­tom line for eco­nom­ic pol­i­cy, eco­nom­ic nation­al­ism push­es an increas­ing­ly frag­ile, cri­sis-rid­den world econ­o­my towards fur­ther frag­men­ta­tion in which coun­tries must com­pete for increas­ing­ly scarce mar­kets and resources. The log­i­cal end­point of this process is the divi­sion of the globe into rival eco­nom­ic and polit­i­cal blocs whose con­fronta­tion can lead to catastrophe.
Transna­tion­al pow­er is the only way for­ward to a post-neolib­er­al future, and democ­ra­tiz­ing finan­cial insti­tu­tions is an indis­pens­able piece of the puz­zle. Bernie Sanders and pro­gres­sives every­where should drop ​"too big to fail, too big to exist," and instead call for ​"finan­cial pow­er for the pub­lic good."
Jamie Mer­chant
is a mem­ber of The Peo­ple's Lob­by and a co-founder of the Cen­ter for Pro­gres­sive Strat­e­gy and Research. He holds a Ph.D in Com­mu­ni­ca­tion Stud­ies from North­west­ern Uni­ver­si­ty and lives in Chicago.