Bill Moyers on 'Selma': 'Powerful But Flawed' Portrayal of LBJ's Civil Rights Record
LBJ's former White House Press Secretary says that while the film sometimes "suggests the very opposite of the truth," it's well worth watching.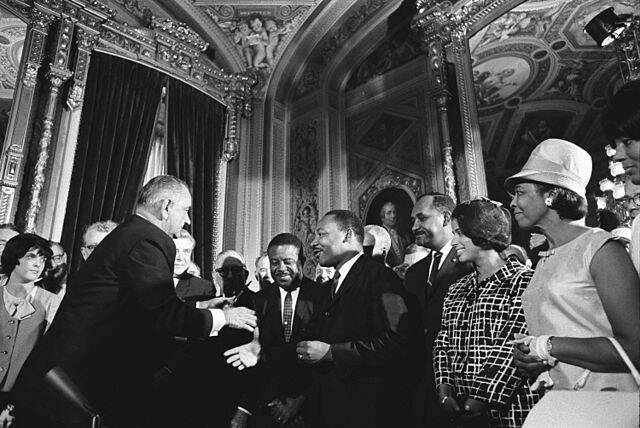 Sel­ma, the new movie on the famous civ­il rights cam­paign in the Alaba­ma city of the same name, por­trays a con­tentious rela­tion­ship between Mar­tin Luther King and Pres­i­dent Lyn­don B. John­son. The film has set off a debate about the role of peo­ple's move­ments in push­ing politi­cians for change and how close­ly artis­tic pro­duc­tions of his­tor­i­cal events should hew to the his­tor­i­cal record.
I was standing very near him, off to his right, and he was more emotionally and bodily into that speech than I had seen him in months. The nation was electrified. Watching on television, Martin Luther King Jr. wept. This is the moment when the film blows the possibility for true drama — of history happening right before our eyes.
Bill Moy­ers served as White House Press Sec­re­tary under LBJ. In an inter­view first pub­lished at Bill​Moy​ers​.com, Moy­ers gives his thoughts on the film.
What did you think of the film Sel­ma?
Bill: There are some beau­ti­ful and poignant moments in the film that take us clos­er to the truth than any­thing I've seen in oth­er movies to date: the cru­el­ty vis­it­ed upon black peo­ple every­day by whites and armed author­i­ties; the humil­i­a­tion they faced sim­ply try­ing to reg­is­ter to vote ("Name all the coun­ty judges in Alaba­ma!"); the courage and fear of those black peo­ple who put them­selves on the line for freedom's sake; the ambiva­lence in Mar­tin Luther King Jr. as he faced the inescapa­bil­i­ty of lead­er­ship and con­stant threat of death. I can­not imag­ine the dread one had to sub­due to step on that bridge that day.
And I came out of the the­ater shak­ing my head in dis­be­lief at the obscen­i­ty of the Repub­li­can Par­ty as it has pious­ly but insid­i­ous­ly tak­en up vot­er sup­pres­sion as a pri­or­i­ty. The Par­ty of Lin­coln? Of Eman­ci­pa­tion? Nixon's ​"South­ern Strat­e­gy" of 50 years ago has now become their sub­lim­i­nal mantra: ​"Whites of Amer­i­ca, Unite!" Back in the 1970s, in the ear­ly days of a resurg­ing con­ser­v­a­tive move­ment, the late Paul Weyrich — god­fa­ther of the reli­gious right and co-founder of the Amer­i­can Con­ser­v­a­tive Union, and of ALEC (the Amer­i­can Leg­isla­tive Exchange Coun­cil, the pow­er­ful lob­by­ing group for cor­po­ra­tions and con­ser­v­a­tives) – declared:
I don't want every­body to vote. Elec­tions are not won by a major­i­ty of peo­ple. They nev­er have been from the begin­ning of the coun­try, and they are not now. As a mat­ter of fact our lever­age in the elec­tions quite can­did­ly goes up as the vot­ing pop­u­lace goes down.

So look who won the midterm elec­tions as vot­er turnout fell to its low­est in 70 years: A coali­tion of sup­pres­sion­ists doing every­thing they can to make it hard for black and poor peo­ple to vote – and their big donors who give mil­lions to drown out those very same voic­es. That's ​"Free Speech" in the Roberts era.
As for how the film por­trays Lyn­don B. John­son: There's one egre­gious and out­ra­geous por­tray­al that is the worst kind of cre­ative license because it sug­gests the very oppo­site of the truth, in this case, that the pres­i­dent was behind J. Edgar Hoover's send­ing the ​'sex tape' to Coret­ta King. Some of our most scrupu­lous his­to­ri­ans have denounced that one. And even if you want to think of Lyn­don B. John­son as vile enough to want to do that, he was way too smart to hand Hoover the means of black­mail­ing him.
Then cast­ing the pres­i­dent as opposed to the Sel­ma march, which the film does, is an exag­ger­a­tion and mis­lead­ing. He was con­cerned that com­ing less than a year after the Civ­il Rights Act of 1964 there was lit­tle polit­i­cal will in Con­gress to deal with vot­ing rights. As he said to Mar­tin Luther King Jr., ​"You're an activist; I'm a politi­cian," and politi­cians read the tide of events bet­ter than most of us read the hands on our watch. The pres­i­dent knew he need­ed pub­lic sen­ti­ment to gath­er momen­tum before he could intro­duce and quick­ly pass a vot­ing rights bill.
So he asked King to give him more time to bring South­ern ​'mod­er­ates' and the rest of the coun­try over to the cause, but once King made the case that blacks had wait­ed too long for too lit­tle, John­son told him: ​"Then go out there and make it pos­si­ble for me to do the right thing."
I was stand­ing very near him, off to his right, and he was more emo­tion­al­ly and bod­i­ly into that speech than I had seen him in months. The nation was elec­tri­fied. Watch­ing on tele­vi­sion, Mar­tin Luther King Jr. wept. This is the moment when the film blows the pos­si­bil­i­ty for true dra­ma — of his­to­ry hap­pen­ing right before our eyes.
To my knowl­edge he nev­er sug­gest­ed Sel­ma as the venue for a march but he's on record as urg­ing King to do some­thing to arouse the sleep­ing white con­science, and when vio­lence met the marchers on that bridge, he knew the moment had come: He told me to alert the speech­writ­ers to get ready and with­in days he made his own famous ​'We Shall Over­come' address that trans­formed the polit­i­cal environment.
Here the film is very dis­ap­point­ing. The direc­tor has a limpid pres­i­dent speak­ing in the Sen­ate cham­ber to a nor­mal num­ber of sen­a­tors as if it were a ​"ho hum" event. In fact, he made that speech where State of the Union address­es are deliv­ered — in a packed House of Rep­re­sen­ta­tives. I was stand­ing very near him, off to his right, and he was more emo­tion­al­ly and bod­i­ly into that speech than I had seen him in months. The nation was elec­tri­fied. Watch­ing on tele­vi­sion, Mar­tin Luther King Jr. wept. This is the moment when the film blows the pos­si­bil­i­ty for true dra­ma — of his­to­ry hap­pen­ing right before our eyes.
So it's a pow­er­ful but flawed film. Go see it, though — it's good to be remind­ed of a time when courage on the street is met by a moral response from power.
You were involved in pass­ing the Vot­ing Rights Act? How do you assess its impact all these years later?
Bill: Just as Lyn­don B. John­son said at the time, the right to vote is ​"the most pow­er­ful instru­ment ever devised by man for break­ing down injus­tice and destroy­ing the ter­ri­ble walls which imprison men because they are dif­fer­ent from oth­er men." We're a dif­fer­ent coun­try today because of what hap­pened then, obvi­ous­ly — with black Amer­i­cans hold­ing office all the way up to the pres­i­dent of the Unit­ed States. After he signed the Vot­ing Rights Act, I asked LBJ if he thought this meant we'd have a black pres­i­dent in our time. He said no, we would have a woman first. Well, one down, anoth­er to go.
On the oth­er hand, the reac­tionar­ies nev­er give up. And the George Wal­lace of then would be pleased with the John Roberts of now. You may know the chief jus­tice was a young lawyer in Ronald Reagan's Depart­ment of Jus­tice dur­ing the 1980s and doing every­thing he could to under­mine the effec­tive­ness of the Vot­ing Rights Act. Roberts' great con­ceit — shared by oth­er con­ser­v­a­tive mem­bers of the court, includ­ing Clarence Thomas who keeps try­ing to kick over the lad­der by which he him­self was hoist­ed to promi­nence — is that racism is no longer the prob­lem it once was. More or less what you can imag­ine a priv­i­leged elite of cor­po­rate lawyers would think, no?
Read some of the mem­os and op-eds the younger Roberts wrote argu­ing for water­ing down the Vot­ing Rights Act and you will under­stand why the con­ser­v­a­tive move­ment saw him as their new white hope on the bench. He seems to believe dis­crim­i­na­tion has to be inten­tion­al to be uncon­sti­tu­tion­al — that there's no such thing as sys­temic racism, racism lay­ered over decades or cen­turies. So we have now a one-time foot sol­dier in the con­ser­v­a­tive move­ment of legal resis­tance to equal rights occu­py­ing its com­mand­ing heights.
How do you remem­ber LBJ? (Note: Bill served as Lyn­don B. Johnson's domes­tic pol­i­cy advis­er in 1964 – 65 and his press sec­re­tary from 1965 to 1967.)
Bill: Lyn­don B. John­son owned and oper­at­ed a fero­cious ego. But he was curi­ous­ly ill at ease with him­self. He had an ani­mal sense of weak­ness in oth­er men — he want­ed to know what you loved and what you feared and once he knew, he came after you. He was at times proud, sen­si­tive, impul­sive, flam­boy­ant, sen­ti­men­tal, bold, mag­nan­i­mous and grace­ful (the best dancer in the White House since George Wash­ing­ton); at times tem­pera­men­tal, para­noid, ill of spir­it, vul­gar. He had a pas­sion for pow­er but suf­fered vio­lent dis­sent in the ranks of his own personality.
He could absolute­ly do the right thing at the right time — the reas­sur­ing grace, if you will, when he was thrust into the White House after Kennedy's assas­si­na­tion; the Civ­il Rights Act of 1964; the Vot­ing Rights Act of 1965. But when he did the wrong thing — esca­lat­ing the Viet­nam war — the dam­age was irreparable.
How would you describe the most strik­ing and sig­nif­i­cant dif­fer­ences in our gov­ern­ment that you have observed between the Viet­nam era and today?
Bill: First, the sheer size and com­plex­i­ty of gov­ern­ment — check out a recent post on bill​moy​ers​.com by John J. Dilulio Jr. review­ing Fran­cis Fukuyama's new book on the state of democ­ra­cy; the two of them — Dilulio and Fukuya­ma — make this point bril­liant­ly. I also just read a thought­ful piece by Charles Lane in the Wash­ing­ton Post argu­ing that the Great Soci­ety pro­grams mint­ed 50 years ago have mutat­ed into sources of new and intractable prob­lems, includ­ing their enor­mous cost; you can't ignore the argu­ment even as you also acknowl­edge how the giant tax cuts to the rich have cut gov­ern­ment rev­enues that would help pay that cost. Everybody's clam­or­ing for more spend­ing on infra­struc­ture but hard­ly any­one is say­ing ​"Let's raise the gaso­line tax to pay for what all of us need and use!"
Sec­ond, the growth of the deep state — pri­vate instru­ments or agen­cies of pow­er act­ing for and fund­ed by the gov­ern­ment (intel­li­gence, the mil­i­tary, etc.). There's a vast gov­ern­ment we don't see. A long-time senior Repub­li­can staff mem­ber of Con­gress, Mike Lof­gren, wrote an extra­or­di­nary essay under the title The Deep State. Read it before you go to bed tonight. Rather, first thing in the morn­ing. If you tack­le it before bed­time, you won't sleep.
And final­ly — although I should have start­ed with this one: The tri­umph of mon­ey over every aspect of gov­ern­ment. Money's always been a force, but nev­er to the extent it is today. We are just this close (I'm squeez­ing my index fin­ger and thumb tight­ly) from oli­garchy — the rule of the wealthy few for the pur­pose of increas­ing their wealth.