We Don't Farm Because It's Trendy: For Black Folks, Growing Food Has Long Been a Form of Resistance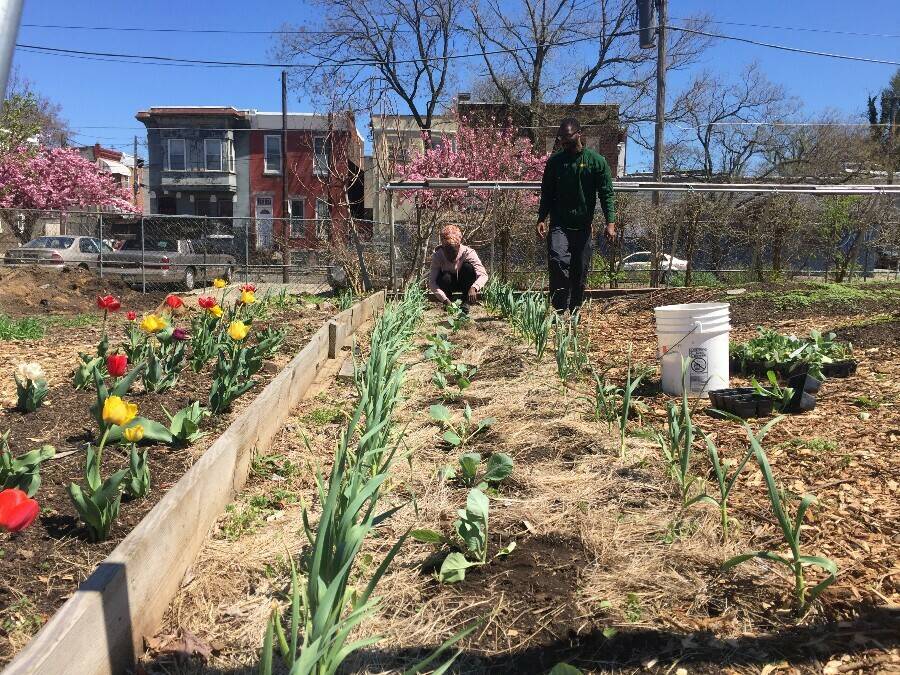 Edi­tor's Note: This arti­cle was orig­i­nal­ly pub­lished by Envi­ron­men­tal Health News.
For more than 150 years, from the rur­al South to north­ern cities, Black peo­ple have used farm­ing to build self-deter­mined com­mu­ni­ties and resist oppres­sive struc­tures that tear them down.
Today, agri­cul­ture still serves an impor­tant role in the lives of Black peo­ple, which is why we see urban agri­cul­ture projects and pro­grams in Philadel­phia, Detroit, and Wash­ing­ton D.C. and oth­er cities across the Unit­ed States. In all of these cities, there are Black-led orga­ni­za­tions cul­ti­vat­ing food and land sov­er­eign­ty by help­ing indi­vid­u­als and com­mu­ni­ties regain agency and own­er­ship over their food system.
My jour­ney in food and land work began long before I was born. My ances­tors were enslaved Africans forced to farm under abhor­rent con­di­tions in South Car­oli­na, Texas, and Geor­gia. In 2012, I start­ed my first pro­fes­sion­al job work­ing at a food jus­tice and nutri­tion edu­ca­tion non-prof­it in Philadel­phia. I worked with youth from across West Philly to explore con­nec­tions between food, agri­cul­ture, cul­ture, sus­tain­abil­i­ty, and leadership.
I first devel­oped a pas­sion for food sov­er­eign­ty and agri­cul­ture at the Black Farm­ers Con­fer­ence in 2013. Dr. Mon­i­ca White, author of Free­dom Farm­ers and pro­fes­sor of envi­ron­men­tal jus­tice, was the keynote speak­er. She spoke of Black farm­ing coop­er­a­tives in the South and how they con­nect to Black folks grow­ing food in cities today.
What I learned is that farm­ing is not new to Black peo­ple. While some dom­i­nant mod­ern nar­ra­tives talk about urban agri­cul­ture as an inno­v­a­tive way to build com­mu­ni­ty and fight food inse­cu­ri­ty, Black folks in this coun­try have been grow­ing food in cities for as long as they have lived in cities. Before that, our ances­tors lived in deep rela­tion­ship with the land. For the first time in my 22 years, I under­stood that grow­ing food is a tool for dis­man­tling sys­temic oppres­sion. I also real­ized that Black aca­d­e­mics have a crit­i­cal role to play in agri­cul­tur­al resis­tance and free­dom move­ments; and it was in this moment that I decid­ed to apply for grad­u­ate programs.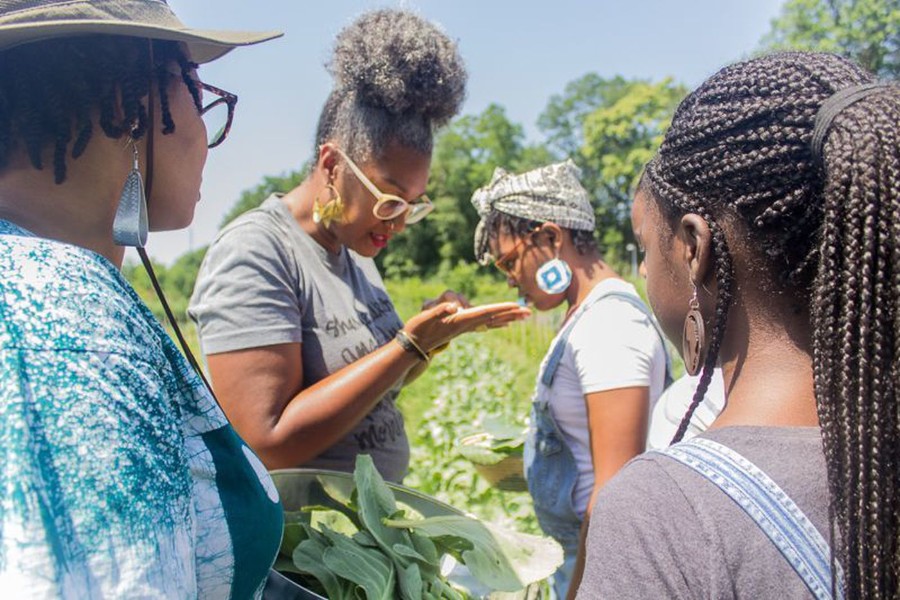 Shiv­on Pearl-Love leads a les­son with Our Moth­ers' Kitchens pro­gram par­tic­i­pants in Philadel­phia. (Pho­to by Gabrielle Clark)
As a PhD can­di­date, I am explor­ing and under­stand­ing the ways that urban agri­cul­ture impacts the men­tal health, spir­i­tu­al­i­ty, and col­lec­tive agency of Black com­mu­ni­ties using a wide range of ana­lyt­i­cal tools such as map­ping, focus groups, and spa­tial analy­sis. In some cas­es, I am devel­op­ing new sur­vey and mea­sure­ment tools specif­i­cal­ly for these com­mu­ni­ties and this con­text. I engage in this research using an envi­ron­men­tal jus­tice approach, ground­ed in racial jus­tice, his­to­ry, cul­ture, and com­mu­ni­ty par­tic­i­pa­tion. Before we even begin to do this research, it is impor­tant for us to under­stand the roots of Black farming.
Black farm­ers across the South cre­at­ed coop­er­a­tives large­ly in response to the anti-Black gov­ern­ment and soci­ety; in response to super­mar­kets not serv­ing Black cus­tomers; in response to White peo­ple ter­ror­iz­ing Black folks when they tried to reg­is­ter to vote. These coop­er­a­tives were a means of pro­vid­ing eco­nom­ic auton­o­my, polit­i­cal edu­ca­tion, and col­lec­tive agency to Black peo­ple in the South.
Despite migra­tion pat­terns from the South to the North and Mid­west, many Black urban com­mu­ni­ties have kept in touch with their agri­cul­tur­al roots, estab­lish­ing farms and gar­dens through­out the Unit­ed States. Black peo­ple have ances­tral ties to this land – to car­ing for it, nur­tur­ing it, lov­ing it, and allow­ing it to heal our com­mu­ni­ties and us…and we have faced immea­sur­able dis­crim­i­na­to­ry prac­tices and poli­cies as we sought to reclaim and live in rela­tion­ship with the land. We must not for­get this his­to­ry as we engage Black agri­cul­tur­al com­mu­ni­ties in our research endeavors.
Dan­ger lies in the face and nar­ra­tive of urban agri­cul­ture being co-opt­ed by White lib­er­als and aca­d­e­mics. It is pre­sent­ed as some­thing new, trendy, and with­out sociopo­lit­i­cal and his­tor­i­cal ties or influences.
This lim­it­ed per­spec­tive views White com­mu­ni­ty gar­dens and urban farm­ing alone as acts of social jus­tice, which is prob­lem­at­ic because it inad­ver­tent­ly attempts to erase the decades of urban agri­cul­tur­al prac­tices, resis­tance, and activism that Black com­mu­ni­ties have engaged in.
White-led urban agri­cul­ture projects receive the major­i­ty of grant and insti­tu­tion­al fund­ing. This fur­ther repli­cates the cycle of nar­ra­tive dom­i­nance, White land own­er­ship, and the phys­i­cal exclu­sion of Black and Brown folks from access to land, wealth, and resources and we must use our tools, resources, and priv­i­leges as researchers to stop this cycle.
Resilience in the face of exploitation
In the decades fol­low­ing the Civ­il War, Black folks sought to acquire land as a means to pro­vide for them­selves, their fam­i­lies and com­mu­ni­ties, and become inde­pen­dent of pre­vi­ous slave and plan­ta­tion own­ers. But they faced many obsta­cles. White landown­ers and mer­chants rou­tine­ly denied Black farm­ers access to pri­vate credit.
They were instead often offered exploita­tive share­crop­ping or rental agree­ments. This result­ed in many Black farm­ers being unable to keep up with mort­gage and debt pay­ments. They were often forced to sell their land for far less than what it was worth.
Can we pause and talk about resilience?
Despite these many con­cert­ed efforts to thwart Black farm­ers, they still acquired more than 16 mil­lion acres of land at the height of Black farm­ing in the U.S. in 1920. There were more than 5.1 mil­lion Black farm­ers who made up 14 per­cent of the over­all farm­ing population.
Over the pro­ceed­ing decades, ter­ror­ism, Jim Crow, and increased indus­tri­al­iza­tion in north­ern cities drove many Black peo­ple from the South to places like Philadel­phia, Wash­ing­ton D.C., and Detroit. From 1920 – 1997, the num­ber of Black farm­ers declined by about 95 per­cent nation­wide.
How­ev­er, Black farm­ers did not sit idly by while their com­mu­ni­ties and liveli­hoods were attacked. They orga­nized. And protest­ed. And ral­lied. In 1997, they brought a law­suit against the U.S. Depart­ment of Agri­cul­ture in the Pig­ford v. Glick­man case for decades of alleged dis­crim­i­na­tion. This result­ed in one of the largest civ­il set­tle­ments in US his­to­ry of $1.2 billion.
This may seem like a gen­er­ous amount, but it isn't once you con­sid­er the tens of thou­sands of Black farm­ers who faced dis­crim­i­na­tion at the hands of the USDA. The aver­age amount a farmer could request was $50,000. After los­ing hun­dreds of thou­sands of dol­lars in farm­ing equip­ment, land, sea­sons, and har­vests, that does­n't even put a Band-Aid on the wound cre­at­ed by the USDA and anti-Black racism.
Today there are about 45,000 Black farm­ers in the U.S., mak­ing up only 1 per­cent of the farm­ing pop­u­la­tion, and own­ing far few­er acres of land com­pared to 1920. This hap­pened through a series of USDA dis­crim­i­na­to­ry poli­cies and pro­ce­dures such as Heirs Prop­er­ty, unjus­ti­fied loan and crop insur­ance denials, and bla­tant prej­u­dice like forc­ing Black farm­ers off their land.
The Great Migra­tion, while often sole­ly and incor­rect­ly attrib­uted to job oppor­tu­ni­ties, occurred because Black peo­ple were being hunt­ed and ter­ror­ized by racist mobs in the South. This too con­tributed to the decline in num­bers of Black farmers.
Sur­viv­ing, thriv­ing, and self-determination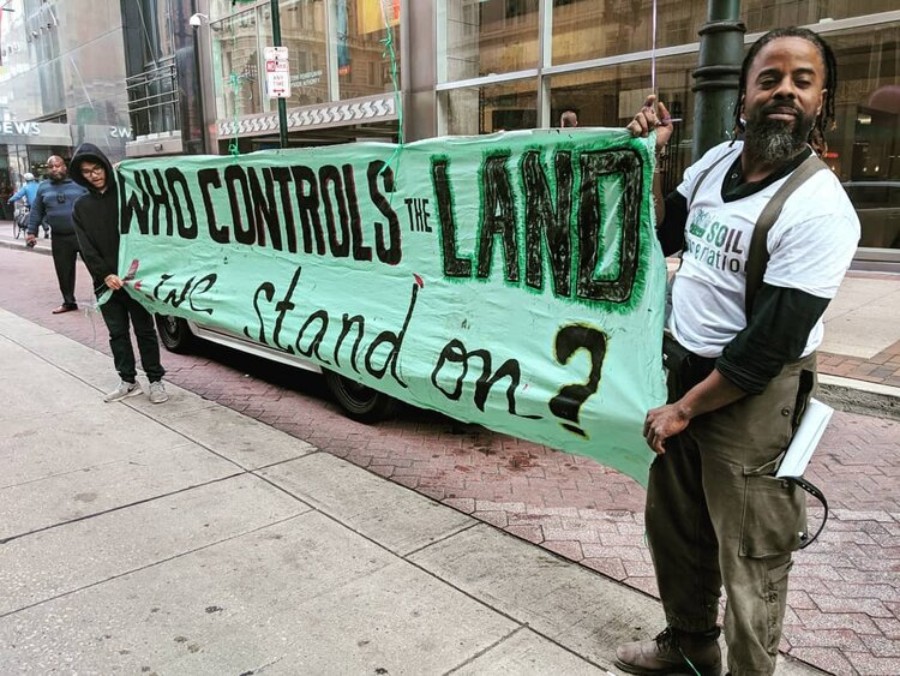 Dur­ing city coun­cil hear­ings on urban agri­cul­ture in Philladel­phia, Soil Gen­er­a­tion mem­bers hold up a sign that reads ​

"

Who con­trols the land we stand on?" (Pho­to by Angela Gervasi)
Black farm­ers and gar­den­ers con­tin­ue to push for their com­mu­ni­ty's right to self-deter­mi­na­tion, to sur­vive, and to thrive. In my home­town of Philadel­phia, food jus­tice activists and urban grow­ers protest to save their farms and gar­dens, although city coun­cil con­trol of land sales often make it hard for com­mu­ni­ty mem­bers to con­tend with wealthy developers.
These grow­ers and activists under­stand that, in a city where 81 per­cent of food stores offer most­ly unhealthy food choic­es, a major key to pop­u­la­tion health and col­lec­tive heal­ing is hav­ing con­trol over what goes in our bod­ies. Data have also shown that those unhealth­ful food stores are dis­pro­por­tion­ate­ly locat­ed in Black neigh­bor­hoods. Unsur­pris­ing­ly, heart dis­ease is the lead­ing cause of death in Philadel­phia.
Heart dis­ease is what the doc­tors list­ed on my father's death cer­tifi­cate just over a month ago. They ruled that as the cause of death, despite the neglect, neg­li­gence, and implic­it health­care bias that like­ly con­tributed to his passing.
Diet-relat­ed ill­ness­es are often attrib­uted to indi­vid­ual behav­ior and poor lifestyle choic­es, but the real­i­ty is that these ill­ness­es and deaths are the result of sys­temic racism.
Black peo­ple in Philadel­phia dis­pro­por­tion­ate­ly expe­ri­ence tar­get­ed unhealthy food mar­ket­ing, lack of access to health­care, and inad­e­quate edu­ca­tion­al sys­tems — all of which can lead to men­tal and phys­i­cal health challenges.
These chal­lenges are exac­er­bat­ed by pan­demics like Covid-19, where prac­ti­tion­ers make choic­es, often root­ed in racism, about who lives and who dies. Whose life is valu­able and whose life can be dis­card­ed. Pan­demics like Covid-19 empha­size why com­mu­ni­ty con­trol of food sys­tems and land are not just impor­tant but they are quite lit­er­al­ly our means of sur­viv­ing, heal­ing, and thriving.
Through grass­roots orga­niz­ing, pol­i­cy advo­ca­cy, and urban plan­ning, we are push­ing for access to land for emo­tion­al, spir­i­tu­al, phys­i­cal, and col­lec­tive heal­ing because our com­mu­ni­ties' health and liveli­hoods depend on it.
Gar­dens and farms pro­vide peo­ple with expo­sure to green­ness, oppor­tu­ni­ties for phys­i­cal activ­i­ty and poten­tial ben­e­fits to the micro­bio­me since expo­sure to soil and its many microor­gan­isms can boost our gut health.
They offer spaces to con­nect and engage with our neigh­bors. They pro­vide recla­ma­tion and renew­al of our spir­i­tu­al and ances­tral rela­tion­ships to the land. Com­mu­ni­ty-led urban agri­cul­ture projects are a means of shar­ing edu­ca­tion and infor­ma­tion, strength­en­ing social cap­i­tal and sup­port.
Agri­cul­ture can offer Black peo­ple oppor­tu­ni­ties for eco­nom­ic auton­o­my while pro­vid­ing safe spaces for com­mu­ni­ty mem­bers to gath­er and cel­e­brate with­out fear of crim­i­nal­iza­tion or state-sanc­tioned brutality.
Black agri­cul­ture pro­vides a way to engage with the dis­turb­ing his­to­ry of this coun­try, that we live in a place built on stolen Indige­nous land and the bru­tal enslave­ment and stolen labor of my ances­tors. It opens the door to us under­stand­ing how this all shapes our col­lec­tive jour­ney toward liberation.
Show­ing up for your community
It is in and through this work that my activism and schol­ar­ship inter­sect. As a schol­ar, I am inten­tion­al about how I frame my research. While there is val­ue in estab­lish­ing your rep­u­ta­tion and secur­ing tenure before chal­leng­ing the sta­tus quo, I choose not to wait until I have a PhD, pro­fes­sor­ship, or tenure, to be bold and hon­est in my work.
Black land loss is hap­pen­ing now, across cities and rur­al com­mu­ni­ties. This is why as a stu­dent, I choose to name envi­ron­men­tal racism and injus­tices in my research, push­ing my depart­ment and school to think about the myr­i­ad of ways insti­tu­tions have done harm to mar­gin­al­ized com­mu­ni­ties and to think about the sociopo­lit­i­cal and his­tor­i­cal con­texts that shape our present day environments.
And while that may leave some col­leagues uncom­fort­able, you must get a lit­tle uncom­fort­able first in order to do and be bet­ter. Also, I hold myself more account­able to the com­mu­ni­ties I serve and with whom I work.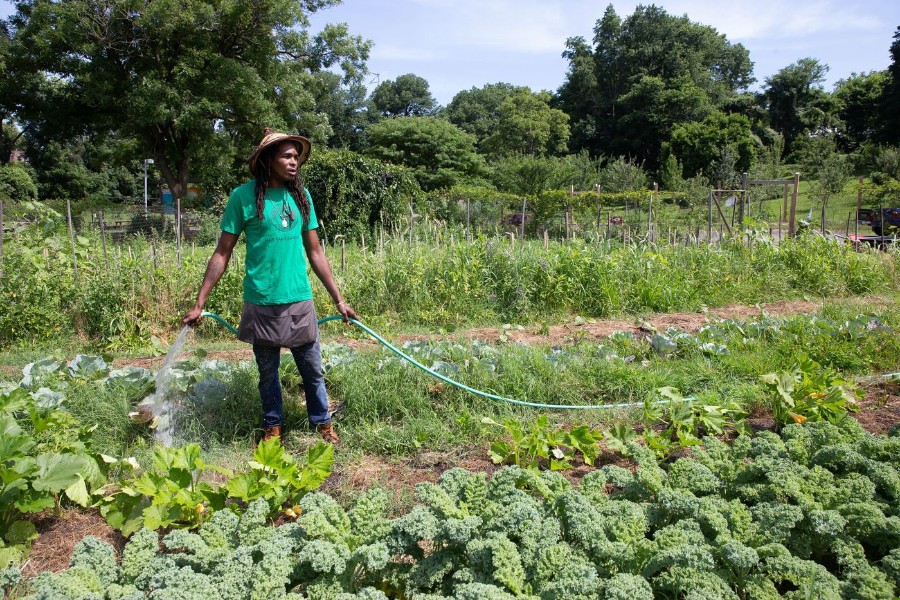 Farmer Chris Bold­en-New­some stands waters leafy greens on Sako­fa Com­mu­ni­ty Farm in Philadel­phia. (Pho­to cour­tesy of Sanko­fa Com­mu­ni­ty Farm)
Black and Brown Philly farm­ers are who, in many ways, sent and gave me bless­ing to pur­sue grad­u­ate work as a means to sup­port our col­lec­tive agri­cul­tur­al resis­tance. Every­thing that I call out and choose to uplift in the acad­e­my I've learned from these com­mu­ni­ties and I will con­tin­ue to acknowl­edge that in my research.
To me, my work is that of schol­ar-activism. It means being so com­mit­ted to change, heal­ing, and lib­er­a­tion in a place and for a com­mu­ni­ty, that you con­tin­u­al­ly show up for them. This requires sacrifice.
I am not advo­cat­ing that every­one make these kinds of sac­ri­fices, how­ev­er, for me this looks like six-hour month­ly dri­ves from Boston, where I cur­rent­ly live, to be in com­mu­ni­ty with these folks; to con­tin­u­al­ly learn about what is hap­pen­ing on the ground in Philly, at home.
From com­mu­ni­ty-based par­tic­i­pa­to­ry research, to con­fer­ence plan­ning, to offer­ing com­pet­i­tive stipends to all the com­mu­ni­ty mem­bers who con­tribute this work, every­thing that I do and have done in the acad­e­my has been to ampli­fy the voic­es of Black and Brown grow­ers in Philly. At each step of the research process, I go back to this com­mu­ni­ty to seek input.
The entire field of pub­lic health needs to rethink how it engages com­mu­ni­ties, espe­cial­ly con­sid­er­ing that mar­gin­al­ized folks have the great­est under­stand­ing of the nuanced ways that envi­ron­men­tal fac­tors impact their com­mu­ni­ties. We must uplift and val­ue their exper­tise and knowl­edge sys­tems as much, if not more, than we do those with PhDs.