Black Feminism Will Save Us All
Why we desperately need real intersectional feminism.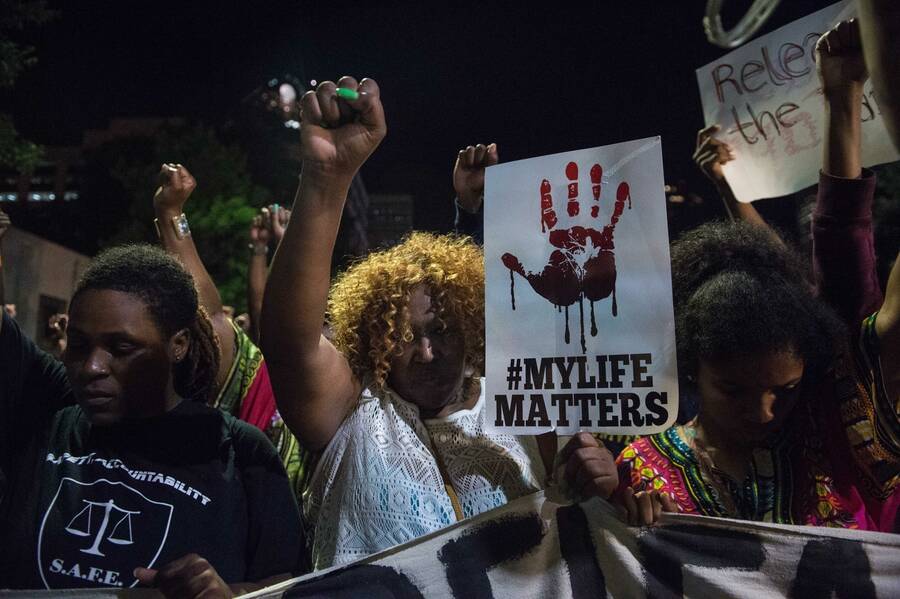 Over the past decade, many fem­i­nists, espe­cial­ly young fem­i­nists, have embraced inter­sec­tion­al­i­ty — a frame­work emerg­ing from black fem­i­nism that looks at inter­lock­ing sys­tems of oppres­sion around social cat­e­gories like race, gen­der, class, dis­abil­i­ty and sex­u­al ori­en­ta­tion. The term has become a pop­u­lar buzz­word, ram­pant in Twit­ter pro­files and used by Hillary Clin­ton on the cam­paign trail.
Radical political organizing rooted in intersectionality is offering a transformative vision of the world.
At a land­mark speech at the Novem­ber 2017 Nation­al Women's Stud­ies Asso­ci­a­tion gath­er­ing, NWSA co-chair Pre­mil­la Nadasen, a schol­ar-activist who stud­ies the strug­gles of low-income women of col­or for eco­nom­ic and social jus­tice, made a case that we need an inter­sec­tion­al approach now more than ever.
Nadasen asks us to reject a nar­row, super­fi­cial under­stand­ing of race or gen­der. While giv­ing a brief his­to­ry of inter­sec­tion­al­i­ty, she sug­gests that inter­sec­tion­al­i­ty at its core is a pol­i­tics of lib­er­a­tion that we can — that we must — all embrace.
Over the past year, we have wit­nessed unre­lent­ing assaults on the integri­ty of our elec­toral sys­tem, a rise in author­i­tar­i­an­ism, quash­ing of polit­i­cal dis­sent and free expres­sion, unre­strained racial vio­lence, a deep­er inter­twin­ing of state and cor­po­rate inter­ests, and a con­cen­tra­tion of polit­i­cal and eco­nom­ic pow­er. White suprema­cy and misog­y­ny have found, not only a home in the White House, but a wel­com­ing plat­form on col­lege campuses.
As schol­ars and activists, teach­ers and writ­ers, researchers and pub­lic intel­lec­tu­als, we are unique­ly posi­tioned to inter­vene in this down­ward spi­ral and recal­i­brate the polit­i­cal direc­tion. Aca­d­e­mics (those of us in high­er edu­ca­tion) and schol­ars (a cat­e­go­ry that includes any­one who pro­duces knowl­edge — includ­ing those whose work is pri­mar­i­ly in the streets) can pro­vide the ana­lyt­i­cal tools to make sense of these seis­mic shifts and offer just alter­na­tives. The urgency before us requires that we ask ques­tions about social trans­for­ma­tion, push to decol­o­nize the knowl­edge of the uni­ver­si­ty, and imag­ine alter­na­tive futures.
Our NWSA theme for this year was inspired by the rad­i­cal orga­niz­ing of 40 years ago when a small group of peo­ple, call­ing them­selves the Com­ba­hee Riv­er Col­lec­tive (after the famous trail carved by Har­ri­et Tub­man) met and imag­ined (like Tub­man) a dif­fer­ent kind of polit­i­cal future — a vision craft­ed by the most mar­gin­al­ized, a vision of an anti-racist, anti-sex­ist, anti-homo­pho­bic and anti-cap­i­tal­ist world. Their polit­i­cal vision cen­tered queer black fem­i­nism and laid the foun­da­tion for what Kim­ber­le Cren­shaw lat­er named intersectionality.
The Com­ba­hee Riv­er Col­lec­tive state­ment, along with the schol­ar­ship and activism of oth­er fem­i­nists of col­or at the time — includ­ing Audre Lorde, Angela Davis, and Cher­rie Mor­a­ga — was a mod­el of polit­i­cal cri­tique. It offered a the­o­ret­i­cal frame­work for think­ing about the insta­bil­i­ty of gen­der, and for­ev­er trans­formed how we read and write about women and gender.
Since Com­ba­hee, inter­sec­tion­al­i­ty has tak­en a cir­cuitous route. The long and wind­ing path of inter­sec­tion­al­i­ty has land­ed us in a place where it is more pop­u­lar, but also more mis­un­der­stood, than ever before. Col­lege and uni­ver­si­ty admin­is­tra­tors embrace inter­sec­tion­al­i­ty, even as they con­tin­ue to gen­tri­fy, exploit the labor of ser­vice work­ers and con­tin­gent fac­ul­ty, engage in neolib­er­al impe­r­i­al projects, and repro­duce white­ness, nation­al­ism and het­eropa­tri­archy. And even some in the cor­po­rate sec­tor have tout­ed inter­sec­tion­al­i­ty. It has been adopt­ed by main­stream fem­i­nists with very lit­tle under­stand­ing of the mean­ing of inter­sec­tion­al­i­ty — who talk, for exam­ple, about want­i­ng to ally with inter­sec­tion­al peo­ple. The polit­i­cal work that inter­sec­tion­al­i­ty is doing for lib­er­al­ism and neolib­er­al­ism, and its reduc­tion to a pol­i­tics of diver­si­ty, is reflec­tive of the how the dis­course of inter­sec­tion­al­i­ty has been col­o­nized. This mis­read­ing places inter­sec­tion­al­i­ty in ten­sion with a pol­i­tics of class, obscur­ing both how cap­i­tal­ism is real­ly gen­dered racial cap­i­tal­ism and that inter­sec­tion­al­i­ty has, at its core, an anti-cap­i­tal­ist cri­tique. Our inten­tion in nam­ing this theme for NWSA is to reclaim the pol­i­tics of inter­sec­tion­al­i­ty and re-cen­ter its activist roots.
The 40th anniver­sary of Com­ba­hee also res­onates pow­er­ful­ly with con­tem­po­rary mobi­liza­tions, led large­ly by women of col­or, many of whom are queer or embrace a queer pol­i­tics. Although this may feel like a polit­i­cal­ly bleak time, we are in a moment of pro­gres­sive grass­roots orga­niz­ing. And it is some of the most exhil­a­rat­ing orga­niz­ing we have seen in decades, marked by fierce resis­tance, for­ti­tude, inno­va­tion and calls for fun­da­men­tal social trans­for­ma­tion. These mobi­liza­tions have mount­ed since Trump's elec­tion, but the orga­niz­ing dates back fur­ther and emerged in response to mul­ti­ple crises wrought by decades of destruc­tive lib­er­al and neolib­er­al poli­cies. Rad­i­cal polit­i­cal orga­niz­ing root­ed in inter­sec­tion­al­i­ty is offer­ing a trans­for­ma­tive vision of the world. We only have to look around us to see this.
Black queer fem­i­nists are at the fore­front of a move­ment for black lives and prison abolition.
Poor immi­grant women of col­or have called for sanc­tu­ary cities and pushed back against xeno­pho­bic poli­cies that crim­i­nal­ize them.
A bur­geon­ing labor move­ment com­prised of domes­tic work­ers, home health care aides, restau­rant work­ers and farm work­ers is redefin­ing class-based politics.
The trans of col­or com­mu­ni­ty has cri­tiqued polic­ing and inequitable pub­lic services.
Indige­nous women have orga­nized to halt the U.S. cor­po­rate impe­r­i­al incur­sions on their land.
The BDS and Pales­tin­ian sol­i­dar­i­ty move­ments have exposed the hypocrisy of free speech.
Link­ing the rad­i­cal black fem­i­nist orga­niz­ing of 40 years ago to the cur­rent move­ments enables us to see queer black fem­i­nism not as a pol­i­tics of a peo­ple, but as a pol­i­tics of lib­er­a­tion, a way to think about social trans­for­ma­tion from the point of view of the most mar­gin­al­ized. Anti-racist, queer, fem­i­nist, inter­sec­tion­al polit­i­cal for­ma­tions, have a long geneal­o­gy and con­tin­ue to inter­ro­gate het­ero-racial nor­ma­tiv­i­ties and ques­tions of pow­er and con­sid­er what a lib­er­a­to­ry pol­i­tics of resis­tance — for every­one — means.
Our theme for next year builds upon this year's con­fer­ence and is cen­tered on rad­i­cal imag­i­nar­ies. We hope to engage in col­lec­tive think­ing about not just about past and present, but about the future. Not just about the cri­tique of racial vio­lence, gen­der injus­tice, eco­nom­ic exploita­tion and expro­pri­a­tion, but how to move for­ward. Although con­ser­v­a­tive and pro­to-fas­cist forces seem to be embold­ened across the world, it is imper­a­tive that, in addi­tion to ana­lyz­ing the rise of those forces, that we imag­ine alter­na­tives. Our theme of imag­in­ing jus­tice is inspired
by dis­abil­i­ty schol­ars who urge us to think about how the world can be remade to embrace us in all of our diversity,
by the strug­gles at Stand­ing Rock that enable us to con­sid­er a dras­ti­cal­ly, dif­fer­ent rela­tion­ship between humans and our environment,
by the restora­tive jus­tice move­ment that asks us to rethink both rule mak­ing and rule breaking,
and by fac­to­ry takeovers by work­ers in Argenti­na, and land seizures by the land­less in Brazil, that sug­gest that we each must get, not what we earn or deserve, but what we need.
Close to 20 years ago, when the World Social Forums first con­vened, they adopt­ed the mot­to, ​"Anoth­er world is pos­si­ble." So, in the spir­it of the social forum and renewed orga­niz­ing in the 21stcentury, we invite you to think with us about what that oth­er world will look like.
Pre­mil­la Nadasen
is cur­rent­ly a pro­fes­sor of his­to­ry at Barnard Col­lege, Colum­bia Uni­ver­si­ty, where she is affil­i­at­ed with the Barnard Cen­ter for Research on Women, the Women's, Gen­der, and Sex­u­al­i­ty Stud­ies Pro­gram, and the Insti­tute for Research in African Amer­i­can Stud­ies. She is co-chair of the Nation­al Women's Stud­ies Asso­ci­a­tion. She also serves on the edi­to­r­i­al board of the fol­low­ing aca­d­e­m­ic jour­nals:
Women's Stud­ies Quar­ter­ly
,
Souls: A Crit­i­cal Jour­nal of Black Pol­i­tics
,
Cul­ture, and Soci­ety
, the
Jour­nal of Civ­il and Human Rights
, and sits on the advi­so­ry com­mit­tee of the New York His­tor­i­cal Society's Cen­ter for the Study of Women's His­to­ry. Nadasen has giv­en work­shops and pre­sen­ta­tions for the Low­er East Side Ten­e­ment Muse­um, the Nation­al Domes­tic Work­ers Alliance, the Ms. Foundation's Eco­nom­ic Jus­tice Pro­gram, the Depart­ment of Labor, and the New York State Labor Com­mit­tee. Spon­sored by his­to­ry and gen­der and women's stud­ies. Wom­en's His­to­ry Month event.