Black Women Voters Aren't "Saving America." We're Saving Ourselves.
Since at least the 1830s, Black women have organized, campaigned, and voted for issues that matter to us most.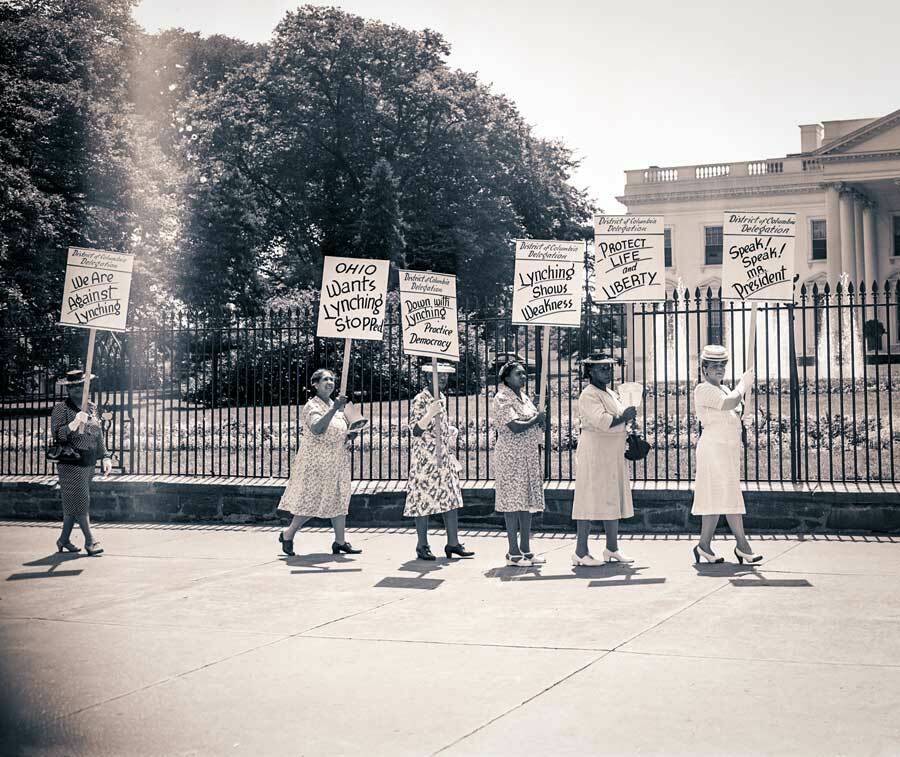 Demo­c­rat Doug Jones just bare­ly defeat­ed Repub­li­can can­di­date (and doc­u­ment­ed gay-bash­ing, Biblethump­ing sex­u­al preda­tor and pedophile) Roy Moore in Alabama's 2017 spe­cial elec­tion. Jones is the first Demo­c­rat in Alaba­ma to be elect­ed to the Sen­ate since 1992. Head­lines across Amer­i­ca over­whelm­ing­ly cred­it­ed Black women as the major dri­ving force behind this his­toric vic­to­ry, and it's true: 98 per­cent of Black women vot­ed for Jones.
We are not long-suffering martyrs, mammies, aunties or mules—we are astute, hypervigilant, educated breadwinners.
Pre­dictably, though, the social and tra­di­tion­al media respons­es in the imme­di­ate after­math, as framed by white pro­gres­sives and jour­nal­ists, told a tire­some sto­ry, one that repeat­ed a trope that uncon­scious­ly frames Black women's par­tic­i­pa­tion as an invest­ment in Amer­i­ca. ​"Black Women Saved Amer­i­ca Last Night, Again," read one head­line in Paper mag­a­zine.
Such head­lines mis­un­der­stand a cru­cial point: Black women's vot­ing par­tic­i­pa­tion is not an invest­ment in Amer­i­ca, but an invest­ment in our­selves. Black women vote first and fore­most for our own inter­ests, which gen­er­al­ly fall out­side of either par­ty line. We vote for wage par­i­ty, for improve­ments to trans­porta­tion so we can trav­el safe­ly and afford­ably, for access to health­care, for repair­ing the crim­i­nal jus­tice sys­tem that has unapolo­get­i­cal­ly dis­rupt­ed the social fab­ric of our fam­i­lies for gen­er­a­tions. Accord­ing to 2017 polling by the Black Women's Round­table and Essence, afford­able health­care was a top con­cern and, for the first time, hate crimes made the list, too. Forty-nine per­cent of Black mil­len­ni­al women not­ed crim­i­nal jus­tice reform among the ​"top three issues fac­ing the Black com­mu­ni­ty," and 21 per­cent of Black women said none of the polit­i­cal par­ties rep­re­sent­ed them well. The Move­ment for Black Lives Coali­tion, too, has stat­ed ​"that nei­ther main­stream polit­i­cal par­ty has our inter­ests at heart." Black women have had a long his­to­ry as tire­less polit­i­cal orga­niz­ers — putting our own inter­ests first — even before suf­frage was extend­ed to us.
That orga­niz­ing began at least as ear­ly as the 1830s with the Nation­al Negro Con­ven­tion move­ment. The orga­niz­ers of the inter­ra­cial abo­li­tion­ist meet­ings were male, but a few Black women attend­ed and sup­port­ed this crit­i­cal ear­ly move­ment build­ing. When slav­ery end­ed, Wan­da Hen­dricks writes in Black Women in Amer­i­ca, ​"Church mem­ber­ship, vol­un­tary asso­ci­a­tions, mutu­al aid soci­eties, and women's orga­ni­za­tions afford­ed them the oppor­tu­ni­ty to build a strong race-con­scious, female-cen­tered community."
The Con­ven­tion gath­er­ings pro­vid­ed the train­ing for Black women activists to found nation­al asso­ci­a­tions like the Nation­al League of Col­ored Women and the Nation­al Fed­er­a­tion of Afro-Amer­i­can Women, which con­sol­i­dat­ed in 1896 into the Nation­al Asso­ci­a­tion of Col­ored Women (NACW). Found­ing their own orga­ni­za­tions allowed Black women to begin con­ver­sa­tions that addressed issues impact­ing Black lives, such as lynch­ing. White women's clubs, like the Gen­er­al Fed­er­a­tion of Women's Clubs, refused mem­ber­ship to Black women.
The Alpha Suf­frage Club, found­ed in 1913 by Ida B. Wells-Bar­nett and her white col­league Belle Squire, taught Black women about the polit­i­cal process. A few months after the club's found­ing, when Illi­nois became the first state east of Mis­sis­sip­pi to allow women to vote in munic­i­pal pol­i­tics, Wells-Bar­nett and oth­er Black women in the club can­vassed neigh­bor­hoods to get out the vote for the inde­pen­dent African-Amer­i­can can­di­date of the time.
"Because the women were tied to issues rather than to par­ties, not all the can­di­dates they endorsed were mem­bers of the two rul­ing par­ties," Hen­dricks writes. ​"As a result, the polit­i­cal machines and their can­di­dates often found them­selves active­ly seek­ing the women's endorse­ment." In 1915, the ​"clout of the Alpha Suf­frage Club in main­stream pol­i­tics," along with grass­roots efforts by the NACW, played an impor­tant role in elect­ing Oscar DePriest as Chicago's first Black alder­man. They can­vassed and edu­cat­ed Black women who, in turn, cast one-third of the total votes. DePriest lat­er became the first Black mem­ber of Con­gress elect­ed, in 1928, out­side of the South. He was the only African Amer­i­can serv­ing in Con­gress dur­ing his three terms.
Of course, after suf­frage, there were still sig­nif­i­cant bar­ri­ers — par­tic­u­lar­ly in the South — in the way of Black women's vote: lit­er­a­cy tests, poll tax­es, and, for decades, bru­tal vio­lence against Black vot­ers— all part of a matrix to sup­press polit­i­cal activity.
Despite these bar­ri­ers, Black women have con­tin­ued our lega­cy of polit­i­cal orga­niz­ing. We active­ly edu­cate our­selves on polit­i­cal can­di­dates who fight for issues we care about. Jones' vic­to­ry is a key exam­ple of this. LaTosha Brown, co-founder of Black Vot­ers Mat­ter Fund, writes in the 2018 Black Women's Round­table Report:
The mes­sag­ing of the nation­al Demo­c­ra­t­ic Par­ty was not what won the elec­tion. It was peo­ple on the ground from the same com­mu­ni­ties we were reach­ing out to, with… the cul­tur­al com­pe­ten­cy to speak to our folks in a way that held mean­ing for them. The nation­al polit­i­cal oper­a­tives made their mes­sage about the can­di­dates. We weren't in love with either of the can­di­dates… so we made the mes­sage about us, and orga­nized on mes­sages… like ​"It's About Us," ​"Black Vot­ers Mat­ter," ​"Woke Vote," ​"Pow­er of the Sis­ter Vote" and ​"Vote or Die."
Black women orga­niz­ers from the NAACP led a grass­roots strat­e­gy to get out the vote with these mes­sages at the fore­front. Black Vot­ers Mat­ter Fund, Woke Vote, VoteRid­ers, Black­PAC and many oth­ers did painstak­ing, behind-thescenes work, which includ­ed dri­ving vot­ers to the booths (access to afford­able trans­porta­tion being a major deter­rent in Alabama).
"This was not, and I repeat was not, about any affec­tion for sen­a­tor-elect Doug Jones, a Demo­c­rat," Brown stresses.
The nation­al recep­tion to Jones' win is a telling indi­ca­tion of how often our invis­i­ble work remains so. While Black women can­di­dates like Stacey Abrams in Geor­gia, Ayan­na Press­ley in Boston and Ilhan Omar in Min­neso­ta have been run­ning cam­paigns to break down crit­i­cal remain­ing polit­i­cal bar­ri­ers of race, geog­ra­phy, gen­der and class, most nar­ra­tives in media have made them sound like a new crop of polit­i­cal orga­niz­ers. A Vox sto­ry, about how the approach­ing midterms are chang­ing how Black women inter­act with the Demo­c­ra­t­ic par­ty, reads, ​"In 2018, black women like Ayan­na Press­ley are fight­ing for polit­i­cal pow­er and win­ning." But we have always been fight­ing for polit­i­cal power.
Black women are often erased from civ­il rights lore, such as Jo Ann Robin­son and Mary Fair Burks of the Women's Polit­i­cal Coun­cil — mas­ter­minds behind the Mont­gomery Bus Boy­cott. But we write our­selves back into the sto­ry, per­sis­tent­ly. We are not long-suf­fer­ing mar­tyrs, mam­mies, aun­ties or mules — we are astute, hyper­vig­i­lant, edu­cat­ed bread­win­ners. Yet, we make 63 cents to every dol­lar a white man makes, are the sole pri­ma­ry bread­win­ners (or earn at least 40 per­cent of house­hold income) in 80.6 per­cent of our fam­i­lies, and are twice as like­ly to be impris­oned for the same crime and three times as like­ly to die dur­ing child­birth as our white peers. Inequities like these are how we start­ed to care more about vot­ing for can­di­dates with solu­tions and less about a par­ty line.
This long polit­i­cal tra­di­tion is in the lega­cy of the likes of Fan­nie Lou Hamer. The civ­il rights icon attempt­ed to vote in 1962 even after she and her friends were shot at. In 1964, she co-found­ed the Mis­sis­sip­pi Free­dom Demo­c­ra­t­ic Par­ty (MFDP) to chal­lenge the legit­i­ma­cy of the Mis­sis­sip­pi Demo­c­ra­t­ic Par­ty, which did not allow Black peo­ple to participate.
Hamer ran for Con­gress in 1964 on the MFDP's Free­dom Bal­lot, which, unlike the Demo­c­ra­t­ic Par­ty, placed her name next to white can­di­dates. She defeat­ed her oppo­nent, Con­gress­man Jamie Whit­ten, but the state refused to acknowl­edge the bal­lot as valid. So Hamer didn't make his­to­ry as a congresswoman.
She did, how­ev­er, plant the seed. At least 39 Black women ran for seats in the House this year, to help that seed take root — and bloom.
Joshun­da Sanders
is an author liv­ing in New York where she teach­es writ­ing at The New School.