Blood Stains Zimbabwe Diamonds
After a promising discovery, endemic corruption causes hope to fade.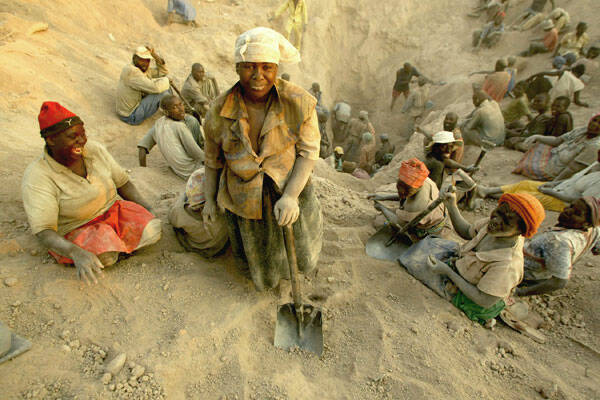 MUTARE, ZIM­BAB­WE – In 2006, Zim­bab­we was on its knees. The coun­try had been through a dis­as­trous elec­tion the year before, marred by vio­lence and fraud. Health­care, almost nonex­is­tent to start with, was reced­ing, star­va­tion was preva­lent in rur­al areas and the effects of hyper­in­fla­tion were tak­ing a heavy toll on the econ­o­my. At the same time, inter­na­tion­al observers called for Pres­i­dent Robert Mugabe to step down while his par­ty, the Zim­bab­we African Nation­al Union-Patri­ot­ic Front (ZANU PF), encour­aged acts of vio­lence against those who had not vot­ed for him. It seemed Zim­bab­we could stand no more.
In its scramble to gain control of the diamond fields, the government killed and wounded hundreds of Zimbabweans. Forced labor and violence are still occurring on a large scale.
But in June of that year, word began to spread of a dia­mond dis­cov­ery in Man­i­ca­land, near the east­ern bor­der. The dia­monds were small news at first, but in the next few months it became appar­ent that Zim­bab­we had been thrown a life­line. The long-suf­fer­ing pop­u­la­tion real­ized the poten­tial for eco­nom­ic growth and com­par­a­tive sta­bil­i­ty, and after such a long and des­per­ate time, it must have been a relief. The more cyn­i­cal Zim­bab­weans, how­ev­er, saw an impend­ing con­flict: great wealth up for grabs in a polit­i­cal­ly volatile cli­mate. While the pub­lic cel­e­brat­ed, the cor­rupt minds behind Mugabe's ZANU PF began to envis­age the dia­mond wealth in their own pockets.
Fast for­ward to the present day. A few pock­ets have been filled, but the sit­u­a­tion remains bleak for the aver­age Zimbabwean.
The slaves of Mugod­hi Hasha
Mutare, a town on Zimbabwe's east­ern bor­der with Mozam­bique, lies nes­tled in the high­lands of Man­i­ca­land province. To the west are the end­less plains of flat, dry, typ­i­cal­ly African coun­try, and to the east are the high­lands. From Mutare, all you can see are the bush-clad moun­tains that sur­round the town and give it a dra­mat­ic, slight­ly intim­i­dat­ing backdrop.
Despite the nat­ur­al beau­ty of the place, it is obvi­ous to out­siders that something's amiss. There's a ten­sion in the air here, stem­ming from the fact that Mutare's res­i­dents are fright­ened of what hap­pens on the oth­er side of the moun­tains. Many of them have wit­nessed or been direct­ly affect­ed by the atroc­i­ties com­mit­ted at the Marange and Chi­adzwa mines that lie 20 miles to the west. The locals have a name for the mines that sums up their fear: Pits of Fury–Mugod­hi Hasha in their native Shona.
Try­more Kam­budzi (his name has been changed to pro­tect his safe­ty) lives on the streets of Mutare. He's 16 years old and he sells Zim­bab­wean flags, along with oth­er sou­venirs, to the few tourists who pass through the bor­der town. On a street cor­ner near the cen­ter of town, he tells me that in 2007, he and his fam­i­ly were forcibly evict­ed from their home in Marange as part of the mil­i­ta­riza­tion of the near­by mines. For this he counts him­self lucky – many were not so for­tu­nate. ​"A lot of friends and peo­ple I knew were forced to work in the mines with­out pay," Kam­budzi says.
These lat­ter-day slaves have been sub­ject­ed to vio­lence that has attract­ed the notice of the world's human rights com­mu­ni­ty. But Kam­budzi has yet to see many of the peo­ple he left behind.
"There are sto­ries about peo­ple you knew," he says. ​"I hear rumors about some­thing bad hap­pen­ing to friends, but how do I know? My fam­i­ly was just lucky we got moved away." The gov­ern­ment and the min­ing com­pa­nies promised to cov­er the costs of the home they took from his fam­i­ly, but so far they haven't seen a cent, and don't expect to.
Every­one who is will­ing to talk about dia­monds in Mutare (many aren't) has a sto­ry of vio­lence or death. A taxi dri­ver, who agreed to take me as close to the mines as he could, told me about the ini­tial appear­ance of the mil­i­tary at the mines and how the sit­u­a­tion esca­lat­ed. Dur­ing the ear­ly stages of the dia­mond rush in late 2006, more than 20,000 Zim­bab­weans flocked to Man­i­ca­land province from all cor­ners of the country.
Edu­cat­ed pro­fes­sion­als who couldn't find jobs in Bul­awayo or Harare, the cap­i­tal, or who weren't being paid for the jobs they had, were mov­ing to Man­i­ca­land to make their for­tunes – or just enough to sur­vive – in the dia­mond fields. At first, he says, there were only min­ers and a small num­ber of offi­cials. But as the army moved in, the mood changed. Min­ers were beat­en and some­times killed. The sol­diers formed syn­di­cates to smug­gle dia­monds to the Mozam­bique bor­der and the South African bor­der at Beit­bridge. Those who were not in the syn­di­cates or who angered the sol­diers were often killed. From his home near Baze­ley Bridge, the taxi dri­ver says he some­times heard machine gun fire in the distance.
Along the way to the mines, the taxi dri­ver pulled the car to the side. The first road­block was just over the hori­zon, and he didn't want to dri­ve too close. If sol­diers saw us turn around in front of the road­block, they might fol­low. ​"The fact that you're white will make the sol­diers sus­pi­cious of us," he says.
In its scram­ble to gain con­trol of the dia­mond fields in 2008, the gov­ern­ment killed and wound­ed hun­dreds of Zim­bab­weans, per­haps thou­sands. Sol­diers used dogs to track the min­ers who hid in the sur­round­ing bush. Most were killed by small arms fire or beat­ings, but there were reports of heli­copters being used to fire upon min­ers as they tried to find cov­er in the pits. Non­govern­men­tal orga­ni­za­tions such as Glob­al Wit­ness and Human Rights Watch have com­piled reports of mur­der, tor­ture and rape at the mines, par­tic­u­lar­ly Chi­adzwa. They claim the abus­es are still occur­ring at the mines and accuse the Zim­bab­wean gov­ern­ment of cov­er­ing up the vio­lence. Peo­ple I spoke with in Man­i­ca­land con­firmed that forced labor and vio­lence are still occur­ring on a large scale.
Back in Harare, Mun­ya Radzi, an elder from a small vil­lage near Chi­man­i­mani, 40 miles south of Mutare, spoke of the ear­ly days of what he calls ​"the rush." ​"You couldn't help but get excit­ed," Radzi says. In 2007, a young man who had been work­ing at a farm near­by approached him. ​"The boy hand­ed me a stone the size of a straw­ber­ry. It was like a nor­mal stone but you could see into it slightly."
A peri­od of com­par­a­tive pros­per­i­ty in the com­mu­ni­ty was bru­tal­ly cut short when the police and army moved into the town and began to force peo­ple into traf­fick­ing dia­monds between the mines and Vila De Man­i­ca, Mozam­bique. The sol­diers would take most or all of the prof­its from the min­ers. ​"This is why I moved to the city," he says.
'When the pres­i­dent is greedy, the peo­ple are poor'
Human rights abus­es, slav­ery and mur­der are man­i­fes­ta­tions of Zimbabwe's ram­pant cor­rup­tion. In Trans­paren­cy International's 2009 Cor­rup­tions Per­cep­tions Index, Zim­bab­we ranked as one of the most cor­rupt: 146th out of 180 nations. For a coun­try with so lit­tle, Zim­bab­we stands to lose a lot.
The dia­monds them­selves are gen­er­al­ly low qual­i­ty, suit­able for indus­tri­al sale only. Five to 10 per­cent are gem qual­i­ty; these fetch a far high­er price. But it is the sheer quan­ti­ty of dia­monds in the Marange area that has caused such a stir in the inter­na­tion­al min­ing indus­try. Most esti­mates val­ue the dia­monds at between $1.5 and $2 bil­lion per year for the next 10 years, at least. Dia­monds already stock­piled by the gov­ern­ment have been esti­mat­ed at $1.7 bil­lion. With this sort of mon­ey up for grabs, cor­rup­tion is inevitable.
African Con­sol­i­dat­ed Resources, a com­pa­ny reg­is­tered in Lon­don, owned the land where the major­i­ty of the dia­monds lie and was in the process of set­ting up min­ing oper­a­tions when the gov­ern­ment invad­ed and occu­pied the prop­er­ty. Soon after it had appro­pri­at­ed the land, the Mugabe gov­ern­ment set up two com­pa­nies to mine and sell the diamonds.
These com­pa­nies, joint ven­tures between South African investors and the Zim­bab­wean gov­ern­ment, are named Mba­da Dia­monds and Canadile Min­ers. The board of direc­tors at both Mba­da and Canadile con­sist of ZANU PF sup­port­ers, fam­i­ly mem­bers of politi­cians and shady fig­ures in the dia­mond trad­ing indus­try. It recent­ly came to light that Grace Mugabe, Pres­i­dent Mugabe's wife, is a direc­tor at Mba­da Dia­monds, and Min­is­ter of Mines Obert Mpo­fu, a ZANU PF mem­ber of par­lia­ment, is wide­ly believed to be a direc­tor of Canadile.
Mpo­fu is appar­ent­ly ben­e­fit­ing from a source of income over and above his salary as a min­is­ter. Ear­li­er this year, he pur­chased a con­sid­er­able amount of prop­er­ty in Bul­awayo, includ­ing a race course and a casino.
So far, for all the hun­dreds of mil­lions of dol­lars worth of dia­monds sold ille­gal­ly by the gov­ern­ment and its agen­cies, only $800,000 has been deposit­ed into gov­ern­ment cof­fers. The rest has dis­ap­peared into anony­mous pock­ets. Inves­ti­ga­tions con­duct­ed by the Zim­bab­we Inde­pen­dent, a week­ly pub­lished in Harare, have revealed that prof­its from ille­gal dia­mond sales have been deposit­ed into pri­vate Harare bank accounts in ABC (Ban­cABC based in Gabarone, Botswana) and CBZ (Com­mer­cial Bank of Zim­bab­we, based in Harare) via mon­ey trans­fers from a New York branch of Stan­dard Char­tered, a Lon­don-based bank.
Rudzi, the elder­ly man from the Chi­man­i­mani area, expressed his sense of betray­al when asked about the accu­sa­tions of cor­rup­tion being direct­ed at the gov­ern­ment. ​"When the pres­i­dent is greedy, the peo­ple are poor," he says.
Enter the Kim­ber­ley Process
In July, the Kim­ber­ley Process (KP), a civic soci­ety con­cerned with the eth­i­cal min­ing and sell­ing of dia­monds, met in St. Peters­burg, Rus­sia, to dis­cuss the issue of Zimbabwe's dia­monds. A June meet­ing in Tel Aviv, Israel, upheld a pre­vi­ous­ly issued sales ban on all Zim­bab­wean-mined dia­monds on the grounds of human rights abus­es and a lack of transparency.
Pre­sent­ed with over­whelm­ing evi­dence of abuse and cor­rup­tion, the KP was faced with a dilem­ma. Weeks before, Mugabe had threat­ened to sell the dia­monds with or with­out KP cer­ti­fi­ca­tion. If the ban was upheld, Mugabe would sell the stones to Chi­na or Iran for a low­er price, Zim­bab­we would be expelled from the KP, and there would be few­er con­trols on min­ing and sales.
At its St. Peters­burg meet­ing, the KP chose to lift the ban. By doing so, it retained access to the mines and a mea­sure of con­trol over legit­i­mate sales.
Accu­sa­tions of cor­rup­tion with­in the KP have also sur­faced recent­ly. The KP's first choice of inspec­tor for Zimbabwe's dia­mond indus­try was reject­ed by Mugabe him­self, rais­ing ques­tions of why cur­rent KP inspec­tor Abbey Chi­cane, a South African, was deemed suit­able. Chi­cane has con­sis­tent­ly belit­tled reports of human rights abus­es and ille­gal min­ing. He is wide­ly known to have been respon­si­ble for the June 3 arrest in Mutare of Farai Maguwu, a Zim­bab­wean human rights activist who was sub­se­quent­ly jailed for alleged­ly pro­vid­ing false infor­ma­tion to the KP.
Most Zim­bab­weans I've spo­ken to agree with KP's deci­sion to lift the ban. Although they've resigned them­selves to a large amount of gov­ern­ment cor­rup­tion, the per­cep­tion is that they'll get more from legal sales than illegal.
Where to from here?
Many think the dia­monds in Zimbabwe's soil could be the source of its finan­cial recov­ery. Cer­tain­ly, if admin­is­tered cor­rect­ly and with­out exces­sive cor­rup­tion, the mines could boost the for­tunes of Zimbabwe's fail­ing econ­o­my. In terms of domes­tic pol­i­tics, the dia­mond issue has done seri­ous dam­age to rela­tions with­in the cur­rent coali­tion gov­ern­ment. Mem­bers of the MDC, Move­ment for Demo­c­ra­t­ic Change, par­tic­u­lar­ly Min­is­ter of Finance Tendai Biti and Prime Min­is­ter Mor­gan Tsvan­garai, have expressed revul­sion at the fact that, while peo­ple are starv­ing, ZANU PF politi­cians and their asso­ciates are becom­ing rich from stolen nation­al resources. They've also indi­cat­ed that the dia­monds may be used to fuel vio­lence dur­ing the elec­tions sched­uled for next year.
While on its knees, Zim­bab­we was hand­ed an oppor­tu­ni­ty by Moth­er Nature her­self. At this point, it appears the oppor­tu­ni­ty has been squandered.