'I Didn't See These Times Coming': The Economic Despair Behind the Rise in Blue-Collar Deaths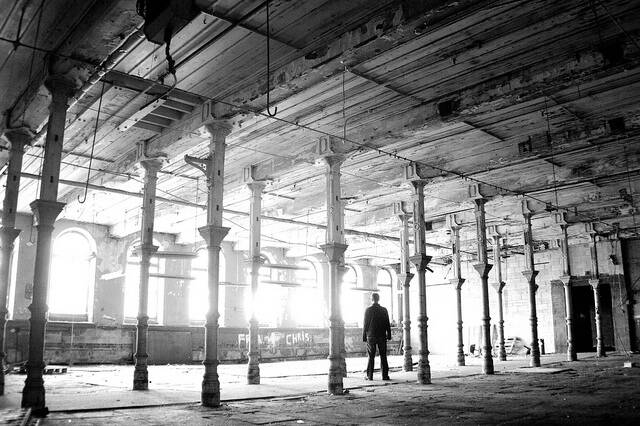 His hope had turned to dust.
He had lost a good union job when his fac­to­ry shut down. He refused to take wel­fare, despite a long and fruit­less job search, and final­ly land­ed back at the old plant, earn­ing far less on a pro­duc­tion line that now paid him piece by piece.
And so he was dead set on going to a lone­ly hill­top the next day with a rifle to take his life. That's when I hap­pened to call — he was one of the laid-off fac­to­ry work­ers whose lives I had been report­ing on, and I was check­ing in. He told me his plan, and I asked if we could meet in the morn­ing. I was pan­icked. He said he hadn't talked to any men­tal health work­ers, and I felt I had to do something.
We met the next day at a dingy base­ment apart­ment, where I nod­ded at his young wife and sev­er­al young chil­dren, and we head­ed out to the hilltop.
Stand­ing on the cold, windy field, we talked about his for­mer fac­to­ry mates: how they suf­fered and strug­gled and some­how got by. I had got­ten to know near­ly all of them in the year's report­ing on the lives of the work­ers at a small Michi­gan auto parts plant.
There was a long awk­ward silence, and then the babv-faced 33-year-old work­er told me he wouldn't harm him­self. He wasn't a weak man, he explained. But every­thing had just over­come him. ​"I didn't see these times com­ing," he said.
He was among many souls bad­ly bruised in the ear­ly 1980s as waves of lay­offs, cut­backs and shrink­ing ben­e­fits and wages ambushed the nation's blue-col­lar work­ers. Most of those work­ers I met then and after­ward were like him: men with­out much school­ing who thought they would just keep­ing rid­ing the Amer­i­can dream with their strong arms and backs.
I sus­pect that more than a few fell vic­tim, even­tu­al­ly, to the trend recent­ly point­ed out by two Prince­ton econ­o­mists, Angus Deaton and Anne Case: There has been a sur­pris­ing upward turn in the death rate of mid­dle-aged white Amer­i­cans, espe­cial­ly those with less edu­ca­tion. The ​"turn­around" in the once-falling mor­tal­i­ty rate was most­ly dri­ven by the deaths of men with a high school degree or less, the researchers report.
Look­ing at the death rate for white men ages 45 to 54 between 1999 and 2013, they found that the rate sud­den­ly began increas­ing after years of steadi­ly declin­ing. Yet the death rates for sim­i­lar­ly aged black and Lati­no men con­tin­ued to fall. The surge in death rates for mid­dle-aged white men is a sit­u­a­tion with­out par­al­lel, they say, in any rich country.
Dri­ving this trag­ic rever­sal, they explain, were increased death rates from sui­cide, drug and alco­hol poi­son­ing, chron­ic liv­er dis­eases and cir­rho­sis. If the down­ward trend had con­tin­ued at the same pace, there would have been 96,000 few­er deaths among these mid­dle-aged white men over those years.
What brought this on?
The researchers are uncer­tain, but they sug­gest sev­er­al caus­es. A major one, they sug­gest, has been the dra­mat­ic growth in the fatal use of painkillers, along with cheap­er and greater avail­abil­i­ty of hero­in. Along with these changes, they point to inter­views that show increas­es in these work­ers' ​"dis­tress": greater lone­li­ness and iso­la­tion, emo­tion­al unease and phys­i­cal pains.
They also point to a more neb­u­lous fac­tor: the sud­den down­ward slide in pros­per­i­ty for work­ers with lim­it­ed school­ing. They wrote:
After the pro­duc­tiv­i­ty slow­down in the ear­ly 1970s, and with widen­ing income inequal­i­ty, many of the baby-boom gen­er­a­tion are the first to find, in midlife, that they will not be bet­ter off than were their parents.
That's no sur­prise to any­one who has spent any time these last few years at an unem­ploy­ment office, union hall or bar in a com­mu­ni­ty where decent-pay­ing blue-col­lar jobs have van­ished and for those lucky enough to find a job, pay and ben­e­fits have with­ered away. Between 1999 and 2013, for house­holds whose pri­ma­ry earn­er had only a high school degree, the medi­an real wage fell 19 percent.
As unions have dis­ap­peared, so have the pen­sion plans that once gave work­ers secu­ri­ty. And so have job safe­ty pro­tec­tions, as work­ers hus­tle to get even dan­ger­ous jobs that come with no over­sight by a union or any­one else.
Mar­riages have col­lapsed, and oth­ers have been put off or can­celled. Lone­ly job­less men rush to the oil fields, or wher­ev­er there's work, to labor in iso­la­tion with their lives in deep freeze.
Low­er pay and few­er jobs have meant an eager­ness to grab as much income as pos­si­ble while they are employed. That is what moti­vat­ed a mid­dle-aged min­er from south­ern Illi­nois whom I talked with recent­ly as I was look­ing into the grow­ing nation­wide effort to trim work­ers' compensation.
Until not long ago, he would put in sev­en days a week on the job, even though the decades of hard work had tak­en a toll on his body. The dam­age final­ly caught up with him, how­ev­er. Vir­tu­al­ly par­a­lyzed in both arms by the years of repet­i­tive stress, he lives alone, his mar­riage shat­tered and his sav­ings gone. He is get­ting by today on a mea­ger work­ers' com­pen­sa­tion check — won after a long legal bat­tle — that's a slim frac­tion of what he once earned.
Maybe you can't mea­sure this num­ber, but the col­lec­tive heart­break suf­fered large­ly by blue-work­ers seems to me to sure­ly have been a killer, tak­ing lives before their time.
I know because I've watched it grab hold of work­ers, who have drift­ed off into silence, depres­sion or alco­holism because of their despair. I was struck by the pain of wives of strik­ing work­ers in a small Illi­nois town in the 1990s, who had come togeth­er to talk and bond because their hus­bands wouldn't, and because some of the men were drink­ing them­selves numb.
After their mid­dle-class career dreams have shriv­eled up and their mar­riages, and com­mu­ni­ties evap­o­rat­ed, these are like­ly to be the men who suc­cumb to depres­sion, alco­hol or drug addic­tions. This is the flesh-and-blood line-up of the sta­tis­ti­cal trend the econ­o­mists discovered.
From town to town and fac­to­ry to fac­to­ry, I've come to real­ize that the most lethal impact of the hol­low­ing out of the Amer­i­can work­place is the psy­chic wound it deals.
It's a wound that cuts into Amer­i­can work­ers' deeply held belief that they can do bet­ter than those before them if only they keep their heads down and work hard­er. It's a wound that leads to the crip­pling real­iza­tion that you are on your own when every­thing falls apart. And the wound slices even deep­er as work­ers strug­gle to live up to the very Amer­i­can mantra that you need to stand alone, on your own two feet.
Track­ing down the heads of trou­bled union locals in the 1980s, when mas­sive waves of job loss­es were gal­lop­ing across US fac­to­ries, I was moved by how many out­ward­ly seemed deter­mined to stand tall amid seem­ing­ly hope­less­ness situations.
But I was also struck by the dis­ap­pear­ance of these most­ly mid­dle-aged men. Where had they gone?
I began to under­stand the toll of the despair that leads to drugs, pain killers, depres­sion, or sim­ply intense stress, and ulti­mate­ly short­ens lives.
One day, after repeat­ed calls to the union local, I final­ly reached the wid­ow of a for­mer shop chair­man at a small plant in cen­tral Michi­gan. Not long after the abrupt clos­ing of the plant where her 55-year-old hus­band had spent much of his life, he had died of a heart attack.
"We real­ly had noth­ing to live on but our lit­tle sav­ings," she told me. ​"I knew it did have an effect on him. He held it inside."
Stephen Franklin wrote for many years about work­ers' lives at the Detroit Free Press and Chica­go Tribune.
Stephen Franklin is a for­mer labor and work­place reporter for the Chica­go Tri­bune, was until recent­ly the eth­nic media project direc­tor with Pub­lic Nar­ra­tive in Chica­go. He is the author of Three Strikes: Labor's Heart­land Loss­es and What They Mean for Work­ing Amer­i­cans (2002), and has report­ed through­out the Unit­ed States and the Mid­dle East.