A Farewell to Retirement Security
What the loss of pensions at Boeing means for U.S. workers.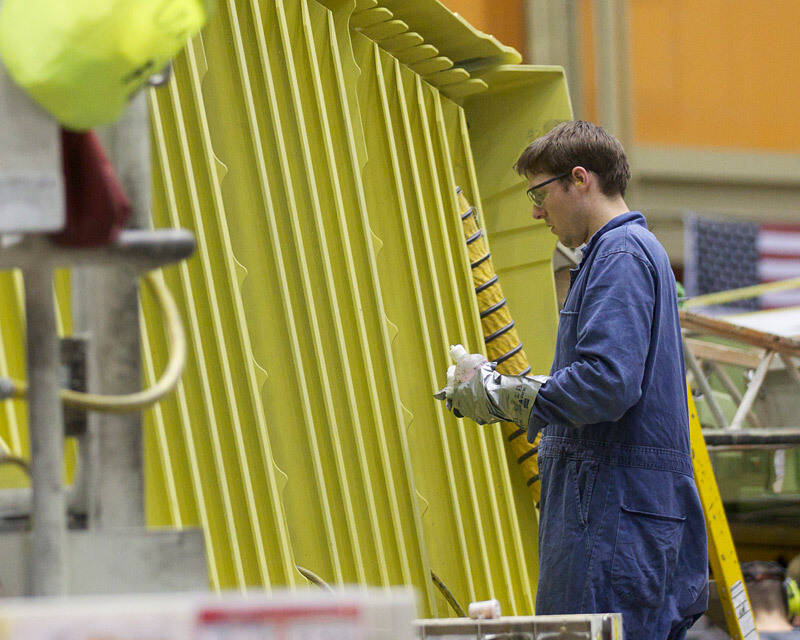 Back in orga­nized labor's hey­day, Unit­ed Steel­work­ers (USW) Local 1010, in Ham­mond, Ind., decid­ed to fight for pen­sions. It wasn't a fool­ish notion. Some Amer­i­can work­ers had pen­sions, and new U.S. labor laws and rul­ings had led the way to bar­gain­ing for them.
For decades, workers put their faith and futures into defined-benefit pensions, which were seen as an unbreakable promise that a lifetime's work in even the dirtiest job would guarantee them senior years in comfort.
But there were com­pa­nies that balked at the idea, and Inland Steel, which employed Local 1010 mem­bers, was one of them. So the steel­work­ers went on strike on Oct. 1, 1949. A month lat­er, the strike was over, the local had a pen­sion plan, and Amer­i­can work­ers gained a foothold on a lad­der that they kept on climbing.
By 1980, pen­sion plans cov­ered near­ly 36 mil­lion pri­vate-sec­tor work­ers. Not all of these were union mem­bers. Once unions had pio­neered pen­sions, non-union employ­ers began offer­ing these retire­ment plans as well.
For years, many pen­sions were of the ​"defined-ben­e­fit" vari­ety, where employ­ers set aside funds that were to be paid out to work­ers upon retire­ment. Work­ers put their faith and futures into these pen­sions, which were seen as an unbreak­able promise that a lifetime's work in even the dirt­i­est job would guar­an­tee them senior years in comfort.
That began to change in the 1980s, as the col­lapse of unions, finan­cial crises, busi­ness fail­ures and new account­ing rules slashed away at these pen­sions. ​"Defined-con­tri­bu­tion" pen­sions like 401(k)s were intro­duced, which shift­ed the finan­cial bur­den and invest­ment deci­sions to work­ers. They also lost the cer­tain­ty that once came with tra­di­tion­al pen­sions. The tran­si­tion has not gone well for some work­ers finan­cial­ly and emotionally.
By 2011, 31 per­cent of pri­vate-sec­tor work­ers at in the U.S. had this new type of pen­sion, while only 3 per­cent of work­ers were cov­ered by defined-ben­e­fit plans, down from 28 per­cent in 1979, accord­ing to the most recent fig­ures col­lect­ed by the Employ­ee Ben­e­fit Research Insti­tute, a Wash­ing­ton, D.C.-based group.
Last week, work­ers at Boe­ing became the lat­est group to say good-bye to these kinds of pen­sions. The work­ers' furor over los­ing a tra­di­tion­al pen­sion, a promise that had exist­ed at the giant air­craft man­u­fac­tur­er since 1955, was a fea­ture of the dra­ma that played out for weeks and spread across the Unit­ed States as Boe­ing dan­gled the pos­si­bil­i­ty of mov­ing high-pay­ing fac­to­ry jobs to a more busi­ness-friend­ly, less cost­ly place, and drew bids from 22 states.
It was a reminder of the painful deci­sions unions face as they strug­gle to hold their ground and their jobs. Forced to choose between long-held con­tract gains and sur­vival, many unions have back­tracked, grant­i­ng con­ces­sions and avoid­ing con­fronta­tions that they fear could backfire.
And it was a stun­ning dis­play of a company's deter­mi­na­tion to dri­ve down labor costs amid incred­i­ble pros­per­i­ty. Boe­ing was will­ing to dump its lega­cy in Wash­ing­ton state and its invest­ment in its work­ers in order to find the best deal any­where. Nowa­days, such self-mind­ed cal­lous­ness is more and more common.
The bat­tle over pen­sions began last year when Boe­ing approached the work­ers' union at its fac­to­ry in Wash­ing­ton, a 30,000-member local of the Inter­na­tion­al Asso­ci­a­tion of Machin­ists (IAM), and offered the chance to build its 777X jet­lin­er, a state-of-the-art air­craft with car­bon-fiber wings, if the union would nego­ti­ate a new contract.
But the company's con­tract offer rat­tled the union's mem­bers and cut deep divi­sions with­in its ranks. In Novem­ber, the union reject­ed the com­pa­ny offer by a report­ed 2‑to‑1 mar­gin. But the head of the union in Wash­ing­ton, D.C., over­ruled the objec­tions of local Machin­ists to order a revote. Last week, the offer passed by a slim mar­gin, 51-to-49 per­cent.
The con­tract gives the work­ers at least some of what they want­ed. That is, it promis­es to con­tin­ue to build the new planes in the state of Wash­ing­ton. And it includes a $10,000 sign­ing bonus for work­ers, along with an added $5,000 bonus to be hand­ed out in Jan­u­ary 2020, which the com­pa­ny threw in at the last minute to sweet­en the deal. The com­pa­ny also agreed to drop a pro­pos­al that would have tak­en new work­ers 16 years to reach full pay rather than the cur­rent six.
But the eight-year exten­sion comes with con­ces­sions for work­ers. It offers only mod­est wage increas­es, parceled out over time with 1 per­cent pay hikes every oth­er year and cost of liv­ing rais­es annu­al­ly. An eight-year con­tract also cre­ates a bur­den for the union, lim­it­ing its abil­i­ty to deal with changes with the com­pa­ny. (Typ­i­cal­ly, unions dis­like such long con­tracts, which lim­it their actions, while com­pa­nies increas­ing­ly pre­fer them because they pro­vide finan­cial and work­place security.)
Per­haps most painful­ly, when the con­tract takes effect in 2016, work­ers' cur­rent defined-ben­e­fit pen­sions will be frozen, and they will switch over to a defined-con­tri­bu­tion plan sup­port­ed by the com­pa­ny. All new employ­ees will receive defined-con­tri­bu­tion pen­sions start­ing in 2016.
Rick Sloan, a spokesper­son for the union's Inter­na­tion­al lead­er­ship, believes that these pen­sion cuts were the stick­ing point for the work­ers when they ini­tial­ly reject­ed the con­tract. ​"Pen­sions was prob­a­bly the issue for the ​'no' vote," he says.
But to the IAM lead­er­ship, there was a big­ger, longer-term issue, Sloan says: jobs. If the Machin­ists didn't con­cede to the con­tract and Boe­ing car­ried through with its threat to move the 777X pro­duc­tion out of Wash­ing­ton, the IAM stood to lose thou­sands of jobs. That would be a major blow to a man­u­fac­tur­ing union that has seen its ranks dwin­dle as U.S. fac­to­ries have shed jobs pre­cip­i­tous­ly over the past 40 years. In 2010, non-super­vi­so­ry fac­to­ry employ­ment in the Unit­ed States had sunk to 8.4 mil­lion, the low­est since 1939. The Machin­ists union has suf­fered accord­ing­ly steep loss­es, going from near­ly 1 mil­lion mem­bers in the late 1970s to about 420,000 active mem­bers, accord­ing to Sloan.
That's what wor­ried IAM Pres­i­dent R. Thomas Buf­fen­barg­er, who ordered the new vote after the local union offi­cials refused to hold one, Sloan explains. But the heads of IAM Dis­trict Lodge 751 were will­ing to face that risk, strong­ly urg­ing their mem­bers in a let­ter to reject the proposal.
​"We are faced then with a choice to destroy every­thing that we have built over 78 years in order to save Boe­ing from mak­ing a deci­sion that puts the future of the com­pa­ny, all of its employ­ees (union and non-union alike) and the stock­hold­ers at risk," they wrote.
Usu­al­ly when U.S. com­pa­nies have pressed for con­ces­sions, they have blamed their efforts on hard times. But Boe­ing relied on anoth­er expla­na­tion that has become pop­u­lar: that it needs to keep costs down as it com­petes glob­al­ly against fierce chal­lengers. Cater­pil­lar made a sim­i­lar argu­ment in the ​'90s when it took on the Unit­ed Auto Work­ers union and hand­i­ly won the bat­tle, allow­ing it to hire new work­ers at low­er wages and dis­con­nect­ing its con­tract from the pat­tern that the UAW tra­di­tion­al­ly set with the major U.S. automak­ers.
In fact, Boe­ing has been doing excep­tion­al­ly well late­ly, in finan­cial terms: Its stock soared last year, and its chief exec­u­tive, W. James McN­er­ney Jr., report­ed­ly received more than 27 mil­lion dol­lars in total com­pen­sa­tion in 2012, includ­ing a $4.4 mil­lion bonus for the company's good performance.
The company's very good health caught the atten­tion of the union's local lead­ers, who grum­bled about them in their let­ter to mem­bers urg­ing a ​"no" vote on the con­tract. Jake Rosen­feld, an asso­ciate pro­fes­sor of soci­ol­o­gy at the Uni­ver­si­ty of Wash­ing­ton, agrees that there is a ​"dis­con­nect" between the health of Boe­ing and the health of its work­ers. He views the dis­par­i­ty between Boeing's pros­per­i­ty and its wage-trim­ming and pen­sion-cut­ting as a mark of a larg­er issue: the nation's grow­ing inequality.
While oth­ers might down­play the finan­cial dis­tress of Boe­ing Machin­ists, many of whom report­ed­ly earn about $70,000 a year before over­time pay, Rosen­feld dis­agrees. ​"These are the pro­to­typ­i­cal mid­dle-class work­ers," explained Rosen­feld, who is the author of an upcom­ing book, What Unions No Longer Do. Pro­tect­ing these work­ers' access to mid­dle-class jobs and pen­sions, he sug­gest­ed, is just as impor­tant to com­bat­ing inequal­i­ty as boost­ing the pay of low-wage workers.
By con­trast, Jack Van­Der­hei, research direc­tor for the Employ­ee Ben­e­fit Research Insti­tute (EBRI), which con­sid­ers itself as a non­par­ti­san group, views Boeing's shift to defined-con­tri­bu­tion pen­sions as part of a steady trend by busi­ness­es. For today's work­ers, he says, the con­cept of a pen­sion guar­an­teed after years on the job with one employ­er may no longer apply. Nowa­days work­ers go from job to job, mov­ing on after a few years. Like­wise, com­pa­nies have been increas­ing­ly loath to sup­port such pen­sions because of account­ing require­ments, he said. (Under gov­ern­ment rules, com­pa­nies must set aside mon­ey for the pen­sion funds, insure them and then keep them at the need­ed lev­els amid stock mar­ket and inter­est rate changes.)
Nor is he con­vinced that the work­er-dri­ven pen­sion plans are as flawed as some claim. Work­ers who reg­u­lar­ly con­tribute to their pen­sions and do not face dis­as­trous stock mar­ket upheavals, can ​"wind up with the same or more" come retire­ment, he said.
But Leon Grun­berg, a pro­fes­sor at the Uni­ver­si­ty of Puget Sound and the author of the 2010 book, Tur­bu­lence: Boe­ing and the State of Amer­i­can Work­ers and Man­agers, sees Boeing's move as just the oppo­site of good busi­ness strategy.
Most busi­ness the­o­ry says that ​"you need a hap­py, well-com­mit­ted work­place to have high prof­its," explained Grun­berg, whose book charts the lives of a large num­ber of Boe­ing work­ers over the years.
And his study of the Boe­ing work­ers showed that ​"clear­ly the Boe­ing work­force is very unhap­py," he said. ​"But the share­hold­ers, exec­u­tives and stock ana­lysts think things are doing well."
For many Boe­ing work­ers and their sup­port­ers, how­ev­er, the new Boe­ing con­tract boils down to some­thing more sim­ple: that uncer­tain futures have become a fact of life for U.S. workers.
The IAM and UAW are web­site spon­sors of In These Times. Spon­sors have no role in edi­to­r­i­al content.
Stephen Franklin is a for­mer labor and work­place reporter for the Chica­go Tri­bune, was until recent­ly the eth­nic media project direc­tor with Pub­lic Nar­ra­tive in Chica­go. He is the author of Three Strikes: Labor's Heart­land Loss­es and What They Mean for Work­ing Amer­i­cans (2002), and has report­ed through­out the Unit­ed States and the Mid­dle East.