The Real Border Crisis: Authorities Physically Blocking Children From Reaching Crossing Points
While Trump begs for his wall, children are fighting for their lives.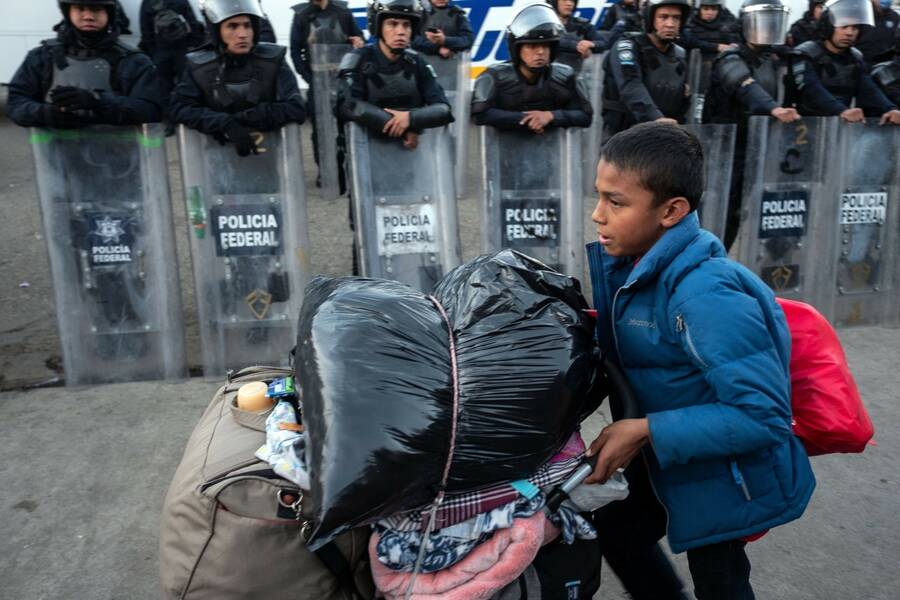 Glen­da wrapped her arm around mine and pulled me clos­er. I was part of a group of attor­neys and legal observers who, in mid-Novem­ber, were accom­pa­ny­ing Glen­da and six oth­er chil­dren from Tijua­na to the San Ysidro Port of Entry, which leads to San Diego. As we walked, I racked my brain for mun­dane con­ver­sa­tion top­ics to dis­tract us both. I could tell from her tight grip that she was ner­vous. What's your favorite food? Your favorite col­or? What super­pow­er would you have? The ques­tions went on.
It's going to take a movement that will transform our immigration system and dismantle immigrant prisons and enforcement.
As we reached the entrance to the bridge, she turned to me and said, ​"God works in many ways, and I hope one day we see each oth­er again."
"We will," I reas­sured her. ​"And when I see you 20 years from now in the Unit­ed States, what will be of your life?"
She gazed down the long bridge that would lead us to the port of entry where she would seek asy­lum and respond­ed in a qui­et voice, ​"I'm going to be some­one who helps oth­er peo­ple, an immi­gra­tion lawyer for chil­dren. And one day I'm going to have the resources to help those peo­ple I left behind in my country."
Glen­da, 13 years old, left her home in Hon­duras and trav­eled with the Migrant Exo­dus alone.
She was forced to flee after her father, who she says phys­i­cal­ly and sex­u­al­ly abused her for years and near­ly killed her, was released from prison. Accord­ing to Glen­da, her father threat­ened to search land and sea to get his vengeance on her for get­ting him locked up.
Glenda's sto­ry is not unique. Chil­dren arrive at the bor­der every year after hav­ing walked more than 2,500 miles — alone, tired and scared. Many of these chil­dren have been forced to flee their homes and leave their fam­i­lies behind after hav­ing wit­nessed and expe­ri­enced unspeak­able atroc­i­ties. Dur­ing the course of their treach­er­ous routes through Mex­i­co, they often fall vic­tim to kid­nap­pers, human traf­fick­ers and rob­bers — and are threat­ened with depor­ta­tion from Mex­i­can immi­gra­tion authorities.
Glen­da and the six oth­er unac­com­pa­nied chil­dren had sur­vived that jour­ney and were a few feet away from arriv­ing at the U.S. port of entry to ask for asy­lum pro­tec­tions that night. As a staff mem­ber of the Cen­tral Amer­i­can Resource Cen­ter — Los Ange­les, I was part of a team of U.S.-based legal observers. We were present because we know that refugees have been sys­tem­at­i­cal­ly turned away by Cus­toms and Bor­der Pro­tec­tion (CBP) offi­cers when seek­ing asy­lum. We were there to wit­ness the U.S. government's non-stop efforts to lim­it the legal right to seek pro­tec­tion from violence.
As we neared the end of the bridge we heard a man yelling at us to stop walk­ing. I turned around and saw Mex­i­can immi­gra­tion offi­cials run­ning towards us. As they con­tin­ued to shout, we walked faster, hop­ing to reach the port of entry before they got to us, know­ing that once we were there CBP offi­cers under fed­er­al and inter­na­tion­al law would have to process the chil­dren and pro­vide them pro­tec­tion. When we reached the port of entry, three dis­grun­tled CBP offi­cers told us we had to go away.
The chil­dren approached the offi­cers telling them they were there to seek asy­lum, and after a few min­utes attor­ney and legal observers were told to leave. We turned around and start­ed walk­ing back, and when we reached the top of the bridge we looked across the bridge at the port of entry and saw that the chil­dren were being processed and allowed into the Unit­ed States. These are minors who trav­eled alone escap­ing vio­lence and ter­ri­ble con­di­tions. Being allowed to seek refuge in the Unit­ed States will help keep them safe. We walked back to Tijua­na relieved, because a small vic­to­ry had been won.
Not all chil­dren have reached the point of entry. Reports in Tijua­na have informed us that Mex­i­can immi­gra­tion author­i­ties are pro­fil­ing Cen­tral Amer­i­can migrant youth for deten­tion and depor­ta­tion, regard­less of their asy­lum claims. On Decem­ber 5, a group of attor­neys and legal observers, led by Al Otro Lado, an immi­grant rights advo­ca­cy orga­ni­za­tion at the bor­der, accom­pa­nied a group of 7 Hon­duran teens. That team of informed us that the teenagers were sim­i­lar­ly blocked by CBP upon reach­ing the port of entry to ask for asy­lum pro­tec­tions. As CBP pre­vent­ed them from exer­cis­ing their rights under inter­na­tion­al law, Mex­i­can author­i­ties cor­nered the chil­dren and detained them, our sources informed us.
Ille­gal by U.S. and inter­na­tion­al law, it has become a com­mon prac­tice for CBP offi­cials to stand out­side the port of entry and pro­hib­it peo­ple from being able to enter the offi­cial port of entry. Even Con­gress­mem­bers Nanette Bar­ragán (D‑Calif.) and Jim­my Gomez (D‑Calif). have faced tremen­dous obsta­cles when approach­ing the bor­der with asy­lum seek­ers. While there is ongo­ing lit­i­ga­tion chal­leng­ing CBP's unlaw­ful prac­tice of depriv­ing asy­lum seek­ers access to the U.S. asy­lum process—Al Otro Lado, Inc. v. John F. Kel­ly—there is absolute­ly no over­sight or accountability.
U.S. immi­gra­tion author­i­ties con­tin­ue to cre­ate a cul­ture of vio­lence, abuse and com­plete dis­re­gard of human rights — and con­tin­ues to impede the right of refugees to seek asy­lum. Amer­i­can author­i­ties have shot tear gas and rub­ber bul­lets at fam­i­lies across the U.S.-Mexico bor­der, and they've mur­dered sev­er­al chil­dren, includ­ing sev­en-year-old Jake­lin Amei Rose­mary Caal, who recent­ly died while in CBP cus­tody after being deprived of nec­es­sary food, water and med­ical atten­tion. Clau­dia Patri­cia Gomez Gon­za­lez, 20 years old, was shot by CBP offi­cers ear­li­er this year.
The count­less chil­dren who have been forced to flee their homes — and those who have lost their lives on their jour­ney to safe­ty, at the bor­der, or in deten­tion — are vic­tims of inhu­mane poli­cies and prac­tices pro­mot­ed by every sin­gle U.S. admin­is­tra­tion. These poli­cies did not begin under Don­ald Trump: The turn­ing away of unac­com­pa­nied minors was ram­pant under the Oba­ma admin­is­tra­tion, and it will take more than elect­ing well-mean­ing lib­er­als to office to bring about real sys­temic change. In his ​"Bor­der Wall" address last night, Trump esca­lat­ed the vile, racist rhetoric that has defined his presidency.
It's going to take a move­ment that will trans­form our immi­gra­tion sys­tem and dis­man­tle immi­grant pris­ons and enforce­ment. How can we work towards a world where chil­dren like Glen­da don't have to trav­el across coun­tries by them­selves to stay alive, where chil­dren like Clau­dia aren't killed by U.S. law enforce­ment, and where chil­dren like Jake­line don't die inside of cages?
Jen­ny Vil­le­gas
is an Orga­niz­er at the Cen­tral Amer­i­can Resource Cen­ter in Los Ange­les (CARE­CEN-LA).