10 Planks the GOP Doesn't Want You To See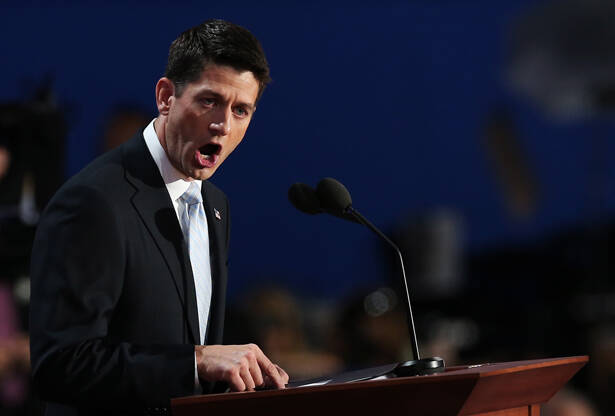 Beneath the gloss of Paul Ryan's convention speech – a series of wildly inaccurate statements that people somehow found inspiring–is extremist and unpopular politics.
Here's the complete PDF of that 2012 Republican Party platform, the product of a committee chaired by Virginia Gov. Robert McDonnell.
Ten planks that Republicans might rather keep buried:
1) Money in politics? No problem. ​"We oppose any restrictions or conditions that would discourage Americans from exercising their constitutional right to enter the political fray or limit their commitment to their ideals," the document says

2) A blanket ban on abortion, without exception for rape or incest. They're still opposed to the ​"Morning-After" pill, too.

3) More government-funded, abstinence-only sexual ed for teens. Because we know how well that works.

4) Republicans want to bring back the military's ​"Don't Ask, Don't Tell" policy, which prevented out homosexuals from serving.

5) Gay marriage is to be eradicated, even as it becomes more popular nationally.

6) Austerity cometh. Social security virtually privatized, even though there isn't really a crisis there.

7) For the ever-popular Medicare program: an increase in the age of eligibility, plus the transition of the program into a voucher system where the government only pays a fixed amount to users. Seniors would pay more out of pocket and Medicare as we know it would be eliminated.

8) Immigration policy: The Republican Party is divided between those who favor strict enforcement-style mechanisms, and those who realize that cheap immigrant labor is vital for key industries like agriculture. The latter won in the platform, but it still isn't likely to forestall the demographic disaster that awaits Republicans, with more and more Latinos perceiving them as anti-immigrant.

9) Compounding the problem of immigrant appeal, the new platform affirms that ​"English is the nation's official language."

10) Racially-tinged rhetoric attacking Democrats for ​"replacing civil engineering with social engineering as it pursues an exclusively urban vision of dense housing and government transit."
The Republican vision of the 21st century – one part austerity, one part reactionary social policy, one part latent racial resentment – doesn't seem like a winning gameplan. The fact that Romney has a chance is testament only to the weakness of a neoliberal Obama adminstration.
Bhaskar Sunkara
is the founding editor of Jacobin magazine. Follow him on Twitter: @sunraysunray.