BREAKING—Andrew Puzder, Trump's Pick for Labor Secretary, Is Out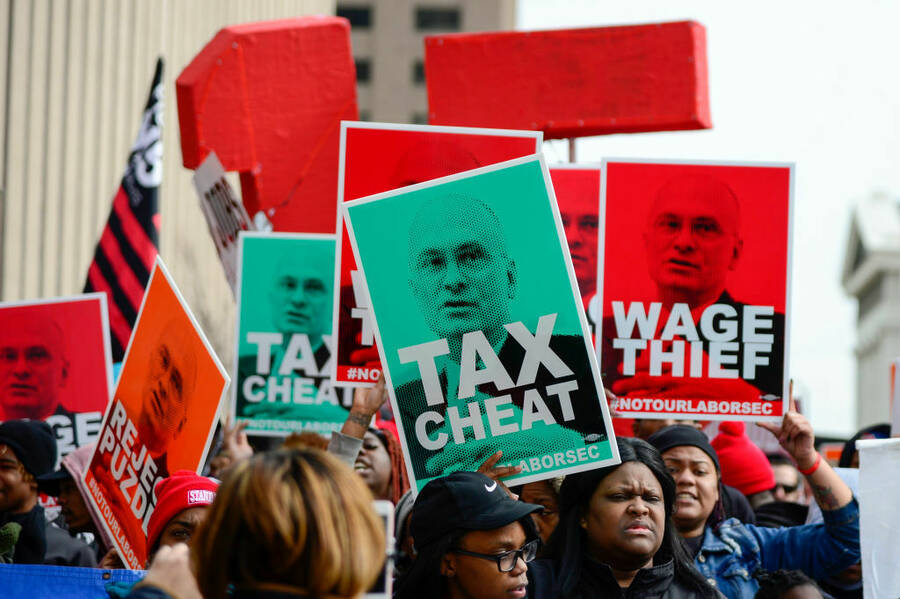 With a key Sen­ate hear­ing loom­ing, Pres­i­dent Don­ald Trump's nom­i­nee for Labor Sec­re­tary with­drew his name from con­sid­er­a­tion Wednes­day, back­ing down just as Demo­c­ra­t­ic Par­ty lead­ers and labor activists were unleash­ing their strongest attacks yet against ham­burg­er chain exec­u­tive Andrew Puzder.
Puzder decid­ed to with­draw his nom­i­na­tion as the new chief of the largest fed­er­al labor agency as oppo­si­tion spread from tra­di­tion­al pro-labor Democ­rats to include a hand­ful of con­ser­v­a­tive Republicans.
"From the very start of the nom­i­na­tion process, it was clear that fast-food CEO Andrew Puzder was unfit to lead the U.S. Depart­ment of Labor. Thanks to fierce oppo­si­tion from a diverse group of Amer­i­cans, includ­ing peo­ple deeply con­cerned about the treat­ment of work­ers and of women, enough sen­a­tors came to the same real­iza­tion, forc­ing Mr. Puzder's with­draw­al from the nom­i­na­tion," said Chris­tine Owens, exec­u­tive direc­tor of the Nation­al Employ­ment Law Project.
It's the first vic­to­ry for Sen­ate Democ­rats in oppo­si­tion to Trump's con­tro­ver­sial Cab­i­net picks, despite well-orga­nized cam­paigns against high­er-pro­file nom­i­nees such as Attor­ney Gen­er­al Jeff Ses­sions and Sec­re­tary of Edu­ca­tion Bet­sy DeVos. Nev­er­the­less, a lob­by­ing effort aimed at con­vinc­ing Repub­li­can Par­ty sen­a­tors to oppose Puzder was in full swing for the last week, includ­ing demon­stra­tions Mon­day in more than 20 cities.
The focus of the oppo­si­tion was on Puzder's tenure as chief exec­u­tive of CKE Restau­rants, own­er of Hardee's and Carl's Jr. ham­burg­er chains. Owens says CKE has a ​"ter­ri­ble record" of wage law vio­la­tions and employ­ment dis­crim­i­na­tion com­plaints that dis­qual­i­fied Puzder from high gov­ern­ment office. And Kendall Fells, orga­niz­ing direc­tor for the Fight for 15 cam­paign, said ​"it would hard to imag­ine him even get­ting the nom­i­na­tion," if there had been a seri­ous exam­i­na­tion of the exten­sive record of labor com­plaints against CKE beforehand.
On Mon­day, pro­tes­tors orga­nized by Fight for 15 descend­ed on CKE cor­po­rate offices in St. Louis, Mis­souri, and Ana­heim, Cal­i­for­nia, and at some two dozen fast-food sites nation­wide, Fells said. The demon­stra­tions helped draw atten­tion to Puzder's shortcomings.
But the anti-Puzder forces relied on a sec­ond lev­el of crit­i­cism to cause a hand­ful of Repub­li­can sen­a­tors to join Demo­c­ra­t­ic oppo­si­tion, accord­ing to Fells. As part of the reg­u­lar finan­cial dis­clo­sure require­ments for Cab­i­net nom­i­nees, Puzder revealed last week that he had employed an undoc­u­ment­ed immi­grant as a ser­vant and failed to pay tax­es as required by law. While his tenure at CKE may be viewed as unob­jec­tion­able by ultra-right con­ser­v­a­tives, Fells said, Puzder's dis­clo­sure showed that he is also a labor scofflaw in his per­son­al life.
Aubrey Rejon, a for­mer cashier at a Carl's Jr. restau­rant in Whit­ti­er, Cal­i­for­nia, tells In These Times that she has been incensed by Puzder's law­less­ness — and by the will­ing­ness of Trump and oth­er Repub­li­cans to excuse it. ​"It seems like they'll just let any­body," assume gov­ern­ment office, even though they are admit­ted law­break­ers, she said this week, before news broke that Puzder would withdraw.
Rejon protest­ed with about 200 oth­ers at the CKE offices in Ana­heim on Mon­day and said she hopes the action will alert the pub­lic to the need for a high­er min­i­mum wage nationally.
"I was hired at $10 an hour and stayed that way," she says. ​"Work­ing con­di­tions were atrocious."
Owens, of the Nation­al Employ­ment Labor Project, said that the con­fir­ma­tion hear­ing before the Sen­ate Com­mit­tee on Health, Edu­ca­tion, Labor and Pen­sions orig­i­nal­ly sched­uled for Thurs­day was expect­ed to pro­vide a dra­mat­ic con­fronta­tion between Puzder and his crit­ics. Sen. Pat­ty Mur­ray (D‑Washington) was to take the lead in ques­tion­ing Puzder, Owens says, backed up by Sen. Eliz­a­beth War­ren (D‑Massachusetts), who released a blis­ter­ing 28-page let­ter ear­li­er this week lay­ing out the case against Puzder. The hear­ing has since been canceled.
Fur­ther dra­ma came in the form of a video­tape of an appear­ance by Puzder's for­mer wife on Oprah Winfrey's tele­vi­sion show. The 27-year-old tape shows Lisa Fier­stein recount­ing charges of spousal abuse dur­ing the mar­riage. Although Fier­stein long ago with­drew the charges, copies of the tape have recent­ly sur­faced and been viewed by some of the sen­a­tors on the com­mit­tee, accord­ing to press reports.
"The with­draw­al of Andrew Puzder's nom­i­na­tion is great news for every­one who wants an Amer­i­ca where wages rise, ben­e­fits are strong and unions are grow­ing," said Richard Trum­ka, pres­i­dent of the AFL-CIO. ​"It's a reminder of the col­lec­tive pow­er of work­ing peo­ple and a clear mes­sage to Pres­i­dent Trump that it's time to change course com­plete­ly, not dou­ble down."
Bruce Vail
is a Bal­ti­more-based free­lance writer with decades of expe­ri­ence cov­er­ing labor and busi­ness sto­ries for news­pa­pers, mag­a­zines and new media. He was a reporter for Bloomberg BNA's Dai­ly Labor Report, cov­er­ing col­lec­tive bar­gain­ing issues in a wide range of indus­tries, and a mar­itime indus­try reporter and edi­tor for the Jour­nal of Com­merce, serv­ing both in the newspaper's New York City head­quar­ters and in the Wash­ing­ton, D.C. bureau.