During Yesterday's Fight for 15 Protests, Nearly 50 Chicago Armored Guards Decided to Go on Strike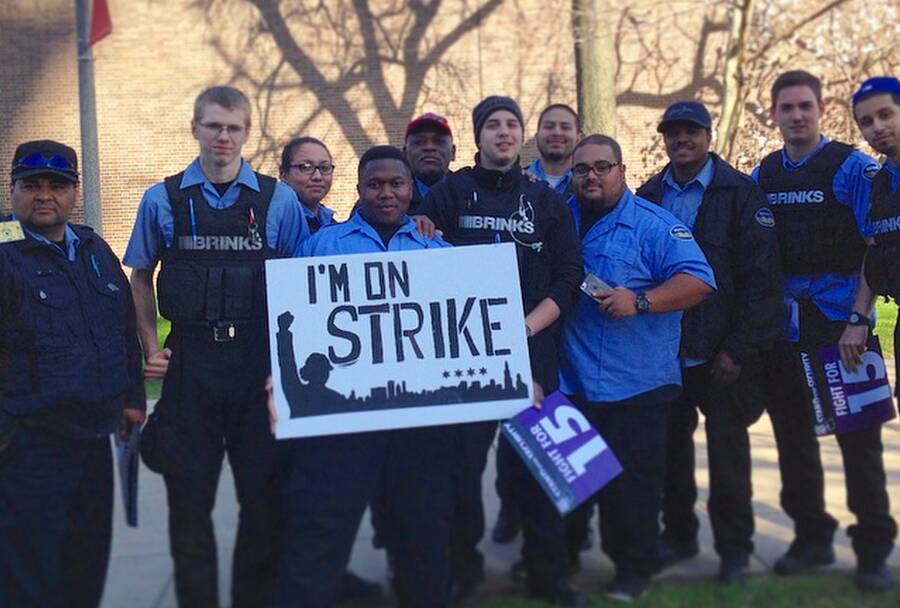 The Fight for 15 cam­paign says that yesterday's protests in over 200 cities around the coun­try were the biggest yet since the move­ment began almost three years ago. Orga­niz­ers say their num­bers have grown larg­er with each round of strikes. But they have also expand­ed in ways that no one, includ­ing the campaign's staffers, thought pos­si­ble — like when near­ly 50 dri­vers and secu­ri­ty guards employed by Brink's, the glob­al secu­ri­ty and logis­tics com­pa­ny known for its armored bul­let­proof trucks, sud­den­ly decid­ed to walk off the job ear­ly Wednes­day morning.
The work­ers say they made the deci­sion that morn­ing after reach­ing out to an orga­niz­er from the cam­paign a few days before April 15. After mak­ing the deci­sion at their head­quar­ters that morn­ing, they were joined by a group of Fight for 15 staffers and sup­port­ers. The work­ers attempt­ed to present a signed let­ter to man­age­ment stat­ing they were going on strike, but mes­sen­ger John Downes says man­agers refused to come to the door. Work­ers have not yet received a response from management.
At 5:00 a.m. this morn­ing, a group of about 20 Fight for 15 staffers and com­mu­ni­ty sup­port­ers accom­pa­nied a group of around two dozen work­ers back to work, a tac­tic which the move­ment has used after every strike. Work­ers attempt­ed to deliv­er anoth­er let­ter to man­age­ment today that explained their strike, but man­age­ment instead called the police on the group. Staffers say the work­ers did, how­ev­er, suc­cess­ful­ly return to work.
At the Fight for 15 ral­ly yes­ter­day, dri­ver John­ny Can­tu said almost 50 of Brink's Chicago's near­ly 80 dri­vers and mes­sen­gers decid­ed to strike and demand a raise, over­time pay, increased staffing and vehi­cle repairs. Can­tu says that some peo­ple think of low-paid work­ers as ​"oh, they flip burg­ers, oh they're just clean­ing up the place. … It's not about that. It's about peo­ple try­ing to make a living."
Can­tu said his chil­dren are work­ing while attend­ing col­lege to help sup­port his fam­i­ly. He said Brinks reduced con­tri­bu­tion to work­ers' 401(k)s and only pay over­time for five hours per week, even though many work­ers work 60- to 80-hour weeks; oth­er work­ers con­firmed this sto­ry. Downes said new mes­sen­gers, the work­ers who car­ry bags of mon­ey or oth­er valu­ables, make $13.75 an hour while dri­vers make $12.50. Can­tu com­pared these wages to FedEx and UPS work­ers who can make over $20 an hour with overtime.
Downes said Brink's' trucks are in poor work­ing con­di­tion, lack­ing air con­di­tion­ing or heat and extreme­ly uncom­fort­able to dri­ve in, and more work­ers are need­ed so employ­ees don't have to work up to 16-hour days. He also wants to see truck teams of three work­ers, so one work­er can pro­vide secu­ri­ty while co-work­ers deliv­er the valu­able car­go (most trucks only have two work­ers, a dri­ver and a mes­sen­ger) and improved safe­ty train­ing. He cit­ed the death of 60-year-old Brink's mes­sen­ger Alvin Kin­ney in Hous­ton this Feb­ru­ary after armed assailants robbed his truck.
Mes­sen­ger Alex Alvarez says the company's man­age­ment has ​"led us on, giv­ing us false hope. [They say] … we're not the bad guys, it's not up to us, your raise is com­ing, … just hang tight." Can­tu says work­ers have com­mu­ni­cat­ed these com­plaints to man­agers for over a year. After see­ing no changes, he says, they decid­ed to join the Fight for 15. Work­ers and Fight for 15 staffers would not com­ment on plans to move towards union recognition.
Brink's spokesper­son Ed Cun­ning­ham says he ​"under­stands employ­ees' con­cerns." He explains that Brink's works in a very com­pet­i­tive indus­try and ​"had to take some actions to cut costs," so he was ​"was­n't sur­prised" to hear of the work­ers' griev­ances. Brink's is attempt­ing to ensure the strike does not affect the company's cus­tomers, Cun­ning­ham says, and he hopes to ​"contin[ue] to try to have a dia­logue, under­stand and resolve [work­ers'] issues" as soon as possible.
The Fight for 15 has expand­ed its focus great­ly in recent months, going beyond fast food work­ers to oth­er low-wage work­ers includ­ing home health care work­ers (many of whom are cur­rent or poten­tial mem­bers of SEIU, the prin­ci­pal union spon­sor­ing the Fight for 15), high­er edu­ca­tion work­ers like adjunct fac­ul­ty and oth­ers. The Chica­go Teach­ers Union recent­ly announced it would make a demand for all Chica­go Pub­lic Schools employ­ees to earn at least $15 per hour as part of its upcom­ing con­tract nego­ti­a­tions with the Board of Education.
But armored secu­ri­ty guards have nev­er been a tar­get for orga­niz­ing in the cam­paign. A Fight for 15 spokesper­son con­firms that they still are not.
Near­ly 12 hours after they had decid­ed to go on strike yes­ter­day, Brink's work­ers — still in their uni­forms includ­ing bul­let­proof vests and hol­sters for guns — joined thou­sands of fast food work­ers, union mem­bers, com­mu­ni­ty orga­ni­za­tions, adjunct pro­fes­sors, home health care work­ers and sup­port­ers to ral­ly at the Uni­ver­si­ty of Illi­nois-Chica­go. The crowd then took over the streets and passed by the Board of Trade as they marched to a McDon­ald's in the Loop.
As the march turned north onto Hal­st­ed Street, a reporter approached a group of about a dozen Brink's work­ers chant­i­ng and hold­ing pick­et signs. When asked to con­firm that the work­ers had indeed decid­ed to stage the walk-off only that morn­ing, one work­er nodded.
"We don't fuck around," he stat­ed plain­ly, then walked away.
Arielle Zionts is a Spring
2015
In These Times
edi­to­r­i­al intern. She stud­ied anthro­pol­o­gy at Pitzer Col­lege and radio at the Salt Insti­tute for Doc­u­men­tary Stud­ies. Mic­ah Uet­richt is the Asso­ciate Edi­tor of
In These Times
and author of
Strike for Amer­i­ca: Chica­go Teach­ers Against Aus­ter­i­ty
.