Broken People, Broken Promises
Dalits face a new threat from India's Hindu nationalists.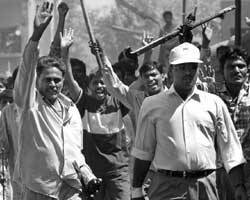 Audi­ences in Bombay's derelict Art-Deco cin­e­ma halls often hoot and whis­tle when their hero van­quish­es a vil­lain. Made to for­mu­la, Bol­ly­wood movies often end with the hero punch­ing up a local
thakkur,
an upper-caste land­lord, for the many injus­tices he per­pe­trat­ed against the peas­ants dur­ing the pre­ced­ing three hours. When the bat­tered vil­lain final­ly begs for mer­cy between sobs of guilt and remorse, the hero usu­al­ly shows his soft­er side and rep­ri­mands the land­lord. At this point, a police offi­cer mag­i­cal­ly appears to hand­cuff the chas­tised vil­lain and thank the hero for fight­ing the good fight: ​
"
Now the law will give him his pun­ish­ment," the offi­cer says, as the cur­tain comes down to cheers.
But Bol­ly­wood is a fantasy.
In a 2,000-year-old hang­over from one bad idea, India's 250 mil­lion ​"untouch­ables," who call them­selves Dal­its, and trib­al peo­ple still endure crush­ing oppres­sion and polit­i­cal manip­u­la­tion from upper castes. The cat­e­go­ry of ​"untouch­ables" was offi­cial­ly abol­ished in India more than half a cen­tu­ry ago, but despite affir­ma­tive action that has led to con­sid­er­able gains for the group — two Indi­an gov­ern­ments have been led by Dalit par­ties — dis­crim­i­na­tion and per­se­cu­tion of Dal­its are still rife. Human rights groups esti­mate that hun­dreds of thou­sands of caste-based crimes occur in India each year. Very few of these are report­ed. Only a hand­ful are ever prosecuted.
Caste con­flict does not pro­duce many sound­bites or ban­ner head­lines. The sto­ries of these silent sieges are buried in local news­pa­pers and dusty police logs in remote Indi­an vil­lages. They are about the grim, per­sis­tent denial of basic human rights to about 250 mil­lion peo­ple, and the reg­u­lar but unspec­tac­u­lar injus­tices per­pe­trat­ed against them by oppres­sors who con­sid­er them the low­est human life form. The dehu­man­iz­ing nature of these crimes reveals more about the prob­lem than sheer numbers.
India's Nation­al Human Rights Com­mis­sion reports that, in some areas, Dal­its are still forced to live in seg­re­gat­ed colonies and work in inhu­man con­di­tions. They are ​

"

denied the use of the same wells and the same tem­ples as caste Hin­dus, and are even for­bid­den to drink from the same cups in tea stalls," says Dr. K. Jam­nadas, a lead­ing Dalit activist.
In the after­math of a

2001

earth­quake in Gujarat, relief agen­cies were forced to mark their sup­plies of blood with the caste of the per­son it came from, or else peo­ple would not use them.
That same year in Agra, home of the Taj Mahal, a low-caste woman named Sukhviri Devi was stripped naked and beat­en to death by two upper-caste men. Her sin was to cross their path while car­ry­ing an emp­ty pail — an inaus­pi­cious act. The attack occurred just days before Pres­i­dent Clinton's vis­it to the city.
In Bareil­ly, in the north­ern state of Uttar Pradesh, a local offi­cial, Shab­bir Ahmad, beat to death a low-caste teen-ager in

2000

for pluck­ing flow­ers from his garden.
Last year in Luc­know, also in Uttar Pradesh, in a grotesque­ly medieval ver­sion of a clas­sic roman­tic tragedy, a low­er-caste girl and upper-caste boy were pub­licly lynched by their fam­i­lies, who were incensed at the ​

"

impure" rela­tion­ship. Hun­dreds watched and applauded.
Even as many Dal­its and trib­als strug­gle for access to the full legal rights grant­ed to them in 1950, they face a new and insid­i­ous threat from India's Hin­du nation­al­ists — a threat that could sub­vert their fledg­ling polit­i­cal move­ment, unleash new waves of vio­lence, and trap them once again onto the low­est rungs of the social hierarchy.
On Octo­ber 15, as peo­ple all over India cel­e­brat­ed the Hin­du fes­ti­val of dush­er­ra, five Dal­its were arrest­ed by local police in the Jha­j­jar dis­trict of the state of Haryana. Their alleged crime: killing and skin­ning a cow in pub­lic. (Cow slaugh­ter, in def­er­ence to Hin­du sen­si­bil­i­ties, is banned in most of India.) When news of the arrests spread, a mob broke into the police sta­tion and lynched the five men in the pres­ence of more than 50 police­men, city mag­is­trates and gov­ern­ment offi­cials. Lat­er, police admit­ted that there was no evi­dence against the men.
Eth­nic ten­sions had been high in Jha­j­jar since 33 Dalit fam­i­lies con­vert­ed to Islam some­time in August. His­tor­i­cal­ly, many Dal­its have con­vert­ed to Bud­dhism, Chris­tian­i­ty or Islam to escape the ​"badge of dis­hon­or" ortho­dox Hin­duism placed on them. Local NGOs and polit­i­cal par­ties charged that the attack had been polit­i­cal­ly moti­vat­ed by the Vish­wa Hin­du Parishad and Bajrang Dal, two Hin­du fun­da­men­tal­ist organizations.
The attack brought into sharp relief the esca­lat­ing ten­sions between Dal­its and the Sangh Pari­var, the Hin­du nation­al­ist move­ment that encom­pass­es the government's rul­ing Bharatiya Jana­ta Par­ty (BJP). The Sangh Pari­var wants to unite all India's eth­nic groups against Mus­lims and Chris­tians. In what has been described as a ​"war for souls," the Sangh Pari­var has launched an aggres­sive cam­paign to con­vince Dal­its and trib­als to sur­ren­der their tra­di­tion­al iden­ti­ties and fol­low main­stream Hinduism.
The BJP's art­ful manip­u­la­tion of Hin­du-Mus­lim divi­sions brought it to pow­er in 1998 as the head of a coali­tion gov­ern­ment, but it has nev­er won an absolute par­lia­men­tary major­i­ty. Sus­pi­cious of the BJP's cam­paign for law based on Hin­dut­va, an ortho­dox set of Hin­du prin­ci­ples, India's 250 mil­lion Dal­its have found greater com­mon cause with India's 120 mil­lion Mus­lims and oth­er minori­ties. Their alliance, thus far, has lim­it­ed the BJP's abil­i­ty to fur­ther the Hin­du nation­al­ist agenda.
— —  —  — –
The Sangh Parivar's efforts to con­vert untouch­ables and trib­als is a cyn­i­cal attempt to frac­ture their sense of sol­i­dar­i­ty with Mus­lims. ​"The par­ty wants to direct the com­bined force of this mas­sive vote bank against Mus­lims and Chris­tians, whom it despis­es, and trans­form sec­u­lar India into a Hin­du state ruled by Hin­dut­va," says Rad­hi­ka Desai, a pro­fes­sor at the Uni­ver­si­ty of Vic­to­ria in Cana­da, who works with trib­al com­mu­ni­ties in Gujarat.
The Sangh Pari­var claims that their efforts to absorb these peo­ple ​"back" into Hin­duism is an attempt to ame­lio­rate the caste dif­fer­ences that have sep­a­rat­ed Dal­its and trib­als from main­stream soci­ety in the first place. But a clos­er look at the Sangh Parivar's con­ver­sion pro­grams reveals a dif­fer­ent agen­da. In recent years, it has begun to estab­lish a net­work of reli­gious schools and devel­op­ment cen­ters across India's remote and trib­al areas.
Fund­ed exten­sive­ly by the Indi­an expa­tri­ate com­mu­ni­ty in the Unit­ed States, these schools are the Tro­jan horse of the Hin­du right. Lur­ing cred­u­lous and des­per­ate­ly poor Dalit and trib­al youth with promis­es of edu­ca­tion and social uplift, the Sangh Pari­var preach­es a rad­i­cal ver­sion of Hin­du suprema­cy that gains strength at the expense of Indi­an Mus­lims and oth­er minorities.
Desai and oth­ers charge that the Sangh Pari­var, lever­ag­ing the devo­tion­al fer­vor of these unso­phis­ti­cat­ed new con­verts, is using the for­mer ​"untouch­ables" as shock troops in their vio­lent anti-Mus­lim pogroms.
Evi­dence of this emerged after the March 2002 riots in Gujarat — riots that were wide­ly believed to have been orches­trat­ed by the Sangh Pari­var. The riots, which were ret­ri­bu­tion for an ear­li­er attack by Mus­lims on a train car­ry­ing Hin­du fun­da­men­tal­ists, left 2,000 dead and 100,000 home­less. Wit­ness­es and inves­ti­ga­tors said the local BJP gov­ern­ment and Sangh Pari­var groups sys­tem­at­i­cal­ly trucked intox­i­cat­ed mobs into Mus­lim areas, direct­ing them via com­put­er­ized lists to destroy Mus­lim prop­er­ty. With­in hours, a state renowned for its ancient citadels and ver­dant ham­lets lay blood-drenched, scorched and pillaged.
Accord­ing to the People's Union for Civ­il Lib­er­ties, areas where large num­bers of youth are enrolled in trib­al devel­op­ment cen­ters expe­ri­enced some of the worst vio­lence against Mus­lims. As smoke still bil­lowed from burn­ing cities and scorched fields, K.K. Shas­tri, chair­man of a Sangh Pari­var group in Gujarat, pub­licly praised riot­ers from an area where his group runs a trib­al devel­op­ment cen­ter: ​"They have done an amaz­ing job."
​"The irony of it all," says Deepi­ka Chad­ha, an activist in Gujarat, ​"is that the most back­ward com­mu­ni­ty, the trib­als, were being manip­u­lat­ed into bat­ter­ing the next most back­ward, the Mus­lims, at the behest of the most privileged."
— —  —  — –
Despite promis­es to the con­trary, crit­ics say, the con­verts from the Sangh Pari­var reli­gious schools are not treat­ed as equals in their new faith. In an inge­nious move designed to retain the basic prin­ci­ples of caste supe­ri­or­i­ty, Dalit and trib­al con­verts are assigned to wor­ship only the minor gods of Hin­duism, like Hanu­man, the war­rior mon­key-king who served Ram, but not major gods like Ram him­self. ​"Mak­ing trib­als and Dal­its wor­ship a minor god who was a dis­ci­ple of their own god is not a way of giv­ing them a place, but a way of show­ing them their place," Desai says. ​"It's like Chris­t­ian mis­sion­ar­ies see­ing new con­verts as some­what unwor­thy of wor­ship­ping Christ and teach­ing them to wor­ship Peter instead. It's not con­ver­sion, it's subversion."
While aggres­sive­ly pur­su­ing its own ​"con­ver­sion strat­e­gy," the Sangh Pari­var and its allies are spon­sor­ing state-lev­el leg­is­la­tion ban­ning reli­gious con­ver­sion. Legal experts say that the leg­is­la­tion is writ­ten in such a way that it uses the Sangh Parivar's def­i­n­i­tion of Hin­duism to dele­git­imize Dalit con­ver­sions to Islam or Chris­tian­i­ty, while allow­ing Dalit con­ver­sion to Hin­duism. Recent­ly the south­ern state of Tamil Nadu, which is gov­erned by a BJP ally, became the first state to pass such a law. More states are poised to fol­low, even though restric­tions on con­ver­sion defy India's constitution.
To cur­ry sup­port from the elec­torate, the Sangh Pari­var is pack­ag­ing its call for a homoge­nous Hin­du iden­ti­ty around the age-old argu­ment that divi­sions with­in Hin­duism weak­en India. It claims that it is pro­tect­ing India and Hin­duism, which it sees as syn­ony­mous, from the ​"for­eign influ­ences" of Islam­ic Pak­istan, Com­mu­nist Chi­na and the Chris­t­ian West.
To fur­ther iso­late Mus­lims and Chris­tians, the Sangh Pari­var is also pres­sur­ing India's non-Mus­lim and non-Chris­t­ian minori­ties — Sikhs, Jains and Bud­dhists — to embrace the Hin­dut­va plat­form. In a sweep­ing and nov­el def­i­n­i­tion of Hin­duism, the Sangh Pari­var claims that all peo­ple and faiths with ​"roots in India" are Hin­du. In this view, Bud­dhism, Jain­ism and Sikhism are mere­ly Hin­du sub-sects.
The sit­u­a­tion reveals the com­plex tes­sel­la­tion of caste and reli­gion that is dri­ving India's increas­ing­ly eth­nic pol­i­tics. ​"The BJP's main aim today is to try and gloss over his­tor­i­cal dif­fer­ences with­in Hin­duism and mold Hin­dus into a sin­gle vote bloc it can con­trol," Desai says. ​"But the Sangh Parivar's vision is not of a faith where all are equal. It is of a faith where all oth­ers agree to abide by the ortho­dox rules of a select few. … It is Brah­min­ism revisited."