These Union Members Are Going to War with the Largest Private Development Project in U.S. History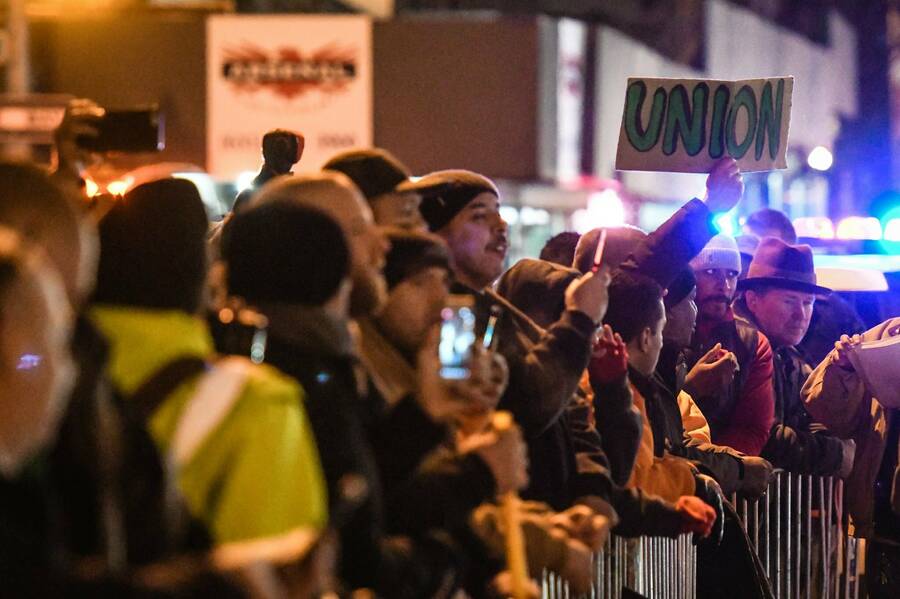 It's 6:00 a.m. in a gelid win­ter morn­ing. A crowd of stur­dy bod­ies, most­ly con­struc­tion work­ers, packs a cor­ner in Mid­town Man­hat­tan. The chants of, ​"Open shop, bro­ken shop!" can be heard blocks away amidst the cacoph­o­ny of New York City traffic.
The Jan­u­ary 11 week­ly ral­ly — one of many con­tin­u­ing to the present — was held in the shad­ow of a struc­tur­al behe­moth stand­ing at 1,296 feet and sched­uled to open in 2019. Hud­son Yards is the largest pri­vate devel­op­ment project in U.S. his­to­ry. But while bil­lions of dol­lars are poured into it every year, the main devel­op­er, Relat­ed, is try­ing to reduce costs by hir­ing non-union labor. Work­ers of all trades are stand­ing up togeth­er to keep the jobs union.
The months-long ral­lies start­ed in Novem­ber and endured through the harsh win­ter, every Thurs­day morn­ing. Now they con­tin­ue into the sum­mer, with cam­paign orga­niz­ers stag­ing addi­tion­al ral­lies on Tues­day after­noons. The cam­paign, known on social media as #Count­MeIn, orig­i­nat­ed last year in a rank-and-file effort to keep union jobs at Hud­son Yards. Every so often, a mas­sive march shakes the streets of mid-town Manhattan.
Relat­ed is refus­ing to sign a new Project Labor Agree­ment (PLA). Sign­ing such an agree­ment would pro­hib­it them from employ­ing non-union work­ers and reduce the labor costs in the sec­ond phase of the project. Cur­rent­ly, union work­ers earn on aver­age 42 per­cent high­er wages than nonunion workers.
PLAs are deals between employ­ers and unions for spe­cif­ic con­struc­tion projects that over­ride exist­ing col­lec­tive bar­gain­ing agree­ments. PLAs in the past few decades have typ­i­cal­ly includ­ed con­ces­sions from labor in terms of pay and work rules to com­pel employ­ers to hire union work­ers. Unfor­tu­nate­ly, PLAs often include a no-strike pledge, which requires labor to give up its most pow­er­ful weapon against boss­es. Relat­ed has expressed through their spokesper­son Joan­na Rose that they ​"will not nego­ti­ate" with the Build­ing and Con­struc­tion Trades Coun­cil of Greater New York.
Con­struc­tion boom
In times of eco­nom­ic down­turn, employ­ers argue that the only way to keep the shop afloat is by low­er­ing costs, and so work­ers have to bear part of the bur­den and tight­en their belts for the ben­e­fit of all. But when busi­ness thrives, only employ­ers reap the profits.
The con­struc­tion sec­tor has seen vig­or­ous growth after the dust from the eco­nom­ic crash set­tled. The U.S. con­struc­tion indus­try climbed from val­ue-added $547 bil­lion in 2011 to $826 bil­lion in 2017, accord­ing to the U.S. Bureau of Eco­nom­ic Analy­sis. New York City's land­scape is, indeed, a micro­cosm of this con­struc­tion boom, with cranes and bare-bones-tow­ers spring­ing across the city. Between 2010 and 2016, employ­ment in con­struc­tion of build­ings in New York­grew almost 50 per­cent, from 30 to over 43 thou­sand reg­is­tered workers.
Hud­son Yards is by far the most sig­nif­i­cant pri­vate devel­op­ment in the city, with an esti­mat­ed 4,000 con­struc­tion work­ers employed on any giv­en day. Expect­ed to be com­plet­ed by 2025, the entire project will have cost $25 bil­lion. Although pre­sent­ed as a megapro­ject built on idle land, Hud­son Yards needs to be con­trast­ed with alter­na­tive projects pro­posed for that space.
Tom Angot­ti, an urban pol­i­cy schol­ar and author of New York For Sale, told In These Times, ​"Peo­ple in Chelsea and Hell's Kitchen, local busi­ness­es, small busi­ness­es, got togeth­er and said ​'this is what we want the area to look like.' They pre­sent­ed their vision. The city patient­ly lis­tened and then went ahead and struc­tured the Hud­son Yards' deal the way they want­ed anyway."
In Jan­u­ary of 2005, the City Coun­cil approved the Bloomberg Administration's plan to re-zone the far West Side of Man­hat­tan to allow the whole­sale con­struc­tion of high-rise tow­ers. Com­mu­ni­ty boards, it is stip­u­lat­ed in the city char­ter, have to be con­sult­ed on devel­op­ment pro­pos­als like this one. ​"But what­ev­er they say," schol­ar David Halle at CUNY Grad­u­ate Cen­ter told In These TImes, ​"It's only advi­so­ry." Accord­ing to Halle, ​"If they say they love it, it goes through, if they say they don't like it, it still goes through."
There is no doubt that this megapro­ject is chang­ing the phys­iog­no­my of Manhattan's West Side, deep­en­ing the gen­tri­fi­ca­tion of Chelsea and Hell's Kitchen. Although devel­op­ers made sure to include some afford­able units in the project, a fea­ture that allows them to build taller, the aver­age cost of a reg­u­lar unit is out reach for work­ing-class peo­ple. Of the building's 251 apart­ments, just 63 are afford­able units. Oth­er units, mean­while, rent for high prices, with one-bed­room apart­ments priced at $5,400 a month. ​"None of us trades-per­sons can afford those apart­ments," says Mark Davis, a tile set­ter and mem­ber of Local 7. ​"So, in my opin­ion, what they con­sid­er afford­able hous­ing is just an illusion."
The future of labor
In Feb­ru­ary, Relat­ed filed a fed­er­al law­suit against Mr. LaBar­bera. They accused him and the unions work­ing at Hud­son Yards of cor­rup­tion and vio­la­tion of the labor agree­ment signed by both par­ties before start­ing the con­struc­tion. The trades coun­cil accused Relat­ed in court of unlaw­ful labor prac­tices that unfair­ly tar­get­ed work­ers who sup­port­ed the #Count­MeIn cam­paign. Oth­er law­suits were filed against Trade Off and oth­er com­pa­nies sub­con­tract­ed by Relat­ed, which had employed non-union contractors.
Work­ers say the real pur­pose behind Related's legal attack is to side­line the Build­ing Trades Coun­cil and nego­ti­ate with indi­vid­ual unions or replace union work­ers with non-union ones when pos­si­ble. Ini­tial works in the foun­da­tions of 55 Hud­son Yards with nonunion work­ers sparked the out­rage of union mem­bers at the very ear­li­est stages of the devel­op­ment project. ​"If you bring some­one to work side by side with us and pay him 15 bucks an hour, because that's what you think he's worth. And we know that we put our lives in the line day in and day out… It's a smack in the face to us," says Desmond Rivers, sheet met­al work­er at Hud­son Yards. Exist­ing fric­tions with­in the build­ing trades may allow Relat­ed to dri­ve a wedge between them, under­min­ing them all.
The out­come of this bat­tle will have last­ing con­se­quences for the labor move­ment in New York and beyond. In the past few decades, the build­ing trades unions, much like most oth­er unions, have giv­en up con­ces­sions to allow their employ­ers to ​'com­pete with nonunion' con­trac­tors. Anger among work­ers, par­tic­u­lar­ly among appren­tices, has grown for this rea­son. And the rank-and-file ori­gins of #Count­MeIn clear­ly show that the mem­ber­ship is ready to fight.
The out­come of this land­mark strug­gle may well depend on whether the unions involved can become a vehi­cle for advanc­ing class strug­gle, and not cross-class com­pro­mise. The #Count­MeIn cam­paign has the poten­tial to break the decades-long decline in union mem­ber­ship in the build­ing trades in New York, espe­cial­ly if it opens an oppor­tu­ni­ty for the active engage­ment of the rank and file. This means mobi­liz­ing mem­bers, but also encour­ag­ing them to dis­cuss the next steps and take the cam­paign in their hands. All in all, win­ning this bat­tle will like­ly require the under­tak­ing of bold actions, dis­rup­tive pick­ets and even break­ing the law or going on strike if necessary.
Juan Cruz Ferre
is a writer and edi­tor for Left Voice and La Izquier­da Diario. He is a polit­i­cal activist and med­ical doc­tor from Argenti­na and is cur­rent­ly pur­su­ing a PhD in Soci­ol­o­gy at the City Uni­ver­si­ty of New York.