The Answer To Burnout At Work Isn't "Self-Care"—It's Unionizing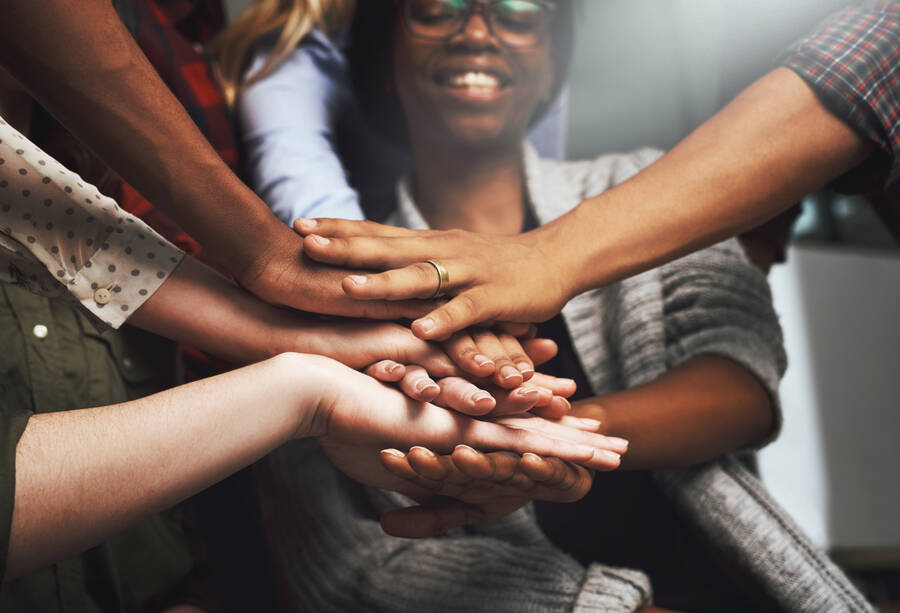 It's Mon­day morn­ing and your alarm goes off. As you wake up, the dread of going to work creeps in. You're feel­ing exhaust­ed, stressed out, under­paid and under­ap­pre­ci­at­ed. It's a mind­set you can't shake, and no amount of cof­fee will fix: You have work­place burnout.
The World Health Orga­ni­za­tion recent­ly includ­ed burnout as a legit­i­mate diag­no­sis in their hand­book that guides med­ical pro­fes­sion­als in diag­nos­ing dis­eases. It is char­ac­ter­ized by three indi­ca­tors: ​"feel­ings of ener­gy deple­tion or exhaus­tion; increased men­tal dis­tance from one's job, or feel­ings of neg­a­tivism or cyn­i­cism relat­ed to one's job; and reduced pro­fes­sion­al efficacy."
So, what can be done about burnout? ​"Self-care" has been tout­ed by social media influ­encers as the best solu­tion to restor­ing your men­tal health, no mat­ter the cause. Sure, healthy food, exer­cise and sleep are impor­tant ways to deal with stress, and we could all use more of each. But eat­ing a sal­ad isn't going to fix the sys­temic prob­lems at your work­place, nor will get­ting a mas­sage give you a voice on the job, or increase your paycheck.
If you work at a non­prof­it, you might be all-too-famil­iar with work­place burnout. Non­prof­its are noto­ri­ous for being under­staffed and under-resourced. Work­ers at non­prof­its often have to wear mul­ti­ple hats for the sake of sup­port­ing the mis­sion of the orga­ni­za­tion, and the result­ing stress can take a toll on their men­tal and phys­i­cal health.
It is impor­tant to address these work­place issues com­pre­hen­sive­ly, but there is one clear and imme­di­ate solu­tion: join a union.
Being in a union means that you and your cowork­ers work togeth­er to fix the prob­lems at your work­place, and then nego­ti­ate for solu­tions with man­age­ment. Whether this means col­lec­tive­ly bar­gain­ing for rais­es, vaca­tion time, bet­ter health­care or more clear-cut job duties, there is an unde­ni­able strength in a union. The nego­ti­a­tions will result in a legal­ly enforce­able union con­tract. Unlike most employ­ee hand­books, once you have a strong union con­tract, man­age­ment can't erode your pay or ben­e­fits, or fire you with­out notice.
Work­ers at orga­ni­za­tions such as the Cen­ter for Amer­i­can Progress, Com­mu­ni­ty Change and the Eco­nom­ic Pol­i­cy Insti­tute have orga­nized with the all-vol­un­teer Non­prof­it Pro­fes­sion­al Employ­ees Union (where I'm pres­i­dent) in order to cre­ate strength and sta­bil­i­ty at their offices. Recent­ly, work­ers at the New Muse­um and the Brook­lyn Acad­e­my of Music in New York orga­nized with the Unit­ed Auto Work­ers. Oth­er non­prof­its, like the staff at ALIGN New York, have joined the Com­mu­ni­ca­tion Work­ers of Amer­i­ca. The non­prof­it indus­try is a grow­ing sec­tor in the U.S. econ­o­my, and work­ers are increas­ing­ly demand­ing the dig­ni­ty they deserve at work.
Accord­ing to Tech Impact, the top three rea­sons for non­prof­it work­ers quit­ting are being under­paid, lack of upward mobil­i­ty and exces­sive work­loads. Join­ing a union can help address each of these issues. Research shows that increas­ing wages leads to less turnover, which is good for both employ­ees and the orga­ni­za­tions at which they work. Non­prof­it work­ers in unions have also bar­gained for reg­u­lat­ed hours, tuition reim­burse­ment, trans­porta­tion ben­e­fits, paid parental leave and pro­fes­sion­al devel­op­ment — all of which help work­ers stick around longer and feel more sat­is­fied at their job. Plus, hav­ing a union reduces gen­der and racial wage gaps, and pro­vides work­ers the tools with which to fight discrimination.
August 17 is Nation­al Non­prof­it Day — a time to cel­e­brate all of the vital work done by non­prof­its across the coun­try. Much of that praise is owed to the mil­lions of non­prof­it work­ers who are often work­ing longer hours than their pri­vate sec­tor coun­ter­parts. Most non­prof­it work­ers know they're not going to get rich with their cho­sen occu­pa­tion, but they still deserve a voice on the job. A union­ized work­place pro­vides work­ers fair and equal treat­ment through their con­tract. But a union is more than a con­tract — it's a sys­tem to improve your life at work. While hav­ing a union won't mag­i­cal­ly fix all of your prob­lems, it pro­vides a blue­print for solv­ing them.
Your best defense against burnout isn't self-care, it's join­ing togeth­er with your col­leagues to build pow­er col­lec­tive­ly at your workplace.
Kay­la Bla­do
is the pres­i­dent of the Non­prof­it Pro­fes­sion­al Employ­ees Union.