Striking Bus Drivers Steer the Way to a Better World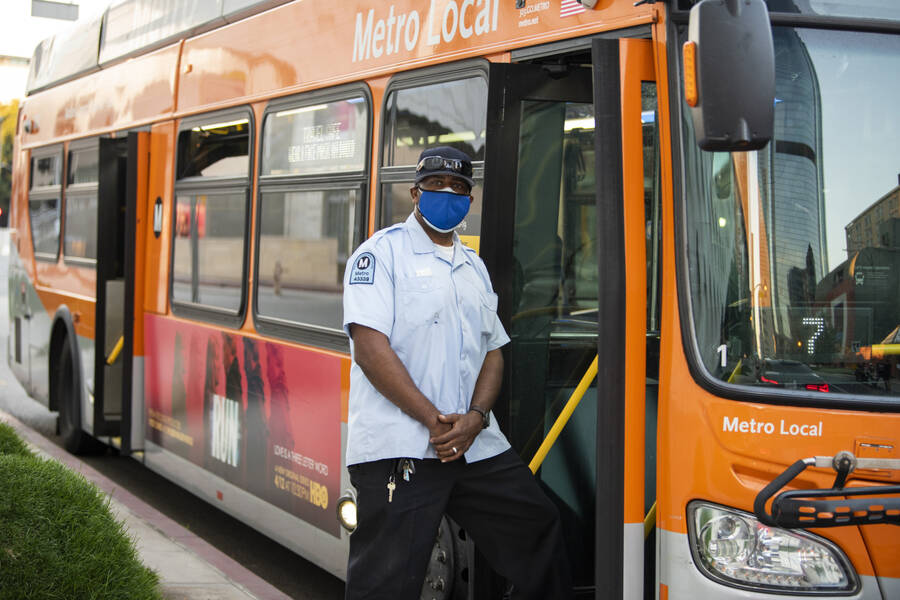 All eyes are on essen­tial work­ers dur­ing the coro­n­avirus pan­dem­ic, as indi­vid­u­als, com­pa­nies and even the fed­er­al gov­ern­ment make a point to thank them for their hero­ic action: work­ing. Front­line work­ers have received plen­ty of sym­bol­ic acco­lades, but many are work­ing with­out prop­er per­son­al pro­tec­tive equip­ment (PPE) and haz­ard pay, and are scared for their health and safe­ty. Pub­lic tran­sit work­ers, who shut­tle oth­er essen­tial work­ers to and from work, have been sound­ing the alarm about poor safe­ty stan­dards at their jobs since the begin­ning of the coro­n­avirus pan­dem­ic. The Amal­ga­mat­ed Tran­sit Union (ATU), which rep­re­sents 200,000 work­ers in the Unit­ed States and Cana­da, told In These Times that near­ly 1,000 of its mem­bers have been infect­ed with coro­n­avirus, and almost 40 have died. In response, the union has tak­en action by set­ting up coro­n­avirus test sites, shar­ing infor­ma­tion about safe­ty gear, and lob­by­ing both the fed­er­al and state gov­ern­ments to do more to pro­tect tran­sit work­ers. It has also part­nered with the Trans­port Work­ers Union of Amer­i­ca (TWU) to increase its strength.
But the best way for work­ers to show their strength is to with­hold their labor, and ATU locals across the coun­try are engag­ing in work stop­pages to make sure tran­sit agen­cies under­stand what's at stake if they don't take imme­di­ate action to pro­tect work­ers and rid­ers. Bus dri­vers in Detroit kicked off the wave of work­place actions on March 17, rel­a­tive­ly ear­ly in the pan­dem­ic, by shut­ting down bus ser­vice through­out the city, leav­ing only 10% of bus­es run­ning. They won all of their demands around health and safe­ty, includ­ing sus­pen­sion of fares, rear door entrance, and PPE for dri­vers — but unfor­tu­nate­ly, at least one bus dri­ver has died from coro­n­avirus. (ATU Inter­na­tion­al Pres­i­dent John Cos­ta says that trans­port work­ers ​"have been the biggest casu­al­ty from this pandemic.")
Sev­er­al Birm­ing­ham dri­vers took action next and refused to work on March 23, in order to make the tran­sit author­i­ty increase safe­ty. They went back to work the fol­low­ing day after hav­ing won mul­ti­ple safe­ty mea­sures, includ­ing a man­date that pas­sen­gers only use the rear door when board­ing and exit­ing bus­es, phys­i­cal bar­ri­ers around the oper­a­tor seat­ing area to give dri­vers social dis­tance from rid­ers, and only allow­ing 15 to19 pas­sen­gers on each bus, depend­ing on size of the bus. Gre­go­ry Rod­dy, Pres­i­dent of ATU Local 725 in Birm­ing­ham, told In These Times that bus dri­vers ​"are here ready to work. But we will not work in an unsafe environment."
Dri­vers in Rich­mond, Vir­ginia and Greens­boro, North Car­oli­na also took action for safe­ty on the job the fol­low­ing month. On April 27, about 50 dri­vers in Rich­mond caused mas­sive ser­vice delays by call­ing out of work to demand haz­ard pay, in addi­tion to oth­er safe­ty pre­cau­tions, like PPE, on-site test­ing, and fur­lough pro­tec­tions. Two days lat­er, bus ser­vice was stopped in Greens­boro as some dri­vers refused to show up at work after a fel­low dri­ver test­ed pos­i­tive for Covid-19. The tran­sit author­i­ty san­i­tized bus­es and work­spaces, and dri­vers returned to work the fol­low­ing day. Rod­dy shared that the coro­n­avirus pan­dem­ic has inspired Alaba­ma bus dri­vers to take action, and that their next fight is for haz­ard pay. Rod­dy said that ​"one per­son can be bro­ken, but all of us togeth­er, we can be strong."
Lay­offs have swept the nation and tran­sit work­ers are not immune: They have also been laid off and fur­loughed. Pres­i­dent Cos­ta said that with­out fed­er­al inter­ven­tion, lay­offs and cuts to mass tran­sit could con­tin­ue, long after the pan­dem­ic. But he also said his mem­bers are ready to fight back: ​"If we can build ships and bombs, we can trans­fer mon­ey back into the pub­lic tran­sit sys­tem to keep the cities alive."
The coro­n­avirus pan­dem­ic has opened up new con­ver­sa­tions about the future of pub­lic tran­sit — in most­ly scary ways, unless work­ers orga­nize to take more con­trol. Because so many peo­ple are now either laid off or work­ing from home, rid­er­ship is down by 75% nation­wide, accord­ing to sta­tis­tics from the Tran­sit App com­pa­ny, so bus lines have been cut, and trains come less fre­quent­ly. And because numer­ous cities like New York and Philadel­phia are push­ing aus­ter­i­ty bud­gets in response to deficits caused by the pan­dem­ic, many work­ers, rid­ers and tran­sit and envi­ron­men­tal advo­cates are con­cerned that pub­lic trans­porta­tion won't be restored to its pre­vi­ous lev­el of ser­vice. This could leave thou­sands of union mem­bers out of work, and count­less oth­ers strug­gling to get to work, school and appoint­ments on time.
But there are also open­ings to cre­ate a bet­ter, health­i­er future, as the pan­dem­ic has forced many of us to reck­on with the past and imag­ine a new world. And as the coro­n­avirus cri­sis has rocked our soci­ety, car­bon diox­ide emis­sions are pro­ject­ed to drop by about 8% this year. Busi­ness­es are closed, air trav­el has decreased, and mil­lions of peo­ple are stuck at home, lim­it­ing emis­sions — for now. Going back to busi­ness as usu­al is not an option for the cli­mate — and it's not an option for work­ers either. This is not to argue that the pan­dem­ic is in any way a good thing: There is no doubt that the pan­dem­ic has rav­aged our soci­ety, and there's no way to spin that positively.
The coro­n­avirus cri­sis is a wake­up call for the cli­mate cri­sis, which will be far worse. Our only choice is to reimag­ine our soci­ety — to make jobs safer, and to mas­sive­ly invest in pub­lic tran­sit, in order to help work­ers through this cri­sis and mit­i­gate the cli­mate cri­sis, which is poised to be far worse. Because of coro­n­avirus, the fos­sil fuel indus­try is in total dis­ar­ray, with prices col­laps­ing and demand falling. By increas­ing pub­lic trans­porta­tion, we can con­tin­ue decreas­ing car­bon diox­ide emis­sions, even when busi­ness­es begin to reopen and more peo­ple go back to work. This is also an oppor­tu­ni­ty to cre­ate more good, union jobs — espe­cial­ly when unem­ploy­ment is at near­ly 25%. Bus dri­vers have already proven that they're will­ing to take action to fight for health and safe­ty on the job — and win. But what else can trans­port work­ers strug­gle for?
ATU says its ​"mem­bers already know that pub­lic tran­sit is far more envi­ron­men­tal­ly sus­tain­able." The union obvi­ous­ly sup­ports expand­ing pub­lic tran­sit — that means more work­ers, and more mem­bers — but it also sup­ports mak­ing it free and pow­er­ing it by the wind, sun, and seas. A retiree from Local 732 in Geor­gia, Paul McLen­nan, agrees that ​"it's a no brain­er. We need more pub­lic tran­sit to get peo­ple out of cars." Build­ing and using elec­tric-pow­ered bus­es and mov­ing away from fos­sil fuels would of course be gigan­tic under­tak­ings for the union, but there's real­ly no oth­er choice if we have any hope of a real future for our cli­mate. The union choos­ing to pri­or­i­tize fight­ing for expand­ed pub­lic tran­sit — and fight­ing against aus­ter­i­ty — opens up doors to work with envi­ron­men­tal groups and free tran­sit advo­cates, and to build the coali­tion nec­es­sary to actu­al­ly win these huge demands. We've already seen this coali­tion at work dur­ing coro­n­avirus — 350​.org, Sier­ra Club, and Sun­rise Move­ment joined with ATU and TWU to demand that Con­gress increase the allo­ca­tion for emer­gency assis­tance to pub­lic transportation.
This work is no small feat, but Pres­i­dent Cos­ta said that ​"we've been shut down for six weeks. Oil is worth­less, they're giv­ing it away. Now the air is bet­ter, the world is clean­er. It pays to have a good and safe tran­sit sys­tem in our world, and the Green New Deal means cre­at­ing bet­ter jobs." If we want to tran­si­tion to a more just soci­ety, trans­port work­ers' jobs must be safe and dig­ni­fied, and we have to cre­ate more of them by expand­ing pub­lic tran­sit. In the words of McLen­nan, ​"when we see prob­lems from all sides, it makes for bet­ter solutions."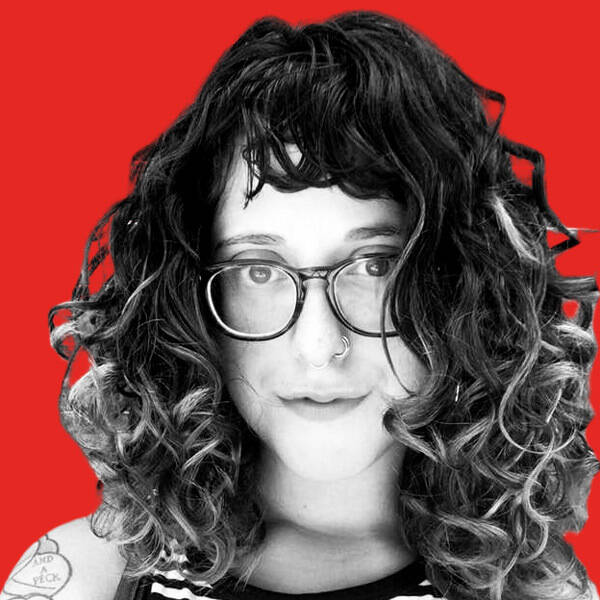 Mindy Iss­er
works in the labor move­ment and lives in Philadelphia.