Cab Drivers Union Says Chicago Taxi Industry Is Nearing Collapse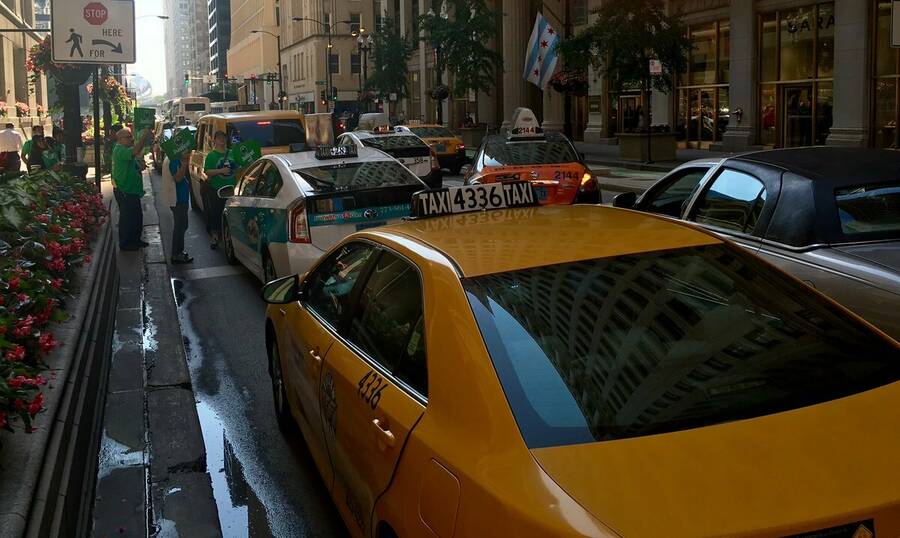 Ghana-born John Aikins has been a cab dri­ver in Chica­go for two decades. About 15 years ago, he decid­ed to go into busi­ness for him­self by tak­ing out a loan with his wife to pur­chase a medal­lion — a city-issued license to oper­ate a taxi — for $70,000. Pay­ing it off with­in a few years thanks to a steady stream of pas­sen­gers, they took out loan for a sec­ond medal­lion five years ago, using the first as collateral.
Watch­ing his medal­lions appre­ci­ate in val­ue over the years, Aikins planned to even­tu­al­ly sell or lease them to oth­er dri­vers, a com­mon prac­tice in the indus­try. ​"I hoped it would be my retire­ment invest­ment, and I had planned to retire this year," Aikins told In These Times.
But with the intro­duc­tion of Uber and oth­er rideshare com­pa­nies to the city — which can oper­ate with­out the expen­sive, city-issued medal­lions — Aikins has seen his clien­tele plum­met over the past three years, mak­ing it increas­ing­ly hard to keep up with his medal­lion loan payments.
Across the city, the num­ber of taxi rides dropped from 2.29 mil­lion in Jan­u­ary 2014 to 1.1 mil­lion in Jan­u­ary 2017, accord­ing to a report released recent­ly by Cab Dri­vers Unit­ed, AFSCME Local 2500 (CDU). As a result, the aver­age month­ly income per medal­lion has fall­en by $2,000 dur­ing the same time.
"Get­ting to the end of last year, things had changed so dras­ti­cal­ly," Aikins said. ​"We just couldn't make it." After recent­ly receiv­ing a notice of fore­clo­sure on his medal­lions, his retire­ment plans are now on hold.
Aikins is hard­ly alone. In the past three years, more than 1,300 taxi medal­lions in the city have either been sur­ren­dered to the city or put into fore­clo­sure sta­tus, while anoth­er 100 or so are fac­ing repos­ses­sion through law­suits by lenders, accord­ing to the CDU report.
This fore­clo­sure cri­sis is hurt­ing small fam­i­ly busi­ness­es most of all, CDU con­tends. Of the 6,999 taxi medal­lions in the city, 39 per­cent belong to small owner/​operators, like Aikins, who own four or few­er medallions.
"Because of the mis­con­cep­tion that the taxi indus­try is just big fleets, the fact that thou­sands of small busi­ness­es are dis­pro­por­tion­ate­ly being hurt by this cri­sis is too often over­looked," said Tracey Abman, asso­ciate direc­tor of AFSCME Coun­cil 31. ​"The taxi indus­try is real­ly about pro­vid­ing decent, full-time jobs — or was—for dri­vers."
In addi­tion to repay­ing loans on their medal­lions, taxi oper­a­tors also have to pay thou­sands of dol­lars each year in city expens­es, like the ground trans­porta­tion tax and medal­lion license renew­al fee — expens­es that rideshare dri­vers are not sub­ject to.
CDU says the num­ber of rideshare vehi­cles in Chica­go now exceeds 227,000, while 42 per­cent of the city's taxis didn't pick up a sin­gle pas­sen­ger this March. The union stress­es that the decline of the taxi indus­try is a loss for the broad­er pub­lic. Unlike most rideshare vehi­cles, taxis serve peo­ple with­out bank accounts by accept­ing cash, and they also have more strin­gent require­ments on pro­vid­ing access to peo­ple with disabilities.
Aikins says he doesn't fault the rideshare indus­try for his cur­rent predica­ment, but instead blames the city.
"We are so sad­dled with rules and tax­es and renew­al fees, and the city hasn't done any­thing to relieve us," he said. ​"It looks like they are just wait­ing for us to die off."
Last sum­mer, the City Coun­cil was poised to pass new reg­u­la­tions on rideshare com­pa­nies, which CDU hoped would help cre­ate fair­er com­pe­ti­tion. The orig­i­nal ordi­nance would have required fin­ger­print back­ground checks on rideshare dri­vers and would have man­dat­ed that at least 5 per­cent of all rideshare vehi­cles be wheel­chair-acces­si­ble — rules com­pa­ra­ble to those imposed on the taxi industry.
After the last-minute inter­ven­tion of May­or Rahm Emanuel, how­ev­er, a watered-down ver­sion of the ordi­nance was passed that removed the orig­i­nal pro­vi­sions on fin­ger­print­ing and wheel­chair acces­si­bil­i­ty. While the final ver­sion requires rideshare dri­vers to obtain spe­cial chauf­feur licens­es, it allows them to com­plete the nec­es­sary train­ing online instead of through the expen­sive in-per­son class­es taxi dri­vers must attend.
Crit­ics have accused Emanuel of being biased in favor of rideshare com­pa­nies, par­tic­u­lar­ly Uber. His broth­er Ari — a Hol­ly­wood agent and the inspi­ra­tion for Jere­my Piven's char­ac­ter on HBO's Entourage—is an Uber investor. Also, the mayor's for­mer chief of staff became an Uber exec­u­tive not long after pas­sage of last year's ordi­nance. Ear­li­er this year, Emanuel's Oba­ma admin­is­tra­tion col­league and for­mer Uber exec­u­tive David Plouffe was fined $90,000 by the Chica­go Board of Ethics after it was revealed he ille­gal­ly lob­bied the may­or on behalf of the rideshare giant in 2015.
With no help from the city, Aikins turned to Cab Dri­vers Unit­ed for assis­tance after receiv­ing his fore­clo­sure notice. Formed in 2014, CDU is a non-tra­di­tion­al union in that it does not bar­gain con­tracts, since labor laws clas­si­fy taxi dri­vers as ​"inde­pen­dent con­trac­tors" rather than ​"employ­ees." Made up of hun­dreds of dues-pay­ing mem­bers and a net­work of thou­sands of activists, CDU pro­vides edu­ca­tion­al work­shops for dri­vers, con­nects them to legal ser­vices and orga­nizes them to pres­sure law­mak­ers for fair­er treatment.
Furqan Mohammed, a pri­vate attor­ney whose firm part­ners with CDU, said he has talked with over 100 owner/​operators like Aikins fac­ing fore­clo­sure in recent months.
"Some of these dri­vers will owe upwards of $250,000 on these medal­lions, yet the under­ly­ing asset is worth maybe $50,000 if you can even find a will­ing buy­er," he said.
With CDU's help, Aikins con­tact­ed an attor­ney who recent­ly helped him file for Chap­ter 13 bank­rupt­cy in an effort to save his liveli­hood. Mohammed said his law firm is assist­ing many owner/​operators to restruc­ture their medal­lion loans, but he called it only a ​"tem­po­rary solution."
Longer-term, CDU is call­ing on the city to ease the finan­cial bur­dens of taxi dri­vers, includ­ing elim­i­nat­ing the medal­lion license renew­al fee and waiv­ing the ground trans­porta­tion tax for strug­gling owner/​operators.
The ground trans­porta­tion tax — paid once every two years — is due at the end of June. Aikins said the tax for two years is about $2,000.
"It doesn't make sense," he said. ​"The city knows we don't have the money."
"If the city were to cre­ate a hard­ship waiv­er for the ground trans­porta­tion tax lit­er­al­ly in the next few weeks, that would send a sig­nal to these small owner/​operators that the city does care about them and is pre­pared to work on a more com­pre­hen­sive pack­age for reform," AFSCME's Abman said.
"If relief is not pro­vid­ed [in the com­ing weeks] we will see much more dec­i­ma­tion of the indus­try," she warned. ​"Time is of the essence."
Jeff Schuhrke has been a Work­ing In These Times con­trib­u­tor since 2013. He has a Ph.D. in His­to­ry from the Uni­ver­si­ty of Illi­nois at Chica­go and a Master's in Labor Stud­ies from UMass Amherst. Fol­low him on Twit­ter: @JeffSchuhrke