Calif. Union Rebels Demand Biggest Labor Board Vote In Seven Decades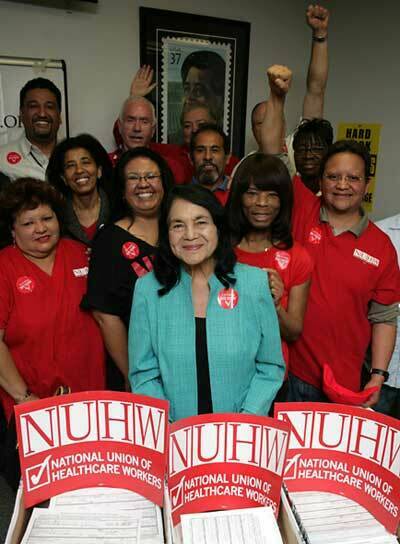 Unhap­py Kaiser work­ers aim to leave SEIU, join NUHW
With jus­ti­fi­able pride (and the num­bers to prove it), the 1.9 mil­lion mem­ber Ser­vice Employ­ees Inter­na­tion­al Union (SEIU) has long claimed to be the ​"fastest grow­ing union in Amer­i­ca." By the end of this year, it could become the fastest-shrink­ing union in Cal­i­for­nia — a rever­sal of for­tune large­ly unfore­seen until recently.
The archi­tects of SEIU down­siz­ing (if it occurs) are not bud­get-cut­ting Repub­li­can gov­er­nors or anti-union nurs­ing home own­ers or union-bust­ing hos­pi­tals, although all will be impact­ed by the upcom­ing vote demand­ed yes­ter­day by thou­sands of Kaiser Per­ma­nente (KP) work­ers. In Los Ange­les and San Fran­cis­co, unhap­py SEIU mem­bers held press con­fer­ences Tues­day to announce that they are seek­ing Nation­al Labor Rela­tions Board (NLRB) elec­tions so they can switch to the rival Nation­al Union of Health­care Work­ers (NUHW).
Their con­test­ed bar­gain­ing units cov­er 45,000 employ­ees at California's largest hos­pi­tal chain. To get a rep­re­sen­ta­tion vote in a group of this size, you need to sign up, in very short order, at least 13,500 peo­ple in 350 dif­fer­ent work loca­tions in one of America's largest states. (And that min­i­mum 30% ​"show­ing of inter­est" to trig­ger a vote was cer­tain­ly far exceed­ed by NUHW sup­port­ers at Kaiser who did the bulk of the sig­na­ture-gath­er­ing on their own time — before, dur­ing and after sched­uled work shifts.)
As a long­time helper of labor orga­niz­ing dri­ves on the east coast — the largest of which involved 10,000 few­er work­ers in a pub­lic sec­tor cam­paign thir­ty years ago — my hat is off to the for­mi­da­ble rank-and-file team that's re-build­ing union­ism at Kaiser today. After all, it's not every day that some­one knocks on the door of the NLRB and says: ​"Hey, let's hold the biggest union rep­re­sen­ta­tion vote since the 1940s."
Depend­ing on how much legal foot-drag­ging SEIU does now, the elec­tion could be held any­time between late August and October.
At the Bay Area NUHW press brief­ing, host­ed by UNITE HERE Local 2, Kaiser work­ers explained why they want out of their exist­ing union. Since Jan­u­ary of 2009, when for­mer SEIU pres­i­dent Andy Stern (now a drug com­pa­ny board mem­ber) put 150,000-member Unit­ed Health­care Work­ers (UHW) under trustee­ship for chal­leng­ing his heavy-hand­ed rule, things have not gone well for care-givers in California.
Kaiser social work­ers Ran­di Shaw and David Shapiro were part of a pre-trustee­ship UHW chap­ter that had 350 wide­ly-dis­persed mem­bers, but a strong net­work of 35 elect­ed shop stew­ards. The social work­ers felt con­nect­ed to Kaiser con­tract nego­ti­a­tions in 2000 and 2005 that Shapiro par­tic­i­pat­ed in as a bar­gain­ing com­mit­tee member.
"As social work­ers, we believe in democ­ra­cy, in elect­ing our stew­ards," Shaw said. ​"When SEIU took over our local, they said noth­ing would change. But one of the first things they did was remove stew­ards and oth­er elect­ed lead­ers." Day-to-day rep­re­sen­ta­tion has suf­fered as result, Shaw and Shapiro report­ed. Only mem­bers will­ing to sign an offi­cial SEIU loy­al­ty oath are eli­gi­ble to serve as stew­ards or negotiators.
So Kaiser man­age­ment is tak­ing advan­tage of the weak­er, less expe­ri­enced peo­ple who've replaced the hun­dreds of Kaiser stew­ards who have quit or been purged by SEIU because of their NUHW sym­pa­thies. ​"It's very dif­fer­ent work­ing at Kaiser now, ​"Shaw said. ​"The cul­ture has changed and you can feel it."
Shapiro cit­ed the gains made by fel­low Kaiser pro­fes­sion­als in south­ern Cal­i­for­nia who were the first to switch unions in Jan­u­ary, in a land­slide vote against SEIU. The nurs­es in that group of 2,500 imme­di­ate­ly went to work on the issue of staffing lev­els. They were able to nego­ti­ate addi­tion­al RN posi­tions at a time of Kaiser-wide job elim­i­na­tion — a trend that NUHW says is not being effec­tive­ly resist­ed by SEIU. Aid­ing the lat­ter, Kaiser tried to pun­ish work­ers who vot­ed for NUHW by deny­ing them a pre­vi­ous­ly sched­uled wage increase — an unfair labor prac­tice so bla­tant that it forced even the slow-mov­ing and employ­er-friend­ly NLRB to issue a com­plaint against KP sev­er­al weeks ago.
This employ­er retal­i­a­tion was not unre­lat­ed to a much larg­er pat­tern of man­age­ment sup­port for the incum­bent union and inter­fer­ence with the activ­i­ties of the insur­gent one. The much-her­ald­ed Kaiser ​"labor-man­age­ment part­ner­ship" has become an addi­tion­al weapon against employ­ee free choice.
Work­ers are being told by SEIU that they will lose the ben­e­fits of a Kaiser labor coali­tion con­tract just nego­ti­at­ed — and won't be allowed to join either the part­ner­ship or the 30-union coali­tion that par­tic­i­pates in it.
Nei­ther threat seems to be doing too much dam­age so far.
The new SEIU-Kaiser agree­ment has been wide­ly crit­i­cized by NUHW sup­port­ers and has won them fur­ther shop-floor sup­port from co-work­ers in the Cal­i­for­nia Nurs­es Asso­ci­a­tion. CNA mem­bers have always opposed the part­ner­ship and believe the just-rat­i­fied SEIU deal sets a bad prece­dent for their own statewide bar­gain­ing next year. Between them, CNA and UNITE HERE have pro­vid­ed more than $3 mil­lion in loans and grants to NUHW since the new union was launched 17 months ago. Scores of orga­niz­ers, on loan from UNITE HERE, have also been assist­ing NUHW's bare-bones net­work of low-paid, full-time staffers and its ded­i­cat­ed cadre of Kaiser cam­paign volunteers.
"Kaiser work­ers are on the verge of mak­ing his­to­ry and tak­ing their union back," Local 2 sec­re­tary-trea­sur­er Lam­oin Wer­lein-Jaen told the press con­fer­ence. ​"We have a shared vision that empha­sizes democ­ra­cy and plac­ing mem­bers at the cen­ter of our orga­niz­ing, our work, and our decision-making."
Out­side Werlein-Jaen's union hall door, a small group of pur­ple-clad SEIU mem­bers hand­ed out anti-NUHW fly­ers, accom­pa­nied by a ner­vous-look­ing young staffer named Adri­ana Sur­fas. Adri­ana is the PR per­son who raised a few eye­brows in May when SEIU pulled out of a long-sought NLRB vote at UCS Uni­ver­si­ty Hos­pi­tal in Los Angeles.
Amid a vicious anti-union cam­paign by man­age­ment – that was aid­ed and abet­ted by SEIU — the incum­bent union sud­den­ly removed itself from the bal­lot! Adri­an told the Los Ange­les Times that this was because man­age­ment ​"had cre­at­ed an extreme­ly hos­tile envi­ron­ment, so that work­ers who sup­port­ed union­iza­tion feared what was going to hap­pen." What hap­pened was that 393 work­ers vot­ed for NUHW, 122 vot­ed for no union, and the union that rep­re­sent­ed all of them until the day before sim­ply vamoosed.
Since the well-deserved loss of SEIU's entire KP mem­ber­ship would be quite a blow to new nation­al pres­i­dent Mary Kay Hen­ry — and a set-back for Stern-appoint­ed UHW trustee Dave Regan, who is about to become the per­ma­nent leader of UHW — no one expects a sim­i­lar dis­ap­pear­ing act at Kaiser. But before the bal­lot­ing is over, Kaiser work­ers will see more of that ​"extreme­ly hos­tile envi­ron­ment" in their own work­places, as SEIU and man­age­ment team up to make chang­ing unions as dif­fi­cult as possible.
Steve Ear­ly worked for 27 years as an orga­niz­er and inter­na­tion­al rep­re­sen­ta­tive for the Com­mu­ni­ca­tions Work­ers of Amer­i­ca. He is the author of sev­er­al books, includ­ing Refin­ery Town: Big Oil, Big Mon­ey, and the Remak­ing of an Amer­i­can City (Bea­con Press).