California Governor's Oh-So-Passive Resistance to Fracking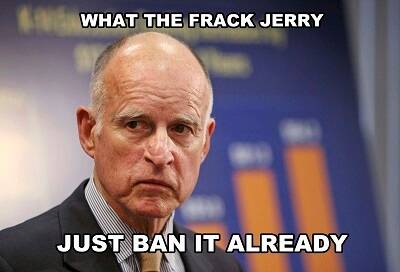 The West Coast is having a rough week. Genetically modified wheat was found in Oregon (where an active campaign currently fights GMO corn) and on Thursday, Joshua Frank posted on
&
nbsp;CounterPunch
&
nbsp;about the scramble to frack the oil out of California. Documentaries, community groups, farmers, and even judges around the world are communicating the dangers to air and water, and thus people and the environment, from the practice of fracking. Frank highlights the wishy-washy response from Governor Brown, who has tried to address these dangers while allowing fracking to move forward. Any irony in the state with the iconic smog of L.A. allowing oil fracking? Bueller? Bueller?
Gov. Brown
&
rsquo;s first effort to tackle fracking was considered meager at best. In December
2012
the Brown administration put forth a tepid proposal that would require fracking operators to disclose their plans to the state
10
days before ramping their operations. These companies would have to post the list of chemicals used to the online database
&
ldquo;FracFocus
&
rdquo; along with the locations they plan to frack. Since FracFocus is not subject to public record laws, companies may claim
&
ldquo;trade secrets
&
rdquo; exemptions to withhold the names of the chemicals used in their fracking. More details of Brown's weak opposition to fracking can be read at CounterPunch.