Not-For-Profit Hospitals Make Billions—and Provide Little Charity Care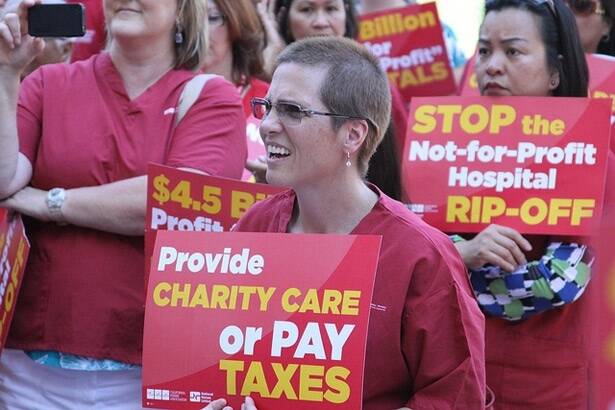 Not-for-prof­it hos­pi­tals, includ­ing some of the country's biggest and best-known insti­tu­tions, are almost entire­ly tax exempt, in part because of the expec­ta­tion they will pro­vide free or low-cost ​"char­i­ty care" to those in need. But a report released this week by a research arm of Cal­i­for­nia Nurs­es Asso­ci­a­tion / Nation­al Nurs­es Unit­ed found that Cal­i­for­nia not-for-prof­it hos­pi­tals are reap­ing huge tax ben­e­fits while pro­vid­ing min­i­mal char­i­ty care.
Many peo­ple don't real­ize that not-for-prof­it insti­tu­tions can accu­mu­late prof­its. They can; the prof­it can­not be dis­bursed to indi­vid­ual own­ers or stock­hold­ers but rather is sup­posed to be rein­vest­ed for the good of the com­mu­ni­ty. With hos­pi­tals, that is gen­er­al­ly assumed to include the pro­vi­sion of char­i­ty care to unin­sured or low-income peo­ple. But while 11 states, includ­ing Texas and Alaba­ma, man­date spe­cif­ic lev­els of char­i­ty care, Cal­i­for­nia and the fed­er­al gov­ern­ment do not.
As a result, not-for-prof­it tax breaks for well-known Cal­i­for­nia hos­pi­tals – includ­ing Cedars Sinai, Kaiser Per­ma­nente and Stan­ford Uni­ver­si­ty – dwarf the lev­el of char­i­ty care pro­vid­ed. Over­all, the 196 hos­pi­tals sur­veyed received $3.3 bil­lion in 2010 state and fed­er­al tax exemp­tions and spent only $1.4 bil­lion on char­i­ty care – a gap of $1.8 bil­lion. Three-quar­ters of the hos­pi­tals got more dol­lars in tax breaks than they spent on char­i­ty care. Half spent less than 2.46 per­cent of their oper­at­ing expens­es on char­i­ty care.
The tax breaks hurt finan­cial­ly strapped coun­ties and towns; accord­ing to the report, Cal­i­for­nia coun­ties and munic­i­pal­i­ties lost about $1 bil­lion in tax rev­enue they would have oth­er­wise col­lect­ed in 2010. Pub­lic bud­gets suf­fer when large insti­tu­tions don't pay tax­es, and bud­get crunch­es are often tak­en out on pub­lic work­ers, as well as those who rely on the ser­vices they pro­vide. Coun­ties or cities also end up essen­tial­ly pick­ing up the tab for health care when impov­er­ished patients can't pay and hos­pi­tals either deny care – divert­ing the patients else­where – or insist on billing. The report notes that Cal­i­for­nia coun­ties and towns paid $450 mil­lion in 2010 to for-prof­it and not-for-prof­it hos­pi­tals for care for peo­ple who could not pay their med­ical bills.
All of these spillover effects con­cern Nation­al Nurs­es Unit­ed, whose mis­sion includes patient advo­ca­cy and ​"acces­si­ble, qual­i­ty health­care for all." Spokesper­son Chuck Idel­son told In These Times, ​"Nurs­es see what hap­pens to their patients and their com­mu­ni­ties when these giant cor­po­rate hos­pi­tals behave more like Lehman Broth­ers or JP Mor­gan than a com­mu­ni­ty ser­vice. For exam­ple, Sut­ter Health has engaged in wide­spread slash­ing of men­tal health ser­vices, women's ser­vices, children's ser­vices – cuts that will make them profits."
The nurs­es' union pro­pos­es Cal­i­for­nia leg­is­la­tion that would force not-for-prof­it hos­pi­tals to beef up their char­i­ty care if they want to main­tain their tax exemp­tions. It wants hos­pi­tals to spend at least 8 per­cent of rev­enues on char­i­ty care, echo­ing a pro­pos­al made by the state attor­ney gen­er­al in 2006. The nurs­es are also demand­ing more trans­paren­cy in how hos­pi­tals report and define their char­i­ty care, to exclude the ​"pro­mo­tion­al activ­i­ties or cost con­tain­ment (inter­pret­ed by many hos­pi­tals as cut­ting ser­vices)" that are cur­rent­ly count­ed. Vio­la­tions of char­i­ty care oblig­a­tions could be pun­ished by fines and/​or the revok­ing of tax exempt status.
To those who wish to sup­port NNU's efforts, Idel­son says, ​"You can con­tact your leg­is­la­tor to insist they pass leg­is­la­tion, and tell the non-prof­it hos­pi­tals to cease their prac­tices of putting prof­its and exec­u­tive pay over char­i­ty care."
While Cal­i­for­nia relies more heav­i­ly than most states on not-for-prof­it hos­pi­tals, which take in 70 per­cent of Cal­i­for­nia patients, the nurs­es union says that sim­i­lar sit­u­a­tions exist nation­wide. In 2004 I wrote for the Chica­go Read­er about the reli­gious, not-for-prof­it chain Advo­cate deny­ing char­i­ty care to peo­ple in need – billing them for their care, and then suing them and gar­nish­ing their wages when they couldn't pay bills that were actu­al­ly larg­er than insured peo­ple would have been giv­en for the same service.
Ear­li­er this month scores of union nurs­es, in their trade­mark red garb, attend­ed the release of a report by the state audi­tor on char­i­ty care. At the hear­ing, State Board of Equal­iza­tion mem­ber Bet­ty Yee not­ed that not-for-prof­it hos­pi­tals actu­al­ly often pro­vide less char­i­ty care than for-prof­it institutions.
Many for-prof­it hos­pi­tals have tak­en a hit dur­ing the eco­nom­ic cri­sis, in part because of ris­ing num­bers of unin­sured and des­per­ate patients whom they are legal­ly oblig­at­ed to treat. (One excep­tion, as The New York Times report­ed this week, is the HCA chain owned by Bain Cap­i­tal, which has made huge prof­its large­ly through cut­ting ser­vices and staffing.)
Idel­son stressed that the debate shouldn't be about the mer­its of for-prof­it ver­sus not-for-prof­it health care sys­tems, but rather pub­lic ver­sus pri­vate ones. ​"If you look at the lev­el of char­i­ty care and oth­er com­mu­ni­ty ben­e­fits and pric­ing prac­tices, the dif­fer­ence between pri­vate not-for-prof­it and pri­vate for-prof­it hos­pi­tals is very small," she says. ​"But the dif­fer­ence between pri­vate and pub­lic sys­tems is mas­sive. The insti­tu­tions that are real­ly act­ing in a way peo­ple think hos­pi­tals should behave are the hard-pressed coun­ty and pub­lic hos­pi­tal systems."
Idel­son not­ed that while the union's rec­om­men­da­tions are nec­es­sary for the imme­di­ate future, the over­all cri­sis just under­scores the need for revamp­ing the country's entire pri­vate, prof­it-based health care system.
​"No one should have to wor­ry about get­ting access to med­ical care. You should not see ser­vices arbi­trar­i­ly cut because they are not prof­itable ser­vices. In the long term the only solu­tion is trans­form­ing our health­care sys­tem into the type most coun­tries have – which is a nation­al sin­gle-pay­er system."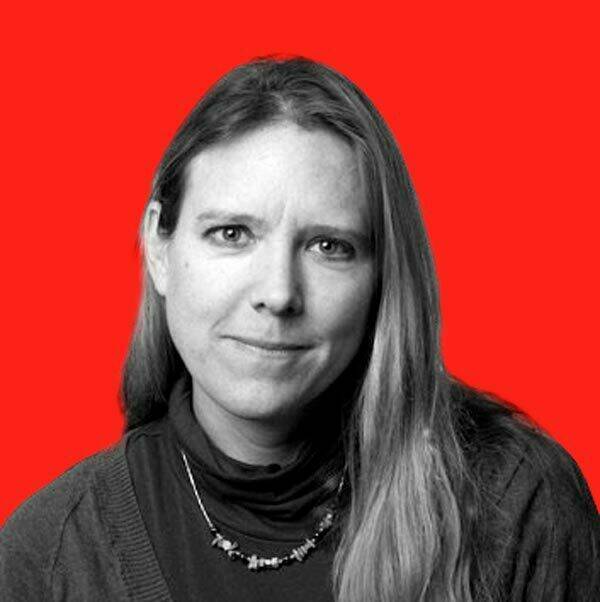 Kari Lyder­sen
is a Chica­go-based reporter, author and jour­nal­ism instruc­tor, lead­ing the Social Jus­tice
&
amp; Inves­tiga­tive spe­cial­iza­tion in the grad­u­ate pro­gram at North­west­ern Uni­ver­si­ty. She is the author of May­or
1
%: Rahm Emanuel and the Rise of Chicago's
99
%.