Call for Participants: Home-Based Worker Organizing Forum in April!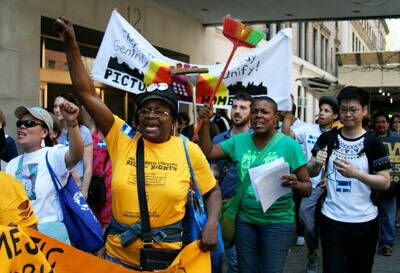 Workshop/​worker pan­el to take place April 23 – 25, in Detroit, Michi­gan, in con­junc­tion with the 2010 Labor Notes Con­fer­ence.

Dear Broth­er or Sis­ter:

We write because of our inter­est in the chal­lenge of orga­niz­ing and rep­re­sent­ing home-based work­ers.

As labor activists, direct care providers, or aca­d­e­m­ic researchers, we have all been involved in aid­ing or study­ing orga­niz­ing work among pub­licly-fund­ed per­son­al care atten­dants and child care providers, plus oth­er types of domes­tic work­ers. Large­ly female, peo­ple of col­or, and very often for­eign born, these work­ers have been the largest sin­gle source of new union mem­bers — more than 500,000 in the last ten years.
We believe that the work done by SEIU, AFSCME, AFT, CWA, UAW, and OPEIU to cre­ate new bar­gain­ing units among direct care work­ers — often pre­vi­ous­ly clas­si­fied as ​"inde­pen­dent con­trac­tors" — strength­ens on-going efforts by the Nation­al Domes­tic Work­ers Alliance to win new legal rights and pro­tec­tions for pri­vate­ly-employed home-based work­ers as well.

In recent months, how­ev­er, ade­quate fund­ing for home health ser­vices in Cal­i­for­nia and oth­er states has been threat­ened by local bud­get cuts. Changes in Medicare reim­burse­ment prac­tices — as part of Pres­i­dent Obama's ​"health care reform" — may also affect these pro­grams adversely.
Inter-union com­pe­ti­tion for home-based work­ers has inten­si­fied in places like Fres­no Coun­ty, Cal­i­for­nia, where the out­come of a vote involv­ing 10,000 home care work­ers last June is still being con­test­ed. In Illi­nois, 3,000 Illi­nois work­ers who pro­vide in-home care for the severe­ly dis­abled recent­ly vot­ed to reject rep­re­sen­ta­tion, despite hav­ing a choice between two unions on the bal­lot.

That's why we think this is a par­tic­u­lar­ly good time to step back and assess our col­lec­tive efforts to cre­ate a ​"voice-at-work" for home-based work­ers, while improv­ing the con­di­tions of domes­tic labor generally.
Dur­ing the week­end of April 23 – 25, in con­junc­tion with the bien­ni­al Labor Notes con­fer­ence in Detroit, Michi­gan, there will be a wide-rang­ing day­long dis­cus­sion of the chal­lenges fac­ing unions and work­ers cen­ters as they try to build durable, effec­tive, and mem­ber-dri­ven orga­ni­za­tions among men and women employed in such ​"non-tra­di­tion­al" work­places.

We hope you will join us in shap­ing the agen­da for this meet­ing, help­ing to pub­li­cize it, and par­tic­i­pat­ing, if you can. On a rare cross-union basis, we will be exchang­ing infor­ma­tion about home-based work­er orga­niz­ing and bar­gain­ing, rank-and-file lead­er­ship devel­op­ment, oth­er job-relat­ed train­ing pro­grams, plus on-going legislative/​political cam­paigns for union recog­ni­tion and pro­gram fund­ing. We hope to learn from each other's union build­ing suc­cess­es and set­backs, while iden­ti­fy­ing ​"best prac­tices" that might be repli­cat­ed more wide­ly.

To make sug­ges­tions for addi­tion­al con­tent or speak­ers at our planned home-based work­er panel/​workshop at the Labor Notes con­fer­ence, please con­tact Steve Ear­ly at Lsupport@​aol.​com or 617−930−7327.

You can reg­is­ter now for the over­all April 23 – 25 con­fer­ence, at www​.Labor​No​tes​.org.

Please share this invi­ta­tion with union co-work­ers or aca­d­e­m­ic col­leagues in Cal­i­for­nia, Wash­ing­ton, Ore­gon, Illi­nois, Michi­gan, Mis­souri, New York, New Jer­sey, Penn­syl­va­nia, Mass­a­chu­setts, or any of the oth­er states where home-based work­er orga­niz­ing has con­tributed so much to union mem­ber­ship growth in recent years.
Sin­cere­ly,

*Steve Ear­ly, Labor Notes Pol­i­cy Com­mit­tee mem­ber and for­mer orga­niz­er, CWA Dis­trict 1

*Ken McNa­ma­ra, pres­i­dent of CWA Local 1037, Newark, New Jer­sey

*Ken Allen, Exec­u­tive Direc­tor, AFSCME Dis­trict Coun­cil 75, Port­land, Ore­gon

*Priscil­la Gon­za­lez, Direc­tor, Domes­tic Work­ers Unit­ed, New York City

*Bar­ri Boone, home health care aide and mem­ber of SEIU Local 6434, San­ta Cruz, Cal­i­for­nia

*John Vel­lardi­ta, orga­niz­er, Nation­al Union of Health­care Work­ers Oak­land, Cal­i­for­nia.

*Jen­nifer Klein, Pro­fes­sor of His­to­ry, Yale Uni­ver­si­ty, and co-author, with Eileen Boris, of Car­ing For Amer­i­ca: How Home Health­care Work­ers Became The New Face of Labor

*Dana Simon, orga­niz­er, UNITE HERE Local 26, Boston, Mass. (and for­mer home-care orga­niz­er and nego­tia­tor for Unit­ed Health­care Work­ers-West­/­SEIU).

*Wade Rathke, founder of ACORN and chief orga­niz­er, ULU Local 100.

*Clare Stacey, Assis­tant Pro­fes­sor, Depart­ment of Soci­ol­o­gy, Kent State University
Steve Ear­ly worked for 27 years as an orga­niz­er and inter­na­tion­al rep­re­sen­ta­tive for the Com­mu­ni­ca­tions Work­ers of Amer­i­ca. He is the author of sev­er­al books, includ­ing Refin­ery Town: Big Oil, Big Mon­ey, and the Remak­ing of an Amer­i­can City (Bea­con Press).