Calling All Progressive Queers: Time To Dive Into Electoral Work
Creating a better, more Queer world takes a whole lot of door-knocking and canvassing.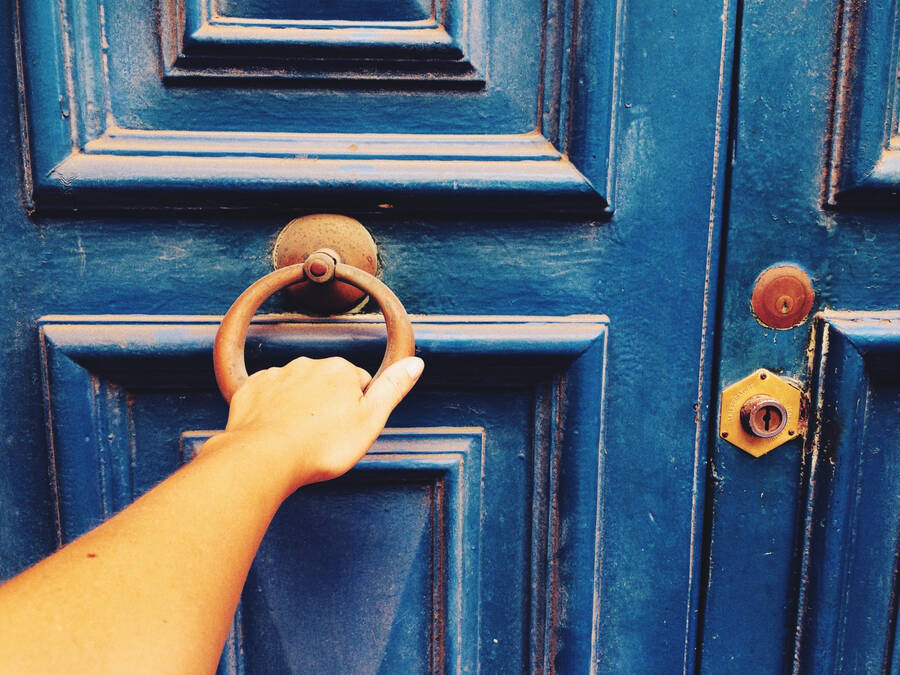 Elec­toral work, issue cam­paigns, pop­u­lar edu­ca­tion and can­vass­ing can be pow­er­ful vehi­cles for advanc­ing a broad­er strat­e­gy to over­come neolib­er­al­ism and win Queer lib­er­a­tion. Our goal as Queer polit­i­cal beings should be to dream up a pos­i­tive vision of the future — and devel­op the insti­tu­tions and pol­i­tics capa­ble of call­ing that vision into being. We are remind­ed of the crit­i­cal impor­tance of these tac­tics on the eve of the primary.
The task for Queer progressives is daunting: We must overcome neoliberalism, and our approach must contest the very halls of power that doom the most vulnerable in our community to early and sometimes violent death.
A Queer polit­i­cal pro­gram is one that con­scious­ly rejects the ​"nat­u­ral­ness" of gen­dered and sexed dif­fer­ences, instead demand­ing that com­mu­ni­ties cre­ate new insti­tu­tions and tra­di­tions. With­in this frame­work, we aspire to take respon­si­bil­i­ty for how we treat each oth­er — and to love more peo­ple more ful­ly. A Queer polit­i­cal approach must be embed­ded with­in a larg­er social jus­tice project that address­es the var­ied inter­ests of Queer folks in all of our dimen­sions, from the bath­room to the board­room. The expan­sion of Queer pol­i­tics can only be won by using a vari­ety of tac­tics to engage and per­suade our neighbors.
A per­ma­nent can­vass oper­a­tion is one tool Queer orga­niz­ers can use to break through the iso­la­tion and atom­iza­tion char­ac­ter­is­tic of our soci­ety. One of my first for­ays into local pol­i­tics was through a deep can­vass­ing pro­gram run by my local neigh­bor­hood group, Unit­ed Neigh­bors of the 35th Ward (UN35), locat­ed on the North­west Side of Chica­go. I was trained to ask a sin­gle ques­tion: ​"What would you like to see changed in the neigh­bor­hood?" With this direc­tive, I knocked on doors and shared sto­ries with neigh­bors, who start­ed devel­op­ing a col­lec­tive vision for the neigh­bor­hood. I was chal­lenged to talk with folks who might not share my spe­cif­ic vision of a Queer utopia, but want­ed solu­tions to prob­lems like pot­holes, expen­sive prop­er­ty tax­es and under­fund­ed schools.
Through build­ing rela­tion­ships, we were able to talk about Queer solu­tions to these prob­lems, like a fed­er­al jobs pro­gram to invest in pub­lic infra­struc­ture that doesn't dis­crim­i­nate based on race, sex, gen­der or crim­i­nal his­to­ry. We also talked about a pro­gres­sive income tax to ensure every­one can get access to the health­care they need, whether it's undoc­u­ment­ed fam­i­lies or Queer home­less youth. By hav­ing lay-lead­ers pro­duce, train, door-knock and debrief the can­vass oper­a­tion, we cre­at­ed avenues for com­mu­ni­ty mem­bers to become lead­ers and engage with the broad diver­si­ty of our ward.
Deep can­vass­ing also cre­ates the basis for a robust elec­toral pro­gram that can put Queer politi­cians into pow­er. UN35 was one of the ear­ly endorsers of Alder­man Car­los Rosa, Chicago's only open­ly social­ist Lat­inx to rep­re­sent our Ward in city coun­cil. Rosa is a trained com­mu­ni­ty orga­niz­er who shares a pro­gres­sive vision for a world beyond our bro­ken sys­tem, and he won with an aston­ish­ing 67 per­cent of the vote.
In the 2016 elec­tion cycle, UN35 won all of our endorsed races, with our precincts out­per­form­ing the broad­er dis­tricts. In total, the organization's lead­ers knocked on more than 4,000 doors and made rough­ly 6,000 phone calls. In coali­tion with Reclaim Chica­go, we col­lec­tive­ly donat­ed 5,000 hours of time and con­tact­ed 90,000 vot­ers for pro­gres­sives. Tak­ing on the crum­bling Chica­go machine was chal­leng­ing, but there is poten­tial that a Queer that focus­es on chang­ing the struc­ture of soci­ety also has appeal out­side of the urban core.
As we approach the March 20 pri­ma­ry vote, we face sim­i­lar orga­niz­ing chal­lenges. In a fed­er­al con­gres­sion­al dis­trict span­ning from dense urban Chica­go to the sprawl­ing sub­urbs of La Grange, Marie New­man is chal­leng­ing a Demo­c­rat in name only, Dan Lip­in­s­ki, and is hope­ful­ly poised for a pri­ma­ry upset. New­man, whose child is trans­gen­der, found­ed an anti-bul­ly­ing non-prof­it. But bul­ly­ing isn't the only issue fac­ing Queer folks in the 3rd con­gres­sion­al dis­trict, and New­man has com­mit­ted to sup­port the Peo­ple and Plan­et First bud­get to ensure all Amer­i­cans receive the ben­e­fits of pro­gres­sive tax­a­tion, health­care for all and a fed­er­al jobs pro­gram. She has also com­mit­ted to demand­ing bind­ing wage and labor stan­dards as part of any future transna­tion­al trade deals ensur­ing that Queer work­ers here and abroad get a liv­ing wage.
Newman's vic­to­ry in tomorrow's pri­ma­ry is not assured, as she lacks name recog­ni­tion and trails her oppo­nent in fundrais­ing. But when con­stituents are informed of Newman's stances on the issues com­pared to Lip­in­s­ki, she has a 5 point lead in the polls. This sug­gests there is a pro­gres­sive major­i­ty that is eager for an inclu­sive and pro­gres­sive alter­na­tive to the sta­tus quo. A pow­er­ful tac­tic to seize state pow­er for Queer orga­niz­ers is to find con­tra­dic­tions like those fac­ing vot­ers in in the 3rd con­gres­sion­al dis­trict, high­light the ten­sions to the gen­er­al pub­lic, and pro­vide a clear pro­gres­sive alter­na­tive to the sta­tus quo.
Pop­u­lar edu­ca­tion is crit­i­cal to this elec­toral work. To bridge the gap between low wages abroad, poor work­ing con­di­tions domes­ti­cal­ly and the ter­ri­ble job mar­ket for LGBT folks in par­tic­u­lar, I worked with a team of lead­ers from The People's Lob­by (TPL) to pro­duce Pop­u­lar Edu­ca­tion train­ings to help under­stand how the race to the bot­tom effects Chicagoans and Queer folks in particular.
Pop­u­lar edu­ca­tion, inspired by Augus­to Boal, can be used in a vari­ety of set­tings, learn­ing styles and edu­ca­tion lev­els. For abstract top­ics like glob­al­iza­tion, pop­u­lar edu­ca­tion is par­tic­u­lar­ly use­ful tool because it can bridge our local expe­ri­ences of oppres­sion to a broad­er struc­tur­al cri­tique of cap­i­tal­ism. Build­ing on the work of the Asia Floor Wage Alliance, we ana­lyzed how safe work­ing con­di­tions and ris­ing wages are pow­er­ful tools for advanc­ing fem­i­nist pol­i­tics. This was a jump­ing-off point to imag­ine how a pro­gres­sive, Queer vision of multi­na­tion­al trade agree­ments could advance Queer pol­i­tics along the same lines. We wres­tled with ideas and then prac­ticed per­suad­ing friends and fam­i­ly on the mer­its of glob­al sol­i­dar­i­ty as a way of expand­ing strug­gles for Queer lib­er­a­tion across borders.
Beyond train­ing and edu­ca­tion, TPL found­ed a Glob­al Min­i­mum Wage cam­paign to demand leg­is­la­tors sup­port bind­ing wage and labor stan­dards in future trade agree­ments. As of this writ­ing, Jan Schakowsky and Dan­ny Davis have ver­bal­ly sup­port­ed the plat­form. In coor­di­na­tion with allies through­out TPL's net­work, we are work­ing to recruit and train move­ment politi­cians to advance a glob­al vision of Queer jus­tice. This com­bi­na­tion of strat­e­gy and tac­tics sug­gests a path for­ward for local com­mu­ni­ty groups to engage in transna­tion­al pol­i­tics moored in local experiences.
Neolib­er­al soci­ety has exhaust­ed its pro­gres­sive poten­tial, and our world is rife with token rep­re­sen­ta­tives who lack the pow­er—or inter­est—to alter the struc­tures of soci­ety. The con­sid­er­able resources of local, state and nation­al gov­ern­ments have been cap­tured by the cor­po­rate elite, and the effects of our dis­as­trous world order are felt local­ly, but pro­duced glob­al­ly.
The task for Queer pro­gres­sives is daunt­ing: We must over­come neolib­er­al­ism, and our approach must con­test the very halls of pow­er that doom the most vul­ner­a­ble in our com­mu­ni­ty to ear­ly and some­times vio­lent death. Our strat­e­gy must be globe-span­ning, because the cor­po­ra­tions that prof­it from eco­log­i­cal cri­sis exist beyond the bounds of any sin­gle con­gres­sion­al dis­trict or nation­al government.
For the casu­al observ­er, this strat­e­gy may seem an impos­si­ble task, but the recent­ly depart­ed Ursu­la K. Le Guin remind­ed us that, ​"We live in cap­i­tal­ism, its pow­er seems inescapable – but then, so did the divine right of kings. Any human pow­er can be resist­ed and changed by human beings."
Ours is a world dom­i­nat­ed by a sin­gle max­im: prof­it at all costs. To move beyond this nar­row pol­i­tics, Queer polit­i­cal actors must devel­op strate­gies and tac­tics to expand the moral hori­zon of an exhaust­ed polit­i­cal and eco­nom­ic sys­tem. Queer orga­niz­ers can use these tac­tics to address the con­cerns of Queer folks not just as sex­u­al beings, but as work­ers, stu­dents, res­i­dents, cit­i­zens, migrants and the litany of oth­er iden­ti­ties we inhabit.
A path to vic­to­ry is not cer­tain, but our best chance requires a strat­e­gy that direct­ly address­es the root caus­es of our col­lec­tive oppres­sion and tac­tics that empow­er our com­mu­ni­ty. As Queer orga­niz­ers, we walk this path one door-knock at a time.
Michael is the Exec­u­tive Direc­tor of the Cen­ter for Pro­gres­sive Strat­e­gy and Research where their research inter­ests include race, employ­ment and transna­tion­al labor sol­i­dar­i­ty. They cur­rent­ly sit on the board of The People's Lob­by Edu­ca­tion Insti­tute and have pre­vi­ous­ly served on the boards of the Cross­roads Fund and In These Times mag­a­zine. They are a proud mem­ber of Chicago's pro­gres­sive queer community.