Candlelight Vigil at Cook County Jail Shines Light on Chicago's Mental Health Crisis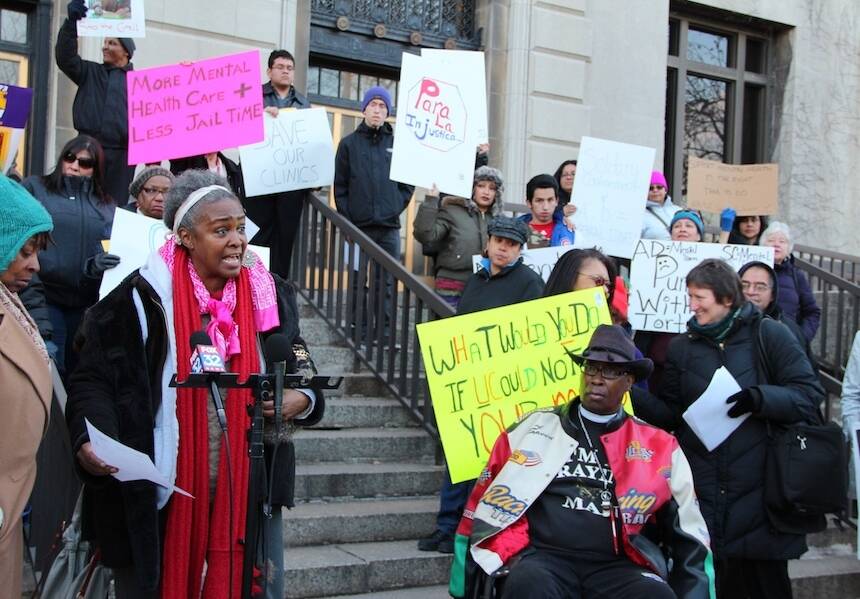 Hold­ing a can­dle­light vig­il on the steps of the country's largest jail Mon­day evening, Chicagoans tes­ti­fied one after anoth­er about the impor­tance of the city's pub­lic men­tal health clin­ics and ser­vice providers. Half of the city's 12 pub­lic men­tal health clin­ics were closed as a result of bud­get cuts in 2012, and advo­cates fear the remain­ing six are now over-bur­dened and being starved of resources.
Men­tal health advo­cates — and oth­ers, includ­ing Cook Coun­ty Sher­iff Tom Dart — say that the cuts in men­tal health care mean more peo­ple are end­ing up in the coun­ty jail. And being incar­cer­at­ed, fam­i­ly mem­bers and advo­cates say, only inten­si­fies men­tal health issues.
Mem­bers of the grass­roots Men­tal Health Move­ment, along­side mem­bers of AFSCME and SEIU Local 73 unions (which rep­re­sent Chica­go and Cook Coun­ty men­tal health work­ers) described the deep and wide-rang­ing effects of men­tal health crises on fam­i­lies and whole com­mu­ni­ties. Many thou­sands of Chicagoans go with­out the ben­e­fits of men­tal health care, they charged, espe­cial­ly after the clo­sure of the six clin­ics, as well as cut­backs in the coun­ty health care system.
​"We had peo­ple sta­bi­lized and able to work because they had talk ther­a­py," said Men­tal Health Move­ment leader N'Dana Carter. ​"Now in many com­mu­ni­ties peo­ple have nowhere to go, espe­cial­ly on the South Side."
The Men­tal Health Move­ment is call­ing on the Chica­go City Council's health com­mit­tee to hold a pub­lic hear­ing exam­in­ing the state of men­tal health care in the city and the effects of the clos­ings. After the vig­il, advo­cates vis­it­ed the near­by office of Alder­man George Car­de­nas, chair of the com­mit­tee on health and envi­ron­men­tal pro­tec­tion, dur­ing his sched­uled ​"ward night" hours. Car­de­nas did not meet with the group, but one of his staff held a pri­vate meet­ing with sev­er­al organizers.
​"We've been knock­ing on the door of Alder­man Car­de­nas since 2011 [ask­ing for the hear­ing], and he refused," Carter said. ​"In 2012 every one of [the alder­man ] vote[d] to close the clin­ics. We hope they were just igno­rant. We don't believe they're cold-heart­ed, we believe they're igno­rant. We want to have a hear­ing so we can give them a chance not to be ignorant."
On Wednes­day March 26, the coali­tion of advo­cates, work­ers and men­tal health con­sumers will hold a press con­fer­ence at City Hall with Alder­man Robert Fioret­ti. Fioret­ti is one of the few coun­cil mem­bers who have spo­ken out against May­or Rahm Emanuel, whose inau­gur­al bud­get found up to $3 mil­lion in sav­ings by clos­ing the six men­tal health clin­ics. The clin­ics are like­ly to be an issue in the race lead­ing up to the Feb­ru­ary 2015 may­oral elec­tion. Ama­ra Enyia, the first chal­lenger to announce her can­di­da­cy, spoke at the vigil.
​"I'm stand­ing in front of peo­ple, not sta­tis­tics," Enyia said, not­ing that men­tal health is ​"not a lux­u­ry. It's a mat­ter of qual­i­ty of life; it's a mat­ter of sur­vival in our com­mu­ni­ties. We need to reeval­u­ate our pri­or­i­ties as a city."
Ronald Jack­son, a Men­tal Health Move­ment mem­ber, not­ed that Bruce Rauner, the win­ner of the recent Repub­li­can guber­na­to­r­i­al pri­ma­ry, spent more on his pri­ma­ry cam­paign than the men­tal health clin­ic clo­sures were sup­posed to save. Rauner — a close friend of Emanuel—report­ed­ly spent $6 mil­lion of his own mon­ey on the race.
​"Our may­or talks about putting in riv­er walks and sta­di­ums we don't need," Jack­son said. "[But] if there's one per­son in a fam­i­ly, in a com­mu­ni­ty deal­ing with men­tal health needs, that whole com­mu­ni­ty is at risk."
Carter, of the Men­tal Health Move­ment, and oth­er men­tal health con­sumers stressed the cru­cial role their ther­a­pists play in their lives, and blast­ed the city for lay­ing off ther­a­pists, coun­selors and psy­chi­a­trists with the clin­ic clo­sures, leav­ing staff at the remain­ing clin­ics over-bur­dened. Mean­while sev­er­al men­tal health work­ers spoke out about the impact on their clients.
​"We're dis­turbed by the lack of sup­port for help­ing peo­ple get back on their feet," said Mau­reen Wil­son, an art ther­a­pist in the Cook Coun­ty Jail and union stew­ard for SEIU Local 73.
Union men­tal health staff and advo­cates have said the influx of peo­ple with men­tal health prob­lems has made con­di­tions worse at the seri­ous­ly over­crowd­ed jail.
The Cook Coun­ty Jail has often been described as the largest men­tal health care provider in the state, includ­ing by Sher­iff Dart, who over­sees the jail. Behav­ior or self-med­ica­tion relat­ed to men­tal health issues often lands peo­ple in jail if they are not receiv­ing the nec­es­sary care.
​"Too many times we see our peo­ple shack­led, locked up and chained, for what rea­son?" asked Dar­ius Light­foot, a mem­ber of the group Fear­less Lead­ing by the Youth (FLY). ​"Our peo­ple should be get­ting ser­vices, not shackles."
Fam­i­ly mem­bers and lawyers also argue over­crowd­ed and vio­lent con­di­tions in the jail exac­er­bate — and even cause — men­tal health prob­lems. The MacArthur Jus­tice Cen­ter at North­west­ern Uni­ver­si­ty recent­ly filed a fed­er­al law­suit that charges Cook Coun­ty Jail with sys­tem­at­ic bru­tal­i­ty and vio­lence. The suit alleges, among oth­er claims, that inmates are held in seg­re­ga­tion for extend­ed peri­ods, some­times as retal­i­a­tion for their com­plaints about jail conditions.
(The Chica­go Sun-Times quotes Jus­tice Cen­ter attor­ney David Shapiro say­ing: ​"Men tor­tured in seg­re­ga­tion hear those in neigh­bor­ing cells scream­ing into the night as they descend into psychosis.")
One moth­er, Frances Velez, spoke at the vig­il about the con­nec­tion between incar­cer­a­tion and men­tal health after vis­it­ing her 24-year-old son in the jail. Accord­ing to Velez, her son has been in Cook Coun­ty Jail for about five months await­ing tri­al, and she hasn't been per­mit­ted to speak with a doc­tor regard­ing her son's med­ical his­to­ry, which includes a seizure he suf­fered after being put behind bars. Velez has rea­son to wor­ry: Her son has suf­fered seizures since child­hood and also has a bul­let lodged near his spine, she said. Men­tal health issues may not have land­ed Velez's son in jail, but she and her sis­ter Con­nie rea­son that the stress of incar­cer­a­tion — includ­ing stints in 23-hour-a-day iso­la­tion — com­bined with his med­ical his­to­ry mean he needs men­tal health care.
​"Any­one would after spend­ing time in there," Velez said. ​"Even the moles under the ground need to come up for air some­times. That's not right. Even if pris­on­ers are incar­cer­at­ed, they are still peo­ple. They're somebody's son, somebody's nephew, somebody's father."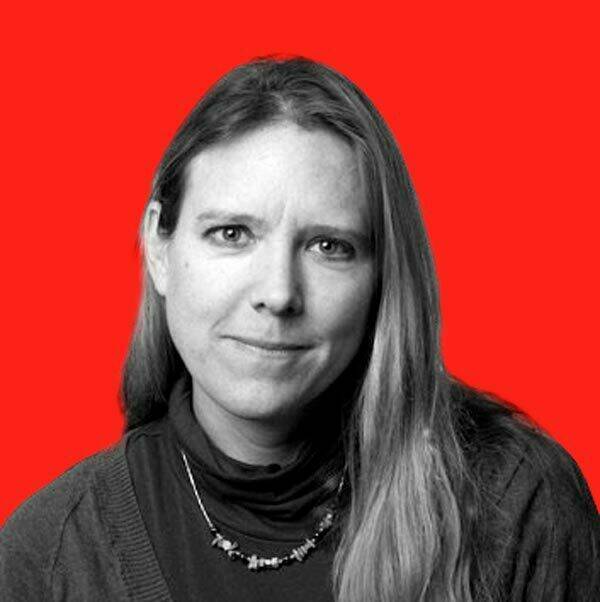 Kari Lyder­sen
is a Chica­go-based reporter, author and jour­nal­ism instruc­tor, lead­ing the Social Jus­tice
&
amp; Inves­tiga­tive spe­cial­iza­tion in the grad­u­ate pro­gram at North­west­ern Uni­ver­si­ty. She is the author of May­or
1
%: Rahm Emanuel and the Rise of Chicago's
99
%.