Capitalism Is Failing Its Coronavirus Stress Test—Only Workers Can Turn Things Around
Corporations will only do the right thing if we make them.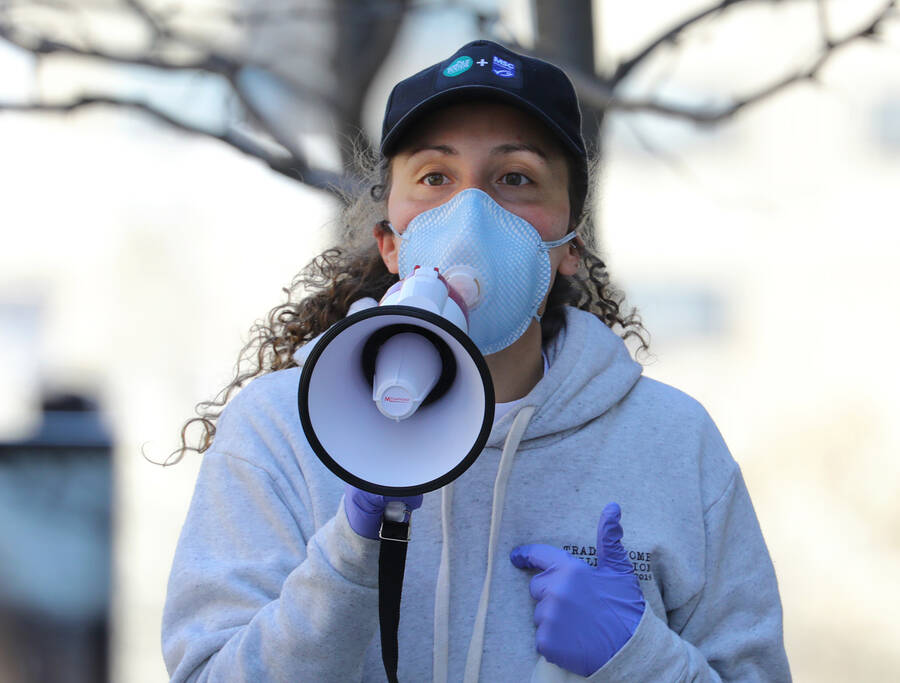 At this moment of unprece­dent­ed cri­sis, how can we ensure the phys­i­cal safe­ty and eco­nom­ic health of U.S. work­ers? Accord­ing to a recent USA Today op-ed by four nation­al union lead­ers — ​"Coro­n­avirus is a stress test for cap­i­tal­ism, and we see encour­ag­ing signs"—the answer is part­ner­ing with ​"well-man­aged com­pa­nies" who can ​"lead the recov­ery by pulling togeth­er and find­ing new ways to pro­tect, pay and retain employees."
It will take a lot more struggle and a lot more workplace organization to win the urgent economic and health measures that working people so desperately need to weather the worst crisis in generations.
We respect­ful­ly dis­agree. Faced with the coro­n­avirus, the only way to pro­tect the lives and liveli­hoods of work­ing peo­ple is through class strug­gle, not class snuggle.
It's true that some employ­ers have enact­ed rel­a­tive­ly pro-work­er mea­sures in response to COVID-19. But it's sur­pris­ing that an op-ed writ­ten by labor lead­ers fails to note the obvi­ous rea­son for this benev­o­lence: these com­pa­nies have been com­pelled to do so by work­er action, includ­ing the pres­ence of labor unions.
All com­pa­nies — even those with the most enlight­ened CEOs — are pushed by mar­ket com­pe­ti­tion to pri­or­i­tize prof­its above all else. That's why work­ing-class peo­ple can't ask ​"good" cor­po­ra­tions to save us. We have to save ourselves.
This is true in union­ized work­places, as seen by the nation­wide upsurge of nurs­es demand­ing employ­ers put safe­ty needs over their bot­tom line. And it is true in non-union work­places like Ama­zon and Whole Foods, where work­ers over recent weeks have led a hero­ic wave of walk­outs for basic protections.
Many of these strug­gles have already won impor­tant gains. Ama­zon was pushed by the protests to final­ly start pro­vid­ing masks to ware­house work­ers and take the tem­per­a­ture of employ­ees before their shifts. And after its walk­out, Instacart announced it would meet its employ­ees' demands for health and safe­ty kits.
But it will take a lot more strug­gle and a lot more work­place orga­ni­za­tion to win the urgent eco­nom­ic and health mea­sures that work­ing peo­ple so des­per­ate­ly need to weath­er the worst cri­sis in generations.
Essen­tial work­ers across the coun­try con­tin­ue to risk their lives, and receive pover­ty wages, due to employ­er greed. Women and work­ers of col­or dis­pro­por­tion­ate­ly shoul­der these bur­dens. It's not just our phys­i­cal health that is at risk today. Faced with the coro­n­avirus cri­sis, the emer­gency eco­nom­ic pro­tec­tions grant­ed in the Unit­ed States pale in com­par­i­son to most indus­tri­al­ized countries.
U.S. work­ers in com­pa­nies with over 500 employ­ees, or under 50, still are not guar­an­teed paid sick leave. A one-time $1,200 check from the gov­ern­ment won't come any­where near to mak­ing us whole in the face of what will like­ly be the worst eco­nom­ic cri­sis since the Great Depres­sion, and it entire­ly leaves out mil­lions of undoc­u­ment­ed work­ers. Final­ly, we remain the only major coun­try on earth not to guar­an­tee uni­ver­sal health­care as a right, so many of the over 22 mil­lion peo­ple who have lost their jobs over the past month now risk bank­rupt­cy in addi­tion to the virus.
Cap­i­tal­ism is fail­ing the stress test of COVID-19 — and we won't change this by appeal­ing to the moral­i­ty of cor­po­rate lead­ers. Employ­ers under­stand that grant­i­ng robust wel­fare pro­tec­tions and rec­og­niz­ing unions would sig­nif­i­cant­ly cut into their prof­its and pow­er — which is why Ama­zon is fir­ing work­ers who dare to orga­nize, why Trad­er Joe's is active­ly union-bust­ing, and why cor­po­rate-backed politi­cians on both sides of the aisle have failed to back the ambi­tious People's Bailout that this moment requires.
Labor unions today have the polit­i­cal oppor­tu­ni­ty and moral respon­si­bil­i­ty to help orga­nize a move­ment of the whole work­ing class, orga­nized and unor­ga­nized alike, to fight for the safe­ty and wel­fare pro­tec­tions that we all deserve. Like the work­ers at Sprouts Farm­ers Mar­ket in McAllen, Texas who won increased social dis­tanc­ing in their store by build­ing a super-major­i­ty of sup­port with their co-work­ers to demand safer work­ing con­di­tions from the boss, we can­not wait for cor­po­ra­tions to do the right thing, we need to force them to.
Signed:
Carl Rosen, Pres­i­dent, Unit­ed Elec­tri­cal, Radio & Machine Work­ers of Amer­i­ca (UE)
Sal Rossel­li, Pres­i­dent, Nation­al Union of Health­care Workers
Maria Svart, Nation­al Direc­tor, Demo­c­ra­t­ic Social­ists of America
Jed Dodd, Vice Pres­i­dent, Broth­er­hood of Main­te­nance of Way Employ­ees Divi­sion-Inter­na­tion­al Broth­er­hood of Teamsters
Dan Rus­sell, Exec­u­tive Vice Pres­i­dent, UPTE-CWA 9119
C. Robert McDe­vitt, Pres­i­dent, Unite Here! Local 54
John Pear­son, Pres­i­dent, AHS Chap­ter SEIU 1021
Ash­ley Payne, Vice Pres­i­dent, Con­tra Cos­ta Coun­ty Chap­ter SEIU 1021
Richard Hook­er, Sec­re­tary-Trea­sur­er, Team­sters Local 623
Keon Lib­er­a­to, Pres­i­dent, Penn­syl­va­nia Fed­er­a­tion-Broth­er­hood of Main­te­nance of Way Employ­ees Divi­sion-Inter­na­tion­al Broth­er­hood of Team­sters Local 3012
Dave Bernt, Team­sters Local 705 and Co-Chair, Team­sters for a Demo­c­ra­t­ic Union
Rand Wil­son, Chief of Staff, SEIU Local 888
Matt Taibi, Sec­re­tary-Trea­sur­er of Rhode Island Team­sters Local 251
Peter Hart, Puget Sound Region­al Direc­tor, Inland­boat­men's Union of the Pacific/​Marine Divi­sion of the ILWU
Cher­rene Horazuk, Pres­i­dent, AFSCME 3800 — U of MN Cler­i­cal Workers
Josh Arm­stead, Vice Pres­i­dent, UNITE HERE! Local 23 DC Chapter
Sheigh Free­berg, Sec­re­tary-Trea­sur­er, UNITE HERE! Local 17
Bren­da Rodrigues, Pres­i­dent, SEIU Local 888
Rebec­ca Garel­li, Co-founder & Lead Orga­niz­er for Ari­zona Edu­ca­tors United
Lau­ra Gab­by, Trustee, Car­pen­ters Union Local 157
Erin O'Callaghan & Sagen Cock­lin, Co-Pres­i­dents, UIC Grad­u­ate Employ­ees Orga­ni­za­tion, AFT Local 6297
Mer­rie Najimy, Pres­i­dent, Mass­a­chu­setts Teach­ers Association
Max Page, Vice Pres­i­dent, Mass­a­chu­setts Teach­ers Association
Adam Pel­leti­er, Local Pres­i­dent, AFGE Local 3343
Kel­ly Collings, Co-Chair, Cau­cus of Work­ing Edu­ca­tors in the PFT
Local 32035 the DSA Unit of the WBNG