Capitol Offense: One Wisconsin Unionist's Trip to Madison (Audio)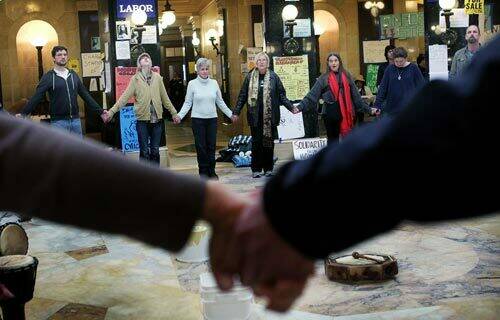 Jim Anton, an electrician and member of International Brotherhood of Electrical Workers (IBEW) Local 890, has had enough. The Williams Bay, Wis., resident has watched his wages stagnate since 1980, even as healthcare costs have steadily risen.
"Jesse Jackson once said, ​'Rising tides lift all boats,' Anton says. ​"These last 30 years have been a tide that's been going out."
This past weekend, Anton traveled to Madison to participate in the ongoing protests against legislation proposed by Gov. Scott Walker that would eliminate most collective bargaining rights for the great majority of the state's public workers. Journalist Brian A. Anderson joined him, and produced this moving audio piece, which vividly captures the sounds and drama inside and outside the Capitol.
All audio recording and production by Brian A. Anderson. Background music: ​"Prizewinning," by Julianna Barwick.
—Jeremy Gantz, In These Times Associate Editor/​Web Editor
Brian A. Anderson
, a former
In These Times
intern, is a graduate student at Northwestern University's Medill School of Journalism.