Carte Blanche
Congress capitulates to Bush's call for war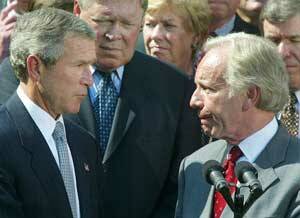 That both hous­es of Con­gress would pass a res­o­lu­tion giv­ing George W. Bush a free hand to take the coun­try to war against Iraq when­ev­er he felt like it — and that this blank check would be sup­port­ed by quite large majori­ties — was nev­er in doubt over these past few ter­ri­ble and depress­ing weeks.
Why? Because the hor­rors of the
9
⁄
11
attacks pro­duced a tec­ton­ic shift in our nation's pol­i­tics. The slow move­ment of the country's polit­i­cal cen­ter of grav­i­ty to the right was giv­en huge­ly increased momen­tum by
9
⁄
11
and its after­math. It accel­er­at­ed the Democ­rats' drift toward the cen­ter — not just on for­eign pol­i­cy — and cowed a major­i­ty of the party's incum­bents into a fear­ful reluc­tance to con­front head-on a deeply flawed but high­ly pop­u­lar Repub­li­can pres­i­dent whose ​
"
cru­sade" against ter­ror­ism had already giv­en him the Teflon aura of a ​
"
wartime" leader. All year long, the so-called oppo­si­tion par­ty has failed to oppose. So no one should have been sur­prised at the lop-sided vote in Con­gress for an unjus­ti­fied war in Iraq.
What became unmis­tak­ably clear in the days before the vote, how­ev­er, was the degree to which the Demo­c­ra­t­ic con­gres­sion­al lead­er­ship, by falling into the trap so art­ful­ly laid for them months ago by Karl Rove and the rest of Bush's polit­i­cal cabal, had con­nived in under­cut­ting their own party's chances of advancement.
When Dick Gephardt and Joe Lieber­man raced to the White House to stand shoul­der to shoul­der with Dubya in the Rose Gar­den to announce their co-spon­sor­ship of the administration's war res­o­lu­tion, they did more than sim­ply give Bush ​
"
the beau­ti­ful pic­ture he want­ed" for Novem­ber (as George Will glee­ful­ly crowed on ABC's This Week). Their das­tard­ly deal with Bush also guar­an­teed that Iraq will con­tin­ue to dom­i­nate the news right through Elec­tion Day, and thus suck the oxy­gen out of the bread-and-but­ter issues (the econ­o­my, Social Secu­ri­ty, Medicare and the like) on which the Democ­rats had hoped to take back the House and pre­serve the Sen­ate. Just as Rove had wanted.
Tom Daschle, too, fell neat­ly into the White House's pock­et when he decid­ed to fast-track the war res­o­lu­tion, instead of wait­ing until after Elec­tion Day. The coun­try was not clam­or­ing for an imme­di­ate deci­sion. In fact, all the polls showed grow­ing dis­com­fort with the notion of a war whose pur­pos­es — as described by Bush — seemed to change every week. Those same polls also showed that a major­i­ty of vot­ers believed Con­gress, not the pres­i­dent, should play the decid­ing role in com­mit­ting the coun­try to war, as indeed the Con­sti­tu­tion demands.
— —  —  — –
The strate­gic mis­take of Daschle and Gephardt in agree­ing to Bush's timetable mer­ci­less­ly trun­cat­ed the con­gres­sion­al debate; and put a gun to the head of Paul Well­stone, forc­ing him to go on record with a vote against the war that may wind up cost­ing him his seat (in any case, it will cer­tain­ly be inter­pret­ed that way if he los­es). And a Well­stone defeat could be the loss that costs the Democ­rats their one-vote Sen­ate majority.
The irony is that the Daschle-Gephardt sell­out, which green-light­ed the shred­ding of the Constitution's bal­ance of pow­er, came just as the savvy track­ers at the Nation­al Com­mit­tee for an Effec­tive Con­gress con­clud­ed for the first time in months that the Democ­rats had ​
"
a glim­mer — with the empha­sis on glim­mer — of a chance" to pick up
33
of the
55
bat­tle­ground House races. ​
"
If the Iraq vote had been put off until after the elec­tion," fumes vet­er­an NCEC boss Russ Hemen­way, ​
"
it's just now become clear that the Democ­rats would have won the House. But with less than a month to go after the vote, that's just not enough time" for the Democ­rats to get trac­tion on domes­tic issues. And in any case, Iraq will con­tin­ue to dom­i­nate the mass media at least until the U.N. Secu­ri­ty Coun­cil makes its decision.
More­over, now that Bush has what Bob­by Byrd called ​
"
anoth­er Gulf of Tonkin res­o­lu­tion" in his pock­et, he can play with war like a polit­i­cal yo-yo, throw­ing out new threats and heat­ing up his rhetoric every time his pop­u­lar­i­ty is men­aced by anoth­er con­flict-of-inter­est petro-scan­dal or the sink­ing econ­o­my, and then — most like­ly of all — sav­ing the actu­al first strike to reignite jin­go­is­tic fer­vor and jump-start his
2004
re-election.
The Tom-and-Dick-and-Har­ry capit­u­la­tion (Har­ry is Reid of Neva­da, the Sen­ate Demo­c­ra­t­ic whip who man­aged the floor debate and vot­ed for war) was most clear­ly denounced in the Sen­ate by its pres­i­dent
pro tem­pore,
crusty West Vir­ginia octo­ge­nar­i­an Byrd. The Democ­rats' one-time Sen­ate leader rose the day after the Rose Gar­den sell­out to pro­claim his oppo­si­tion to:
a uni­lat­er­al, pre-emp­tive attack on a sov­er­eign nation that is per­ceived to be a threat to the Unit­ed States. This is an unprece­dent­ed and unfound­ed inter­pre­ta­tion of the president's author­i­ty under the Con­sti­tu­tion of the Unit­ed States — not to men­tion that it stands the Char­ter of the Unit­ed Nations on its head. … What a shame! Fie upon the Con­gress! Fie upon some of the so-called lead­ers of the Con­gress for falling into this pit … this rush­ing to vote on whether to declare war on Iraq with­out ask­ing why.
Return­ing again and again to the Sen­ate floor, Byrd, in his his­tor­i­cal­ly eru­dite per­ora­tions — many of them ad-libbed — spelled out how the blank check for war risked fun­da­men­tal­ly and per­ma­nent­ly tip­ping the Con­sti­tu­tion­al bal­ance of pow­er to the president's advan­tage — not just for lit­tle Dubya, but for all future pres­i­dents. The very char­ac­ter of our democ­ra­cy has thus been threatened.

Byrd — like Den­nis Kucinich in the House — also kept ham­mer­ing away at the resolution's depraved autho­riza­tion of aggres­sive war. Ted­dy Kennedy final­ly joined him on that issue in the best of his major Iraq speech­es. So too did gut­sy Russ Fein­gold, who scorn­ful­ly flayed Bush's prime-time Cincin­nati address as ​"a shod­dy piec­ing togeth­er of flim­sy evi­dence that con­tra­dicts the very brief­in­gs we have received'' in link­ing Iraq to 9⁄11.

In the House, safe-seat Hen­ry Wax­man was one of many sell­out lib­er­als who fol­lowed Gephardt's lead — even though he said his con­stituents' mail and phone calls were over­whelm­ing­ly anti-war — on the grounds that it would send a mes­sage of ​"uni­ty" to get the Unit­ed Nations to act. But his fel­low Cal­i­forn­ian, senior lib­er­al George Miller, refut­ed that argu­ment, say­ing, ​"the res­o­lu­tion sug­gests to the Unit­ed Nations that they real­ly need not act, because some­how the Unit­ed States alone will take care of Sad­dam Hussein."

By a sig­nif­i­cant major­i­ty, House Democ­rats wound up vot­ing against the war (126 to 81) — a much larg­er no vote than any­one expect­ed, and a sting­ing black eye for Gephardt. Grass­roots sen­ti­ment was so mas­sive­ly against the war in a lot of dis­tricts that it turned the votes of many who were waver­ing and gave them spine. The Demo­c­ra­t­ic lead­er­ship in both hous­es seri­ous­ly mis­read the mood of their own par­ty as well as that of the country.

— —  —  — –

Still, the world's only hopes for avoid­ing a war with the most sin­is­ter long-term geopo­lit­i­cal con­se­quences now rest in the hands of two of the world's most noto­ri­ous crooks: Vladimir Putin, KGB-trained spawn of the Russ­ian klep­toc­ra­cy, and Jacques Chirac, saved from pros­e­cu­tion only by the pres­i­den­tial immu­ni­ty he won with re-elec­tion last year. Both Putin and Chirac, who have Secu­ri­ty Coun­cil vetoes, can be bought off by Bush.

The pur­chase of Putin is well under way. The Finan­cial Times report­ed on Octo­ber 3 that the part­ly state-owned com­pa­ny Lukoil, which con­trols 68 per­cent of Russia's $6 bil­lion invest­ment in Iraq's oil fields (the world's sec­ond-largest) has ​"been assured" by Putin that ​"it will be able to keep its huge stake" in Iraq if Sad­dam is deposed — a guar­an­tee impos­si­ble with­out a secret deal with Wash­ing­ton. Putin's veto threats at the Unit­ed Nations are sim­ply rais­ing his price to include the $7 bil­lion Iraqi debt to Rus­sia, the secu­ri­ty of Putin's $40 bil­lion oil-based trade deal with Iraq, and U.S. pas­siv­i­ty when Putin invades near­by Georgia.

And the French are already waf­fling in pub­lic. To take just one exam­ple, on Octo­ber 9, Le Monde—report­ing a series of dec­la­ra­tions by Chirac's top polit­i­cal lieu­tenants, includ­ing his for­eign min­is­ter — con­clud­ed that ​"the gov­ern­ment appears to be prepar­ing [French] pub­lic opin­ion for the use of force" once a deal is made at the Unit­ed Nations.

Bush's some­thing-for-every­body Cincin­nati speech gave an excuse to Democ­rats who want­ed to jump on the war train before it left the sta­tion. As John Ker­ry said in explain­ing his deci­sion to vote yes to give Bush carte blanche: ​"The admin­is­tra­tion … rec­og­nizes that war must be our last option to address this threat, not the first."

Ker­ry, like Gephardt and Daschle and Lieber­man, wants to be pres­i­dent, and this self-serv­ing dec­la­ra­tion was pure polit­i­cal pan­der­ing. But David Ger­gen (spin­meis­ter to four pres­i­dents, both Repub­li­can and Demo­c­ra­t­ic) nailed it right when he said on MSNBC that what Bush said in Cincin­nati was ​"blunt, hard­line … a pre­lude to war." He added omi­nous­ly: ​"The log­ic of the speech would sug­gest that Iraq is our first stop in the Mid­dle East, not our last."
Doug Ire­land
has been writ­ing about pow­er, pol­i­tics and the media since
1977
. A for­mer colum­nist for the
Vil­lage Voice,
the
New York Observ­er
and the Paris dai­ly
Libéra­tion,
among oth­ers, his arti­cles have appeared every­where from
The Nation
to
Van­i­ty Fair
to
POZ.
Hes a con­tribut­ing edi­tor of
In These Times.
He can be reached through his blog,
DIRE­LAND
.