Casualties Continue in Vietnam
The devastation of unexploded ordnance from the 'American War.'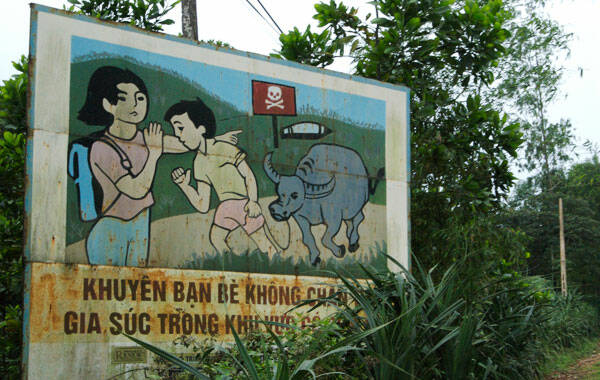 DAI NGHIA VIL­LAGE, Viet­nam – A house sits vacant off a dirt path in Dai An ham­let. The con­crete home has a rust­ed cor­ru­gat­ed met­al roof, and attached to the build­ing is a small, open-air struc­ture stand­ing on wood sup­ports. Its met­al roof is pock­marked with holes that allow sun­light to fil­ter in.
When asked what she would say to the American people, the mother of one UXO victim says, 'The American people should take responsibility. ... These are the consequences of the American War.'
Peo­ple in the ham­let hear mourn­ful cries when they near the home.
Down the same path, about 160 feet away, a small­er build­ing hous­es the fam­i­ly that once lived in the vacant home – but the fam­i­ly has one less son. And there's cry­ing here, too: the sobs of a mother.
Across the street, on the front steps of a blue-tinged home sits a woman, with red eyes and a tear-streaked face, who is all but over­come with grief. Her young son clings to her arm and he blots her eyes with the ban­dage that nor­mal­ly cov­ers his scarred neck.
This is life in Quang Nam Province in cen­tral Viet­nam. Two fam­i­lies wrecked. Two chil­dren dead. Two phys­i­cal­ly wound­ed. One psy­cho­log­i­cal­ly dam­aged. All a result of a con­flict – known in this coun­try as the Amer­i­can War – that may have ​"offi­cial­ly" end­ed in 1975, but con­tin­ues to claim lives.
Bombs, not gold
In 2004, Nguyen Huu Tien, 43, and his wife, Tran Thi Dam, 37, suf­fered what all par­ents fear: the loss of a child. Their son Nguyen Huu Truong, 13, ​"was very gen­tle. He usu­al­ly stayed at home, he didn't hang out," says his mother.
He was on his way home from school one Feb­ru­ary day when he found a small, spher­i­cal met­al object lying in a field where a new cloth­ing fac­to­ry was being built. He picked it up and brought it home.
Once there, he and his cousin, Vo Van Trieu, used tongs and a ham­mer to open it while a 6‑year-old neigh­bor, Nguyen Vu Lan, looked on. What they had was a bomblet from a clus­ter bomb unit (CBU), a U.S. mil­i­tary sub­mu­ni­tion with hun­dreds of tiny ball bear­ings inside.
Lat­er that after­noon, a neigh­bor called Nguyen Huu Truong's par­ents Nguyen Huu Tien and Tran Thi Dam at the fish fac­to­ry where they worked. The neigh­bor gave no details, say­ing only that a fam­i­ly emer­gency required them to come home right away, Tran says before burst­ing into tears.
Stand­ing at the spot of the explo­sion, neigh­bor Nguyen The Van, 54, says he entered the room to find the table and chairs bro­ken and Vo – the cousin – lying on the floor with his intestines snaking out onto the ground. Nguyen Huu Truong, how­ev­er, had born the brunt of the blast. The front side of his body had been shredded.
Six-year-old Nguyen Vu Lan, who had been sit­ting just a short dis­tance away from the oth­ers, had a bro­ken jaw and wounds to his throat, abdomen and legs. His injuries kept him in the hos­pi­tal for three months. Since then, he has spent two months per year in var­i­ous med­ical facilities.
Today, the lanky 9‑year-old with a scarred jaw is sad­dled with res­pi­ra­to­ry prob­lems, speak­ing only a few words in a whis­pery croak. He looks frail. With the ban­dage removed from his throat, tiny bub­bles of flu­id appear from a small wound amid sur­round­ing scar tissue.
His moth­er, Nguyen Thi Thanh Son, 36, brings out a stack of med­ical doc­u­ments as we sit on her front step. The fam­i­ly receives sub­si­dized med­ical care, but even with this par­tial sup­port of his treat­ment, their bills are immense. She says her son needs a med­ical pro­ce­dure for his throat that offi­cials in Hanoi can't provide.
"I want my son to go to the U.S. for an oper­a­tion to return his voice," she says.
Asked what she would say to the cit­i­zens of the Unit­ed States if she could, she says, ​"The Amer­i­can peo­ple should take respon­si­bil­i­ty. … They should act in a human­i­tar­i­an man­ner. These are the con­se­quences of the Amer­i­can War."
Amer­i­can bombs, artillery shells, rock­ets, land­mines, grenades and oth­er types of unex­plod­ed ord­nance (UXO) lit­ter Viet­nam. And an untold num­ber of bomblets are a par­tic­u­lar killer of chil­dren, not only in Viet­nam, but also in Laos and Cam­bo­dia, where the Unit­ed States waged war dur­ing the 1960s and ear­ly 1970s.
Bomblets from clus­ter bombs are some­times small and round like a ball, some­times bright­ly col­ored, some­times both. They often look like toys. But these boys thought they had found rich­es, not a play­thing. Tran Thi Dam – one of the dead boys' moth­ers – says that a friend of her son's lat­er told them that Nguyen Huu Truong had heard there was gold inside the met­al sphere.
An orphan's song
Pham Thi Hoa's fam­i­ly suf­fered griev­ous­ly from the Amer­i­can War. One set of great-grand­par­ents were killed when their ham­let was bombed in 1969. That same year, a great-aunt and three of her chil­dren were killed in the same fash­ion. Their loss­es, how­ev­er, did not end with the war.
Some­time after 1975, Pham's oth­er great-grand­fa­ther was killed by a land­mine. A great-uncle suf­fered the same fate in 1996. But Pham – born long after the guns of that con­flict fell silent – should have been immune from the rav­ages of war. Yet in late 2007, the same war that claimed the lives of so many mem­bers of her fam­i­ly tore this 8‑year-old's world apart.
Her father, Pham Van Nghia, 30, was a farmer by trade. Born and raised in Ham­let #6, in Duy Nghia vil­lage, he grew sta­ple crops of this region – rice, beans and sweet pota­toes. He also sup­ple­ment­ed his income by detect­ing met­als and sell­ing them for scrap.
He had found artillery shells in the past and they pro­vid­ed mon­ey for his wife, Le Thi Tai, two daugh­ters and 3‑year-old son, Pham Van Thanh. From the met­al of a 105 mm artillery shell, Pham Van Nghia could make rough­ly 100,000 VND (about $6.25) – a large sum in a coun­try where the per capi­ta income, accord­ing to the U.S. State Depart­ment, is about $2 per day.
At approx­i­mate­ly 4:15 p.m. on Aug. 21, 2007, Pham Van Nghia was in his home, attempt­ing to take a 105 mm artillery shell apart. His son and wife were close by, his elder daugh­ter was sleep­ing in the back room and young Pham Thi Hoa was just across the nar­row path that runs in front of the home, play­ing in a large sandy expanse. Moments lat­er, every­one but her sis­ter was dead.
Today, the two daugh­ters spend a great deal of their time at their grand­par­ents' house – only a two-minute walk from their par­ents' home. Both attend school. That's where the elder girl was when I vis­it­ed the fam­i­ly farm. I had resolved to learn about the tragedy, after read­ing a 66-word arti­cle about the death of three mem­bers of a fam­i­ly from UXO on the Aus­tralia Broad­cast­ing Corporation's web­site – one of the dis­heart­en­ing­ly fre­quent news pieces of this sort that fil­ter into the West­ern media each year.
The girls' grand­moth­er, Le Thi Huong, told me that soon after the explo­sion, a del­e­ga­tion from the S.O.S. Children's Vil­lage – a char­i­ta­ble enter­prise that cares for young­sters who have lost their par­ents to war, famine, dis­ease or pover­ty – arrived and offered to care for the chil­dren until age 18. This, how­ev­er, would have meant the girls would have to live rel­a­tive­ly far away. The girls reject­ed the offer, pre­fer­ring to stay close to home, where they could ven­er­ate their parents.
"I can take care of them and, one day, if I pass away, their aunts and uncles will do the same," Le Thi Huong says.
I couldn't bear to ask the 8‑year-old with big brown eyes and an infec­tious smile any­thing about the tragedy that killed most of her imme­di­ate fam­i­ly. She was led out of earshot while her grand­moth­er began relat­ing the bare facts of the grue­some sto­ry. Talk of bod­ies sheared in half and a child reduced to a bas­ket­ful of viscera.
When Pham Thi Hoa ulti­mate­ly bound­ed back in, I ask about her favorite activ­i­ties. Danc­ing and singing, she replies. With a bit of famil­ial prompt­ing, she begins to sing a haunt­ing Viet­namese song in her tiny voice. After the finale, and our lauda­to­ry clap­ping, I ask where she had learned that song. Her response near­ly rips my heart out. It was a folk song, I was told. A song about orphans.
"That's the song my father sang when he was alive," she says. ​"When I sing it, I remem­ber him."
Aid­ing and abating
The team from Project RENEW had a good day. The 16-mem­ber Viet­namese unit, over­seen by Aus­tralian explo­sive ord­nance dis­pos­al super­vi­sor Mark Fitz­patrick, locat­ed an M‑79 round – a 40 mm high-explo­sive pro­jec­tile fired from a breach-load­ing, sin­gle-shot U.S. grenade launch­er – in a field.
Ini­ti­at­ed in Decem­ber 2000, as a coop­er­a­tive effort between the non­prof­it, U.S.-based Viet­nam Vet­er­ans Memo­r­i­al Fund and the Quang Tri Province People's Com­mit­tee, Project RENEW focus­es on UXO aware­ness edu­ca­tion, vic­tims' assis­tance and explo­sives removal. This par­tic­u­lar Project RENEW clear­ance project is sup­port­ed by Gold­en West Human­i­tar­i­an Foun­da­tion – a U.S. non­prof­it char­i­ty with 10 years of expe­ri­ence in explo­sive ord­nance abate­ment projects in Ango­la, Azer­bai­jan, Cam­bo­dia, Iraq and Mozambique.
The site, in cen­tral Vietnam's Quang Tri Province, is slat­ed to become the home of a new vil­lage, com­plete with a fac­to­ry and oth­er com­mer­cial enti­ties, on an eight-hectare plot with an adjoin­ing 19 hectares set aside for res­i­den­tial liv­ing space.
But first, dead­ly explo­sives lying on, and just below, the sur­face must be cleared. Since 1975, when the war end­ed and the coun­try was uni­fied, sim­i­lar explo­sives have caused more than 100,000 casu­al­ties in Viet­nam accord­ing to the Viet­namese Defense Ministry's Tech­nol­o­gy Cen­tre for Bomb and Mine Dis­pos­al (BOMI­CEN).
Stand­ing next to an innocu­ous-look­ing, egg-sized met­al object lying in the dirt next to us – with a 16-foot ​"kill radius" and the pow­er to destroy a car – I ask Fitz­patrick what it would take to set it off.
"Pick it up," he says matter-of-factly.
After the final prepa­ra­tions for dis­pos­al are made, the Project RENEW crew vacates the area, leav­ing behind only team leader Nguyen Duc Hoa, who places the explo­sive charge for Fitz­patrick to det­o­nate from behind a met­al ship­ping container.
With that grenade gone, it's eight less ounces of UXO for Viet­namese civil­ians to wor­ry about. That leaves only some­where between 350,000 and 800,000 tons to go, accord­ing to esti­mates by BOMICEN.
The Project RENEW team has been work­ing on this site for one week and this is already the sec­ond piece of ord­nance recov­ered (the oth­er was a 2.75-inch rock­et found close by). Dur­ing an end-of-the-day pep talk, Fitz­patrick con­grat­u­lates the team and offers a case of Huda – a local beer brewed in Hue, the ancient cap­i­tal city – to the first man to find an actu­al bomb.
Nguyen Duc Hoa has all the incen­tive he needs, how­ev­er. ​"It's a new job for me," he con­fides, hav­ing worked in the field of explo­sives clear­ance for just six months. ​"If I can do this job well, I can help the local peo­ple here to avoid acci­dents," he says.
Acci­dents, like unex­plod­ed ord­nance, have been plen­ti­ful here. Tran Van Thanh, a Trieu Phong Dis­trict offi­cial, esti­mates that approx­i­mate­ly 1,300 peo­ple have been killed, in his dis­trict alone, from UXO since 1975. For the rest of Quang Tri Province – which saw some of the heav­i­est bomb­ing dur­ing the war – UXO has caused 6,760 casu­al­ties, accord­ing to a 2006 sur­vey by the Viet­namese Min­istry of Defense.
End­ing the casualties
BOMI­CEN esti­mates that it will take many years and tens of bil­lions of dol­lars to clear Viet­nam of all the UXO lit­ter­ing the coun­try. Fitz­patrick, who has since moved on to work in Afghanistan, is even less optimistic.
"My per­son­al view is that it is going to take an act of God to clear Viet­nam because of all the issues that are present with all the com­mit­tees and steer­ing boards, along with the fact that the Viet­namese want mon­ey from inter­na­tion­al donors but do not want to adhere to inter­na­tion­al stan­dards," he writes in an e‑mail.
But Chuck Searcy, a U.S. Viet­nam War vet­er­an who has lived in the coun­try for almost 15 years and serves as the Viet­nam Vet­er­ans Memo­r­i­al Fund's rep­re­sen­ta­tive for Project RENEW, believes that it is doable in the near term.
"With ade­quate fund­ing and inter­na­tion­al sup­port, a com­pre­hen­sive strate­gic plan and sol­id man­age­ment at all lev­els of the Viet­namese gov­ern­ment, and with des­ig­na­tion of this effort as a top pri­or­i­ty of the gov­ern­ment, Viet­nam could be cleaned up and made safe with­in the 10-year dead­line set by the terms of the Clus­ter Muni­tions Treaty," says Searcy, refer­ring to the Con­ven­tion on Clus­ter Muni­tions, brought into effect last Decem­ber. (Its 96 sig­na­to­ry coun­tries – which do not include the Unit­ed States or Viet­nam – pledged nev­er to use, pro­duce, sell or stock­pile clus­ter bombs and to clear all UXO with­in 10 years.)
Searcy, who empha­sizes that he lacks tech­ni­cal expe­ri­ence in UXO clear­ance, is, how­ev­er, an expert on the col­lab­o­ra­tions between the Viet­namese gov­ern­ment and inter­na­tion­al orga­ni­za­tions in regard to the UXO prob­lem. He doesn't believe it will be easy to coor­di­nate the activ­i­ties of the Viet­namese mil­i­tary and all the non­govern­men­tal orga­ni­za­tions involved in com­bat­ing UXOs, keep cor­rup­tion out of the process or pre­vent the inter­na­tion­al NGOs from set­ting unre­al­is­tic stan­dards. But he's hope­ful enough to think it's pos­si­ble in the not-too-dis­tant future.
"If the nation­al cam­paign were focused on a 10-year dead­line, and the entire spec­trum of tech­ni­cal ser­vices and human cap­i­tal were mobi­lized," Searcy says, ​"I think it is plau­si­ble that at the end of the decade Viet­nam could rea­son­ably claim to have most­ly cleaned up the coun­try and made it safe, or at least reduced the risk to a lev­el that would be man­age­able into the fore­see­able future."
Any future efforts will come too late for Nguyen Vu Lan and Pham Thi Hoa. But, if some­thing like Searcy's pro­pos­al were to suc­ceed, their chil­dren could live in Viet­nam with many few­er new casu­al­ties of the Amer­i­can War.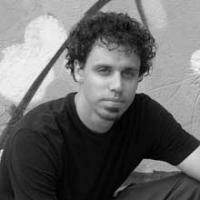 Nick Turse
, asso­ciate edi­tor of TomDis​patch​.com, is the author of
The Com­plex: How the Mil­i­tary Invades Our Every­day Lives
(Met­ro­pol­i­tan Books) and a forth­com­ing his­to­ry of U.S. war crimes in Viet­nam,
Kill Any­thing That Moves
(Metropolitan/​Henry Holt). His web­site is Nick​Turse​.com.