How Caterpillar Ruined a Union Manufacturing Success Story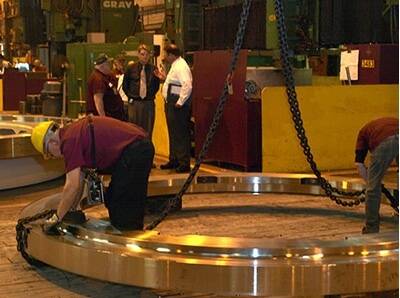 Good news has been rare in the Rust Belt since the 2008 economic collapse. But in Milwaukee, the rise of Bucyrus International Inc. provided a sorely needed model of how a company with a unionized workforce can lasso in global profits. Now, the company's new owner, Caterpillar, is threatening those gains, announcing major layoffs and failing to reach a new contract with its workers.
In 2009, Bucyrus emerged as a major manufacturer of gigantic shovels used for mining all over the world. Centered at a South Milwaukee plant, Bucyrus had weathered mergers and bankruptcies over eight decades to build a steady market share and a fine reputation. Its concentration on skilled machinery and a worldwide boom in the demand for ore caused annual sales to soar from $289 million in 2000 to $3.65 billion by 2010. Bucyrus CEO Tim Sullivan was widely praised for his business acumen and community commitment.
What made the biggest headlines, though, was Sullivan's analysis of why his company had become so successful. After evaluating the world market in sophisticated ore excavation, he announced he was keeping the plant unionized and expanding operations in the United States, because his workers were more productive and efficient than lower-paid workers in other states or countries. Sullivan said he preferred the experienced United Steelworkers (USW) teams for financial reasons — and he said it so often that even militant workers conditioned to doubt management were happy to be respected so loudly, enthusiastically agreeing to be the public face for the company.
In 2009, union workers and management negotiated a four-year contract that both sides lauded as good for the company's future growth and good for the workers. It stipulated the end of two-tier pay, a better pension plan for new hires, expanded benefits built on proven productivity, controls for the company and precise job classifications. Bucyrus appeared to be one of the few companies that rewarded good work in a troubled economy.
Just after that agreement had been signed, I toured the plant as a reporter, absorbing backslaps from both managers and workers, happy over the new contract. The mammoth Bucyrus plant seemed to almost hum as a romantic vision of efficient U.S. manufacturing. Molten steel in huge vats was poured into molds and shaped in stages into enormous wheels and gears. Heavy chains muscled mining components through huge buildings connected by rail tracks and scooters. The working areas were modernized and well ventilated. Workers did exercises before shifts. Safety experts checked all operations.
Bucyrus' success received plenty of attention. The best-known name in international mining, Peoria, Ill.-headquartered Caterpillar, announced in 2011 a protective move against the upstart. It would try to beat back Bucyrus — and another Milwaukee-based high-roller in this field, Joy Global — by creating its own line of giant mining shovels.
Then, within months, to the surprise of many financiers, Caterpillar abandoned its plan and paid a staggering $7.6 billion to acquire Bucyrus International. The company switched to promoting Bucyrus drills, shovels and draglines in the volatile global mining market, rebranding the products as Bucyrus/​Caterpillar. Sullivan brokered the deal with Caterpillar, then walked away with nearly $29 million in cash and a total compensation package valued around $45 million, as well as unspecified options.
The most optimistic of the Bucyrus steelworkers took the purchase price as a confirmation of their worth while the pessimistic mistrusted the manipulations. Generally the workers expected some changes but noted that Caterpillar clearly preferred buying out Bucyrus to competing with its products. Many thought the proven talent of USW Local 1343 was key to that big financial deal.
Today, 18 months after the takeover, those hopes have long since been dispelled. On March 28, mere days before negotiations for a new contract were set to begin, Caterpillar announced it would lay off 300 workers at the South Milwaukee plant, almost 40 percent of the blue-collar workforce. The plant has about 800 hourly production workers in the USW local.
Caterpillar commonly claims labor cutbacks are necessary because of profit losses. However, as Reuters recently noted, among investors ​"no one really believes" the company's ​"overly bleak" assessments of its future profitability. Meanwhile, Caterpillar's actions in early March suggested ulterior motives. The company asked Milwaukee Area Technical College, which has an incumbent worker training deal with the company, to rapidly train 25 managers in welding techniques. The college's unionized professors thought nothing of it — until the USW charged it a move to create non-unionized scabs in case Caterpillar failed to reach a contract agreement with its workers by the May 1 deadline.
​"They are using our training program as a bargaining chip," says an angry Michael Rosen, president of MATC's AFT Local 212 teachers.
Caterpillar's hard-cheese reputation is well known to USW. Last year at its plant in Joliet, Ill., some 800 IAM workers (International Association of Machinists and Aerospace Workers) went on a four-month strike to protest higher health-care payments and greater management control before succumbing to a weaker six-year contract simply to preserve their jobs.
Soon after Caterpillar took over Bucyrus in 2011, a worker was crushed to death by mining equipment not hooked up to safety specifics — the company's first workplace fatality in decades. Horrified co-workers couldn't move fast enough to save Jeff Smith, 30, a popular fitness buff and musician in his spare time.
Workers at the plant realize that industrial accidents can happen at even the best-run plants, but they remember the cold response to Smith's death by the new Caterpillar management. Caterpillar brought in lawyers who refused to allow USW's investigative team into the building, resulting in a federal complaint that the company ultimately lost. The new managers also left it to the USW to provide comfort and financial relief to the family in its grief.
​"It was a harsh signal that attitudes had changed," says one foreman, who still works at the plant and requested anonymity. ​"They were more concerned about liability than what caused Jeff to die."
Just after announcing the workforce cutback at Bucyrus, Caterpillar CEO Doug Oberhelman gave a speech on immigration reform in Illinois. Ostensibly in support of a path to citizenship for undocumented workers, his speech mainly advocated for expanding the H‑1B guest worker visa program for engineers and interns. Such foreign worker visas are capped annually at 65,000 and allow foreign workers to be paid less for ostensibly temporary work.
Notably, the USW has long been a champion of paths to citizenship for immigrants, leading organizing efforts against second-class status. So to some, Oberhelman suddenly linking paths to citizenship to adding more temporary foreign workers at Caterpillar seemed mighty suspicious — an effort to raise fears in the workforce over the union's commitment to the undocumented. (Caterpillar spokespeople, asked to comment for this story, failed to return phone calls.)
The model contract signed a mere four years ago to much fanfare seems a distant fantasy. Caterpillar has replaced it with a six-year proposal, voted down by Local 1343 members on Tuesday, that would freeze wages, slowly shift pensions to 401(k)s, increase worker contributions to healthcare costs and lower the wage rate for new hires. The workforce faces disintegration. The tactics seem designed to weaken USW at the bargaining table.
​"Why, four days before negotiation, would Caterpillar announce laying off 300 workers covered by the contract?" USW local leader Ross Winklbauer asks. ​"The company is simply trying to intimidate, to threaten workers with losing their jobs unless they come to heel."
Dominique Noth
served as senior editor for all feature coverage at the
Milwaukee Journal
after decades as its film and drama critic, then was appointed special assistant to the publisher and the company's first online producer. For the past decade he was editor of the Milwaukee Labor Press and website,
mil​wau​kee​la​bor​.org
. He now writes as an independent journalist on culture and politics.