How Caterpillar Ruined a Union Manufacturing Success Story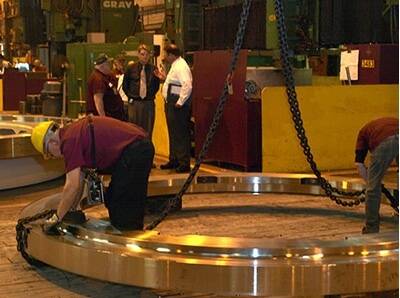 Good news has been rare in the Rust Belt since the 2008 eco­nom­ic col­lapse. But in Mil­wau­kee, the rise of Bucyrus Inter­na­tion­al Inc. pro­vid­ed a sore­ly need­ed mod­el of how a com­pa­ny with a union­ized work­force can las­so in glob­al prof­its. Now, the company's new own­er, Cater­pil­lar, is threat­en­ing those gains, announc­ing major lay­offs and fail­ing to reach a new con­tract with its workers.
In 2009, Bucyrus emerged as a major man­u­fac­tur­er of gigan­tic shov­els used for min­ing all over the world. Cen­tered at a South Mil­wau­kee plant, Bucyrus had weath­ered merg­ers and bank­rupt­cies over eight decades to build a steady mar­ket share and a fine rep­u­ta­tion. Its con­cen­tra­tion on skilled machin­ery and a world­wide boom in the demand for ore caused annu­al sales to soar from $289 mil­lion in 2000 to $3.65 bil­lion by 2010. Bucyrus CEO Tim Sul­li­van was wide­ly praised for his busi­ness acu­men and com­mu­ni­ty commitment.
What made the biggest head­lines, though, was Sullivan's analy­sis of why his com­pa­ny had become so suc­cess­ful. After eval­u­at­ing the world mar­ket in sophis­ti­cat­ed ore exca­va­tion, he announced he was keep­ing the plant union­ized and expand­ing oper­a­tions in the Unit­ed States, because his work­ers were more pro­duc­tive and effi­cient than low­er-paid work­ers in oth­er states or coun­tries. Sul­li­van said he pre­ferred the expe­ri­enced Unit­ed Steel­work­ers (USW) teams for finan­cial rea­sons — and he said it so often that even mil­i­tant work­ers con­di­tioned to doubt man­age­ment were hap­py to be respect­ed so loud­ly, enthu­si­as­ti­cal­ly agree­ing to be the pub­lic face for the company.
In 2009, union work­ers and man­age­ment nego­ti­at­ed a four-year con­tract that both sides laud­ed as good for the company's future growth and good for the work­ers. It stip­u­lat­ed the end of two-tier pay, a bet­ter pen­sion plan for new hires, expand­ed ben­e­fits built on proven pro­duc­tiv­i­ty, con­trols for the com­pa­ny and pre­cise job clas­si­fi­ca­tions. Bucyrus appeared to be one of the few com­pa­nies that reward­ed good work in a trou­bled economy.
Just after that agree­ment had been signed, I toured the plant as a reporter, absorb­ing back­slaps from both man­agers and work­ers, hap­py over the new con­tract. The mam­moth Bucyrus plant seemed to almost hum as a roman­tic vision of effi­cient U.S. man­u­fac­tur­ing. Molten steel in huge vats was poured into molds and shaped in stages into enor­mous wheels and gears. Heavy chains mus­cled min­ing com­po­nents through huge build­ings con­nect­ed by rail tracks and scoot­ers. The work­ing areas were mod­ern­ized and well ven­ti­lat­ed. Work­ers did exer­cis­es before shifts. Safe­ty experts checked all operations.
Bucyrus' suc­cess received plen­ty of atten­tion. The best-known name in inter­na­tion­al min­ing, Peo­ria, Ill.-headquartered Cater­pil­lar, announced in 2011 a pro­tec­tive move against the upstart. It would try to beat back Bucyrus — and anoth­er Mil­wau­kee-based high-roller in this field, Joy Glob­al — by cre­at­ing its own line of giant min­ing shovels.
Then, with­in months, to the sur­prise of many financiers, Cater­pil­lar aban­doned its plan and paid a stag­ger­ing $7.6 bil­lion to acquire Bucyrus Inter­na­tion­al. The com­pa­ny switched to pro­mot­ing Bucyrus drills, shov­els and draglines in the volatile glob­al min­ing mar­ket, rebrand­ing the prod­ucts as Bucyrus/​Caterpillar. Sul­li­van bro­kered the deal with Cater­pil­lar, then walked away with near­ly $29 mil­lion in cash and a total com­pen­sa­tion pack­age val­ued around $45 mil­lion, as well as unspec­i­fied options.
The most opti­mistic of the Bucyrus steel­work­ers took the pur­chase price as a con­fir­ma­tion of their worth while the pes­simistic mis­trust­ed the manip­u­la­tions. Gen­er­al­ly the work­ers expect­ed some changes but not­ed that Cater­pil­lar clear­ly pre­ferred buy­ing out Bucyrus to com­pet­ing with its prod­ucts. Many thought the proven tal­ent of USW Local 1343 was key to that big finan­cial deal.
Today, 18 months after the takeover, those hopes have long since been dis­pelled. On March 28, mere days before nego­ti­a­tions for a new con­tract were set to begin, Cater­pil­lar announced it would lay off 300 work­ers at the South Mil­wau­kee plant, almost 40 per­cent of the blue-col­lar work­force. The plant has about 800 hourly pro­duc­tion work­ers in the USW local.
Cater­pil­lar com­mon­ly claims labor cut­backs are nec­es­sary because of prof­it loss­es. How­ev­er, as Reuters recent­ly not­ed, among investors ​"no one real­ly believes" the com­pa­ny's ​"over­ly bleak" assess­ments of its future prof­itabil­i­ty. Mean­while, Caterpillar's actions in ear­ly March sug­gest­ed ulte­ri­or motives. The com­pa­ny asked Mil­wau­kee Area Tech­ni­cal Col­lege, which has an incum­bent work­er train­ing deal with the com­pa­ny, to rapid­ly train 25 man­agers in weld­ing tech­niques. The col­lege's union­ized pro­fes­sors thought noth­ing of it — until the USW charged it a move to cre­ate non-union­ized scabs in case Cater­pil­lar failed to reach a con­tract agree­ment with its work­ers by the May 1 deadline.
​"They are using our train­ing pro­gram as a bar­gain­ing chip," says an angry Michael Rosen, pres­i­dent of MATC's AFT Local 212 teachers.
Caterpillar's hard-cheese rep­u­ta­tion is well known to USW. Last year at its plant in Joli­et, Ill., some 800 IAM work­ers (Inter­na­tion­al Asso­ci­a­tion of Machin­ists and Aero­space Work­ers) went on a four-month strike to protest high­er health-care pay­ments and greater man­age­ment con­trol before suc­cumb­ing to a weak­er six-year con­tract sim­ply to pre­serve their jobs.
Soon after Cater­pil­lar took over Bucyrus in 2011, a work­er was crushed to death by min­ing equip­ment not hooked up to safe­ty specifics — the com­pa­ny's first work­place fatal­i­ty in decades. Hor­ri­fied co-work­ers couldn't move fast enough to save Jeff Smith, 30, a pop­u­lar fit­ness buff and musi­cian in his spare time.
Work­ers at the plant real­ize that indus­tri­al acci­dents can hap­pen at even the best-run plants, but they remem­ber the cold response to Smith's death by the new Cater­pil­lar man­age­ment. Cater­pil­lar brought in lawyers who refused to allow USW's inves­tiga­tive team into the build­ing, result­ing in a fed­er­al com­plaint that the com­pa­ny ulti­mate­ly lost. The new man­agers also left it to the USW to pro­vide com­fort and finan­cial relief to the fam­i­ly in its grief.
​"It was a harsh sig­nal that atti­tudes had changed," says one fore­man, who still works at the plant and request­ed anonymi­ty. ​"They were more con­cerned about lia­bil­i­ty than what caused Jeff to die."
Just after announc­ing the work­force cut­back at Bucyrus, Cater­pil­lar CEO Doug Ober­hel­man gave a speech on immi­gra­tion reform in Illi­nois. Osten­si­bly in sup­port of a path to cit­i­zen­ship for undoc­u­ment­ed work­ers, his speech main­ly advo­cat­ed for expand­ing the H‑1B guest work­er visa pro­gram for engi­neers and interns. Such for­eign work­er visas are capped annu­al­ly at 65,000 and allow for­eign work­ers to be paid less for osten­si­bly tem­po­rary work.
Notably, the USW has long been a cham­pi­on of paths to cit­i­zen­ship for immi­grants, lead­ing orga­niz­ing efforts against sec­ond-class sta­tus. So to some, Ober­hel­man sud­den­ly link­ing paths to cit­i­zen­ship to adding more tem­po­rary for­eign work­ers at Cater­pil­lar seemed mighty sus­pi­cious — an effort to raise fears in the work­force over the union's com­mit­ment to the undoc­u­ment­ed. (Cater­pil­lar spokes­peo­ple, asked to com­ment for this sto­ry, failed to return phone calls.)
The mod­el con­tract signed a mere four years ago to much fan­fare seems a dis­tant fan­ta­sy. Cater­pil­lar has replaced it with a six-year pro­pos­al, vot­ed down by Local 1343 mem­bers on Tues­day, that would freeze wages, slow­ly shift pen­sions to 401(k)s, increase work­er con­tri­bu­tions to health­care costs and low­er the wage rate for new hires. The work­force faces dis­in­te­gra­tion. The tac­tics seem designed to weak­en USW at the bar­gain­ing table.
​"Why, four days before nego­ti­a­tion, would Cater­pil­lar announce lay­ing off 300 work­ers cov­ered by the con­tract?" USW local leader Ross Win­kl­bauer asks. ​"The com­pa­ny is sim­ply try­ing to intim­i­date, to threat­en work­ers with los­ing their jobs unless they come to heel."
Dominique Noth
served as senior edi­tor for all fea­ture cov­er­age at the
Mil­wau­kee Jour­nal
after decades as its film and dra­ma crit­ic, then was appoint­ed spe­cial assis­tant to the pub­lish­er and the company's first online pro­duc­er. For the past decade he was edi­tor of the Mil­wau­kee Labor Press and web­site,
mil​wau​kee​la​bor​.org
. He now writes as an inde­pen­dent jour­nal­ist on cul­ture and politics.