New CDC Study Finds Big Difference Between Rural and Urban Mortality Rates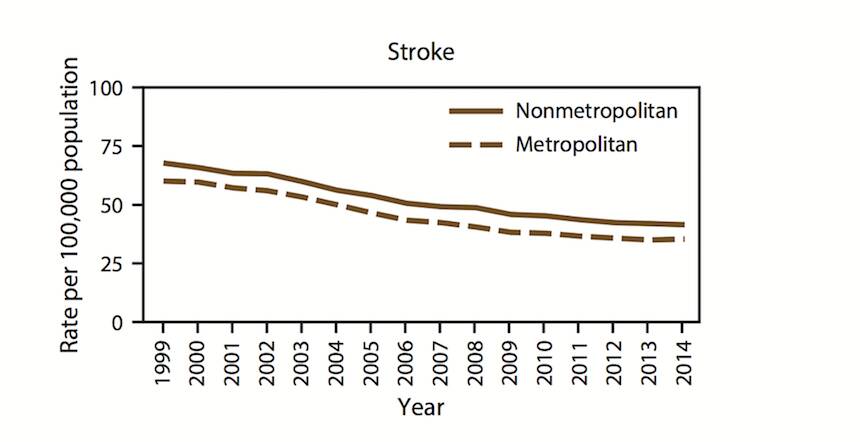 Reader donations, many as small as just $1, have kept In These Times publishing for 45 years. Once you've finished reading, please consider making a tax-deductible donation to support this work.
From 1999 to 2014, the Centers for Disease Control and Prevention (CDC) tracked the leading causes of death in nonmetropolitan and metropolitan areas in the United States. They compared the regional mortality data to determine how many deaths could likely have been prevented, assuming the death rates of states with the lowest rates occurred across all states.
The report finds not only that unintentional injury deaths are nearly 50 percent more likely in rural areas than they are in cities, but that distance to emergency medical care, the ongoing opiod crisis, obesity rates and other factors all leave rural Americans at higher risk of early death. Below is the CDC's full press release and links to their research.
Press release: Rural Americans at higher risk of death from five leading causes
A new CDC study demonstrates that Americans living in rural areas are more likely to die from five leading causes than their urban counterparts. In 2014, many deaths among rural Americans were potentially preventable, including 25,000 from heart disease, 19,000 from cancer, 12,000 from unintentional injuries, 11,000 from chronic lower respiratory disease, and 4,000 from stroke. The percentages of deaths that were potentially preventable were higher in rural areas than in urban areas. The report and a companion commentary are part of a new rural health series in CDC's Morbidity and Mortality Weekly Report.
"This new study shows there is a striking gap in health between rural and urban Americans," said CDC Director Tom Frieden, M.D., M.P.H. ​"To close this gap, we are working to better understand and address the health threats that put rural Americans at increased risk of early death."
Some 46 million Americans — 15 percent of the U.S. population — currently live in rural areas. Several demographic, environmental, economic, and social factors might put rural residents at higher risk of death from these public health conditions. Residents of rural areas in the United States tend to be older and sicker than their urban counterparts. They have higher rates of cigarette smoking, high blood pressure, and obesity. Rural residents report less leisure-time physical activity and lower seatbelt use than their urban counterparts. They also have higher rates of poverty, less access to healthcare, and are less likely to have health insurance.
The Health Resources and Services Administration (HRSA), which houses the Federal Office of Rural Health Policy, will collaborate with CDC on the series and will help to promote the findings and recommendations to rural communities.
"We have seen increasing rural-urban disparities in life expectancy and mortality emerge in the past few years. CDC's focus on these critical rural health issues comes at an important time," said Health Resources and Services Administration (HRSA) Acting Administrator Jim Macrae.
In the study, mortality data for U.S. residents was analyzed from the National Vital Statistics System.
Counties were placed in two categories — urban or rural — based on the NCHS urban-rural classification scheme for counties. The current study found that unintentional injury deaths were approximately 50 percent higher in rural areas than in urban areas, partly due to greater risk of death from motor vehicle crashes and opioid overdoses. Also, because of the distance between healthcare facilities and trauma centers, rapid access to specialized care can be more challenging for people injured in rural areas.
The gaps in health can be addressed. For example, healthcare providers in rural areas can:
Screen patients for high blood pressure and make control a quality improvement goal. High blood pressure is a leading risk factor for heart disease and stroke.
Increase cancer prevention and early detection. Rural healthcare providers should participate in the state-level comprehensive control coalitions. Comprehensive cancer control programs focus on cancer prevention, education, screening, access to care, support for cancer survivors, and overall good health.
Encourage physical activity and healthy eating to reduce obesity. Obesity has been linked to a variety of serious chronic illnesses, including diabetes, heart disease, cancer, and arthritis.
Promote smoking cessation. Cigarette smoking is the leading cause of preventable disease and death in the United States and is the most significant risk factor for chronic lower respiratory disease.
Promote motor vehicle safety. Rural healthcare providers should encourage patients to always wear a seat belt and counsel parents and child care providers to use age- and size-appropriate car seats, booster seats, and seat belts on every trip.
Engage in safer prescribing of opioids for pain. Healthcare providers should follow the CDC guideline when prescribing opioids for chronic pain and educate patients on the risks and benefits of opioids and using nonpharmacologic therapies to provide greater benefit.
Not all deaths can be prevented. Some rural areas might have characteristics that put residents at higher risk of death, such as long travel distances to specialty and emergency care or exposures to specific environmental hazards. It's also possible that excessively high death rates could signal a need for improved public health programs that support healthier behaviors and neighborhoods or better access to health care services.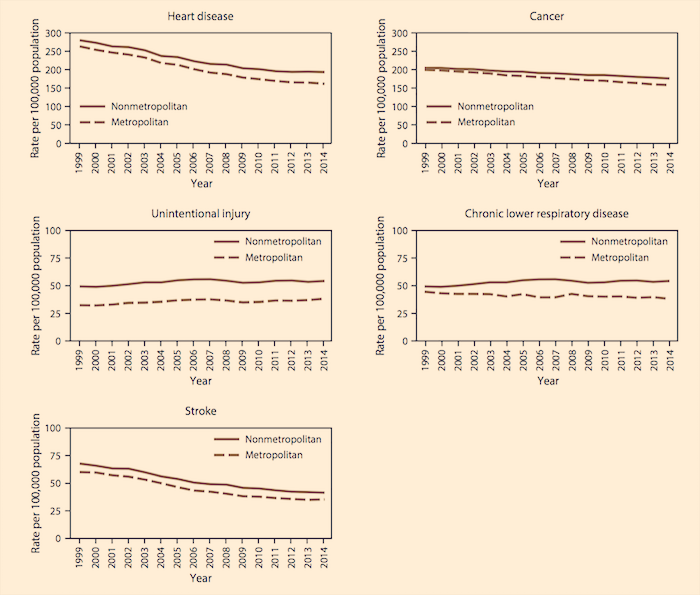 Graphs depicting the five leading causes of death as tracked in rural and urban areas by the CDC from 1999 to 2014. (Image: Google Images)
To read the entire report and companion commentary: www​.cdc​.gov/mmwr.
For more information on rural health: www​.hrsa​.gov/​r​u​r​a​l​h​ealth.
[If you like what you've read, help us spread the word. ​

"

Like" Rural America In These Times on Facebook. Click on the ​

"

Like Page" button below the bear on the upper right of your screen. Also, follow RAITT on Twitter @RuralAmericaITT]
Your donation makes In These Times possible
This blog's mission is to provide the public service of helping make the issues that rural America is grappling with part of national discourse.