Teamsters Activists Move To Prevent Slashing of Hundreds of Thousands of Retirees' Pensions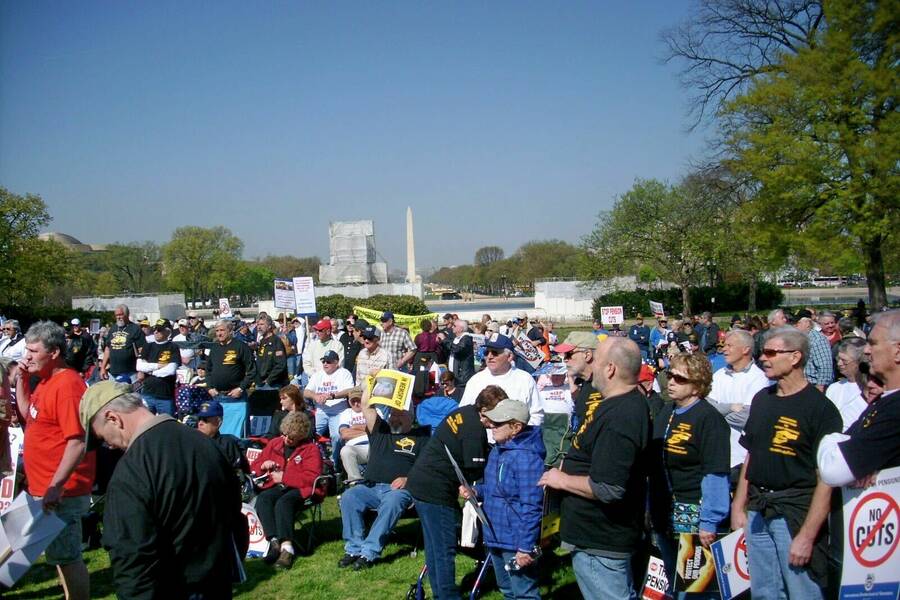 With a key dead­line loom­ing ear­ly next month, pen­sion activists in the Team­sters union are turn­ing up the heat to head off gov­ern­ment action that will slash the incomes of hun­dreds of thou­sands of union retirees who receive ben­e­fits from the Cen­tral States Pen­sion Fund, and set a dan­ger­ous prece­dent for mil­lions more.
The retired union mem­bers are con­cen­trat­ed on pres­sur­ing con­gress­man and sen­a­tors in Wash­ing­ton, D.C., to use their influ­ence over the Depart­ment of the Trea­sury to pre­vent any imme­di­ate cuts. A delay in pro­posed cuts, the activists believe, will allow time for a leg­isla­tive solu­tion to the broad­er issue of chron­ic finan­cial prob­lems in Team­ster pen­sion plans, and in the pen­sion plans of a raft of oth­er unions.
The grass­roots pen­sion­er cam­paign brought about 3,000 pro­tes­tors to the lawn of the Capi­tol build­ing April 14 — most of them bused in from Mid­west­ern states where the dan­ger of cuts is most acute right now. Elect­ed offi­cials pledg­ing their sup­port at the rau­cous protest includ­ed Sen. Eliz­a­beth War­ren (D‑Mass.), Sen. Deb­bie Stabenow (D‑Mich.), Sen. Sher­rod Brown (D‑Ohio), Sen. Al Franken (D‑Minn.), Rep. Mar­cy Kap­tur (D‑Ohio), Rep. Deb­bie Din­gell (D‑Mich.), Rep. Gwen Moore (D‑Wisc.) and Rep. Emanuel Cleaver (D‑Mo.).
"More than a quar­ter mil­lion [peo­ple] are fac­ing the chop­ping block," in the pro­posed Team­ster pen­sion cuts, War­ren said in her speech to the crowd, blam­ing the Wall Street pan­ic of 2008 for much of the prob­lem. ​"Con­gress jumped in to help Wall Street," in 2008, so ​"Con­gress must reject these cuts," to help the vic­tims of the pan­ic now, she said.
While the crowd enthu­si­as­ti­cal­ly applaud­ed War­ren, Din­gell and oth­ers, it saved its warmest response for Rita Lewis, the wid­ow of a retired Team­ster truck dri­ver from Cincin­nati. Lewis' hus­band Butch was a pop­u­lar union activist before his unex­pect­ed death from a heart attack Jan. 1, and Rita has tak­en up his cause, emerg­ing as a sym­bol and pow­er­ful spokes­woman for Team­sters pen­sion rights.
"Team­ster pen­sions are in trou­ble because of greed, incom­pe­tence and cor­rup­tion," Lewis told In These Times. Exces­sive pay to plan admin­is­tra­tors and out­landish fees to finan­cial advi­sors have drained the fund, she says, echo­ing Warren's empha­sis on Wall Street malfea­sance, and a first step should be to clean house at the offices of Cen­tral States Pen­sion Fund, the orga­ni­za­tion that col­lects and dis­trib­utes pen­sion monies for some 400,000 union mem­bers and retirees. The cur­rent exec­u­tive direc­tor, Thomas C. Nyhan, should be dis­missed, and a new inde­pen­dent audit con­duct­ed to iden­ti­fy where mon­ey can be clawed back, espe­cial­ly from advi­so­ry firms like Gold­man Sachs, she says.
"We're not ask­ing for a hand­out. We're ask­ing for noth­ing more, and noth­ing less, than what we have earned," through years of work by union mem­bers like her hus­band, she says. ​"I'm going to have to sell my house," if pro­posed cuts to her widow's ben­e­fit go through, she says. ​"It's not the Amer­i­can dream, it's not the promise of Amer­i­ca," that wid­ows are forced to sell their homes because of pen­sion fund maladministration.
The cause of pen­sion­er rights is gain­ing steam in Con­gress, Lewis adds, as more elect­ed offi­cials real­ize that the issues raised in the Cen­tral States Pen­sion Fund case extend well beyond a lim­it­ed num­ber of retirees in a hand­ful of Mid­west­ern states. The cur­rent Team­ster cuts are a test case, she says, for the Mul­ti­em­ploy­er Pen­sion Reform Act of 2014, which gave pen­sion admin­is­tra­tor nation­wide new legal pow­ers to slash pen­sion­er ben­e­fits. If the Cen­tral States cuts are approved, ​"it will open the flood­gates" for cuts at dozens, or per­haps hun­dreds, of oth­er union pen­sion funds.
"Once the flood­gates open, they will come after you," she warns.
The flood­gate anal­o­gy is apt, says Fred Zuck­er­man, pres­i­dent of Team­sters Local 89 on Louisville, Ky. The Cen­tral States fund is the largest in the Team­ster orga­ni­za­tion, but there are scores of oth­er small­er funds that face sim­i­lar finan­cial dif­fi­cul­ties, he says. If the Trea­sury Depart­ment approves the Cen­tral States cuts, these oth­er funds — and dis­tressed funds at oth­er unions – will rush to impose cuts, Zuck­er­man predicts.
"Every­body is watch­ing Cen­tral States to see if it's approved. After this one is done, they'll start falling like domi­noes," he told In These Times, in spe­cif­ic ref­er­ence to small­er Team­ster pen­sion funds in New York and New Jersey.
Eyes are espe­cial­ly locked on May 7, when ​"spe­cial mas­ter" Ken­neth R. Fein­berg is expect­ed to release his rec­om­men­da­tion to the Trea­sury Depart­ment on how to pro­ceed with the pro­posed Cen­tral States cuts. Fein­berg has con­duct­ed numer­ous meet­ings with rank-and-file pen­sion­ers over the last six months, Zuck­er­man said, and many union mem­bers are impressed with Feinberg's sense of fair­ness. The hope among many of his own mem­bers and retirees at Local 89 is that Fein­berg will rec­om­mend that a more thor­ough finan­cial analy­sis of alter­na­tives be con­duct­ed before the Trea­sury Depart­ment makes any final decisions.
Zuck­er­man is also a can­di­date for elec­tion as pres­i­dent of Inter­na­tion­al Broth­er­hood of Team­sters this fall, and believes that pen­sions will be an impor­tant cam­paign issue. Although retirees are not eli­gi­ble to vote, con­cern about pen­sion ben­e­fits down the road is an issue for hun­dreds of thou­sands of active mem­ber who can vote, he says. The admin­is­tra­tion of cur­rent Pres­i­dent Jim Hof­fa has failed to take effec­tive action in pro­tect­ing pen­sions, Zuck­er­man charges, and that issue is expect­ed to loom large in the cam­paign­ing for numer­ous union offices. (Hof­fa was also among the speak­ers at the April 14 protest, where he endorsed a leg­isla­tive solu­tion endorsed last year by Sen. Bernie Sanders (I‑Vt.) and Rep. Captur.
Progress in build­ing sup­port among leg­is­la­tors was evi­dent the day after the Wash­ing­ton protest, when 46 Demo­c­ra­t­ic Par­ty sen­a­tors signed a let­ter to Trea­sury Sec­re­tary Jacob Lew urg­ing him to con­duct a new review of the Cen­tral States case, reports Bob Ams­den, co-chair of the grass­roots Wis­con­sin Com­mit­tee to Pro­tect Pen­sions. Pub­lic sup­port from Repub­li­can leg­is­la­tors remains thin, Ams­den says, but has been pick­ing up steam in recent weeks. Pri­vate meet­ings with Repub­li­can leg­is­la­tors tend to pro­duce qual­i­fied pledges of lim­it­ed sup­port, rather than the full-throat­ed pub­lic state­ments akin to Warren's, he said. (One excep­tion was Rep. Vir­ginia Foxx (R‑N.C.) who report­ed­ly brushed off retirees, telling then to ​'blame your own union.')
The Team­sters pen­sion activists are intense­ly focused on Feinberg's May 7 dead­line, and the Trea­sury Department's imme­di­ate response. Ams­den says. Any attempt to rush through pen­sion cuts will have to be met with an inten­si­fied cam­paign aimed at Capi­tol Hill legislators.
Bruce Vail
is a Bal­ti­more-based free­lance writer with decades of expe­ri­ence cov­er­ing labor and busi­ness sto­ries for news­pa­pers, mag­a­zines and new media. He was a reporter for Bloomberg BNA's Dai­ly Labor Report, cov­er­ing col­lec­tive bar­gain­ing issues in a wide range of indus­tries, and a mar­itime indus­try reporter and edi­tor for the Jour­nal of Com­merce, serv­ing both in the newspaper's New York City head­quar­ters and in the Wash­ing­ton, D.C. bureau.