Centrist Think Tanks Won't Save Our Cities
Economic democracy must come from below.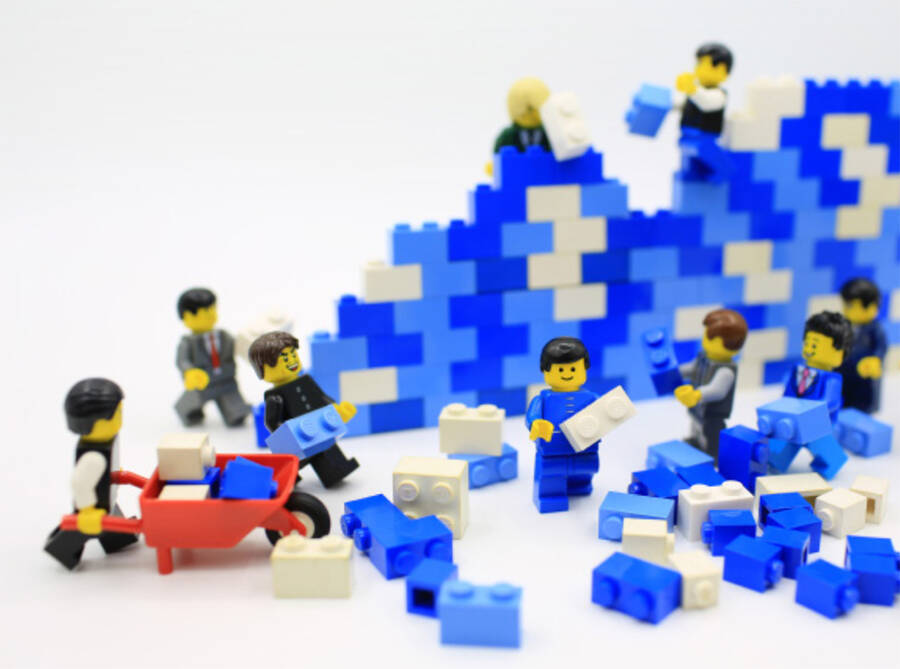 With both hous­es of Con­gress and most state gov­ern­ments cap­tured by the Repub­li­can Par­ty, those opposed to Trump and Trump­ism are look­ing to cities. This strate­gic choice is increas­ing­ly being made not only by the Left, but by the care­ful cen­ter as well, a fact shown nowhere more clear­ly than in The New Local­ism by Bruce Katz and Jere­my Nowak, urban pol­i­cy experts at the Brook­ings Insti­tu­tion, an influ­en­tial Wash­ing­ton think tank.
The long-term strategy aims at democratizing ownership and control at all levels, step by step, no matter how difficult the challenge.
Katz and Nowak offer a win­dow into the mind­set of elite resis­tance to Trump. While they don't like the nation­al­ism and nativism of right-wing pop­ulism, their inter­est lies with lead­er­ship by and large­ly for those at the top. As Don­ald Trump tears down what remains of the wel­fare state, local elites are work­ing hard to save their cities.
While this cer­tain­ly may sound like a good thing, the term ​"their" is used advis­ed­ly: What they are after are high-tech metrop­o­lis­es whose upscale tone and glam­our can bypass and obscure the deep­en­ing pain of those left behind. A rum­bling, anger-dri­ven and increas­ing­ly sophis­ti­cat­ed alter­na­tive, how­ev­er, based on grass­roots exper­i­men­ta­tion and orga­niz­ing, sug­gests the devel­op­ing pos­si­bil­i­ty of some­thing very different.
Katz and Nowak's first chap­ter begins with a Robert Caro quote: ​"My inter­est is in pow­er. How pow­er works." The key to ​"prob­lem solv­ing," they hold, is get­ting cor­po­rate, hos­pi­tal and uni­ver­si­ty lead­ers to work togeth­er (prefer­ably in ​"CEO-only" meet­ings) to make things happen.
Selec­tive suc­cess sto­ries they point to include Pitts­burgh, Indi­anapo­lis and Copen­hagen, all of which have indeed found dif­fer­ent ways to revi­tal­ize (at least parts of) trou­bled cities. In Pitts­burgh, for exam­ple, part­ner­ships among research uni­ver­si­ties like Carnegie Mel­lon, local foun­da­tions and entre­pre­neurs (albeit, Katz and Nowak acknowl­edge, with a strong dose of fed­er­al R&D fund­ing) helped the city nur­ture a 21st-cen­tu­ry econ­o­my that's on the cut­ting edge of med­i­cine, robot­ics, nanofab­ri­ca­tion and autonomousve­hi­cle technologies.
Piv­ot­ing from the declin­ing steel indus­try, the city has cul­ti­vat­ed local assets to attract and retain mil­len­ni­al and immi­grant pro­fes­sion­als. Indis­putably, such achieve­ments are pos­si­ble with elite lead­er­ship. But just as indis­putably, they often leave aside vast num­bers of the Black, Brown and work­ing-class white Amer­i­cans exclud­ed from the high-tech econ­o­my. (They also usu­al­ly involve using or for­go­ing tax rev­enues that could be used for oth­er purposes.)
Put blunt­ly, The New Local­ism is large­ly about what can be done for those suf­fi­cient­ly skilled and edu­cat­ed to find a place in the increas­ing­ly unequal tech­no­log­i­cal econ­o­my. The authors pay lit­tle notice to inequal­i­ty, and only occa­sion­al and inad­e­quate atten­tion to hous­ing and pover­ty. These and oth­er prob­lems — from sky­rock­et­ing health­care costs to unliv­able wages — are large­ly for the fed­er­al gov­ern­ment to solve.
What this ignores is that there is unlike­ly to be major fed­er­al action on any of these mat­ters in the absence of new grass­roots mobi­liza­tions, above all at the local lev­el. Cer­tain­ly, Katz and Nowak appre­ci­ate an occa­sion­al com­mu­ni­ty-orga­niz­ing effort like that of BUILD in Bal­ti­more, a long­stand­ing alliance of local groups work­ing to improve hous­ing, job oppor­tu­ni­ties and school­ing. But they also offer no evi­dence of, inter­est in or knowl­edge of the exist­ing move­ments, almost all city-based, that are qui­et­ly build­ing pow­er aimed at some­thing beyond elite-dom­i­nat­ed modernization.
Remark­ably, for instance, they write: ​"The Unit­ed States today is unlike­ly to cre­ate pub­licly owned banks" — even as activist-led cam­paigns in Philadel­phia, San­ta Fe, N.M., Oak­land, Calif., Seat­tle and oth­er cities have pushed their local gov­ern­ments to begin explor­ing that very option. The pub­lic bank­ing move­ment demon­strates the pow­er of grass­roots action to set the polit­i­cal agen­da: The new gov­er­nor of New Jer­sey, Phil Mur­phy, has just com­plet­ed a win­ning elec­tion cam­paign that includ­ed a promise of a state-owned bank, and Los Ange­les City Coun­cil Pres­i­dent Herb Wes­son has advanced a pub­lic bank pro­pos­al in the nation's sec­ond largest city.
Anoth­er area in which com­mu­ni­ty activist efforts are cre­at­ing a new pol­i­tics and new insti­tu­tion­al forms, ignored in the book, involves work­er-owned firms. One of the most advanced U.S. efforts is in Cleve­land, where the Ever­green Coop­er­a­tives, a com­plex of work­er co-ops linked togeth­er via a com­mu­ni­ty-based non­prof­it cor­po­ra­tion, are sup­port­ed in part by the pur­chas­ing pow­er of hos­pi­tals and uni­ver­si­ties in the area.
It's not just the Unit­ed States: There is evi­dence of a grow­ing glob­al move­ment to build new pow­er and trans­form polit­i­cal and eco­nom­ic insti­tu­tions, begin­ning with cities. The British city of Pre­ston, for instance, has tak­en the Cleve­land co-op mod­el even fur­ther, get­ting hos­pi­tals, uni­ver­si­ties and city gov­ern­ment to pur­chase local­ly (and even­tu­al­ly from work­er co-ops); Pre­ston also aims to estab­lish a pub­lic bank. Relat­ed efforts to build pow­er from the bot­tom up and cre­ate new demo­c­ra­t­i­cal­ly owned insti­tu­tions, includ­ing co-ops and pub­lic banks, are increas­ing­ly wide­spread in cities rang­ing from Barcelona to Buenos Aires.
The guid­ing argu­ment behind this activist surge is that cre­at­ing a tru­ly demo­c­ra­t­ic eco­nom­ic sys­tem and a rein­vig­o­rat­ed left pol­i­tics requires build­ing new demo­c­ra­t­ic eco­nom­ic insti­tu­tions and, ulti­mate­ly, a cul­ture of com­mu­ni­ty and par­tic­i­pa­to­ry gov­er­nance from the bot­tom up. The long-term strat­e­gy aims at democ­ra­tiz­ing own­er­ship and con­trol at all lev­els, step by step, over time, no mat­ter how dif­fi­cult and demand­ing the challenge.
It is an argu­ment, despite Don­ald Trump's cur­rent dom­i­nance, that con­verges with poten­tial­ly explo­sive polit­i­cal ener­gies that were revealed by the Bernie Sanders cam­paign, the Black Lives Mat­ter move­ment, the women's march­es and the recent Alaba­ma elec­tion. It is, how­ev­er, an argu­ment, and an ener­gy, that Katz and Nowak fail to engage — their the­o­ry of change remains focused on bring­ing togeth­er exist­ing lead­ers and pow­er players.
In 1932, Supreme Court Jus­tice Louis Bran­deis famous­ly praised states as the lab­o­ra­to­ries in which ​"nov­el social and eco­nom­ic exper­i­ments" could be test­ed. Many of those exper­i­ments sub­se­quent­ly became the basis of the New Deal. Today, cities — with their high con­cen­tra­tions of polit­i­cal­ly pro­gres­sive and rad­i­cal res­i­dents (and polit­i­cal lead­ers), infra­struc­ture and sup­port­ive insti­tu­tions (such as phil­an­thropy, unions and anchors) — are emerg­ing as cen­ters for social, eco­nom­ic and eco­log­i­cal inno­va­tion and organizing.
In the painful con­text of the Trump era, new city-lev­el democ­ra­tiz­ing strate­gies and efforts to deploy them are demon­stra­tion projects. They help define strate­gic options and pos­si­ble longer-term path­ways of change. As in the pre-New Deal peri­od — and as eco­nom­ic suf­fer­ing and dis­lo­ca­tion increase — there are rea­sons to believe they may spread, city by city and state by state, to help form one ele­ment of a viable nation­al move­ment for change.
Above all, the new move­ments offer new answers, and are like­ly to con­tin­ue to offer more as the peo­ple com­mon­ly ignored by The New Local­ism —orga­niz­ers, work­ers, peo­ple of col­or— steadi­ly build both new insti­tu­tions and new power.
Gar Alper­ovitz
is co-founder of The Democ­ra­cy Col­lab­o­ra­tive and co-chair of its Next Sys­tem Project. He is author, most recent­ly, of Prin­ci­ples of a Plu­ral­ist Commonwealth.