Centrists Don't Want "Party Unity"—They Want to Defend the Wealthy
Attacks by moderate Democrats on Bernie Sanders are really about defending corporate power and structural inequality.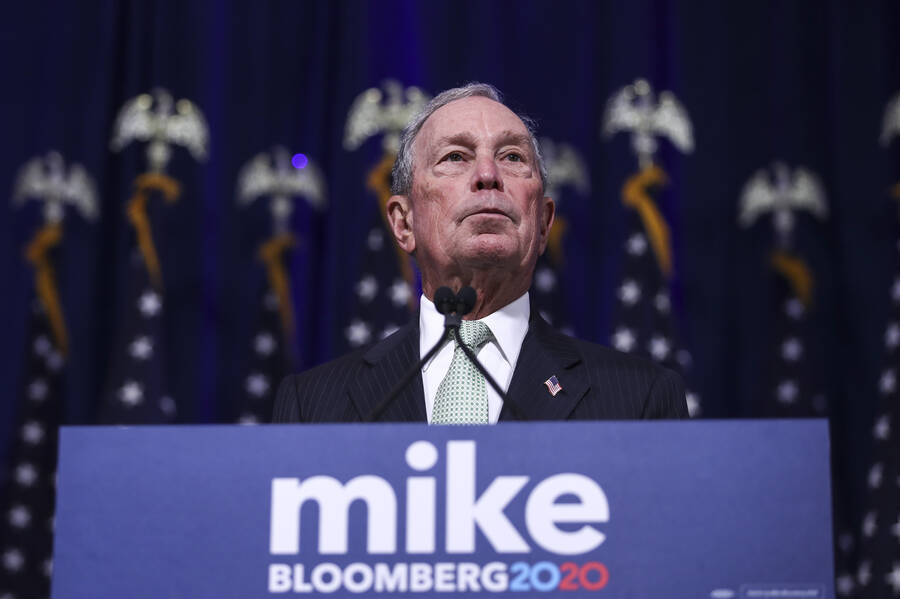 As the Demo­c­ra­t­ic cau­cus­es and pri­maries hur­tle ever clos­er, Demo­c­ra­t­ic cen­trists rang­ing from bil­lion­aire Michael Bloomberg to for­mer Pres­i­dent Barack Oba­ma are wag­ing a fran­tic war to sti­fle more pro­gres­sive can­di­dates, i.e. Bernie Sanders and Eliz­a­beth Warren.
If the Democratic establishment's goal is defeating Trump and winning the White House, the evidence is clear: a progressive candidate such as Sanders or Warren can absolutely win.
In the name of ​"uni­fy­ing" to defeat Trump, this cen­trist decep­tion false­ly insists that only a mod­er­ate can bring vot­ers togeth­er and win in 2020. This argu­ment may sound rea­son­able at first glance — but it con­tra­dicts facts on the ground show­ing strong sup­port for both pro­gres­sive can­di­dates and policies.
Polling shows waver­ing and declin­ing sup­port for would-be cen­trist stan­dard-bear­er Joe Biden, throw­ing into ques­tion his claims of ​"elec­tabil­i­ty." And while Pete Buttigieg is polling strong­ly in Iowa, his num­bers among African-Amer­i­can vot­ers — a key Demo­c­ra­t­ic vot­ing bloc — remain per­sis­tent­ly low.
While polls are volatile and ever-shift­ing, some long­stand­ing pat­terns are clear. Fore­most, sev­er­al lead­ing Demo­c­ra­t­ic can­di­dates — includ­ing Bernie Sanders, by sub­stan­tial mar­gins — con­sis­tent­ly beat Pres­i­dent Trump by vary­ing degrees, bely­ing the cen­trist canard that only a mod­er­ate can win. Mean­while, the com­bined polling of Sanders and War­ren con­sis­tent­ly demon­strates strong sup­port for a pro­gres­sive nom­i­nee rather than a cen­trist one. (While Sanders is run­ning on a pol­i­cy agen­da to the left of War­ren, they're both decid­ed­ly on the pro­gres­sive wing.)
Iron­i­cal­ly, estab­lish­ment Democ­rats insist a pro­gres­sive nom­i­nee can't win, yet the clear via­bil­i­ty of a pro­gres­sive vic­to­ry in the pri­maries and the gen­er­al elec­tion appears to be pre­cise­ly what they fear.
On issue after issue, from tax­ing the rich to uni­ver­sal health­care and free col­lege, a major­i­ty of Demo­c­ra­t­ic vot­ers sides with the pro­gres­sive wing of the par­ty over cen­trist naysay­ers. What's more, analy­sis by Gabriel Lenz, a polit­i­cal sci­en­tist at the Uni­ver­si­ty of Cal­i­for­nia, shows that vot­ers are less like­ly to be scared off by terms like ​"social­ism" if they gen­er­al­ly agree with or approve of a can­di­date. And as Bernie Sanders remains one of the most pop­u­lar politi­cians in the coun­try, boast­ing high approval rat­ings, there's ample rea­son to believe that his left-wing pol­i­tics would not be the lia­bil­i­ty many cen­trists claim.
In the lat­est move to stop Democ­rats from embrac­ing a pro­gres­sive chal­lenge to cor­po­rate pow­er, Bloomberg has leaped into the race, plunk­ing down an ini­tial $30 mil­lion nation­wide ad buy.
Sanders quick­ly blast­ed Bloomberg's mul­ti-mil­lion-dol­lar entry, say­ing, ​"We do not believe that bil­lion­aires have the right to buy elec­tions. That is why mul­ti-bil­lion­aires like Mr. Bloomberg are not going to get very far in this election."
As Com­mon Dreams reports, Sanders' speech­writer David Siro­ta not­ed that ​"the tim­ing of Bloomberg's announce­ment lines up with Sanders' rise in the polls and a well-report­ed meet­ing between the media mogul and Ama­zon founder Jeff Bezos, one of the two wealth­i­est men in the world along­side Microsoft founder Bill Gates." Siro­ta added, ​"Bloomberg began float­ing the idea of a pres­i­den­tial bid in 2016, just as Bernie was begin­ning to gain momen­tum in that race. At the time, Bloomberg dis­par­aged Bernie and his campaign's chal­lenge to Wall Street."
Oba­ma, who until recent­ly has main­tained pub­lic neu­tral­i­ty on the Demo­c­ra­t­ic pri­ma­ry, hurled his cen­trist hand­wring­ing into the polit­i­cal sphere, insist­ing that pro­gres­sive lead­ers (read: Sanders and War­ren) are push­ing the par­ty ​"too far left." Politi­co recent­ly report­ed that the for­mer pres­i­dent has ​"said if Sanders held a strong lead in the Demo­c­ra­t­ic pri­ma­ry, he would speak out to pre­vent him from becom­ing the nominee."
One close advis­er to Oba­ma, while refus­ing to con­firm the reports, acknowl­edged: ​"The only rea­son I'm hes­i­tat­ing at all is because, yeah, if Bernie were run­ning away with it, I think maybe we would all have to say some­thing." The idea that Oba­ma would ​"inter­vene" to help pre­vent a Sanders vic­to­ry fits a pat­tern of com­ments from the for­mer pres­i­dent dis­miss­ing pro­gres­sive can­di­dates or poli­cies as not viable.
The Demo­c­ra­t­ic establishment's under­min­ing of Bernie Sanders is, of course, noth­ing new — sub­stan­tial evi­dence showed the DNC lead­er­ship active­ly worked to under­mine Sanders' 2016 cam­paign. This round, estab­lish­ment Democ­rats are back at it. In one ear­ly sal­vo, the cen­trist think tank Cen­ter for Amer­i­can Progress pub­lished an anti-Sanders video in April crit­i­ciz­ing the sen­a­tor as a ​"mil­lion­aire."
Clin­ton loy­al­ist David Brock, a long­time polit­i­cal oper­a­tive, said he's had dis­cus­sions with oth­er oper­a­tives about an anti-Sanders cam­paign and believes it should com­mence ​"soon­er rather than lat­er," the New York Times report­ed last April. In a sto­ry depict­ing cen­trist moves to sti­fle Sanders, the Times not­ed, ​"His strength on the left gives him a real prospect of win­ning the Demo­c­ra­t­ic nom­i­na­tion and could make him com­pet­i­tive for the pres­i­den­cy if his eco­nom­ic jus­tice mes­sage res­onates in the Mid­west as much as Mr. Trump's appeals to hard-edge nation­al­ism did in 2016."
There is evi­dence that some Wall Street and cor­po­rate power­bro­kers who hold sway over the Demo­c­ra­t­ic Par­ty would sit out the 2020 elec­tion, or even back Trump to avoid redis­trib­u­tive poli­cies such as the wealth tax. As one senior pri­vate equi­ty exec­u­tive told CNBC anony­mous­ly: ​"You're in a box because you're a Demo­c­rat and you're think­ing, ​'I want to help the par­ty, but [War­ren is] going to hurt me, so I'm going to help Pres­i­dent Trump." (While some Wall Street exec­u­tives sin­gled out War­ren, Sanders' wealth tax would sim­i­lar­ly redis­trib­ute America's wealth downward.)
In truth, the divi­sive attacks on Sanders and War­ren have noth­ing to do with assur­ing Demo­c­ra­t­ic uni­ty, or vic­to­ry. Rather, they serve to defend deeply embed­ded finan­cial inter­ests and the wealthy donor class on which the main­stream Demo­c­ra­t­ic Par­ty has come to rely. Such wealthy inter­ests are adamant­ly opposed to the types of poli­cies being advo­cat­ed by Sanders and War­ren — such as Medicare for All and a Green New Deal — that would threat­en their con­cen­trat­ed finan­cial and polit­i­cal power.
Both of these sup­pos­ed­ly ​"rad­i­cal" poli­cies, which cen­trist can­di­dates rou­tine­ly den­i­grate and dis­miss, boast robust nation­wide sup­port, even across par­ty lines.
More than two-thirds of Amer­i­cans sup­port Medicare for All, sur­veys show, while only 20% ​"out­right oppose" this pol­i­cy. The Green New Deal, mean­while, reg­is­tered more than 80% sup­port among vot­ers in 2018.
While many estab­lish­ment cri­tiques claim Sanders is une­lec­table because of his unabashed­ly left agen­da, by many mea­sures, he appears more elec­table than most of the oth­er can­di­dates in the race. Sanders con­sis­tent­ly polls bet­ter against Trump than every­one but Biden; he con­sis­tent­ly rais­es more mon­ey than his oppo­nents and recent­ly shat­tered cam­paign records by reach­ing four mil­lion indi­vid­ual con­trib­u­tors and his 2016 per­for­mance in key swing states such as Michi­gan and Wis­con­sin could bode well for a Sanders vic­to­ry in the gen­er­al election.
If the Demo­c­ra­t­ic establishment's goal is defeat­ing Trump and win­ning the White House, the evi­dence is clear: a pro­gres­sive can­di­date such as Sanders or War­ren can absolute­ly win. There is, in fact, no evi­dence that only a cen­trist can.
As long­time polit­i­cal ana­lyst — and for­mer Demo­c­ra­t­ic Nation­al Com­mit­tee mem­ber — James Zog­by recent­ly observed, ​"Pun­dits & Dem oper­a­tives con­tin­ue to insist that Bernie Sanders is too angry, too left, or too what­ev­er to win. They're dead wrong. He has the right tone & right issues to win a broad coali­tion. What won't win is dull-edged cen­trism that can't excite or con­vince voters."
Christo­pher D. Cook
is an award-win­ning jour­nal­ist and author of
Diet for a Dead Plan­et: Big Busi­ness and the Com­ing Food Cri­sis
. His writ­ing has appeared in
Harper's
,
The Atlantic
,
The Nation
, the
Los Ange­les Times
and else­where. You can reach him at
http://​www​.christo​pherd​cook​.com/
.