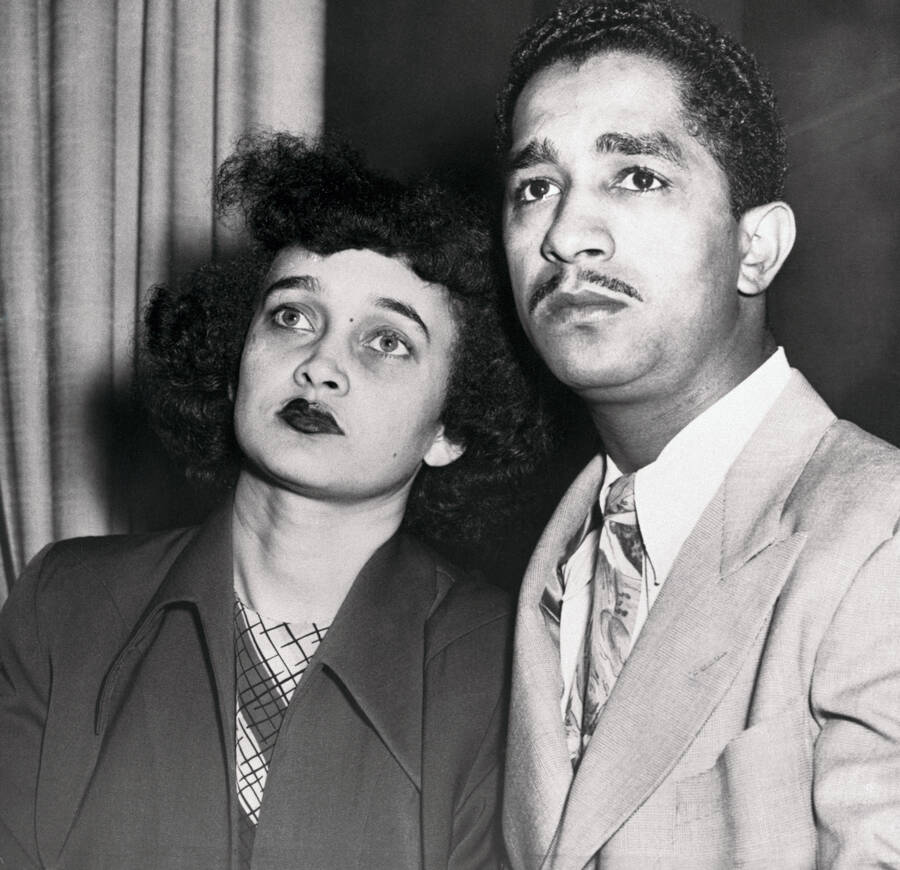 No col­lec­tion of sta­tis­tics can ful­ly con­vey what Bob Her­bert describes as the ​"per­sis­tent, depraved, often mur­der­ous racial prej­u­dice and dis­crim­i­na­tion" endured by gen­er­a­tions of black Amer­i­cans. Yet they do tell a sto­ry. For every dol­lar of wealth pos­sessed by the aver­age white fam­i­ly, the aver­age black fam­i­ly has bare­ly over a nick­el. A third of black fam­i­lies have zero assets. Forty per­cent of black chil­dren live in pover­ty. A cen­tu­ry and a half after the Civ­il War, African-Amer­i­can cit­i­zens con­tin­ue to strug­gle for both equi­ty and equal­i­ty. In his new doc­u­men­tary, Against All Odds: The Fight for a Black Mid­dle Class, the for­mer New York Times colum­nist embarks on an emo­tion­al jour­ney to find out why racial progress in Amer­i­ca remains so elusive.
From the repackaging of slavery into sharecropping to the disproportionate impact of the Great Recession on African American neighborhoods, the film portrays a resilient community that is united in survival and unyielding before persistent injustice.
At a recent Chica­go Ideas Week screen­ing, the film itself was intro­duced with a ques­tion: Have black Amer­i­cans been giv­en a fair shot at the Amer­i­can Dream? The painful­ly obvi­ous answer, of course, is ​"no." But even as we bear wit­ness to the rig­ging, we are remind­ed that knowl­edge of this fact does not equate to an under­stand­ing of its causes.
In a cap­ti­vat­ing col­lage of archival footage and per­son­al reflec­tion, Against All Odds reminds us that his­to­ry is not an enti­ty in and of itself, but rather a col­lec­tion of events that cul­mi­nate in our present con­di­tion. From the repack­ag­ing of slav­ery into share­crop­ping to the dis­pro­por­tion­ate impact of the Great Reces­sion on African Amer­i­can neigh­bor­hoods, the film por­trays a resilient com­mu­ni­ty that is unit­ed in sur­vival and unyield­ing before per­sis­tent injustice.
Her­bert cor­re­lates the Amer­i­can Dream with eco­nom­ic secu­ri­ty and social sta­bil­i­ty, both of which are root­ed in a dual foun­da­tion of good jobs and afford­able, pri­vate hous­ing. Tak­en togeth­er, these are the means that enable fam­i­lies to not only build wealth, but to estab­lish a vehi­cle for its trans­fer across gen­er­a­tions. ​"The Unit­ed States," he asserts, ​"views a strong mid­dle class not just as an ide­al, but as its proud­est cre­ation." The sub­text, of course, is the myth of the dream itself: that a life of suf­fi­cient com­fort is avail­able to any­one, regard­less of birth, so long as they are will­ing to pull them­selves up by the bootstraps.
But boot­strap­ping has nev­er been enough for black Amer­i­ca. Even when the Great Migra­tion brought 6 mil­lion African-Amer­i­cans out of the South, sys­temic racism and coor­di­nat­ed oppres­sion fol­lowed. Says Her­bert, ​"The quest for a black mid­dle class, severe­ly ham­pered by the lack of decent employ­ment, was made all the more hor­ren­dous by the vicious and often vio­lent refusal of whites to allow blacks into decent housing."
In cities like Chica­go, the own­er­ship class seized upon the lack of avail­able hous­ing as an oppor­tu­ni­ty for extor­tion. This forced African-Amer­i­can fam­i­lies to pay ​"more [rent] per square foot than almost any­one else in the city — not because of the high qual­i­ty of the hous­ing, but because the demand was so great that the land­lords could charge them more for less."
Though the GI Bill of 1944 pro­vid­ed a range of osten­si­ble ben­e­fits for vet­er­ans of the sec­ond World War, they were far from avail­able to all. Low-cost mort­gages were a key pro­vi­sion of the law, designed to pro­mote what Her­bert calls the ​"sec­ond pil­lar" of mid­dle-class life: pri­vate home own­er­ship. But in this pur­suit black Amer­i­cans encoun­tered even more resis­tance. While white fam­i­lies were empow­ered to buy homes and build wealth, weav­ing safe­ty nets of cap­i­tal that endowed sub­se­quent gen­er­a­tions with inher­it­ed secu­ri­ty, black fam­i­lies were vic­tim­ized by cam­paigns of legal­ized theft, seg­re­ga­tion and out­right violence.
With cir­cu­lar log­ic, African-Amer­i­can neigh­bor­hoods were deemed ​"too risky" to lend in, there­by pre­vent­ing black fam­i­lies from acquir­ing afford­able hous­ing and the sta­bil­i­ty that comes with it. Before the Fair Hous­ing Act of 1968, the FHA itself pro­hib­it­ed ​"occu­pan­cy of prop­er­ties except by the race for which they [were] intend­ed." This prece­dent, emblem­at­ic of the way racism was enshrined in pub­lic pol­i­cy, gave banks the free­dom to deny financ­ing on racial grounds, leav­ing prospec­tive home own­ers few options. For many, the only alter­na­tive was buy­ing on con­tract, a noto­ri­ous prac­tice that gen­er­at­ed immense prof­its for spec­u­la­tors — and crip­pled fam­i­lies in the process.
Bill Mat­ney, who came to Chica­go in 1963 as NBC's first black reporter, explained the con­tract buy­ing process in an archival news­reel: ​"Under the con­tract, the buy­er makes install­ment pay­ments at high inter­est, but he builds no equi­ty. If he defaults on even one pay­ment, at any time dur­ing the con­tract, he los­es the prop­er­ty and every­thing he's paid into it."
Thus, redlin­ing, preda­to­ry lend­ing prac­tices and mob vio­lence — like the race riots that marked Mar­tin Luther King's 1966 vis­it to Chicago's Mar­quette Park neigh­bor­hood — did more than con­fine black peo­ple to seg­re­gat­ed neigh­bor­hoods: These sys­tems siphoned wealth away from black work­ers and their fam­i­lies, effec­tive­ly turn­ing African-Amer­i­can com­mu­ni­ties into domes­tic colonies. ​"You had offi­cial­dom and cus­tom work­ing hand in hand," says Nation­al Urban League Pres­i­dent Marc Mor­i­al. ​"It was tru­ly an Amer­i­can sys­tem of apartheid."
Racial prej­u­dice and exploita­tive eco­nom­ics have long fueled a pol­i­tics of divi­sion that pro­tects exist­ing pow­er struc­tures. Repub­li­can strate­gist Lee Atwa­ter made that clear in 1981 when he said:
You start out in 1954 by say­ing, ​"nig­ger, nig­ger, nig­ger." By 1968 you can't say ​"nig­ger" — that hurts you, back­fires. So you say stuff like, ​"forced bus­ing," ​"states' rights," and all that stuff, and you're get­ting so abstract. Now, you're talk­ing about cut­ting tax­es, and all these things you're talk­ing about are total­ly eco­nom­ic things and a byprod­uct of them is, blacks get hurt worse than whites.
In this infa­mous descrip­tion of the South­ern Strat­e­gy, Atwa­ter con­firmed what black Amer­i­cans had known for years — that eco­nom­ic poli­cies insti­tu­tion­al­ized their col­lec­tive mar­gin­al­iza­tion. Her­bert him­self addressed Atwater's con­fes­sion in a 2005 col­umn, relat­ing it then to Repub­li­can radio host (and for­mer Rea­gan cab­i­net mem­ber) Bill Bennett's geno­ci­dal remark that ​"abort­ing every black baby" would help reduce the crime rate. Her­bert deemed the GOP to be ​"end­less­ly insult­ing to black peo­ple and over­whelm­ing­ly hos­tile to their inter­ests." Yet some­how he con­clud­ed with opti­mism: ​"The U.S. is less prej­u­diced than it was 20 or 30 or 40 years ago … Bennett's twist­ed fan­tasies are a malig­nant out­growth of our polar­ized past. Our job is to keep them from spread­ing into the future."
Look­ing around, I won­der. While Her­bert is right to cel­e­brate the hope and per­sis­tence that under­write black America's sur­vival, we must reject any attempt to equate sur­vival with a jus­tice that is long over­due. Are we real­ly less prej­u­diced as a nation? Or has big­otry just large­ly been sub­sumed by cryp­tic pol­i­cy and abstrac­tion? Indeed, more than 50 years after Mar­tin Luther King, Jr. fought the hous­ing dis­crim­i­na­tion described in Matney's news­reel, preda­to­ry lenders have revived con­tract buy­ing on Chicago's West Side.
Bar­bara J. Fields, an Amer­i­can his­to­ry pro­fes­sor at Colum­bia Uni­ver­si­ty and author of Slav­ery, Race and Ide­ol­o­gy in the Unit­ed States of Amer­i­ca, has described the social con­struc­tion of race as akin to that of witch­craft — an ide­ol­o­gy that both derives mean­ing from and ascribes mean­ing to lived expe­ri­ence, yet lacks a ratio­nal basis. In this view, one prob­lem with our nation­al con­ver­sa­tion about racism is that it relies on an assump­tion of a pri­ori racial cat­e­go­riza­tion that sim­ply doesn't exist. If we tru­ly seek to end racism, we must dis­man­tle the struc­ture of race itself.
Doing so means we must rec­og­nize that the con­cept of race is inex­tri­ca­bly bound to social real­i­ty. There­fore, any attempt to unpack racial ide­ol­o­gy by iso­lat­ing it from gen­er­al prin­ci­ples of social orga­ni­za­tion will be insuf­fi­cient by def­i­n­i­tion. Nowhere is this clear­er than in the way prof­it-dri­ven insti­tu­tions have exploit­ed African-Amer­i­can com­mu­ni­ties, only to turn around and use that very exploita­tion as jus­ti­fi­ca­tion for dis­in­vest­ment and fur­ther mar­gin­al­iza­tion. An hon­est, struc­tur­al analy­sis of racism in Amer­i­ca is sim­ply impos­si­ble with­out under­stand­ing its cap­i­tal­ist dynamics.
In the Q & A fol­low­ing the screen­ing, Her­bert focused heav­i­ly on this dis­tinc­tion between race and class, dis­miss­ing cri­tiques of the eco­nom­ic sys­tem as some­how inde­pen­dent of the top­ic at hand. But to con­fine our vision of racial jus­tice to the exist­ing pre­sets of cap­i­tal­ism — espe­cial­ly when the very met­ric for that jus­tice is eco­nom­ic oppor­tu­ni­ty and mid­dle class sta­tus — is crip­pling at best. We sim­ply can­not hope to build a new world if we resign our­selves to the blue­prints of old.
So it is not with­out irony that we are told in the film's final moments that racial prej­u­dice ​"needs to be fought against relent­less­ly" because it has­n't ​"been fought against near­ly hard enough" — prob­lem­at­i­cal­ly imply­ing that vic­to­ry in the bat­tle against oppres­sion will be deter­mined by will alone. Such a por­tray­al can­not help but con­jure the ghost of Sisy­phus, wrestling per­pet­u­al­ly against the immense grav­i­ty of our nation's racist lega­cy: If we only pushed hard­er, he seems to sug­gest, we could roll away the boul­der of racial injus­tice once and for all.
But this con­cep­tion again belies the fun­da­men­tal nature of sys­tems. After all, it is not just the stone against which Sisy­phus must strug­gle, but also the rela­tion it bears to the moun­tain slope. Like­wise, lift­ing the curse of sys­temic racism will ulti­mate­ly require tak­ing dyna­mite to the moun­tain itself.
With pride and humil­i­ty, Against All Odds paints a por­trait of black America's resilience — a strength Her­bert cel­e­brates with tan­gi­ble emo­tion. His con­clu­sion is a hope­ful asser­tion that the African-Amer­i­can com­mu­ni­ty will con­tin­ue to over­come the struc­tur­al injus­tice that sur­rounds it. Yet, for all its opti­mism, the film ulti­mate­ly fails to embrace the rev­o­lu­tion­ary vision required to dis­man­tle our col­lec­tive mis­con­cep­tions about class and race, there­by risk­ing com­plic­i­ty in their maintenance.
Her­bert was absolute­ly right to call racism a ​"malig­nant out­growth of our polar­ized past," but if we are to suc­ceed in its erad­i­ca­tion, we must also rec­og­nize it is equal­ly fed by the struc­tures of our present.
InThe​se​Times​.com read­ers who would like to watch Against All Odds should click here.
Ryan Bell
is a rad­i­cal activist, philoso­pher and In These Times Fall
2017
edi­to­r­i­al intern. He lives and works in Chicago.