First Charter School Teacher Strike in U.S. History Narrowly Averted by Last-Minute Agreement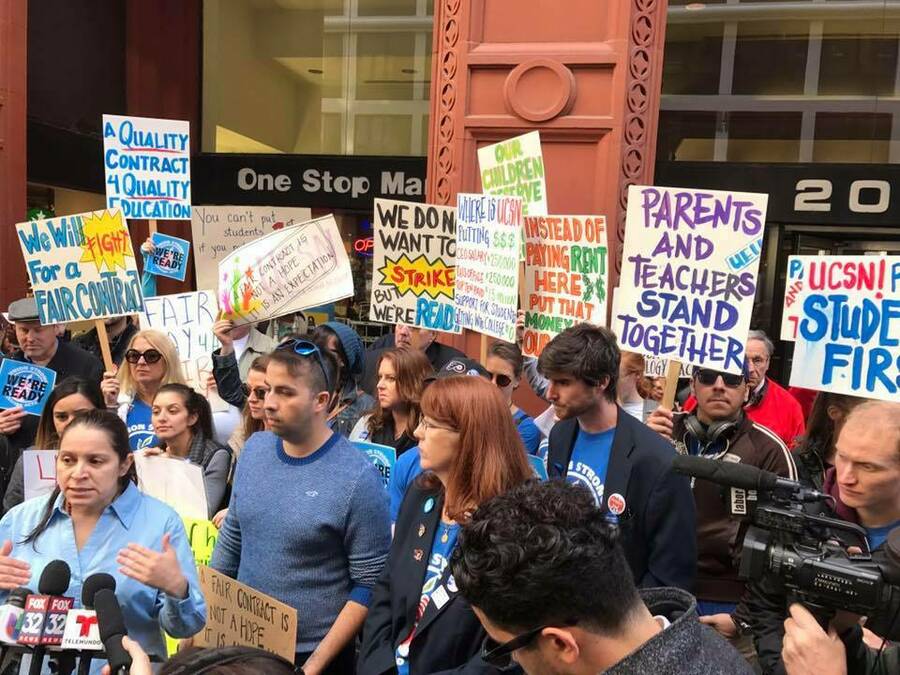 This sto­ry has been updat­ed with news of the agreement.
For the third time in eight months, Chica­go char­ter school teach­ers came with­in a hair's breadth of going on strike.
After a year of nego­ti­a­tions with man­age­ment for their first con­tract since union­iz­ing last spring, close to 50 teach­ers, para­pro­fes­sion­als and teacher assis­tants at Pas­sages Char­ter School nar­row­ly avoid­ed walk­ing off the job Thurs­day morn­ing after reach­ing a ten­ta­tive agree­ment with man­age­ment late Wednes­day night. It would have been the first time teach­ers at a U.S. char­ter school ever went on strike.
The edu­ca­tors are mem­bers of the Chica­go Alliance of Char­ter Teach­ers and Staff (Chi­ACTS) Local 4343 of the Amer­i­can Fed­er­a­tion of Teach­ers, which rep­re­sents rough­ly 1,000 edu­ca­tors at 32 char­ter schools in the city.
A stand-alone school in the Ander­son­ville neigh­bor­hood, Pas­sages is man­aged by the non­prof­it Asian Human Ser­vices (AHS) and is home to more than 400 stu­dents, most­ly from immi­grant and refugee families.
"For the past 12 months, we have been bar­gain­ing for a con­tract that gives us voice and guar­an­tees fair work­ing con­di­tions for teach­ers and staff and fair learn­ing con­di­tions for our stu­dents," Gina Men­garel­li, a third-grade teacher at Pas­sages and union activist, said at a recent rally.
The vote to strike passed unan­i­mous­ly May 4 and sig­nals a grow­ing spir­it of mil­i­tan­cy among Chicago's char­ter school work­ers. Last Octo­ber, anoth­er planned strike by Chi­ACTS teach­ers at the UNO Char­ter School Net­work was avert­ed by a last-minute deal. Sim­i­lar­ly, in March, mem­bers of A Coun­cil of Edu­ca­tors, the Chi­ACTS affil­i­ate at ASPI­RA char­ter schools, came close to a work stop­page before man­age­ment moved to set­tle. The Chica­go Teach­ers Union—ChiACTS's sis­ter local rep­re­sent­ing near­ly 30,000 edu­ca­tors at Chica­go Pub­lic Schools — also very near­ly walked off the job last Octo­ber, but that, too, was avoid­ed by an eleventh-hour agree­ment.
At Pas­sages, the major unre­solved con­tract issues were salaries, lay­offs and trans­paren­cy on how man­age­ment uses funds. Unlike oth­er sin­gle-site char­ters in the city, which do some of their own fundrais­ing, Pas­sages is fund­ed entire­ly by the pub­lic school district.
In a state­ment last week, AHS rep­re­sen­ta­tives said, ​"we are work­ing very hard to reach a fair com­pro­mise with the Union" and allud­ed to the dif­fi­cul­ty of nego­ti­at­ing a con­tract ​"at a time of sig­nif­i­cant finan­cial uncer­tain­ty, giv­en the local and State-wide bud­get issues that have result­ed in reduced fund­ing to all char­ter schools."
But the union accused AHS of mis­man­ag­ing funds, spend­ing far more on exec­u­tive salaries than on stu­dent and per­son­nel costs com­pared to oth­er char­ter schools. At the same time, Pas­sages teach­ers say they are paid 20 per­cent less than their coun­ter­parts at com­pa­ra­ble char­ters, and pro­grams for stu­dents — includ­ing music and lan­guage class­es — are being cut.
"The chil­dren are dai­ly with­out easy access to tech­nol­o­gy. They don't have text­books. They don't have extracur­ric­u­lar activ­i­ties," Ann Stel­la-Tayler, a para­pro­fes­sion­al at Pas­sages, said Wednes­day before the agree­ment was reached. ​"We're most­ly fight­ing for resources for our stu­dents, for fair fund­ing. We are ded­i­cat­ed to mak­ing this a bet­ter place."
The ten­ta­tive agree­ment will pro­vide aver­age rais­es of 21.5 per­cent over three years and pre­vents planned lay­offs, accord­ing to the union. Fur­ther­more, the deal gives teach­ers more voice in cur­ricu­lum and enrich­ment programs.
"Had we not union­ized, we could nev­er have got­ten to this ten­ta­tive agree­ment tonight and tak­en such strong steps to begin to improve class­room con­di­tions and win fair pay for our mem­bers," Men­garel­li said Wednes­day night.
In the com­ing weeks, union mem­bers at Pas­sages will vote on whether to rat­i­fy the con­tract agreement.
"These brave teach­ers have fought for and now won a con­tract that will make crit­i­cal improve­ments in their school," said Chi­ACTS Local 4343 pres­i­dent Chris Baehrend. ​"These teach­ers have also built pow­er for char­ter teach­ers nation­wide, teach­ing by exam­ple, that when teach­ers exer­cise their col­lec­tive pow­er as a union, they can do even more for their students."
Jeff Schuhrke has been a Work­ing In These Times con­trib­u­tor since 2013. He has a Ph.D. in His­to­ry from the Uni­ver­si­ty of Illi­nois at Chica­go and a Master's in Labor Stud­ies from UMass Amherst. Fol­low him on Twit­ter: @JeffSchuhrke