Chicago Charter School Students Say UNO Teacher Was Fired for Union Activism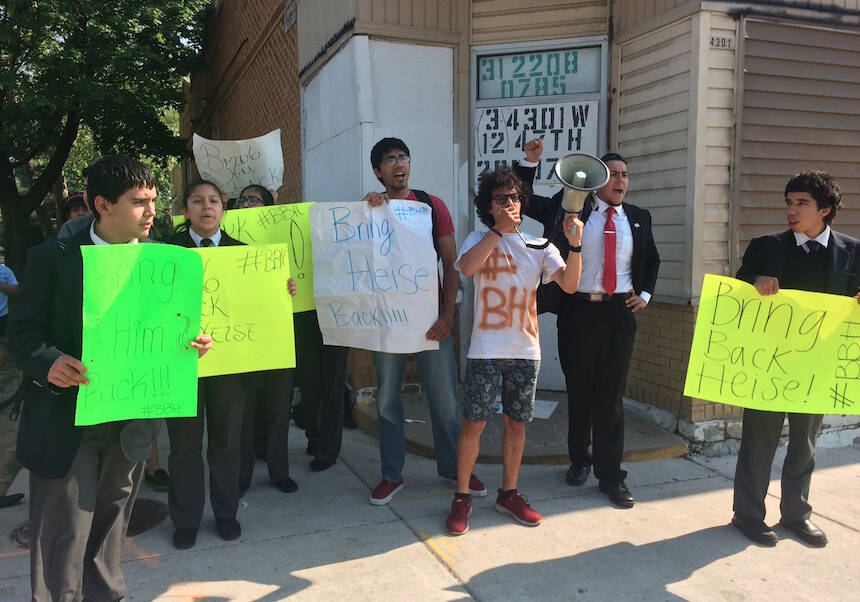 "Who do we want?! Heise! When do we want him?!" ​"Now!" stu­dents chant­ed on the after­noon of June 9 as com­muters drove down 47th street in Chica­go, occa­sion­al­ly honk­ing their horns to show sup­port and solidarity.
A young man in a suit and tie led the call-and-response chants, wield­ing a mega­phone and fir­ing up a small crowd of stu­dent pro­test­ers. That young man is Berto Aguayo, a grad­u­ate of Major Hec­tor P. Gar­cia MD High School, an UNO Net­work char­ter school locat­ed in the Archer Heights neigh­bor­hood on the south­west side of Chica­go. He's also a for­mer stu­dent of Eng­lish teacher Rob Heise, who was fired by the school on June 3.
Heise, an edu­ca­tor and activist who was active in the recent­ly suc­cess­ful cam­paign to union­ize his school — one of the most promi­nent char­ter chains in Chica­go, which has recent­ly come under heavy fire for accu­sa­tions of cor­rup­tion—was fired ear­li­er this month for rea­sons the admin­is­tra­tion has declined to com­ment on. (The school did not respond to requests for an inter­view.) But accord­ing to stu­dents at Tues­day's protest, Alex Rock, the school's prin­ci­pal, told stu­dents that Mr. Heise was fired for fail­ing to turn in stu­dents' grades and assign­ments. Oth­er stu­dents say they think Heise was fired for show­ing a Vic­to­ri­a's Secret com­mer­cial to a class dur­ing a dis­cus­sion about how the media influ­ences and dis­torts teens' body image and con­fi­dence. (Heise declined to com­ment on his case in light of upcom­ing legal chal­lenges to his firing.)
Daniel Izguer­ra, who was in Heise's men­tor­ship pro­gram before grad­u­at­ing last year, says he knows the real rea­son why Heise was fired. ​"They fired him for being an out­spo­ken union activist."
Heise was fired on the same day that teach­ers at Urban Prep char­ter schools vot­ed to join the Alliance of Char­ter Teach­ers and Staff (ACTS), a union that is part of the Amer­i­can Fed­er­a­tion of Teach­ers (AFT). The fir­ing also occurred just days before the Chica­go Teach­ers Union (CTU), which rep­re­sents some 27,000 teach­ers, admin­is­tra­tors and para­pro­fes­sion­als in the Chica­go Pub­lic Schools sys­tem, ral­lied and marched in down­town Chica­go, demand­ing a fair con­tract and a ​"just Chicago."
Word of Heise's ter­mi­na­tion quick­ly spread among the stu­dent body, and on June 11, as fifth peri­od lunch end­ed, dozens of stu­dents flood­ed the school's third floor hall­way to demand his reinstatement.
Jes­si­ca Ramirez, one of his for­mer stu­dents who is now a junior at Gar­cia High School, explained that stu­dents ​"were on the third floor link­ing hands in the hall protest­ing." ​"We said we were not going to go into [class] until they brought him back," said Ramirez.
Protests con­tin­ued the next Fri­day when some 30 stu­dents walked out dur­ing fifth peri­od lunch. The stu­dents returned to school in time for sixth peri­od but resumed their polit­i­cal activ­i­ty once school let out. Dozens of cur­rent stu­dents joined alum­ni across the street on the south­west cor­ner of 47th and Kil­dare to con­tin­ue protest­ing. Over 50 stu­dents chant­ed in uni­son: ​"A good teacher belongs in the class­room! Bring back Heise!" Some even wore hand­made spray­paint­ed t‑shirts with the hash­tag #BBH — stand­ing for ​"Bring Back Heise."
By Mon­day, a Face­book page cre­at­ed by uniden­ti­fied stu­dents called ​"Bring Mr. Heise Back" had gar­nered over 500 likes, and a sec­ond after­school protest drew out over 50 cur­rent and for­mer stu­dents once more who pick­et­ed and chant­ed demands for the admin­is­tra­tion to rein­state Heise at once.
The turnout for Tues­day's after­school protest, how­ev­er, was sig­nif­i­cant­ly small­er with only 18 stu­dents pick­et­ing, most of them alum­ni. Accord­ing to the few cur­rent stu­dents present at Tues­day's protest, this is because Prin­ci­pal Rock called a manda­to­ry after­school meet­ing with all of the stu­dents who par­tic­i­pat­ed in Fri­day's fifth peri­od walkout.
"Threat­en­ing stu­dents with sus­pen­sion on the week before finals is mak­ing it hard to keep the momen­tum going," explains Aguayo of the low turnout for the fifth and lat­est after­school protest that took place last week. He says the admin­is­tra­tion has suc­cess­ful­ly intim­i­dat­ed most stu­dents from par­tic­i­pat­ing in any type of protest, but adds that they will con­tin­ue to strate­gize ways to keep pres­sur­ing the school to rein­state Heise.
This isn't the first time that Chica­go has wit­nessed stu­dents stand­ing up for unjust­ly fired teach­ers. Weeks before CTU's 10-day strike in 2012, stu­dents at Lit­tle Vil­lage's Social Jus­tice ​"SoJo" High School staged a num­ber of sit-ins, walk-outs and protests when two Eng­lish teach­ers, Katie Hogan and Angela Sang­ha, were fired — alleged­ly because of their union activism. Three weeks of protests forced the admin­is­tra­tion to rein­state both teach­ers and all school pro­grams that had been can­celled when Hogan and Sang­ha were fired.
Heise is sched­uled to appear at a hear­ing with the Nation­al Labor Rela­tions Board (NLRB) this Fri­day. While it's hard to say what will hap­pen as the UNO high school wraps up the school year, last week's stu­dent protests end­ed on a sober yet deter­mined note.
Crys­tal Stel­la Becer­ril
is a Chica­go-based Xicana activist, writer and pho­tog­ra­ph­er. She is cur­rent­ly a con­tribut­ing writer for Social­ist Work­er, Red Wedge Mag­a­zine and Warscapes, where she writes about edu­ca­tion jus­tice, race, fem­i­nism and culture.